Big news last week with Google+ launching its new feature: Communities. What was less reported, however, was the fact that there are now over 500 million users, of which 235 million are monthly active users through one of Google's services, i.e. gmail or +1 button, and 135 million monthly active users directly in Google+. In other words, there are more and more people flocking to G+, either out of curiosity or perhaps out of frustration from their experience in other social media?
HOW COMMUNITIES WORK ON GOOGLE+
Communities are basically groups of people sharing common interests for a topic or brand. If you go to your Google+ account, you will find it easy to search through existing communities, if you haven't been invited yet to join one!
In fact, it's easy to create a new community following these three simple steps:
Go to https://plus.google.com/u/0/communities and click on "create a community"
Choose between making it "public" or "private". NOTE: Choose wisely, since there are no ways yet to change settings once the choice is made.
Name your community and choose if you want to accept anybody in it or have a moderator approve each new member.
Before creating a new community, one word of advice: search to see if one with the same name already exists. Just putting "travel" and "photography" in the search bar gave me five different communities, with few members each. This is certainly a flaw Google will need to eventually work out, just like the privacy settings that can't be changed.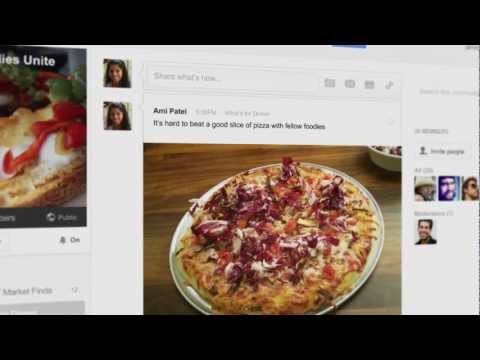 WHY COMMUNITIES MAY VERY WELL BE A GAME-CHANGER
Ever since Google+ was launched in 2011, many experts could see its potential but the network seemed to lack the most important thing: a reason to spend time there! In fact, it's a known fact G+ attracts far less users than Facebook or Pinterest, for example. And this usually boils down to one key factor in social media: stickiness. Or lack thereof, in G+'s case. Until now.
Stickiness is defined as the amount of time spent on a site over a given period of time, and it usually has to do with relevancy, shareability and a string of factors that keep customers, potential customers, advocates or detractors coming back for more. People spend time on Facebook to share personal photos or videos, discuss current events or share travel plans, or perhaps play a game or two. Others will spend inordinate amounts of time on Pinterest to share awesome recipes, fashion pictures or wedding planning ideas, for example. But why would you spend any time on Google+, save to search for a topic in a specific niche?
Communities have the potential to bring people to spend more time on Google+ and, more importantly, to have them discover what many experts have been lauding about its platform every since its inception. Just like Facebook Groups or Linkedin Groups, communities will be able to discuss, comment, share pictures, photos or links to relevant articles. Yet, the G+ editing platform is much more user-friendly, with the ease to edit posts after publication, to give just one example. A functionality like Hangouts will become that much more interesting, allowing for much more dynamic group discussions. And, let's not forget: with the +1 button among other features, discussions held here will contribute to the dynamics of a vibrant online presence for organizations already engaged in social media and interested to hear more about what customers are saying about their brand.
MODERATION WILL BE KEY
While many experts and industry pundits are seeing this recent feature as yet another chapter in the Google vs. Facebook battle, I will be curious to see how this affect mostly Linkedin, known for its 1.2 million discussion groups where people spend a fair amount of their time on the network. If Google+ plays it cards well, communities have the potential to eat away at Linkedin's lunch with its superior platform, much more conducive for sharing, commenting and real-time group discussions. The biggest flaw with Linkedin groups, however, remains its inability to properly manage self-promoting spam and irrelevant content that seem to plague too many groups. Groups who stay on focus are few and far in-between, and it usually boils down to having a pro-active moderator or group of moderators. How will Google+ address this phenomenon will determine to what extent communities will truly become a game-changer in the evolution of this nascent social platform.
What do you think? Have you joined a community yet? Can you see the potential for a brand or businesses moving forward in 2013?