This is the third in a series of "Social Media Best Practices in Travel" posts to be published on this blog. Today, we focus on LinkedIn!
While there are plenty of options and networks where travelers can share comments, photos or reviews, allowing for interactions between travel brands and consumers, one social media clearly stands out when it's time to focus on B2B, or business-to-business: LinkedIn.
While it's not as famous nor as sticky as Facebook or Pinterest, LinkedIn has evolved well and carved its own coveted niche within business professionals and recruiters alike. Consider these statistics:
There are now over 300 million users, of which 100 million are in the US
187 million unique visitors to LinkedIn site every month
40% of users check their account daily
LinkedIn is available in more than 200 countries, and in more than 20 languages
41% of visits to LinkedIn come from mobile devices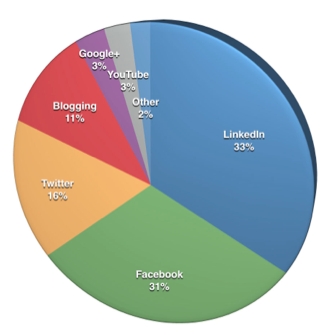 According to the 2014 Social Media Marketing report, published early May by Social Media Examiner, Facebook and LinkedIn are the two most important social media for all marketers (B2B and B2C) across all industries.
If asked to select only one platform, 54% of marketers chose Facebook, followed by LinkedIn at 17%. But when looking specifically at answers from B2B marketers, LinkedIn (33%) edges Facebook (31%) as most important social media platform, followed by Twitter and blogging as marketing tools in a B2B setting.
Other interesting findings from this report show that LinkedIn is the second-most sought-after social media in terms of interest for newbies, as well as for marketers wanting to optimize their online and social performances. So how can we use LinkedIn in travel marketing?
5 TIPS FOR TRAVEL MARKETERS
1. Have a Company Page
There are over 3 million company pages on LinkedIn but, in my experience, very few travel brands who efficiently manage their corporate presence on this platform. International hotel chains use LinkedIn as recruiting tool, which makes natural sense knowing LinkedIn is a network for putting business professionals in contact with each other.
A good example to follow is how Four Seasons Hotels and Resorts manage their company page. NOTE: In order to have a "Careers" tab, you need to upgrade to a premium account.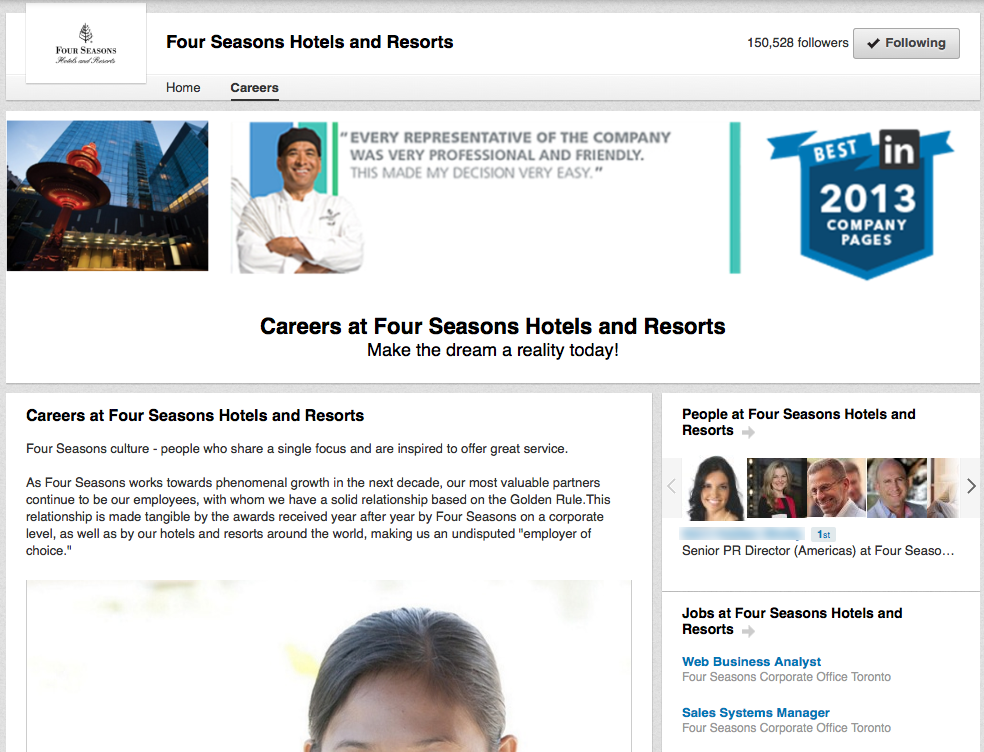 But company pages are not just for big hotel brands, cruise lines or airlines. If you have a catering business, you are tour operator or travel agency, why not position your brand and its services on LinkedIn and increase your chances of being found by decision-makers?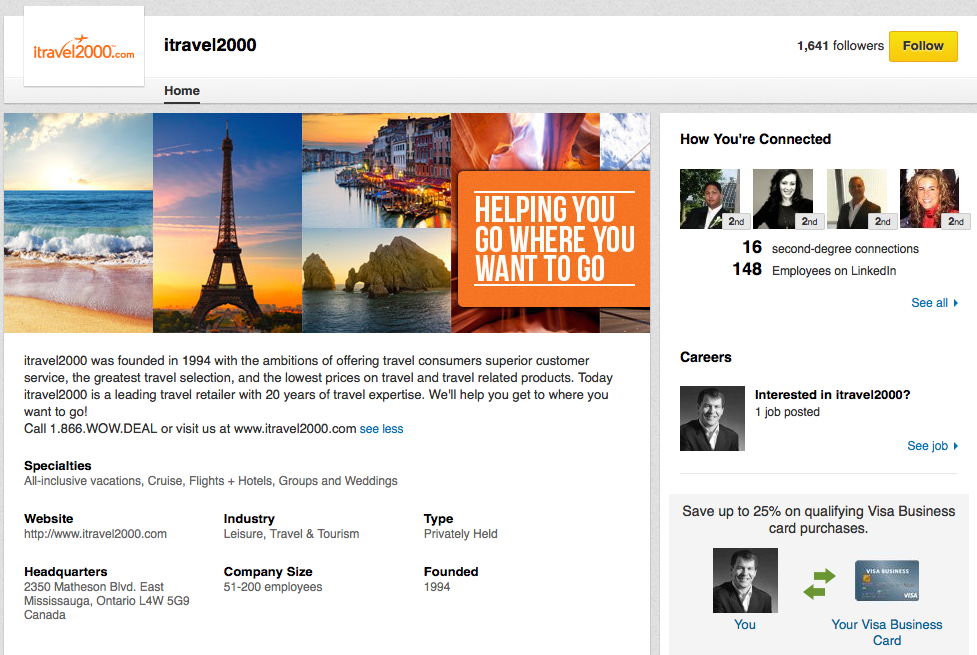 2. Have Showcase Pages
Until April, you could highlight "Products & Services" that your hotel, restaurant, attraction, spa, festival, destination, travel agency or transportation company provided to various clienteles. This tab is no longer available, but LinkedIn is pushing its "Showcase Pages" instead. What are Showcase Pages? You can basically create sub-pages, more focused on specific products and services.
For example, a hotel could have its company page, and decide to manage two or three showcase pages that are specific to niches or target audiences, i.e. weddings, conferences, spa treatment, etc. When you follow a company page, you don't necessarily follow its Showcase Pages, and vice versa. I recently decided to give it a try – I have my "Gonzo Marketing" company page from which I share travel industry topics, and so on… but also a Showcase page for my conference & speaking gigs.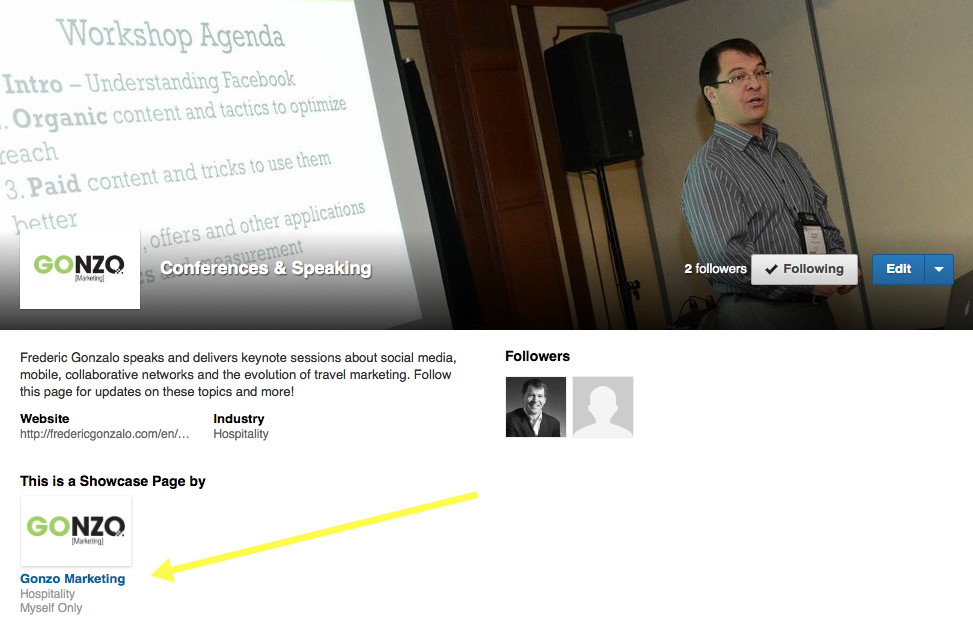 So a travel brand could manage its company page as content publishing tool, focusing on business topics or destination events, for example. And use its Showcase Pages for career opportunities, business travel, meeting planners, or any other specific category that can justify its own stream of content and conversations.
3. Join a Discussion Group or Create Your Own
There are now over 2.1 million discussion groups on LinkedIn, and a variety of topics being discussed that should fit whatever your business needs may be. You can join up to 50 groups, where conversations vary in quantity and quality, so choose wisely. Examples of groups I belong to:
Social Media Travel
Travel & Tourism Industry Professionals Worldwide
Skal International
MPI Montreal & Quebec
Hotel Industry Professionals Worldwide
Ski Industry Marketing and Sales Travel Professionals
Tour Operator Professionals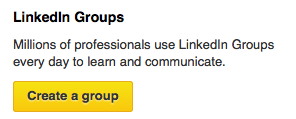 These discussion groups hold great potential on various levels to interact with peers, and discover like-minded professionals. The important thing is to listen to conversations first, engage second. Folks who interact in group discussions get up to four times more profile views!
Just remember: don't spam and post self-promotional links, unless the situation really demands it (and it rarely does)! And if you don't find exactly the group you are looking for, why not take the lead and create your own, invite clients and providers, thus establishing your leadership for a given topic or interest?
4. Use LinkedIn as Publishing Platform
LinkedIn has been successful at reinventing itself in the past 2-3 years, and it recently announced it would allow for all of its members to use it as a content publishing platform for long-form posts.
This is not yet available to all, and is progressively being rolled out, but can represent a great opportunity for travel brands to repurpose some of their corporate blog articles in order to reach perhaps different readers. Details here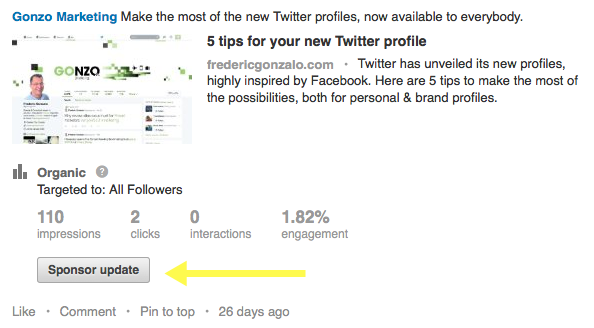 In the meantime, company pages should publish on a regular basis just like Facebook pages, Twitter handles or Google+ accounts require consistency and frequency.
LinkedIn also now makes it easy to see which posts are getting better engagement, and it's also possible to stimulate any given post even though it's perhaps more expensive than boosting posts on Facebook. (see example above)
5. Research

Because of its very nature, LinkedIn establishes relationship levels between people, so you know how many people you can access through your direct and indirect network.
From my profile page, I can see that my 2,007 first-level connections gives me access to more than 14 million professionals, simply through second-level connections and other group members (that I'm part of). This is where the search tool comes in handy.
So now, let's say you are a sales executive working in a big hotel with conference venues, looking for:
A meeting planner
In the Greater Toronto Area, Canada
Dealing mostly in a specific industry (aerospace, pharmaceutical, etc.)
Person must be first-level or second-level connection, or part of group I am also member of
Here are the results I would get based on my profile and connections on LinkedIn: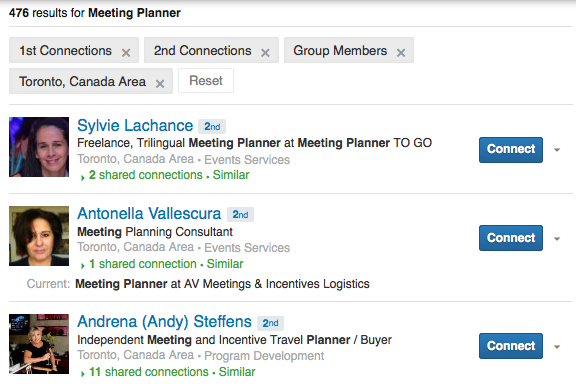 The beauty now is that I could either try to connect directly with a person, or ask a shared connection to introduce me. The search can also be refined with a slew of other variables: group membership, language, city or area, company, title, industry, interests, etc.
The search engine that lies within LinkedIn is without a doubt its most potent weapon, yet it goes underutilized by many in the travel industry.
Bonus Tip: Content Curation

I would be remiss not to mention a lesser-known area of LinkedIn where one can find lots of very useful and shareable content for your editorial calendar, not just on LinkedIn but for other networks too: Pulse.
To access this zone, simply click on the "Interests" tab on the top navigation menu, and you will find influencers and topics you can choose to follow, from Arianna Huffington to Barack Obama, Richard Branson, Wall Street Journal or leading scientific publications.
This content will, in turn, show up on your home page newsfeed, making it easier to find pertinent content according to your interests.
Want to know some more? Here is a great infographic based on a recent LinkedIn user survey conducted by Power+ Formula. Enjoy… and share away!