With an active user base of more than 1.55 billion people, Facebook has become a major player in the online travel marketing sphere, in particular within the travel sphere as people like to share moments, pictures from their experience or engage with travel brands prior, during and after their leisure or business trips.
Just take a look at the most recent stats from the Facebook community to understand its potential and impact: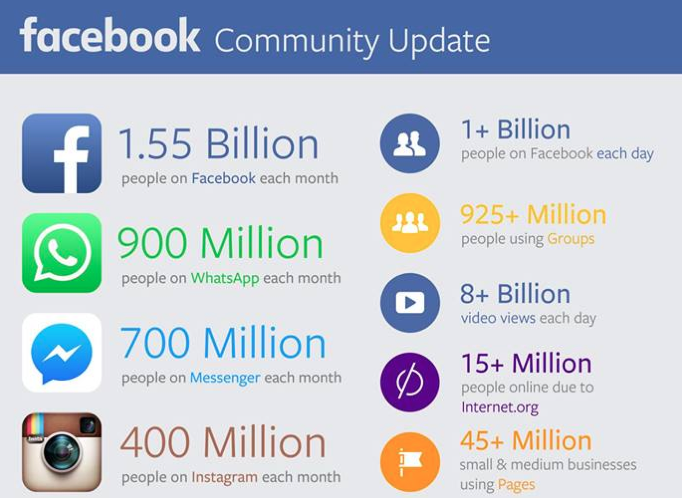 Consider these stats as well, which demonstrate how pervasive Facebook has become:
The average user spends more than 7 hours per month reading, posting and sharing news, photos, videos and other content
A Facebook session lasts 20 minutes on average
82% of users access Facebook via a mobile device. Over 58%, more than 1 billion, access Facebook DAILY via a mobile device
The average mobile user checks his or her Facebook account… 14 times per day!
It's no surprise to see organizations invest more and more into Facebook marketing, yet it's interesting to note that while there are more than 45 million active Pages, only an estimated 2.5 million of them invest in Facebook Ads.
The potentiel is huge
Thus, there is tremendous potential to reach targeted audiences with Facebook and go beyond the declining organic reach, even for vibrant communities.
Some of you may be familiar with the basic "Boost" post feature or perhaps the possibility to get more likes for your Page. There is so much more that can be done with Facebook Ads targeting. Here are my 10 favorites targeting options to enhance your marketing performance… and get more bang for your advertising buck!
NOTE: To access the information shown below, you must manage at least one Page and activate your Ads Manager account (go under your account settings to do so).
1. Target per interest
One of the very first and best ways to target an audience on Facebook is by defining interest. For example, a mountain resort hosting a cycling or running competition may want to target people who are interested in Pages concerning fitness and wellness, or perhaps sports and outdoor activities.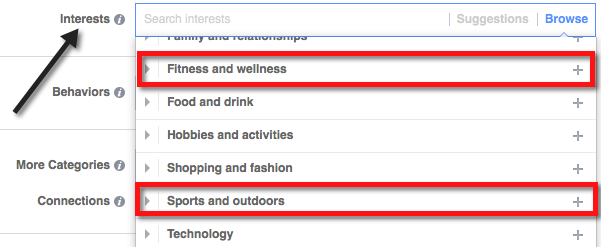 And if you know of a specific term to search for, you can simply enter it in the box, i.e. "Color Me Rad".

2. Target per relationship status
Another great way to target goes according to users' relationship status: widow, single, divorced, civil union, complicated… For hoteliers wanting to reach out to couples seeking a romantic getaway or perhaps nightclubs targeting singles, this option is an obvious must.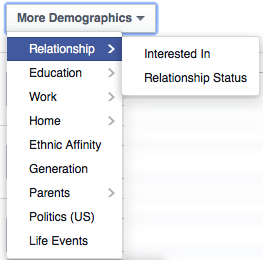 In order to access these options, locate the "More Demographics" button, right under the Age – Gender – Languages section of the Audience Definition part of the campaign manager. By clicking on the "Relationship Status", you should see the various options in a scroll down menu.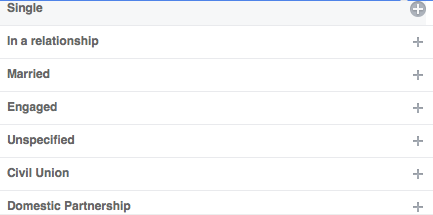 3. Target per career profile or company
While many will have the reflex to use Linkedin when it comes to target professionals – nothing wrong here, I do the same when it comes to specific B2B campaigns or HR-driven tactics – Facebook also allows to target users according to their employers, job titles or industries, i.e. sales, automotive, transportation, management, etc.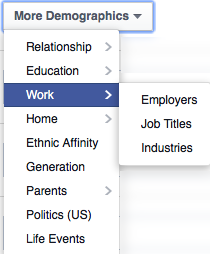 This can be a useful tool when a travel brands wishes to target employees or former employees from known employers and/or job titles: supervisors, general managers, housekeeping, etc.

4. Target per generation
While we can target per age range, it is sometimes more convenient to aim for generations, specially when combined with other variables such as interests and behaviors. For example targeting Millenials AND mobile users of a given device.

5. Filter per academic background

In other circumstances, it may prove wise to target according to the education profile of users. We can not only segment according to education level (associate degree, college grad, high school, doctorate, in college, etc.), but also per fields of study, schools and undergrad years specifically.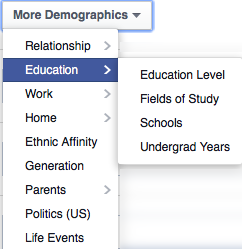 6. Celebrate a meaningful life event
Where Facebook becomes particularly insightful (and some will say scary) is when we start targeting users according to known life events from users' network. Imagine for example you recently updated your status to "in a relationship" and you start seeing ads for a week-long getaway in a couples resort in the Caribbean? Or perhaps you recently got promoted or landed a new job, so why not celebrate with a promotional offer at this special BBQ restaurant nearby?

7. Target per type of mobile device
Knowing how many mobile users access and spend time on Facebook, it makes sense to target them through various filter options. In particular if a hotel, destination or online travel agency (Expedia, Priceline, TripAdvisor) seeks more engagement on their mobile application for example.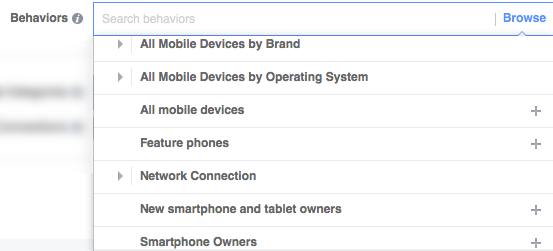 8. Identify various types of travelers
Of course, for travel brands the most interesting feature is the possibility to target potential travelers. In order to reach this section, you must first search by interests, then select the "Hobby and activities" tab and then click on "Travel".
You can then choose between various interests, from adventure travel to theme parks, cruises, lakes, mountains or hotels.

Beyond interests, we can also target according to actual user behavior. In other words, aim for users that are considered frequent travelers, business travelers or that perhaps recently returned from a trip.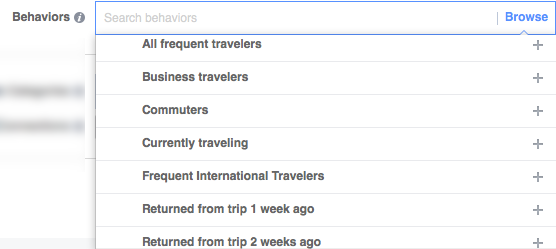 9. Aim for ex-pats or folks away from home
With Thanksgiving around the corner, why not target students or family members that may be living far away from home, perhaps even in other country?

By searching under "Interest", then "Life Events" tab, you will find various options to target with this mind. You may also want to check under "Behavior", then "Expats" to target various expatriates from many countries, depending on who you with to target.
10. Target per household composition

One last goodie is to target families by aiming specifically per age of children. New parents or young parents with toddlers may appreciate more an offer for a weekend getaway with special nursing facilities, spa treatments and relaxation while families with older children or teenagers may respond better to full-inclusive resort ads on cruise ships or Club Med-like vacations.

To reach this section, you must click on the "More Demographic" button, then choose the "All Parents" tab.
Of course, there are many more possibilities that Facebook targeting can offer but these were just some of my favorites ones. A word to the wise, though: please use these segmenting filters with caution and assume there may be some flaws.
As much as I like and appreciate the data stemming from Facebook for marketing purposes, it's safer to test out with various specific targeted audiences, then branch out and expand as (positive) results start rolling in.