We've been hearing a lot about generative artificial intelligence (AI) lately, especially ChatGPT. But how can you actually use it in your travel or hospitality business today? Here are three practical, useful, and easy use cases you can use right now!
Interested in this topic? Check out our new webinar ChatGPT and AI: 10 practical uses in travel marketing
1. Finding article or post ideas
If you're lacking inspiration for your next blog post, social media updates, or your next newsletter, ask ChatGPT for some inspiration! This is perhaps one area where ChatGPT and other generative AI tools such as Jarvis AI, Copy AI or Rytr have proven very useful and user-friendly in the recent past, and where adoption rates have been among the strongest.
For example, if I ask ChatGPT to suggest five articles focusing on summer activities for a resort lodge in the Eastern Townships, South of Montreal, here's its response: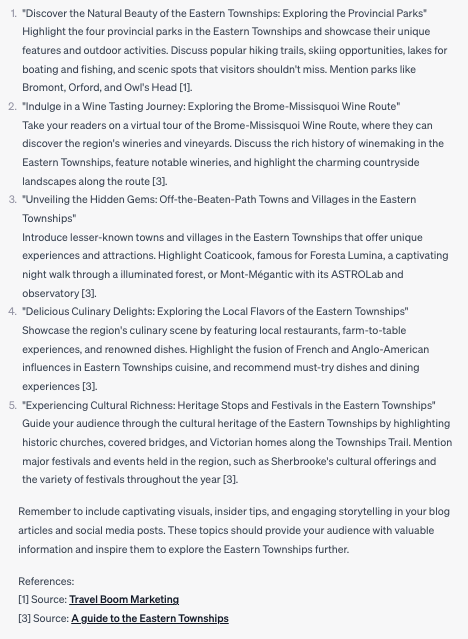 NOTE: Be careful not to take all the content for granted, even though it reads smoothly. ChatGPT can sometimes "hallucinate" and make up things. Validate and verify what is suggested to make it more useful for you!
You will notice that by using ChatGPT4 Plus, along with a pluging such as WebChatGPT, as in the example shown above, I can also make sure to get references and sources to validate the content suggested. In this case, I must admit I was pleasantly surprised to see some of the suggestions, such as Foresta Lumina (in Coaticook), or the Wine Route in Brome-Missisquoi.
2. Responding to reviews
As we all know, reviews and comments on platforms like Google, TripAdvisor, Facebook, Yelp, Expedia, Booking, and others have a significant influence on other travelers. Online reputation matters, as I have explained many time on this blog in the past!
But it's not always easy to come up with new ways to respond to these reviews. That's where ChatGPT comes in!
Imagine you're the owner of a hotel in Rimouski, and you want to respond to a negative review. Here's how you can structure the prompt to quickly generate a professional response:
(Role) Act as General Manager for Hotel XYZ in Rimouski
(Request) Respond to a Google Review left by an unsatisfied guest
(Tone) Show empathy, be curteous and polite
(Format) The response should be in English, and signed by "owner of Hotel XYZ"
(Context) Description of the hotel : Hotel XYZ is a renown establishment in the Bas-Saint-Laurent area, providing high-end services and quality experiences to its affluent customers. Our team prides itself in responding proactively to customer expectations with world-class exceptional service.
(Review) Copy and past negative review here
By using these instructions, ChatGPT will generate a personalized and professional response that allows you to effectively address the negative review. This way, you can demonstrate your commitment to customer satisfaction and maintain a positive online reputation.
3. Crafting a job offer
Let's say you have multiple job openings to advertise and your online recruitment needs to step up its game, it's not always easy to find the right words or structure a job offer when there are several positions to fill. Once again, a tool like ChatGPT can come to the rescue and provide ideas despite its inherent imperfections.
Here's an example of a prompt we could give ChatGPT for our needs: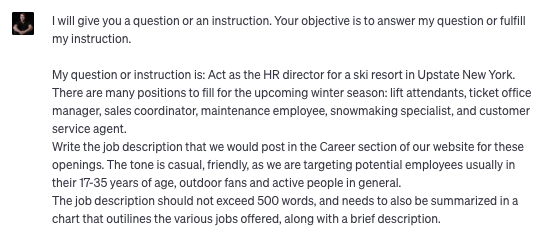 With this command, here's what the generative AI tool responds: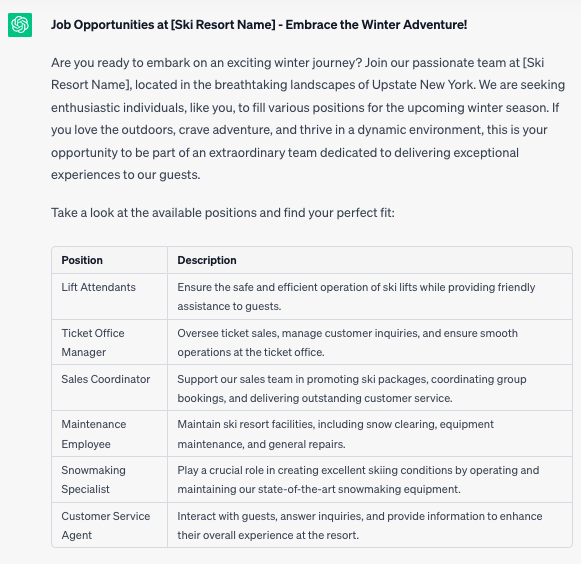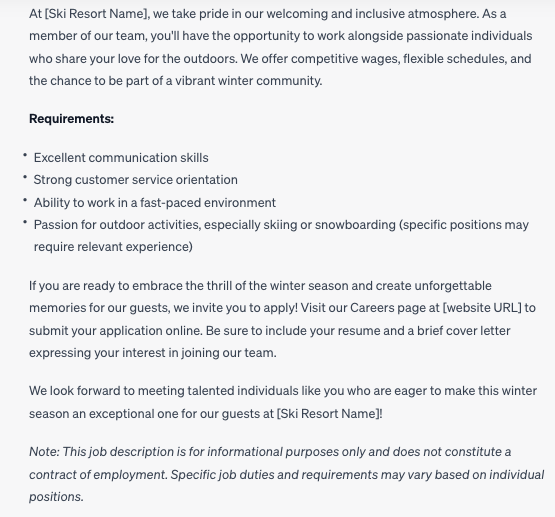 As we can see, it's not perfect. But it can certainly provide inspiration and sometimes be usable as-is. It's up to you to play with the tool, modify your queries, and extract its full potential. And this is just the beginning!
Interested in this topic? Check out our new webinar ChatGPT and AI: 10 practical uses in travel marketing