Facebook has become a must in brands' overall digital marketing strategies — and more and more managers are trying to better understand and evaluate the true costs of a Facebook ad campaign. Several factors come into play regarding these costs.
What's more, even if you spend the same amount, you may notice you'll get significantly different results depending on the country in which the ad is feature, target audiences, ad goals, and the ad's design.
AdEspresso, an agency and division of Hootsuite, recently published a major study that helps marketing managers gain insight into the nuances of Facebook ads and determine what really influences their overall costs.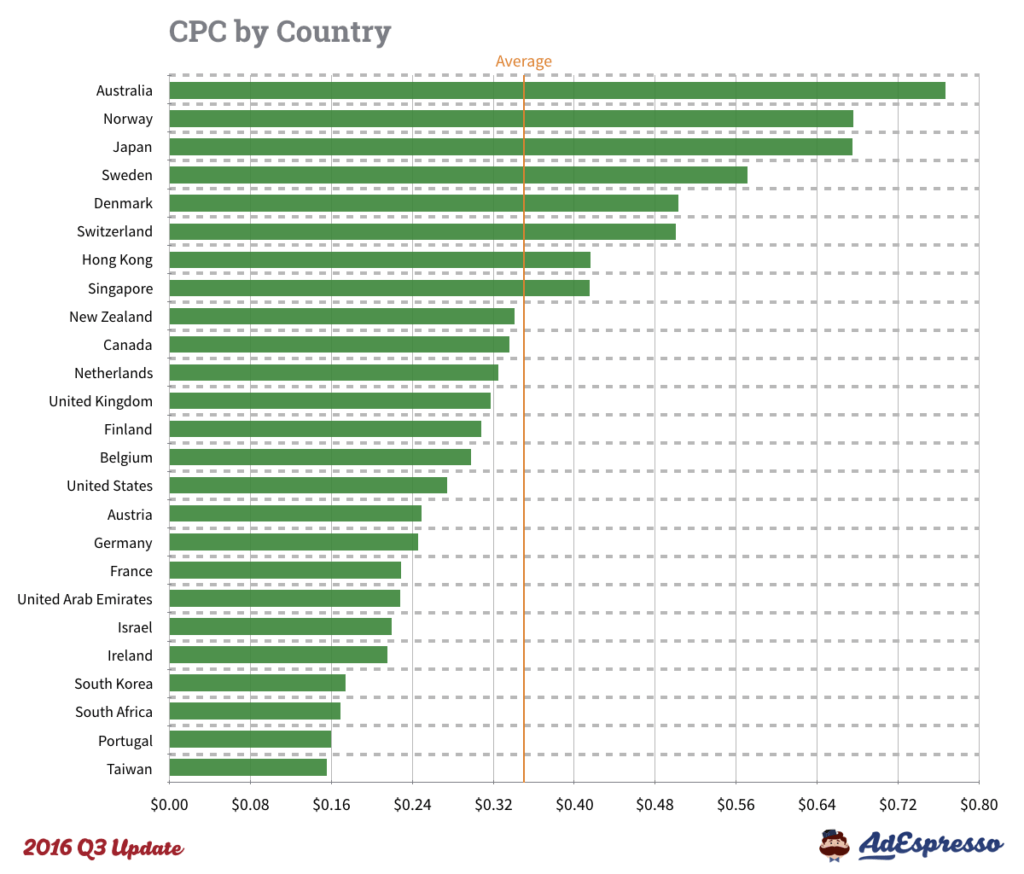 As you can see with the chart above, the average cost per click (CPC) for a "website click" or "website conversion" campaign varies greatly based on the country in which the ad is featured.
Although there's a worldwide average of $0.34, you can expect to pay as little as $0.15 per click in Taiwan or $0.76 per click in Australia!
Why such a huge difference? Here are the five factors that can influence CPC costs:
1. Ad quality and relevance
The first and most important aspect that influences CPC costs is the quality of your Facebook ads — and how they are perceived by users who seem them in their newsfeed or right-hand column.
How does Facebook evaluate the quality and relevance of an ad? Facebook takes into account a variety of criteria regarding your ad (target audience, placement, visuals, text, etc.) and monitors how users react to it. This includes the time spent looking at the ad, interaction (a Like, share or comment), and how often the follow through on the call to action (clicking on the link or the specific button in the ad).
In this example, an ad campaign that I recently managed generated awesome results. The CPC was extremely low ($0.03 per click). Notice that the relevance score was 10/10, and it received lots of positive feedback.
All of these results help to reduce the campaign's CPC, because Facebook deems that it is relevant. Facebook will even go so far as displaying it more often than other ads that generate lackluster results.
2. Target audience
Another important aspect is the audience you target. If your goal is to simply reach all adults aged 18 and over who speak French and live in France and Québec—without any other criteria based on interests or behaviour—you're basically shooting in the dark.
I recommend targeting less people with specific interests, rather than many people without any filters.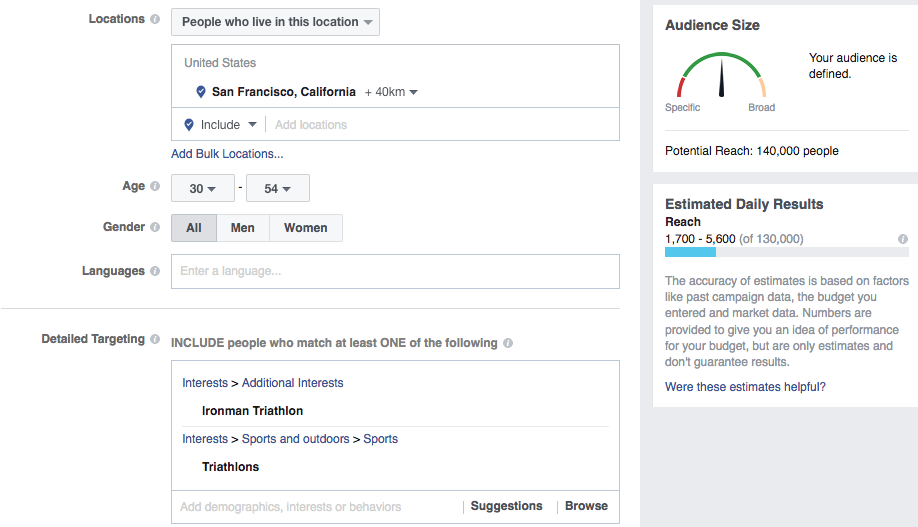 That being said, the target audience you select will have an impact on the likely cost of your ad, as you can see in these two examples. By targeting folks living in San Francisco (with a 40 km radius), aged 30-54, and interested in triathlons or Ironman races, we could potentially reach 140,000.
If I want to manually set a value on clicks on the links, instead of Facebook fixing the bid amount, the suggested bid would be $3.18.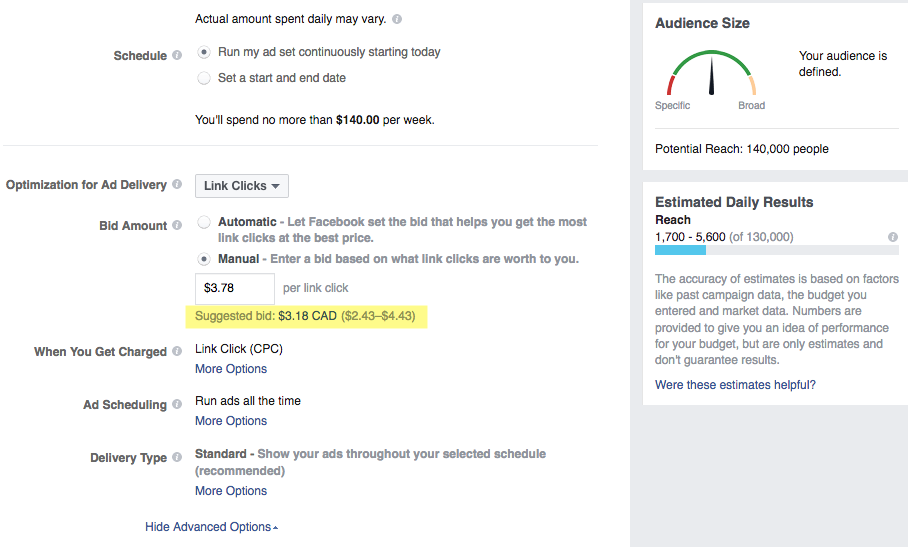 However, if I keep the same age criteria and interest, but aim to speak at folks living in Warsaw, Poland, notice how the suggested bid dips down to $0.95, with a potential reach of 50 000 people.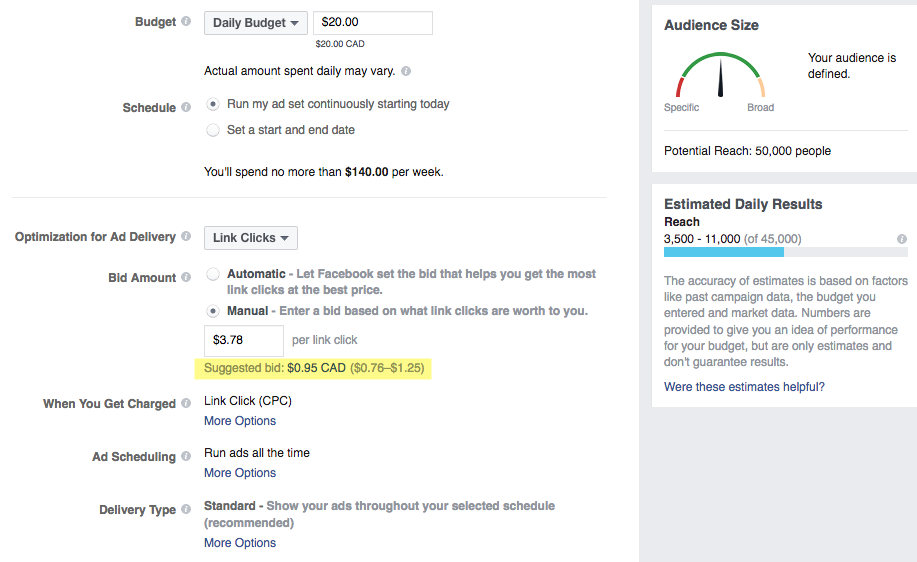 Therefore, you need to keep in mind that bids are greatly influenced by your market segmentation, including:
Age
Geographical location
Language
Interests and behaviours
Advanced connections (fans of a page, app or event, etc.)
3. Time of year
With Facebook ads, supply and demand also come into play. That means your ads will cost more if you choose to have them displayed during popular times of the year. Your Facebook ad costs will increase during the holidays or important sales periods, such as:
American Thanksgiving (Black Friday)
Cyber Monday
Christmas
New Year's
Valentine's Day
Spring Break
Easter
Mothers' Day
Labour Day and back-to-school period
If you are planning campaigns during these times, make sure you beef up budget as you will have major competition for users' attention spans. Costs will most likely be on the rise.
4. Ad placements
Another factor that marketing managers often under-estimate is the ad placements—or where your ads will be displayed on Facebook. There are many different possibilities:
Only on mobile devices, desktop computers, or both
On Facebook: newsfeeds, right-hand column, Instant Articles, integrated videos
On Instagram: newsfeeds, in Stories
Within Facebook's partner audience networks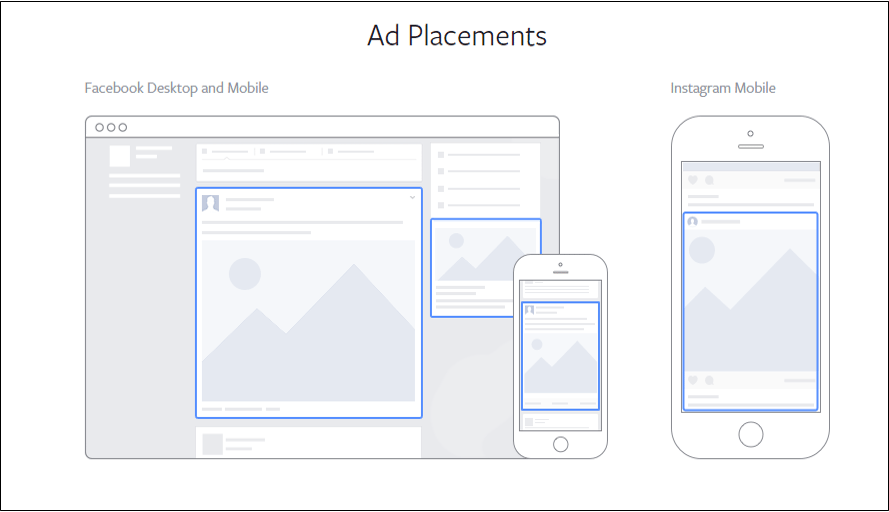 Therefore, ad costs vary depending upon the type of placement, as indicated in AdEspresso's study. Don't just ask yourself which ad placement costs the most. You also should consider which ones generate the most clicks.
Even better: if you have a Facebook pixel installed on your website, you'll want to evaluate which ad placement generates the most conversions for a specific campaign.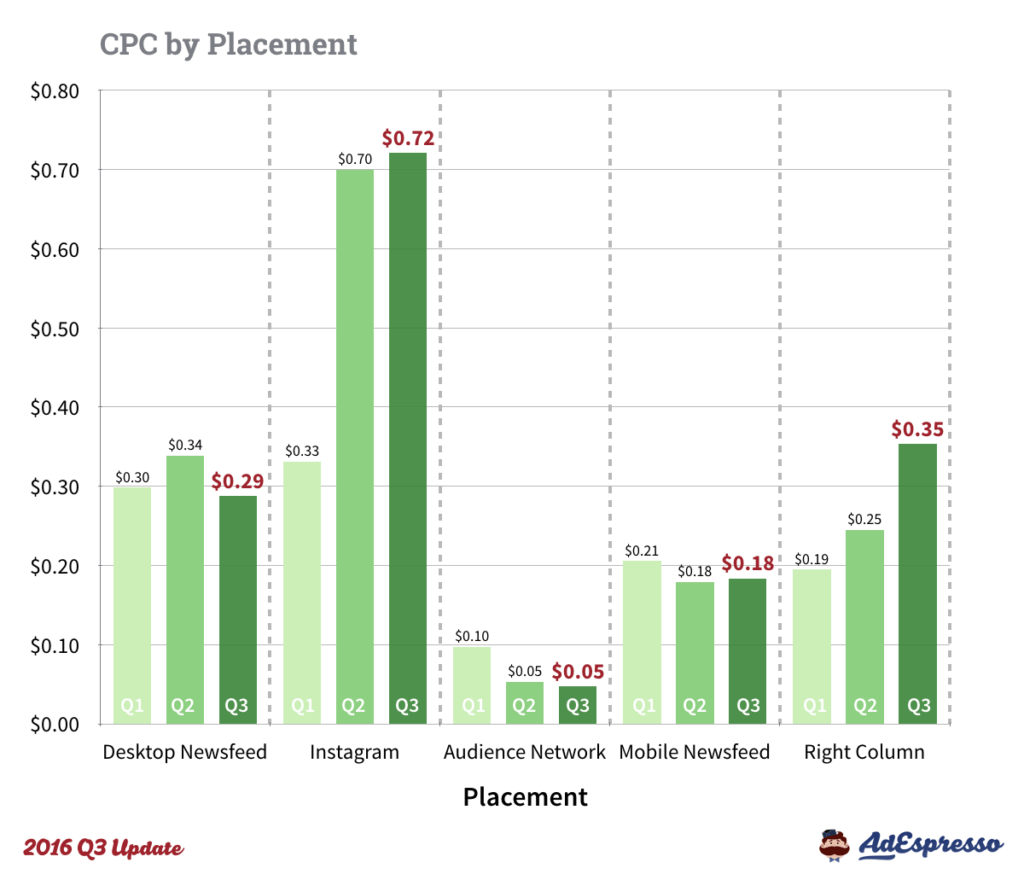 From the graph above, you'll notice that Facebook's audience network generate the lowest CPC, while Instagram has the highest cost per click.
5. Ad optimization
Last but not the least: what criteria have you used to optimize your ad campaign? When you create a campaign, the ad will be optimized by Facebook based on the goal you have originally set, such as "website clicks."

You can change this criterion and optimize your campaign for more impressions or daily unique reach to avoid users seeing your ad too often in their newsfeed.
However, it is important to note that this may cause a hike in your ad's costs because it will have a lower relevancy score (see point #1), because users react less to it. This is especially the case if your goal is to get people to click on the link in your ad.
I have said this time and again, here on my blog and during various conferences and keynotes I have given: digital marketing is a lot about trial and error. What works for one ad campaign might not necessarily work for another.
Make sure you do a lot of testing with these five factors to attain the sweet spot for your product and service—and perform better on Facebook!
Save
Save