Things may be different in many ways in 2021, but what hasn't changed much is how users go through their travel decision-making process. We still need to be inspired about a potential destination, possible attractions to see and things to do, where to eat, etc. We still need to shop around online before we actually book a trip. And when on the road (or in the air or over water), we often want to share our moments, good and bad, with friends and relatives via our favorite social media.
For travel brands, managing a presence on social accounts should not be a luxury or afterthought. Here are five reasons why social media remain important for tourism and hospitality marketers worldwide.
1. To Inspire
This is perhaps the most recognized usage of social media in travel marketing. Destinations are avid users of storytelling through videos, working with influencers for creative content and basically running campaigns across platforms to awe and inspire. A classic example is provided by the most recent summer campaign by Tourisme Montréal, catering mainly to domestic travelers within the province of Quebec – thus with a bilingual twist (French & English).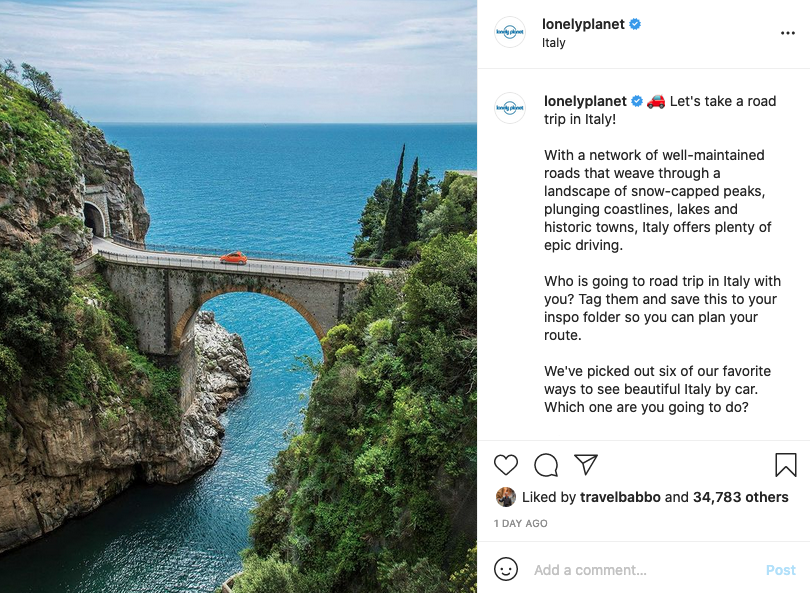 It is at this level that most travel brands tend to work with influencers to add more muscle to their online marketing efforts, in particular on social media. Read also: 5 reasons to work with an influencer
Thus social media is at its best when it can spark interest for a new experience, a different restaurant, museum or destination. In turn, this spark can lead to actual bookings lower down the decision-making funnel…
2. To Educate
Okay so you know you want to visit Atlanta, Cancun or Istanbul on an upcoming trip. What are the main attractions there, must-see or must-do activities? Travelers tend to use mostly online tools to search for their upcoming travel plans, as confirmed by a recent report from Google.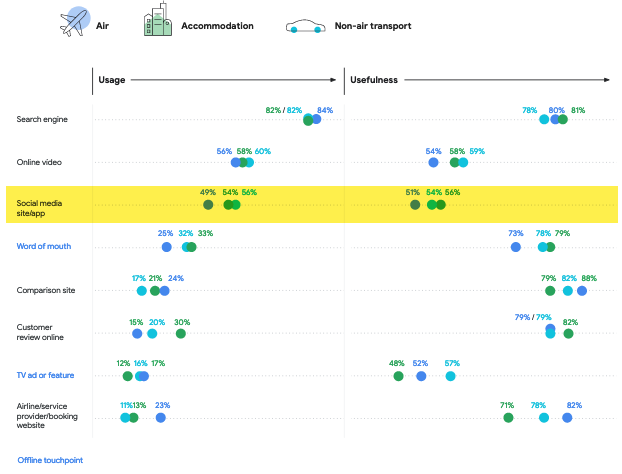 There are other tools and touchpoints, of course. YouTube tutorials, podcast itineraries, travel blogs with "top 7 seven things to do around Halloween" articles, for example. Social accounts is where most of this content can and will become viral, or at least reach wider audiences than through pure search only.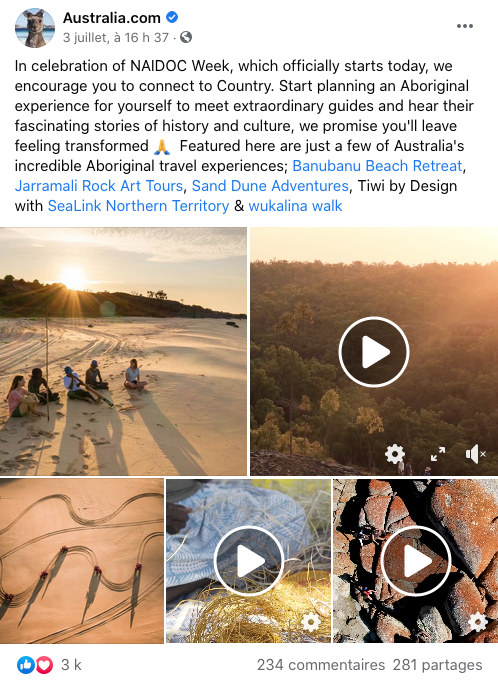 The folks at Tourism Australia have been doing a stellar job for years now, showcasing both inspirational AND educational content across all their social platforms.
3. To Provide Customer Service
Where social media usage has perhaps evolved the most in the past decade with travel brands is in the acceptance of these platforms for customer service. Communications between travelers and brands now take place prior to, during and after a trip or experience, often in real time.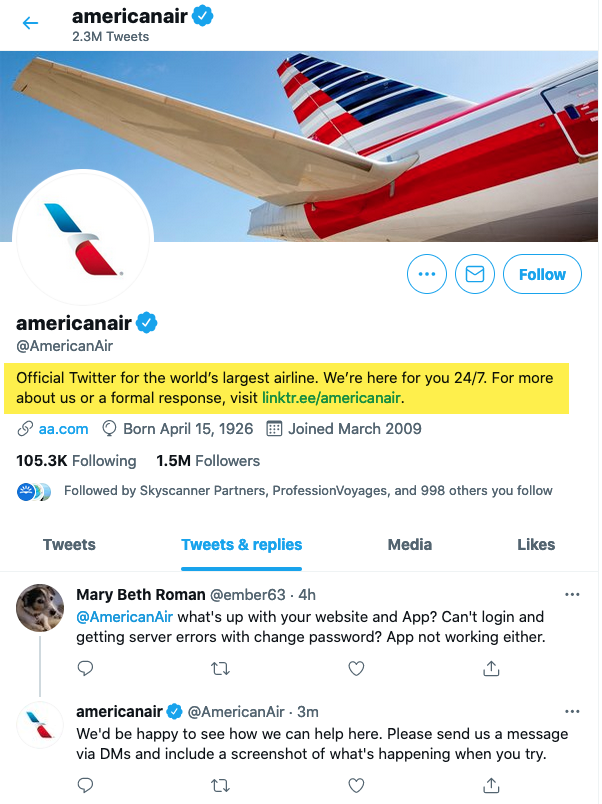 Twitter has been a customer service outlet for over a decade now, in particular for major airlines around the world, as well as big chain companies (hotels, car rentals, cruise lines). But customer service can also take place on Facebook, Linkedin, Pinterest, YouTube or wherever travelers can reach out through a public or direct messaging system.
Good or poor customer service in real life has impact, of course. But whenever it overflows in the online world, it carries the risk of impacting brand reputation. Thus, customer service and online reputation management are intimately intertwined. It is therefore important to manage digital outputs where travelers can leave a comment or review, in order to properly respond, if required.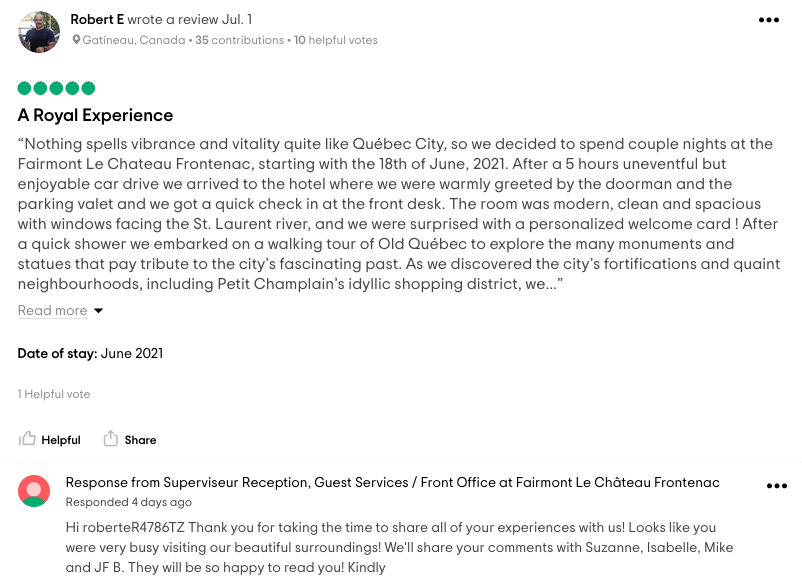 4. To Promote
This is without a doubt the usage that most – if not all – travel brands tend to apply ever since social media came of age. And indeed, social platforms have become great tools to help contests go viral, promote a new offer or highlight an exclusive deal.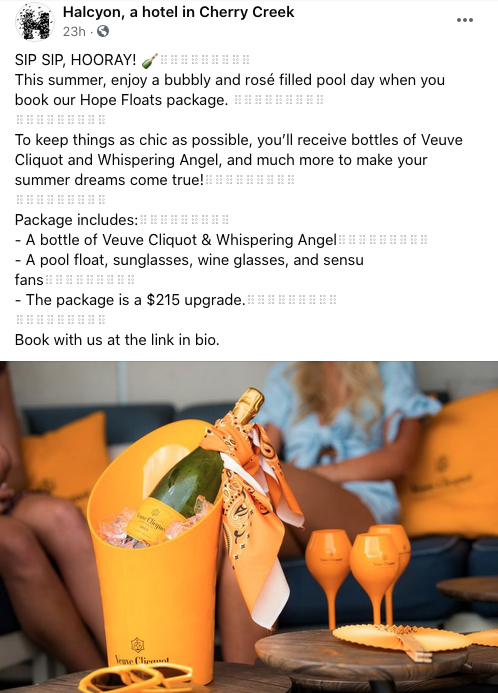 Some platforms are obviously more prone to promotions and offers, in particular Facebook. While other networks such as Instagram, YouTube or TikTok are perhaps better used for storytelling. This storytelling, however, can lead to cross-promotion between social accounts, not to mention putting forth deals and offers you may have to communicate.
While promotional content tends to work to a certain extent, travel brands ought to be cautious in not over-indulge with this type of content as users tend to "switch off" if it becomes too redundant or lacks variety.
5. To Hire
Last but not least, social media can help travel brands with their ongoing hiring efforts. We all know how difficult the situation is right now with severe labor shortages across North America, not just in tourism and hospitality but in various industries. So how can we compete with perhaps better wages and/or working conditions offered in Health, Retail or other sectors? Travel brands must put forth what makes our industry so distinctive.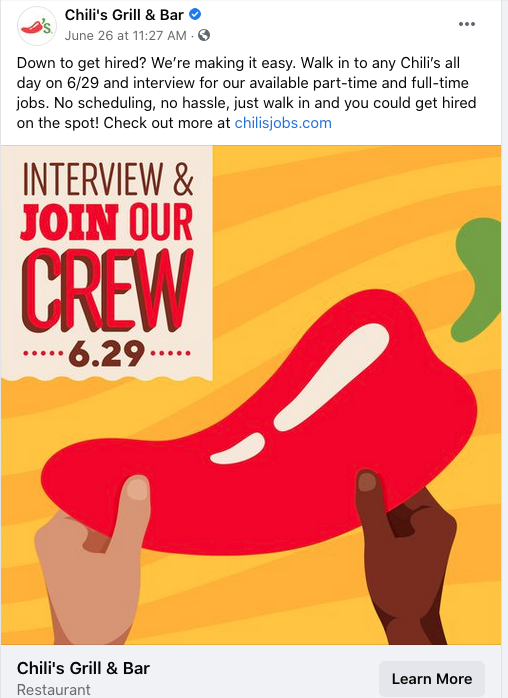 Travel brands continue to use their social media accounts to post jobs on Facebook or let people know of upcoming job opportunities. But more importantly, social platforms become an outlet to showcase the values of your organization, highlight rising stars among the staff, communicate benefits and flexibility that may be associated with specific job opportunities, etc.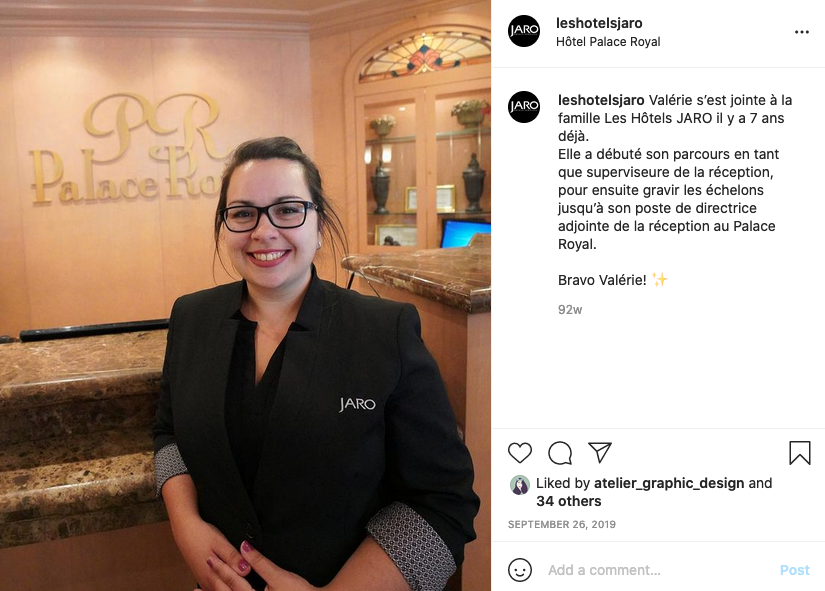 The hotels Jaro, in Quebec City, did a stellar job of showcasing their staff and different backgrounds between different types of employees. The objective was to show that family-owned hotel treats employees and the workplace… well, like a big family! This series of posts on Facebook and Instagram gathered a lot of interaction back in 2019 and certainly should inspire other travel and hospitality brands to follow suit.