Now that you have prepared your first newsletter and created an impactful email subject line, you now must optimize your newsletter's contents. The average email user receives about 147 emails per day and deletes about 48% of them. If readers decide to open your newsletter, you cannot disappoint them!
You must also incite readers to perform a specific action when they read your newsletter. If you haven't optimized your email's contents, it will end up in the trash like all the others. That is why it is so important to optimize your newsletter's structure, content and call to action.
Choose the right template
Each email marketing platform offers themes (or templates) that you can use to create your newsletter. They range from welcome emails for new subscribers to sales promos. If you think you need hundreds of themes to get inspired, this may be an important factor when selecting the platform that is right for you.
Did you know that some email marketing platforms offer over 200 newsletter themes?
You can also keep it simple and choose just one email template as a basis for your content. These templates are ideal when you know exactly what type of newsletter structure you want.
All you have to do at this point is insert the content you want to promote and make sure the design is sleek!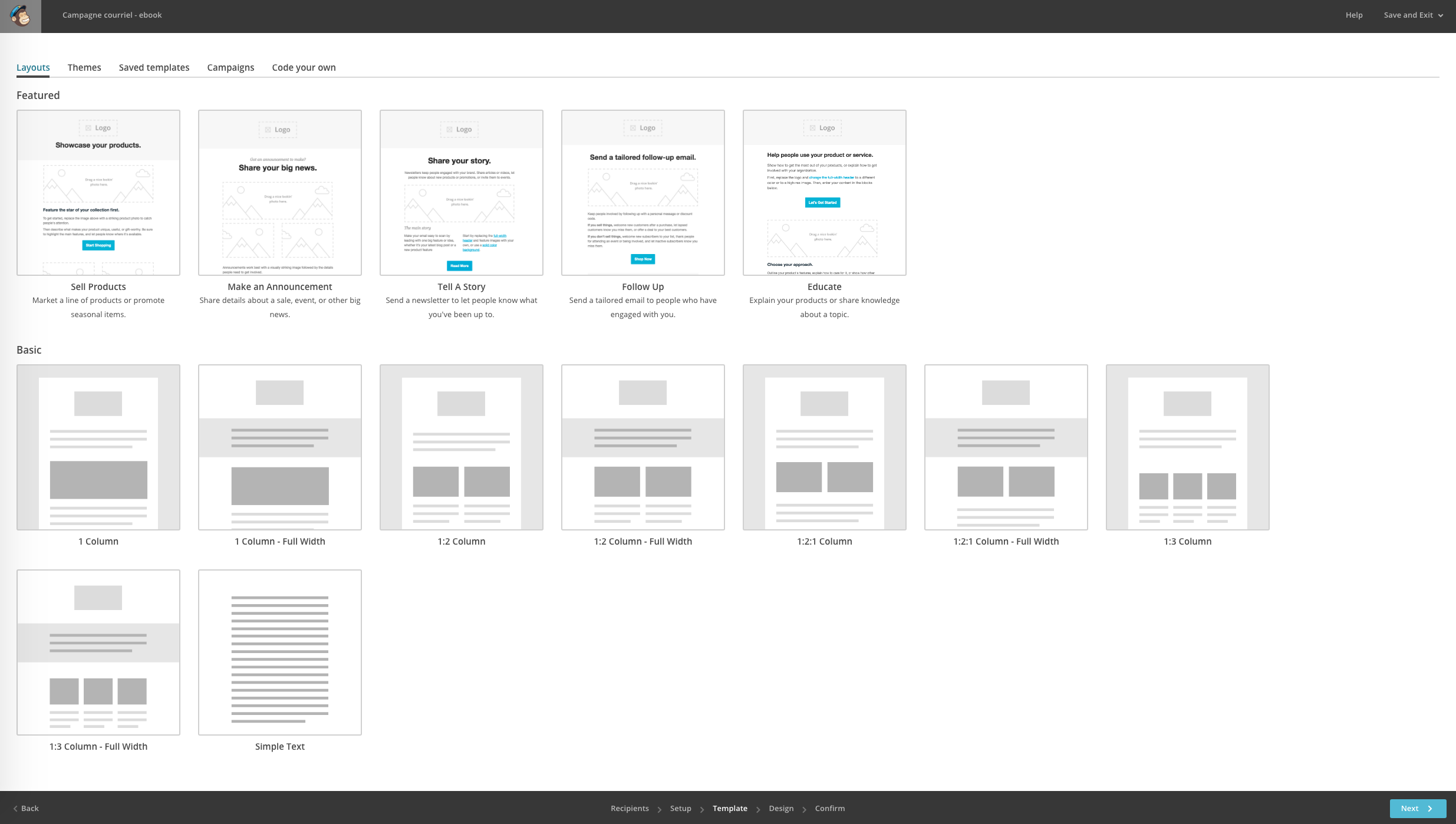 Optimize for mobile devices
When choosing a template for your newsletter, keep this stat in mind: 81% of emails are opened on a mobile device. Is the structure of your newsletter adapted to mobile devices? Several email marketing platforms offer templates with responsive design, which are adapted to all types of devices.
Make sure your platform offers responsive design. If not, choose a newsletter template that can be easily viewed on mobile devices. Don't risk losing a subscriber because your newsletter cannot be read on a smart phone. The ideal newsletter template features only one column, with a maximum of 600 pixels wide, to improve your content's readability.
Did you know that 75% of people delete emails that do not display properly on mobile devices?
Select a captivating design that will display well on all types of devices. In today's hyper competitive market, a responsive or mobile-friendly newsletter is a must.
Create an original design
You are now ready to start designing and adding the content to your newsletter. Once you have fine-tuned your newsletter template, think again about mobile devices and accessibility.
Over half of your audience will read your newsletter on a mobile device; its images, fonts and button sizes are therefore extremely important.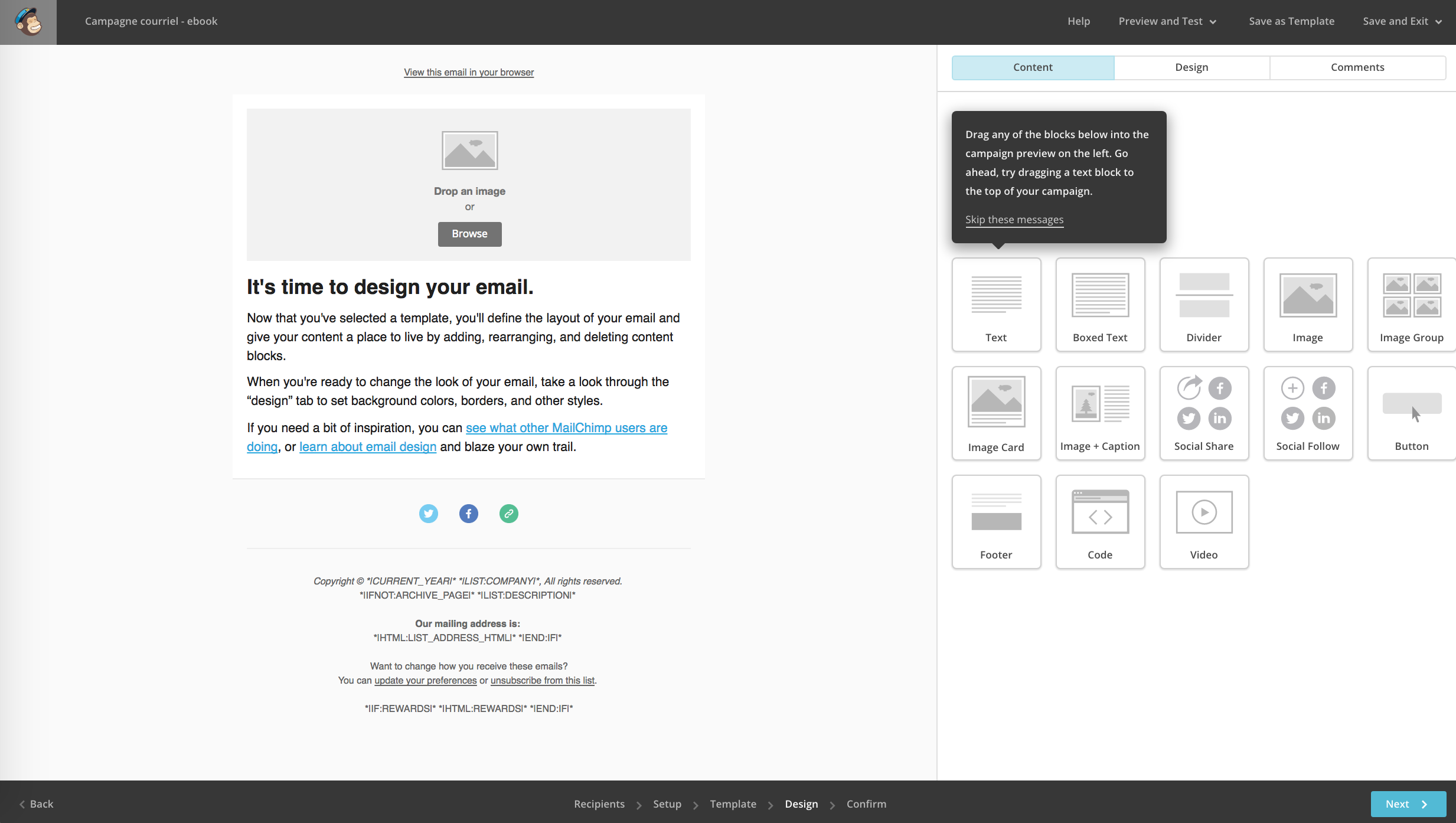 In order to facilitate reading, use a font that large enough—often between 14 and 16 pixels. This same rule applies to the buttons you will include in your newsletter.
Design buttons that are big enough to be easily pressed by a finger and don't put several links too close to one another. You want to get readers to click once. You don't want to trigger accidental clicks.
Don't forget to use smaller-sized images to reduce the time it takes for your newsletter to appear on screens. What's more: your newsletter's content should not depend on the images. Some email programs do not display images by default.
Be sure to add alt text to your images, which means naming and describing each one. This way, readers will understand your newsletter's core message even if they don't see the images in your email.
Copywriting matters
Writing the content of your newsletter will probably happen at the same time as you create its design. The difference is that you must keep your newsletter's goal and target audience in mind when developing content.
Who will read your newsletter? What tone should you use? What main action do you want readers to do once they have finished reading your newsletter? The average user spends 51 seconds reading a newsletter.
Get to the point and clearly indicate what readers should do next. Be clear and concise.
Your newsletter should not just be a promotional tool or means to drum up sales. Yes, your readers should receive tantalizing promotions, but above all, they should learn more about your company.
With a great subscriber list, you can develop trustworthy relationships that you must protect at all costs.
Generating revenues
Of course you want to increase your sales revenue and create new sales opportunities. But customers are not always in full-throttle buying mode. Build a long-lasting relationship with customers using your informative, personalized and (sometimes!) promotional newsletter.
Need an extra dose of inspiration? Here are some newsletter topics to get your creative juices flowing:
Present your company and employees
Share a recent blog post or YouTube video
Share links, tools or interesting videos
Share a news article in your industry or about your company
Share webinars, projects and/or ebooks
Share a challenge or theme
Promote a new product or service
Promote deal or discount
Promote an event or celebration regarding your product or service
Create a compelling call to action
You have one minute to capture customers' attention and incite them into action. Your call to action must take center stage. You can have several calls to action; however, you should have a main one that permeates your newsletter.
It should be displayed on the top of your newsletter so that it is the first thing readers see.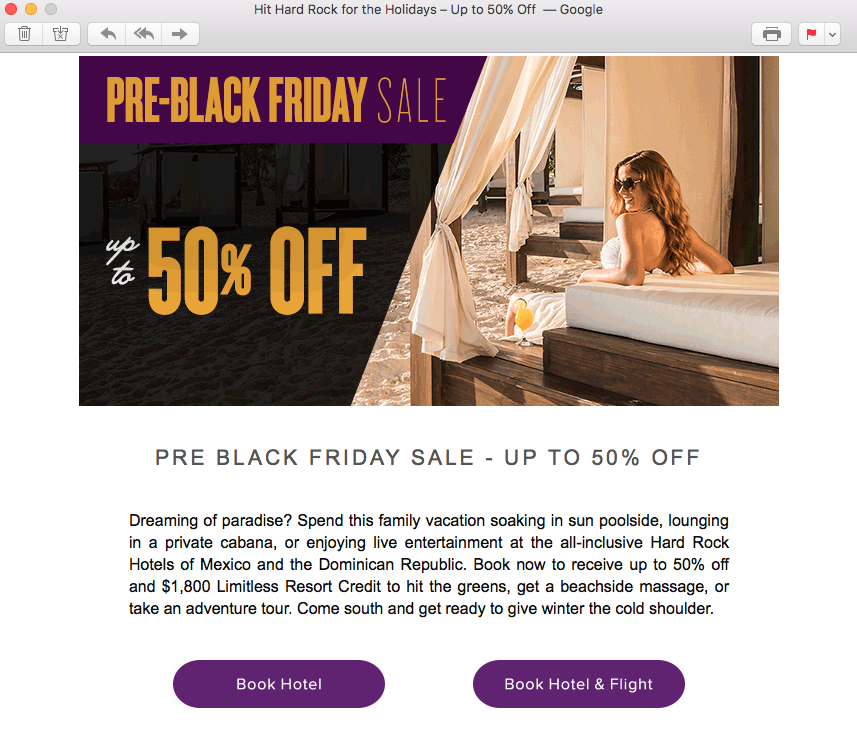 The perfect call to action is:
Clear
Direct
Beneficial
Immediate
BONUS TIP: Test your newsletter
When you have written and designed your newsletter, don't forget to test it on different devices to ensure that it is optimally displayed. Most email marketing platforms allow you to preview newsletters on desktop computers and mobile devices.
You can also send newsletter tests to colleagues and business partners to confirm that your email is ready to go. It's better to take a few more minutes to check for any errors or mistakes: once you send off your email, there is no turning back.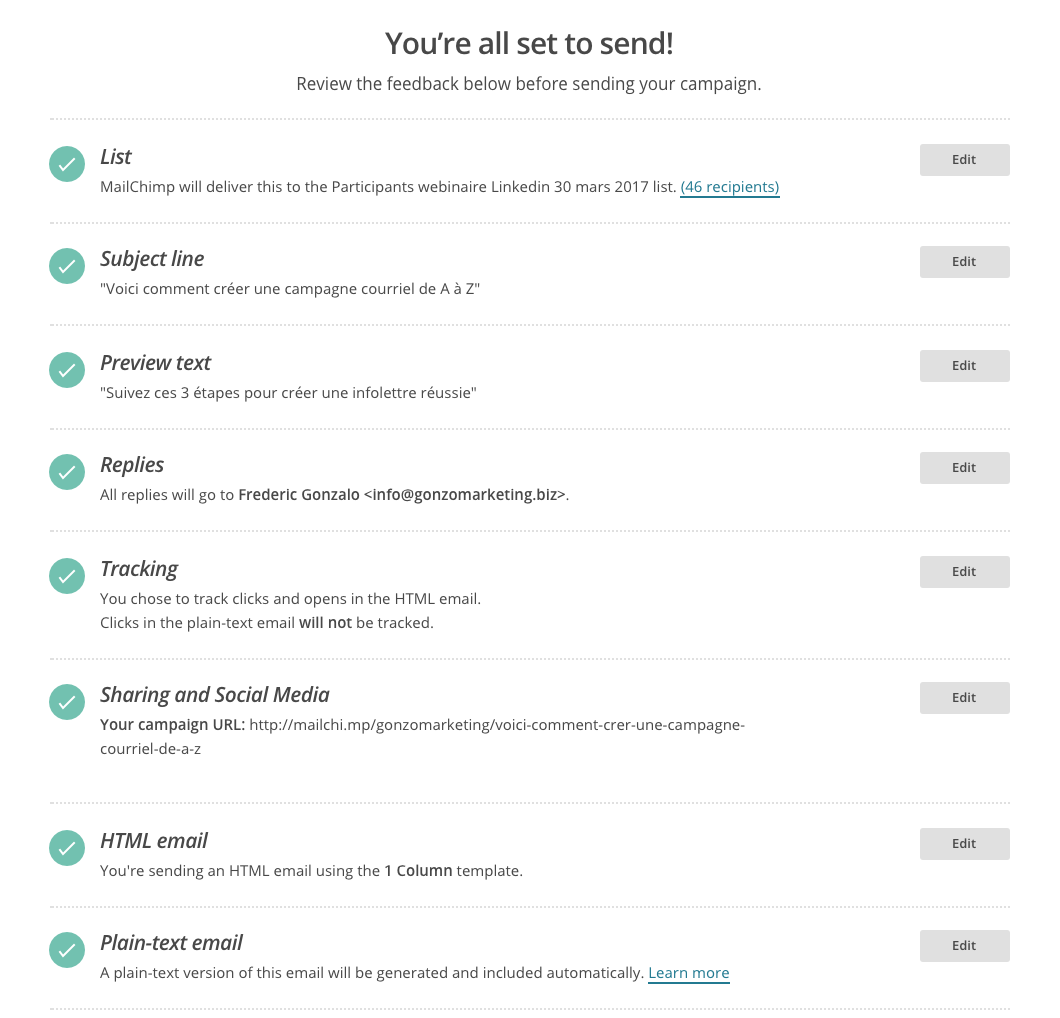 Before launching your email campaign, make sure you meet all the criteria required by your email marketing platform:
Subscriber list
Email subject
Email preheader
Stats to monitor
Sender's email
Sharing options
Newsletter design
Plain text (automatically generated; however, you can change it yourself)
If you meet all these criteria, you are ready to send your newsletter! You can then carry out tests by sending out your email based on a specific date, time or segment of your clientele. Creating a 100% perfect email is an art that takes time to learn.
Nevertheless, after several campaigns, you will gain better insight into your subscribers and their needs—your secret weapons to achieving better results!
In the next article, the last one of this series, find out how you can monitor and analyze the performance of your email campaigns.