This is the ninth in a series of "Best Practices in Travel" posts to be published on this blog. Today, we focus on Email marketing!
In the digital landscape, the buzz is often about newer bells and whistles, such as up and coming social networks or sharing platforms empowering customers to bypass traditional channels. In this day and age, email is perhaps considered as the grand-daddy of digital communications, yet its efficiency remains second to none.
One example? Facebook pages now reach on average 6% of their fan base, with engagement rates that hover between 1-2%. No matter how big your email database though, sending newsletters will usually reach 95-97% of your customers, with open rates varying between 20-30% (in the tourism & hospitality vertical). I covered more in-depth the benefits of email marketing in this piece: Email is dead… NOT!
Speaking of stats, here are few compelling ones to bear in mind before we delve into some best practices and examples for you travel marketing efforts: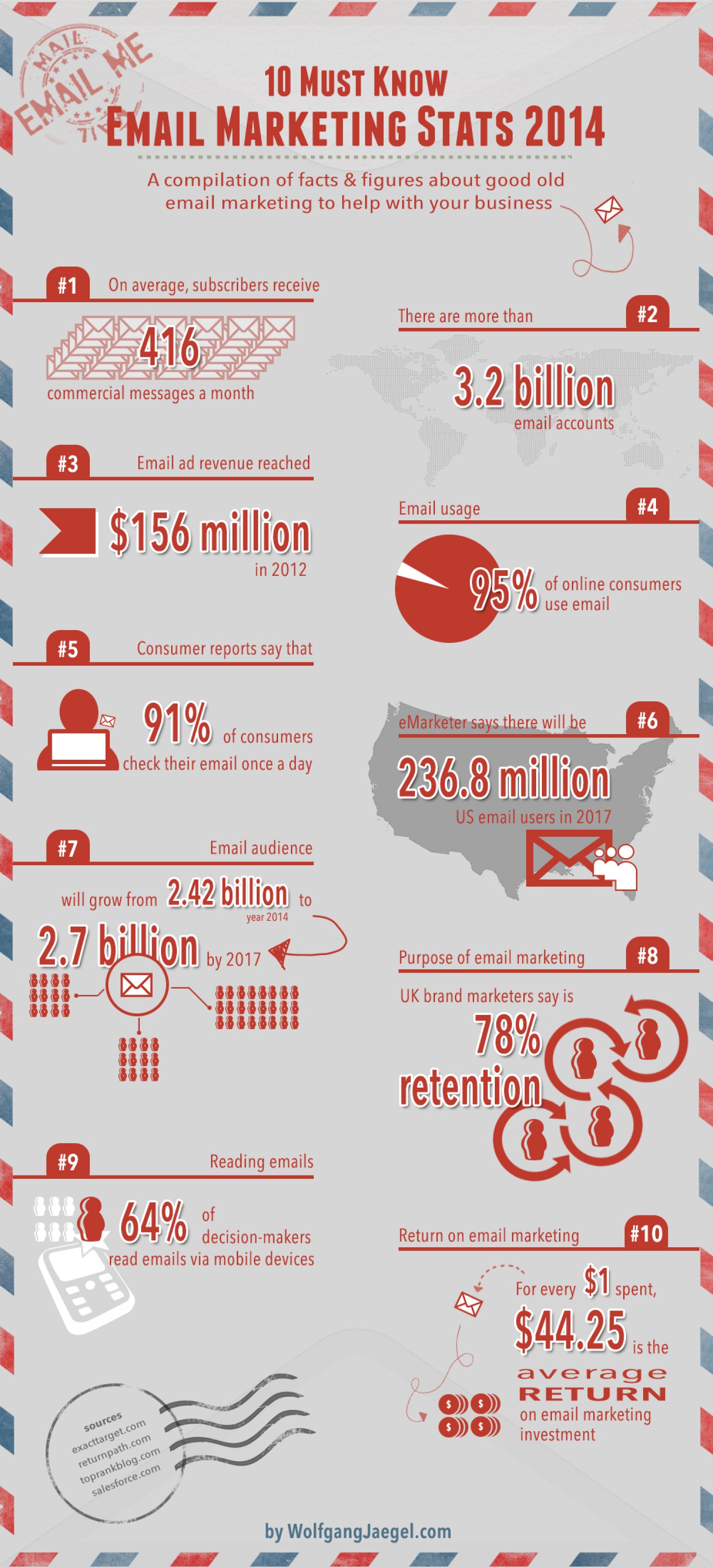 7 BEST PRACTICES IN TRAVEL
1. Know your audience… and what they want
Just like in most relationships, it's important to understand the other party, its needs and wants. Too often, brands just churn out content, shouting out promotional offers that seem to have value to a given few. How about asking your audience what they want to hear or receive from you? I love how VIA Rail Canada (see example below) asks for a few questions before you can complete your profile on their website.
NOTE: The biggest threat that comes from these efforts is that you will have to live up to expectations. I once worked at a ski resort where we'd ask new subscribers if they preferred ski or snowboard, what was their level of expertise, and how often they skied in any given winter. That can be useful information… assuming content is adapted accordingly (more on this, in the segmentation section).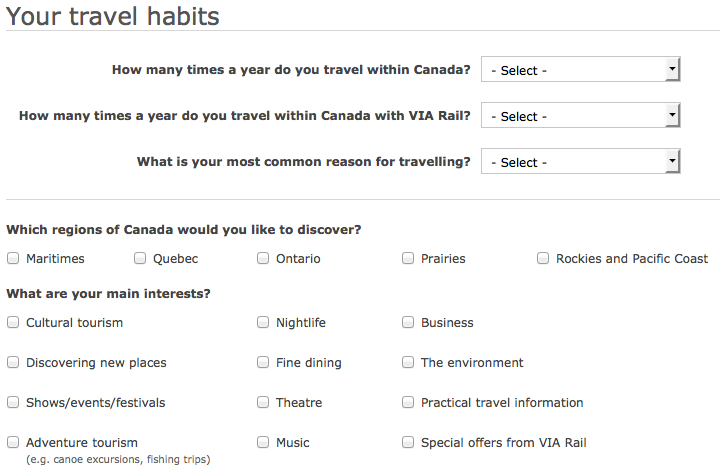 2. Get explicit permission
The age-old "opt-in" versus "opt-out" debate is dying, finally. Who still does "opt-out" anyway? You know, when a box is already ticked and you must undo it in order NOT to receive contests, offers or other promotional gizmos from third parties?
Nowadays, it's de rigueur to ask the user to opt-in for whatever communications he may wish to receive, on whatever platform it may be. In fact, some will even provide what is called double opt-in, i.e. sending out an email to the user, to confirm that he or she has subscribed for your newsletter, for example.
I like this example by Club Med, where it's quite obvious what you opt-in to, and they also give the choice to be advised via mobile SMS or email.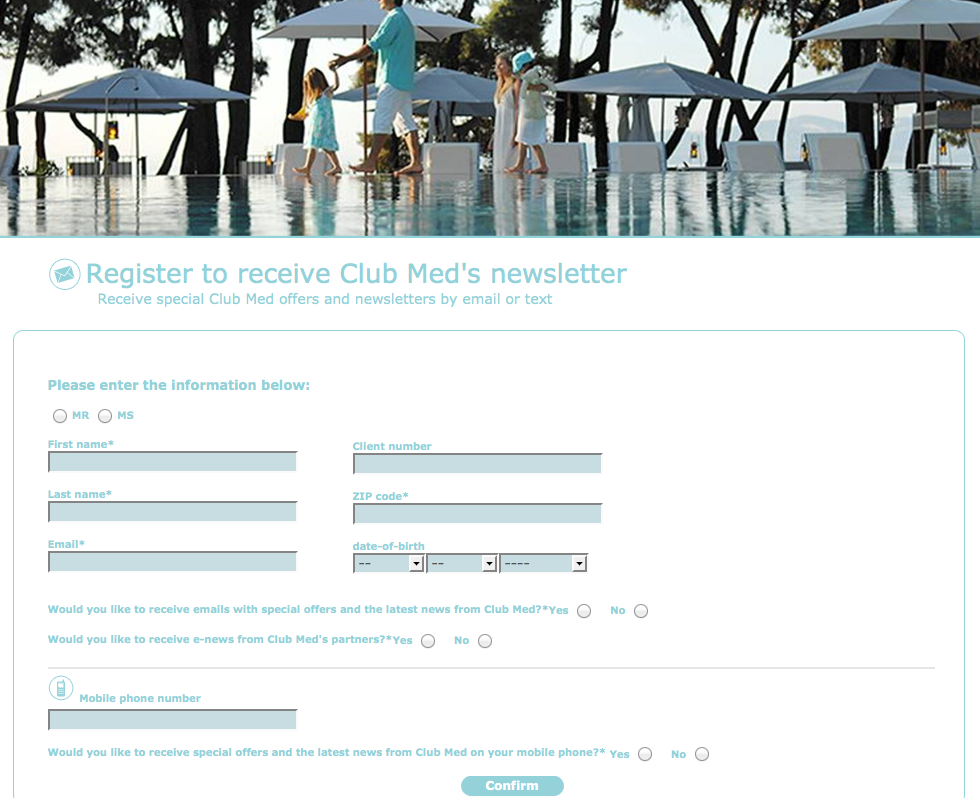 3. Test, test, test
According to a study by Experian in 2012, only about one third of all marketers test their email marketing tactics. Examples of tests include:
What time of day is best to get better open rates and click-through rates?
What day of the week gets better reaction and engagement rates?
Which title would get better results?
Will open rates vary if you include a photo or video in the body of the email? Perhaps an external link might work better?
If you automate surveys, when is the optimal time to send it out: 24 hours after departure? 48 hours?
Do English-speaking clients react differently than French-speaking ones to a given contest?
There are no right or wrong answers here, of course, as these were simple examples. But if your brand doesn't test different scenarios, how can you optimize your approach and know what works best?
4. Segmentation
A good database is one crafted to answer business needs and that can be sliced and diced in segments to which you may want to send out different messages. Unfortunately, according to another study published in 2012, over 80% of marketers send out the same message to all their database, without any segmentation!
It doesn't have to be complicated, but your system needs to keep trace of basic information, or else it will be garbage in, garbage out… Some examples of segmentation:
Potential customer vs. Returning customer (loyal)
Member of your rewards program vs Non-member of your rewards program
Male vs Female
Language spoken: French, English, Spanish, etc.
City, state or country of origin (you won't send out the same content to someone who can drive up for the weekend vs an international customer who visits once a year, or every other year, right?)
5. Automate
Automation is key to email marketing success, as it allows to free up resources and prevent manual mistakes, assuming your property is working with a performing management system (PMS). Sending out emails prior to arrival is a great way to showcase customer service, but also to increase potential cross-selling and up-selling with clients as they are getting excited for their trip.
A good email cycle will also include sending out a message shortly after the departure, helping gathering guest feedback and increasing reviews on sites such as TripAdvisor (providing there is a link included within the email). Finally, a message should be sent out a couple of weeks or months later, to get some repeat business, depending on the nature of the hotel or destination involved.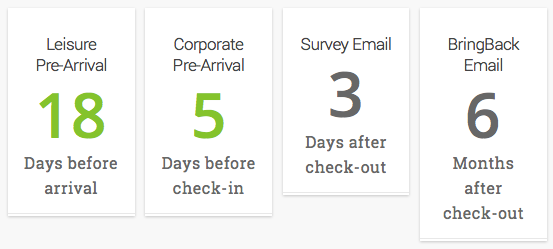 Below is a template example of automated email sent out by the Elliott House Inn in Charleston, getting the client pumped about their upcoming stay.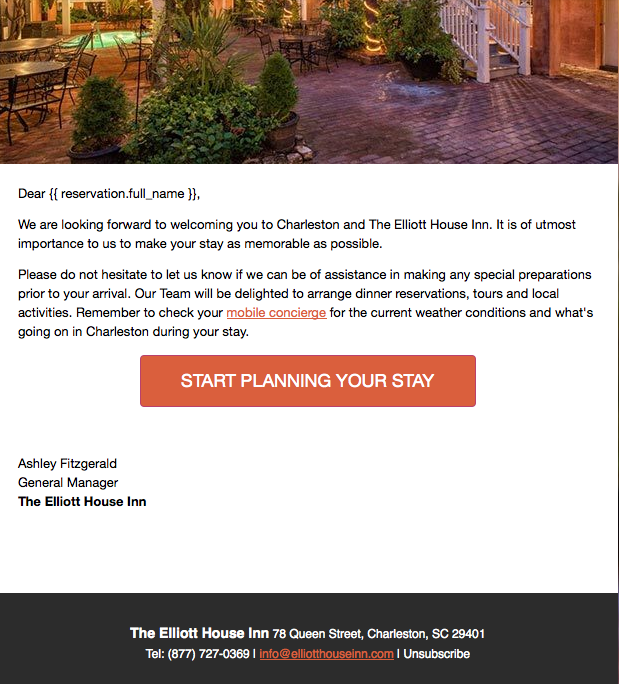 6. Think Mobile
Since November 2013, the tipping point has officially been reached in the U.S.: 51% of emails are now opened on a mobile device, rather than on desktop. And this only way is up for this trend, so have you optimized your email messages and newsletters for mobile accordingly?
If you are using providers such as Cake Mail, MailChimp, Aweber and such, they usually have responsive email template designs, adapting automatically to tablets and smartphones. But if you use your own in-house solution, you will want to make sure mobile is an important part of your strategy.
Below is the list of top 10 most popular email clients in North America, according to Litmus.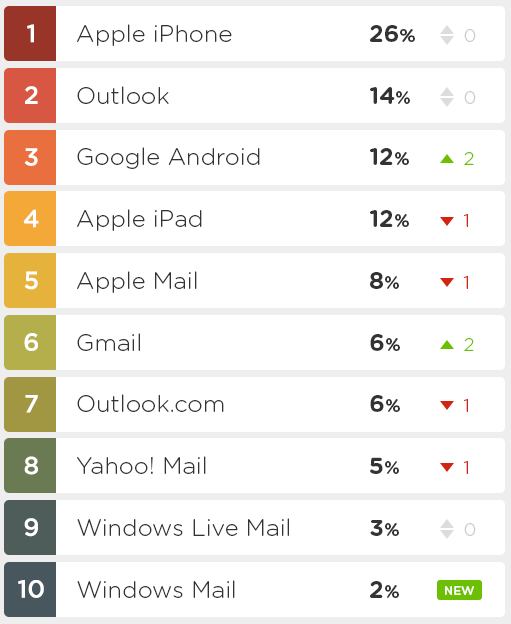 7. Comply with regulations
If you have any business with Canada, Canadians or companies that are located in, or dealing with, Canada, then you have most likely heard of C-28, also known as CASL – Canada Anti-Spam Law. This law has been in the works for years now, but came into effect as of July 1, 2014. I will spare you the details, but you can check out their detailed web site for more on this (click here).
Even if you don't deal with Canada, there are some important takeaways and best practices to learn from it. Namely:
Opt-in, not out
Opting in should mandatory. That is, a person should always tick the box giving permission to receive newsletters, participate to a contest or whatever the call to action may be.
The box should not come already ticked, whereby people have to click the box (opt-out) in order NOT to receive newsletters.
Make it easy to unsubscribe
It should be easy and transparent for people to unsubscribe from your newsletter or communications. Don't make them have to say why, or fill in once again their email address or worse, fill in captcha or any other kind of hoop they have to jump through.
Be easily identifiable
I should know who the digital communication is coming from, with a clear header, and clear footer. I may have subscribed for a newsletter when traveling to a resort, but I am not familiar with all the subsidiaries from the company managing that resort.
This information should be outlined perhaps in the footer, so that I know I am not being spammed and this is something I had actually subscribed to.
Clean up your database
It is said that a regular database will lose anywhere between 20-33% of its data on a yearly basis: redundancies, people move, people die, people change email address or change jobs, etc.
If you look at your database, how many people opened your emails in the past year and what percentage of your overall database do they represent? Who are the folks who regularly open your communications, and better yet click on the various links (promos, photos, videos) provided?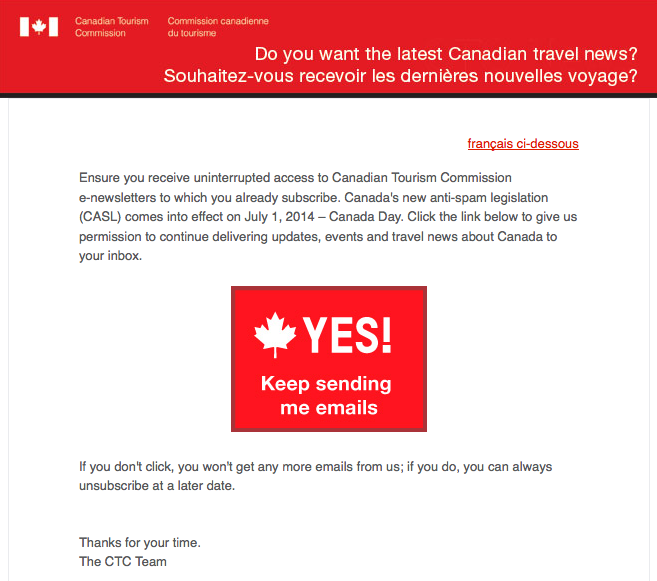 BONUS TIPS: How to increase your email list
The above best practices are all swell, but if you don't have much of a list to begin with, your communications won't resonate as big a crowd as you'd hope to. Here are a few tips to increase the size of your email list:
Offer an incentive
This one is an easy one. It can be when people check in at your hotel, restaurant, attraction or destination. Give the people a reason to subscribe to your digital communications: an upgrade, a free coffee, wifi access, inserting the name into a huge contest, etc.
Perhaps you have written an ebook, or have a guided tour of the city available on podcast, that could be given away as prize?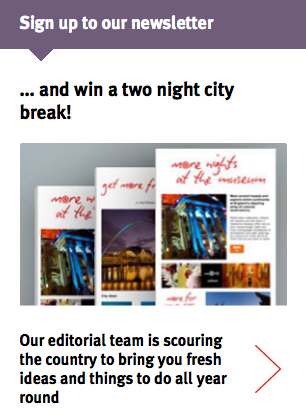 Consider popovers
There are different schools of though on this one. I personally don't like having a popover owning the screen when I am visiting a website, unless it comes up after 30 or 45 seconds (this is easy to program).
It can even popup only when the visitor goes to a second page, which ensures it someone genuinely interested by your product or service.
Have opt-in forms on key pages
Make sure people can subscribe from the home page, but also on various key pages across your site when they are surfing it.
It's a great way to make sure you keep contact with people who are obviously looking for something on your site…
Communicate across platforms
Don't assume people have seen your newsletter opt-in when visiting your site, so make sure it's available from your Facebook page, promote it on Twitter, Pinterest or whatever social accounts you have, including your blog.
What are some of your favorite travel brand newsletters? Any other email best practices you think should have been mentioned in here?