This is the eighth in a series of "Best Practices in Travel" posts to be published on this blog. Today, we focus on Blogging!
According to Social Media Examiner's 2014 Social Media Marketing Industry Report, 68% of marketers identified blogging as the most important area to increase usage this year, topping YouTube (67%), Twitter (67%), LinkedIn (64%) and Facebook (64%).
Blogging is also one of the rare tools that best serves both B2B and B2C purposes, as it is core to any content marketing strategy. Read also: How to apply content marketing in hospitality
In the travel and hospitality vertical, blogging is particularly useful as storytelling tool, creating content that can then be shared through various social networks such as Facebook, Pinterest, Twitter or even Linkedin.
In fact, most destinations now have a blog, such as this one by Tourism Vancouver, telling the city's stories, where to go, what to do, best spots to eat and drink, etc.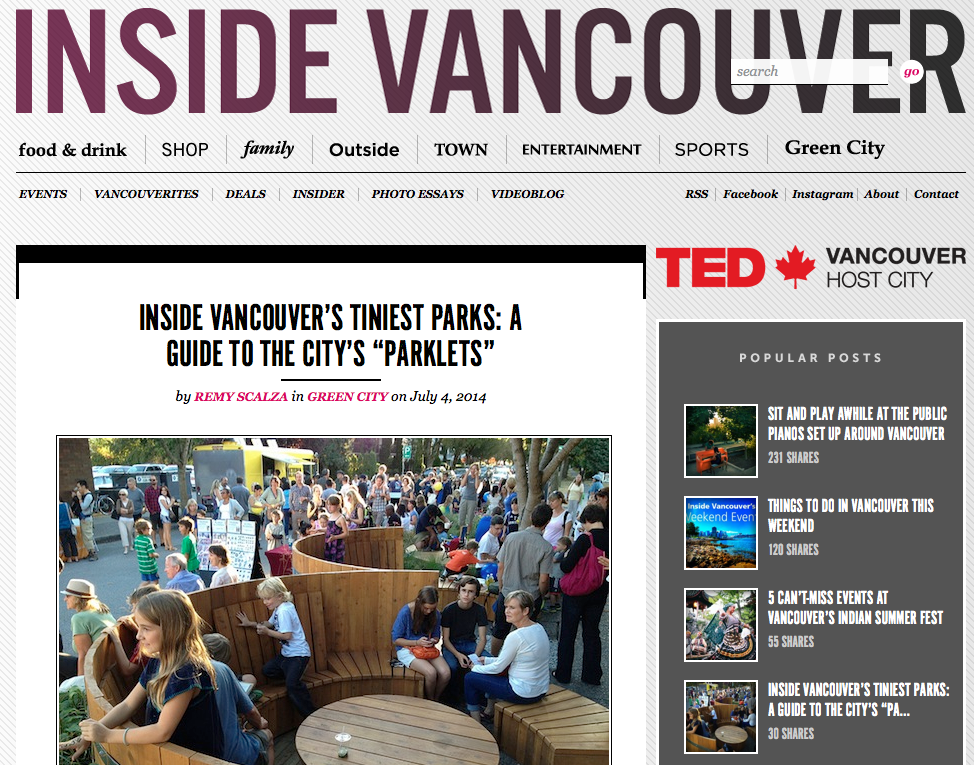 Oh, but blogging is so 2005, isn't it? No. Consider the following stats:
In 2013, 61% of US consumers made a purchase based on a blog post
70% of consumers learn about a brand through articles, rather than ads
77% of internet users read blogs
And as you can see from the following infographic, blogs are highly useful for brands wishing to generate more links and traffic to their websites, which is what most brands want!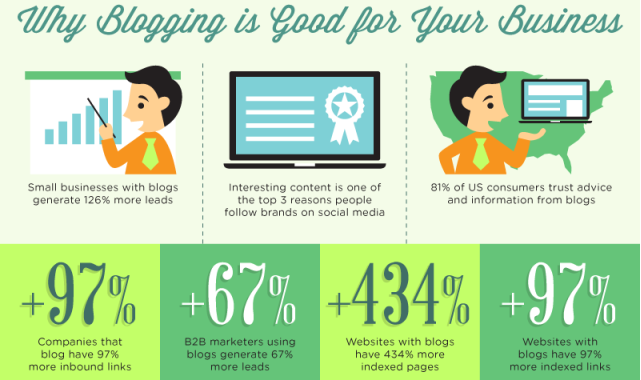 5 EXAMPLES IN TRAVEL
So how can travel marketing experts make the most of blogging within their digital strategy? Here are five great examples.
1. The Standard Hotel
When you head over to the Standard Hotel's website, you won't find the usual stuff. Booking a room doesn't seem to be the priority here – even though you'll obviously find a tab with that mention, in the top navigation bar. Their site is all about storytelling, lifestyle, culture, galleries, celebrities and so on.
The Standard Hotel is one of the few that has a great presence on Tumblr, where photos are shared regularly, aligned with the brand and customer interests. A very effective way to complete the story being told on the main site, where videos, photos and articles complete the editorial approach.

2. Tourisme Montreal
Tourisme Montreal was an early adopter in the digital landscape, shifting 100% of its marketing budgets towards web-based tactics as early as 2009. Its award-winning blog employs five bloggers, writing regularly about arts & culture, festival & events, attractions, fashion, family, gastronomy, gay life, outdoor activites and nightlife. You can check out their blog here.
What is perhaps more interesting is the fact that since 2013, Tourisme Montreal also has a destination blog for its business clientele, with articles focusing on meeting & events, conferences and logistics. Lots of useful information that can be spread within B2B tactics, offline and online.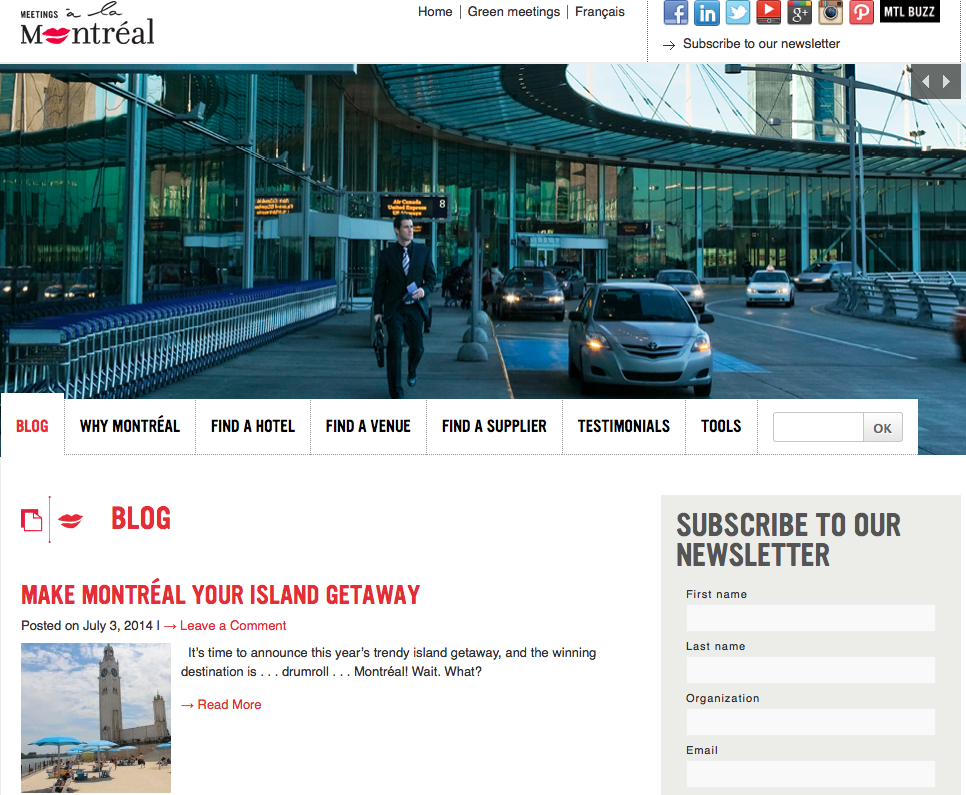 3. Bill Marriott Blog
There are countless hotels managing a corporate blog, but very few that showcase an individual as prominently as Marriott and its founding patriarch, Bill Marriott. Now 82 years-old, Bill Marriott started his blog "On The Move" in January 2007 at the venerable age of 75!

While he admits not being a computer enthusiast – most of his blogs are rewritten by his assistant, from his handwritten notes – Bill Marriott's blog embodies what blogging and social media should be all about: making it personal, authentic.
Marriott hotels are an international brand, and it can sometimes be difficult for people to relate to big brands. This blog, now into is 8th year online, does a great job of sharing corporate and personal values from the owner, while showcasing employees, providers and customers along the way.
4. Fitz & Folwell Blog
At the opposite end of the spectrum, I love this example by Fitz & Folwell, a small Montreal-based bike tour company. Their website and online approach is just like their company: small is beautiful. There is nothing fancy about their F&F blog, where they share articles, photos and ideas 1-2 times per month, sometimes more.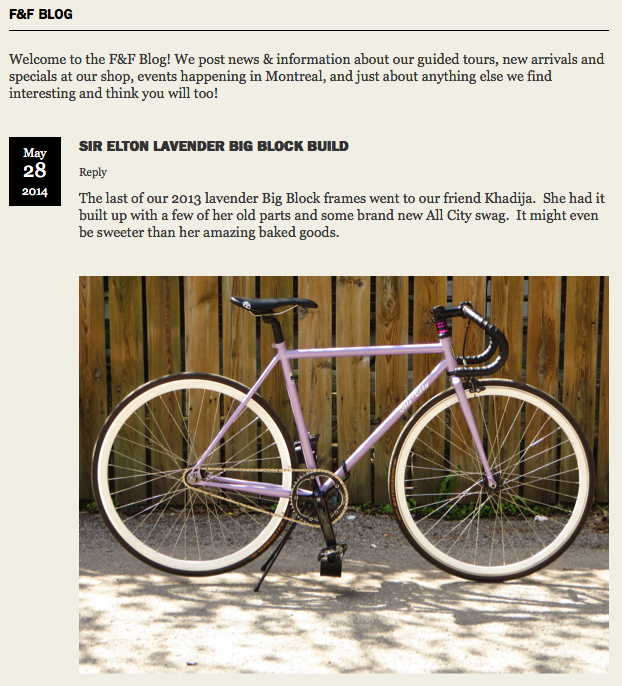 Some of their posts are in French, some in English, which perfectly reflects the bilingual nature of Montreal. Their site and blog show above all that you don't need to be a multinational brand, or have big financial or human resources, to blog and be active on various social networks. As always, it's a matter of priority and dedication.
5. Viewfinder Travel Blog
Destinations, airports, hotels, restaurants, attractions… many stakeholders in the travel industry understand the values of blogging from a content marketing perspective. But what about online travel agencies? Priceline (and its subsidiary Booking.com) and Expedia are known to be amongst some of Google's most important AdWords clients, the former spending $1.8 billion in 2013 while the latter spent over $1 billion as well. But original, editorial content?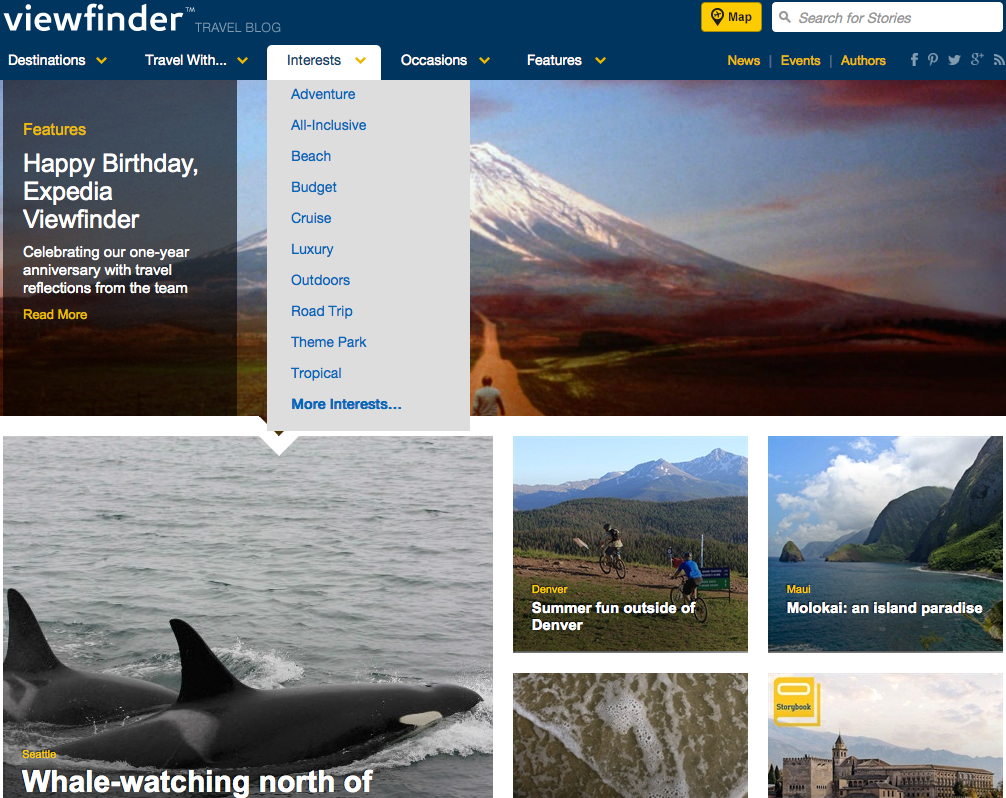 Little over a year ago, Expedia launched its Viewfinder travel blog, in association with renowned travel bloggers. Sure, Expedia is a powerful brand with access to financial resources beyond what most small businesses could usually afford, but it's nevertheless telling to see such a big brand bet on a multi-author travel blog as key tool for generating interest and traffic to its main site.
5 tips for blogging in travel marketing
1. Frequency
Various experts will tell you that in order to get traction, a blog ought to publish on a daily basis, or at least 2-3 times per week. For smaller organizations, that can be utopia, due to limited resources, generating enough content and ideas, and so on.
The important thing is to set a frequency, and stick to it. Look at the F&F blog, mentioned above, and you'll see that once or twice per month can be enough in some cases.
A major concern is often about churning enough content to maintain a decent publishing pace. It may be great to publish a post with more than 1,500 words, but does it have to be all the time? Posts can be a collage of pictures, an video interview, a recipe or an interview with a member of the staff.
2. Specialty
Too often, corporate blogs offer bland content, that could have been published on any other blog or website. What's your unique angle? The example of the Standard Hotel blog on Tumblr, shown above, is a great example of effective brand positioning. So the question here is: what is your blog about? Do you even have a mission statement for it?
Of course, the niche or specialty you seek to share will have to align with your brand's overarching goals and objectives.
3. Audience
So you know how often you'll post, and hopefully what you'll write about. But who do you write for? Just like with advertising and marketing in general, there are few, if any, travel brands that truly cater to the 7 to 77 year-old folks.
Identifying your target readership is a different game than perhaps your target clientele, since the latter may not be active online at the same level. So it's important to make sure you know who your brand is writing for, and how this audience fits in with other social networks and digital tactics you have in place. More on this in the next tip.
4. Integrate with other digital outposts
As Jay Baer says it best, content is the fire, and social media the gasoline. Social networks work great to amplify messages and communications, but ideally theses messages reside on owned media such as your website and blog.
Yet a blog is not a strategy by itself: it needs to intertwine with your newsletters, Facebook, Instagram or Twitter, not to mention encompassing company-wide topics that are relevant at large: customer service topics, human resources or recruiting, highlighting suppliers and providers, etc.
In that context, you may have a different audience targeted by different outposts, i.e. blog is for families or nightlife focus, Twitter is for younger, hipper crowd, and so on.
Thus, the importance of having an editorial content that integrates all your digital outposts, along with paid tactics in order to complement and get a bigger picture of a brand's content marketing over a given period.
5. Travel blogging relationships
Last but not least, it's great to see more and more destinations and travel suppliers working with travel bloggers, above and beyond the usual work being done with more traditional journalists.
As seen with the example of Expedia's Viewfinder blog, having professional or emerging travel bloggers write about your travel brand contributes to your overall digital storytelling, enhancing efforts made on owned, paid and earned media altogether. If you aren't working with travel bloggers yet, you may want to consider attending shows such as TBEX this Fall (details here).
Other interesting readings: 10 tips for working with travel bloggers and destination
Finally, Mitt Ray, founder of Social Marketing Writing, created this insightful infographic on 13 blogging stats that can help you perform better. Enjoy and share away!