Messaging technology is all the rage now, as we have become addicted to our mobile devices, whether at home, at work or on the go.
Consider these stats:
Estimated SMS, MMS and MIM text messages sent daily worldwide, in total: 20 billion
Number of messages sent daily on Whatsapp alone: 30 billion
4 out of top 5 most popular social media worldwide are messaging apps!
Two of them belong to Facebook: Messenger and WhatsApp
75% of mobile users worldwide use a mobile messaging app at least once per month
In Canada, 13.4 million users were active monthly on a mobile messaging app in 2015. That's a 40% growth rate from the previous year!
The chart below shows the staggering rate of growth for the key mobile messaging apps in the past five years.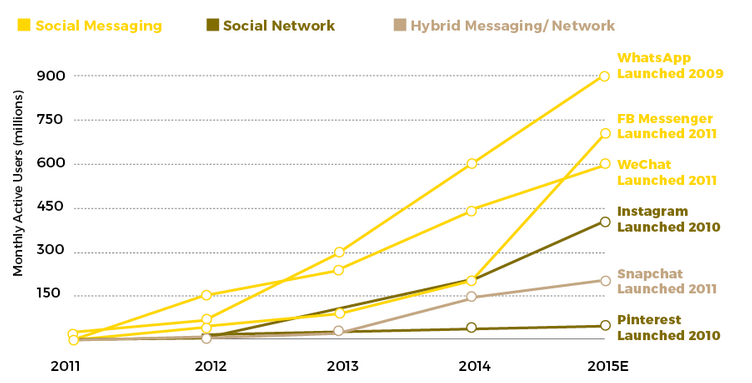 Needless to say, this represents a golden opportunity for travel marketing brand experts to connect with potential clients and travelers prior to, during and after their experience. Some apps are more adequate for brand storytelling, while others can enhance customer service and marketing tactics.
Here is a snapshot of five key platforms with real-life examples from travel brands already active in this space.
1. Snapchat
This messaging app is hugely popular with younger mobile users, aged 12-24, in great part because of its ephemeral functions and relative user anonymity. Users send each other snaps, which are 1-10 second text messages, photos or videos. Snaps then disappear from the platform, and every 24 hours Snapchat servers are wiped clean. But is it just a teenage wasteland? Nope.
Latest stats show the app has been seeing tremendous growth across diverse demographics even though its core users are younger than those found on Instagram, Facebook or even Twitter.
200+ million monthly active users
65% of users contribute content on a daily basis
9,000 snaps shared every second!
8 billion daily video views – same as YouTube and Facebook!
73% of users are Millenials
77% of College students use Snapchat daily in the USA
With stats such as these, it's no surprise to see more and more travel brands jump on Snapchat, specially if your product or service appeals to a younger target audience. Or if you wish to draw their attention.
Such is the case for example with the Los Angeles County Museum of Art, with its LACMA_museum account, seeking to appeal to younger audiences. Not only by showing visual contents from the museum, but also by telling stories about people working there, or having last-minute contests and games. Just like the Getty museum before it, LACMA uses geofilters in order to embrace the full marketing potential from Snapchat (see video below).
2. WhatsApp
It was already two years ago that Facebook acquired WhatsApp for the astounding amount of $21 billion. Why so much? Well, it's mostly about quantity of users, with now more than 1 billion monthly active and engaged users. It was also part of the vision for Facebook to become a mobile-first organization, after its Instagram acquisition in 2012.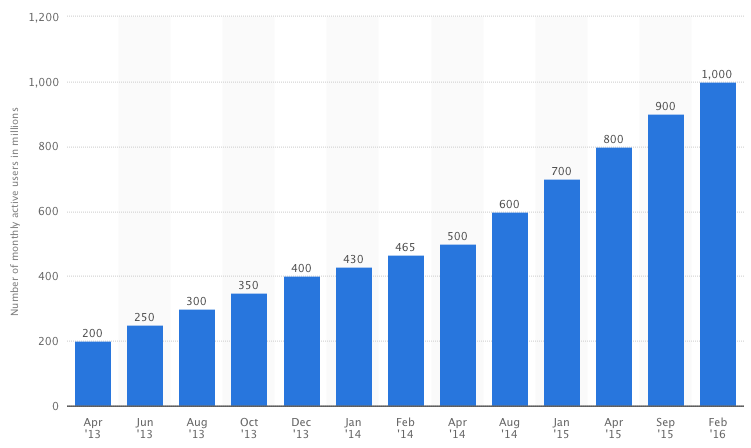 Other interesting findings:
70% of WhatsApp users are active daily
32% of Millenials worldwide are active on WhatsApp
700 million photos shared daily!
Average time spent by users, per week: 195 minutes, or 3.25 hours
Average amount of messages sent by users every month: 1,200 (that's like 40 every day!)
Starwood Hotels – including its brands W, St-Regis and others – have been actively engaging with customers on WhatsApp, using the mobile app as a customer service tool. In the following example, taken from the W hotel in Doha, we see a typical exchange between a loyal hotel guest and a customer service representative.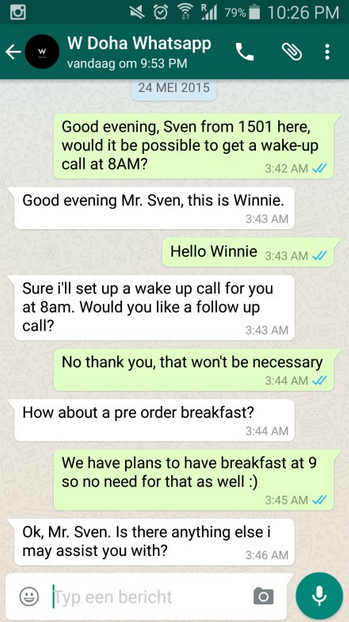 Dutch airline KLM also entered the fray earlier in 2016, offering since February the possibility for passengers of its Shiphol airport, in Amsterdam, to rebook their flight whenever there is a major disruption. This will most likely lead to other opportunities for both customer service and marketing with cross-promotions and upselling, for example.
Other travel brands are sure to follow, if it's not the case already.
3. WeChat
When it comes to WeChat, we are dealing with a different entity. That is, a mobile app that originates from China, where it is called Weixin, seeking to gain traction across the globe, when it's usually the other way around. Developed as a text and voice messaging system by TenCent in China, it was released in January 2011 and quickly became a hit, both in China and abroad.
1.1 billion accounts
650 million monthly active users
88% of users are active daily!
98% access their account via a smartphone
100 million active users live outside of China
Average time spent on WeChat by adults: more than 40 minutes… per day!
No doubt, it's a sticky app. So how can travel brands embrace its potential? Like with most messaging app, it's important to follow influencers on this platform and engage with them without hard-selling.
However brands who want to advertise on WeChat must be patient – accounts require 100,000 followers or more in order to be eligible to paid tactics!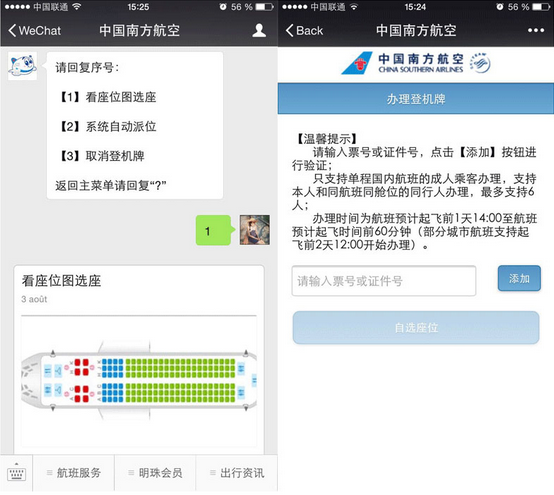 Many brands are active on WeChat, including Air France, which uses the tool to respond to its customer base, China Southern Airlines, which provides online registration for its flights, Shangri-La hotels powers a fare comparison tool on its account while Marriott hotels uses the tool to showcase customer reviews. Hyatt Hotels is also active, using the Checkmate software to monitor conversations and respond in a concierge-like tone and manner to its customers, with a location-based service to help customers nearby.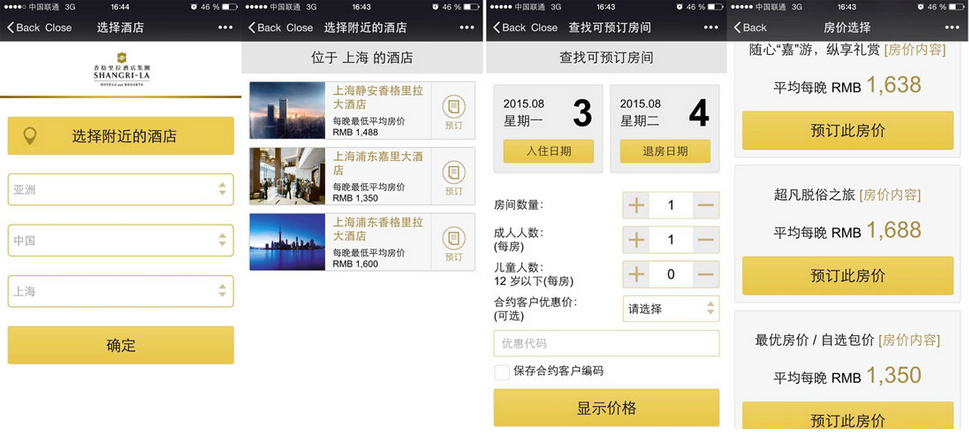 4. Facebook Messenger
Even though Messenger is a Facebook-owned mobile messaging app, did you know you don't have to have a Facebook account to use the app? Messenger is another key player in the Facebook ecosystem, along with Instagram and WhatsApp, with mind-boggling stats:
More than 900 million monthly active users
35% of global smartphone users are active on Facebook Messenger at least once per week
35% of Millenials worldwide (outside of China) are active on Facebook Messenger
1/4 of American high-school students in class of 2015 were active daily on Facebook Messenger!
Hyatt Hotels was one of the very first travel brands to join in Businesses on Messenger, a year ago. Since most travel brands are already active on Facebook, responding to customer queries, questions and comments, the next logical step will be to carry that conversation onto Messenger where travelers on the go may prefer to engage.
Car-riding service Uber also started offering services through Facebook Messenger since last December, as can be seen in the video above. Airlines such as KLM, Alaska Airlines and Air New Zealand are also active through Messenger, communicating with travelers, updating flight information and gate changes, for example.
For KLM, it was estimated that customer interactions and questions increased by 40% since they introduced Messenger into the mix!
5. Slack
Launched in 2014, Slack is the new kid on the block yet also the trendiest, up and coming tool travel brands should look out for. Meant as a messaging app for business, Slack is used to facilitate communications between teams and communities.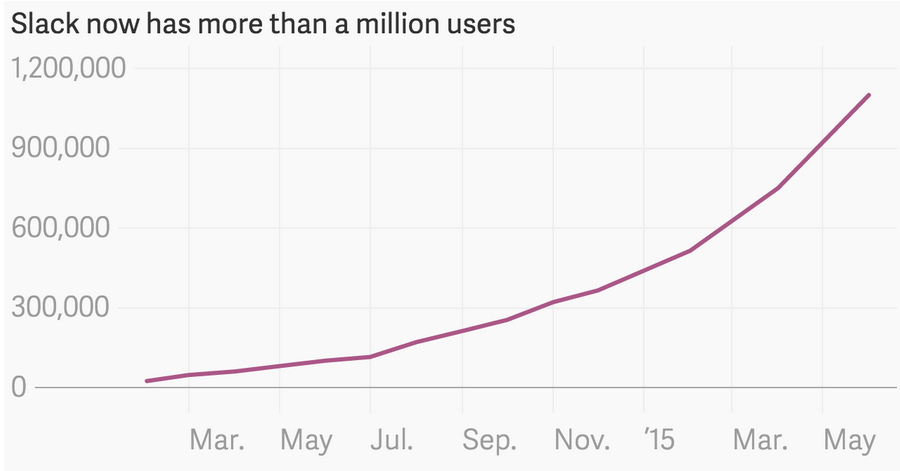 It had more than one million active users after only a year in existence, as of June 2015, and grows at a rapid pace, doubling its user base every three months. It is estimated to have some 2.3 million monthly active users right now.
There are presently two online travel communities using Slack: NomadList, with its #nomads slack, an invite-only community for primarily solo business travelers wanting to "chat life, work and travel", and TravelNoire, with its #TNdistric slack, a subscription-based community for black travelers.
Why is Slack so popular and potentially sticky? In great part due to its savvy integration with third-party apps such as Google Drive, Dropbox, Google Hangouts, Twitter and MailChimp, among others. And it recently launched a booking service with Roomino, allowing the service to go beyond messaging and into a more lucrative realm. At least in theory.
Metasearch engine Kayak recently launched its Slack functionality, a bot helping to extend bookings beyond the site itself onto the messaging app. This move comes not too long after Kayak announced its own text-based travel service in 2015, Kayak Snap.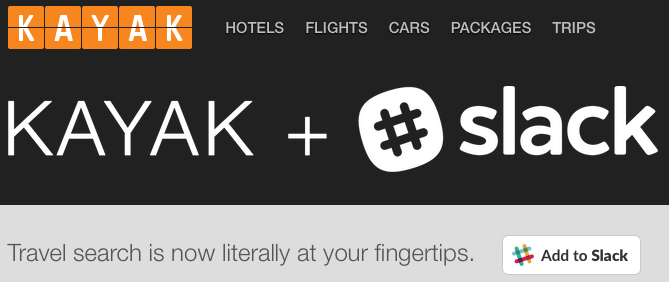 Do you know of any travel brands making savvy use of these mobile messaging apps, or other ones not mentioned in this article? Please let me know in the comment section below.