The 7th edition of Responsible Tourism in Destinations conference will take place in Barcelona, Spain, this coming week (October 1-4th). As keynote speaker, I have been asked to address how social networks can contribute to a more responsible tourism. Here are some thoughts I will be sharing with the audience.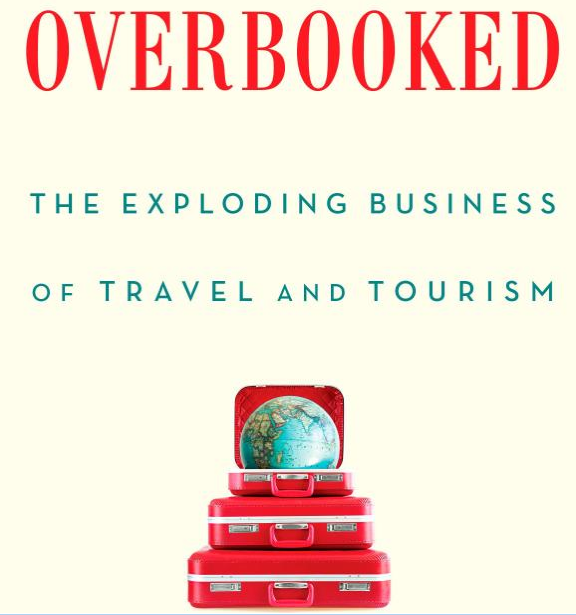 A couple of months ago, during a Linkedin group discussion, someone recommended that I read a new book that had been recently published: "Overbooked – The Exploding Business of Travel and Tourism", by author and journalist Elizabeth Becker.
Though I'd started reading it during the summertime, I only really was able to dig into it on this recent trip to Europe, which is ironic since I am headed to the annual conference where industry stakeholders, destinations and thinkers from around the world will reunite to discuss more mindful ways to travel.
Sustainable travel coming of age
I have been active in this industry for 18 years now, yet I found it refreshing, and at times disturbing, to read a different perspective such as the one provided by Becker. You see, travel and tourism may still be perceived by some as a secondary industry, but did you know that:
In 2012, for the very first time, there were more than 1 billion international trips made;
In terms of gross economic power, tourism is in the same category as oil, energy, finance and agriculture;
At least one in ten people around the world is employed by the travel and hospitality industry;
Tourism creates $3 billion in business every day!
The thing is, the travel and tourism vertical is a complicated one, in great part due to its multiple components and constituents: destinations at various levels (national, provincial, regional, municipal, etc.), transportation, various types of accommodations, restaurants, attractions, festivals, events, and so on.
So while countries like France have been at the forefront in terms of developing a national vision for this industry, other countries lag far behind, and in some cases do not even have travel or tourism policies in places. Various countries in Asia come to mind, where aggressive foreign investments on pristine beaches and coast land have pushed away locals and disrupted their economic and social fabric.
Thus, the need to have a responsible tourism approach in place. And counter what we now call overtourism.
What is responsible tourism?
Responsible Tourism is tourism 'that creates better places for people to live in, and better places to visit'. Is it the same as sustainable tourism, then? Not exactly. Sustainable tourism revolves around three pillars: economic, social and environmental.
Responsible Tourism is about industry role-players in the tourism sector, including destinations, taking responsibility for achieving sustainable development through tourism. In fact, the 2002 Cape Town Declaration defines Responsible Tourism as per these seven core elements:
Minimises negative economic, environmental and social impacts
Generates greater economic benefits for local people and enhances the well being of host communities; improves working conditions and access to the industry
Involves local people in decisions that affect their lives and life chances
Makes positive contributions to the conservation of natural and cultural heritage embracing diversity
Provides more enjoyable experiences for tourists through more meaningful connections with local people, and a greater understanding of local cultural, social and environmental issues
Provides access for physically challenged people
Is culturally sensitive, encourages respect between tourists and hosts, and builds local pride and confidence
What role for social networks?
Tourism destinations are facing multiples challenges nowadays, many of which originate from new technologies, social media, mobile and the collaborative economy, among others.
I spoke of this phenomenon in  Why The DMO Model is Broken as well as in Collaborative Economy in Travel: The Big Disruptor. So how can social networks contribute to more responsible tourism?
1. Travelers and locals have voice and power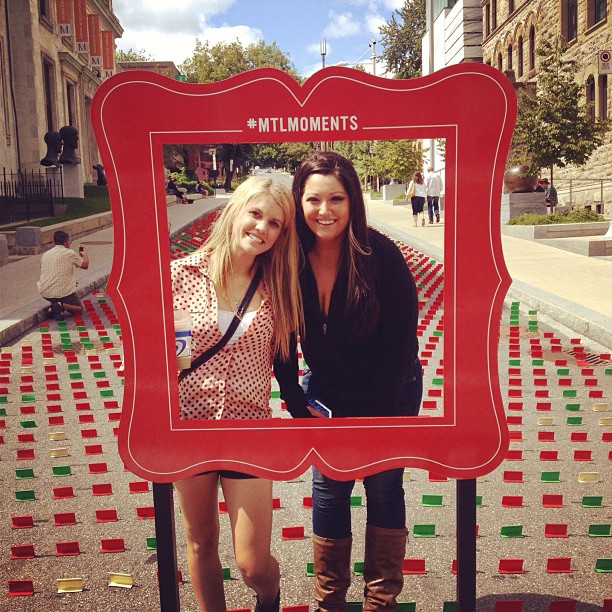 From Tripadvisor to Yelp, Chowhound or Foodspotting, there are now various platforms based on user-generated content and where reviews help travelers weed out the good spots, according to various tastes and types of traveler: solo, family, business, nightlife, etc.
Review sites cover hotels, attractions, spas, restaurants and much more at any given destination, not to mention sites such as Wikivoyage that provide valuable content about the destination. What can destinations do to ensure this flow of information is properly managed and reflects the desired image or branding?
Given the power and reach that stem from Facebook, Twitter or Instagram with a growing majority of travelers and locals alike, we are seeing destinations delegating their account management to locals, for example Visit Sweden with its @sweden account on Twitter or Visit Philly with its Instagram initiative with local photographers.
In Montreal, Canada, locals and travelers are asked to use the hashtag #MTLmoments when sharing a cool experience, with already more than 14,000 photos shared only via Instagram!
2. Locals can take initiatives

With the new sharing (or collaborative) economy, anyone can now start a side-business or pursue a passion in order to connect with more people. AirBnB is the poster-child for folks wanting to share their apartment or flat with travelers, but accommodations are not the only sphere being impacted by this phenomenon.
With sites such as Cookening or MealSharing, travelers can connect with locals hosting a dinner at their place, allowing for unsuspected encounters between fellow travelers and locals alike. Other initiatives such as ToursByLocals will provide guided tours with locals showing you around, off the beaten track and often at a far better deal than cookie-cutter city tours departing from official tourism bureaus.
A recent initiative by Quebec City Tourism tapped into the wisdom of crowds, asking locals to share their best spots for family activities, fine cuisine or grab-and-go lunch. Locals responded overwhelmingly by providing more than 13,000 suggestions for things to do and see while in the city, which in turn could be shared via Facebook and Twitter.
3. Higher potential for meaningful connections

According to different studies (many sponsored by AirBnB), travelers who choose collaborative platforms such as Couchsurfing, AirBnB, HomeAway or Wimdu tend to spend less on transportation and accommodation, but more on the local economy: corner café, local laundromat, festival and events, restaurants, attractions, etc.
In other words, this new breed of traveler wishes to experience a city like locals do, using the same buses or subways, spending at local, lesser-known shops and mingling with locals over coffee or at the corner pub.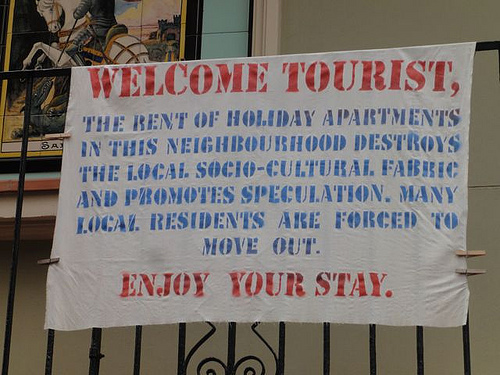 One thing is for sure: social networks allow for multi-dimensional conversations. It's no longer about brands pushing their message onto a passive crowd, nor is it just a bi-directional one where we can interact with brands through offline and online channels.
Locals uprising
Social networks now allow us to interact with fellow travelers and locals, bypassing traditional travel and tourism actors, including destinations.
The challenges that lie ahead will be for destinations to embrace these changes and new players, to build a way for all parties involved to grow without hurting the local fabric. One example? The need to have clear policies in place, and proper enforcement, to regulate the occasional and professional vacation rentals business that is booming worldwide.
Right now, it is pretty clear the situation needs to be balanced out, for example in Catalonia, Spain, where there are an estimated 1 million unregulated beds for 600,000 in the regulated market, causing obvious tax-receipt shortages in the economy.
Personally, I don't think social networks alone contribute to responsible tourism, yet I firmly believe they act as catalysts to empower locals and travelers to shake the industry and create a new order that has yet to be specified. This disruption aligns in many ways with what defines responsible tourism, thus destinations need to take notice.