Movers and shakers from the Canadian travel marketing industry met last week in Gatineau, Quebec, for the 2012 Tourism Congress. This annual event combines high-level discussions, panels and presentations, as well as a great opportunity to reflect on the past year and celebrate stellar performances at the Canadian Tourism Awards gala evening.
As timing would have it, the Canadian Tourism Commission unveiled its most recent video for international markets, the result of its 35 Million Directors contest, launched earlier this year. After asking its 35 million fellow citizens to send in footage of a memorable local vacation, exhilarating experience or little-known local gem, the Canadian Tourism Commission ended up with:
65 hours of footage
8,206 entries
82 winners
1 inspiring video
TRENDS AREN'T LOOKING SO GOOD
At the same time, Deloitte issued the winter edition of its semi-annual Navigate report, looking at tourism, hospitality & leisure stats and trends in the Canadian industry. Unfortunately, the outlook is not as upbeat as the above video! At first glance, one could believe things aren't so bad. Consider that:
January to June 2012: global arrivals were 5% higher than over the same period in 2011
There were fewer arrivals to Canada from Europe but more from emerging markets such as China, Brazil, India and Mexico.
A growing interest in winter-destination travel will increase the number Japanese visitors to Canada
68% of Canadian travelers will take a vacation in the coming 12 months, compared to only 60% a year ago
As for the US market, the outlook is pretty much at status quo, with some light of hope with the economic recovery under way meaning potentially more coming North of the border.
Yet knowing that more than 85% of the Canadian travel industry receipts come from Canadians traveling within their own country only makes us realize that things are not necessarily looking that good, seeing that:
In 2011, 30% of Canadians intended to travel domestically. In 2012, this number is down to 24%
A year ago, 19% of Canadians intended to travel overseas. A year later, this number is up slightly at 20%
These two last statistics confirm a lasting trend that has been going on over the past decade, in great part due to the increasing strength of the Canadian dollar, as can be seen in the chart below. So having more Canadians intending to take a vacation in the coming 12 months is great, but less so if they are going to the US or abroad to spend their money – unless, of course, you work in the US travel industry!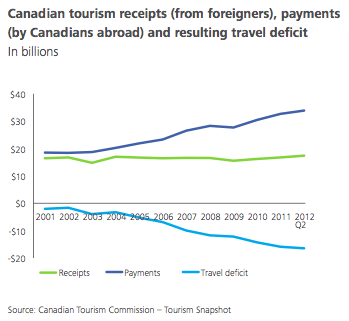 HOW COMPETITIVE ARE WE ON THE INTERNATIONAL LEVEL?
Earlier this year, I asked the question: What future for Canada as a travel destination brand? It should be known that Canada once ranked as the 7th most visited countries, back in 2002. Ever since then, though, it's been a slippery slide and we've now moved completely out of the top 20, despite of the visibility coming from a worldwide event like the Vancouver Winter Olympics in 2010. So why is the outlook so gloomy?
For one thing, budget cuts to the Canadian Tourism Commission (CTC) can't possibly help promoting the nation's brand abroad. With a budget that once hovered over the $100 million, it has since shriveled to a mere $58 million, forcing the CTC to cut back on operational expenses, shut down in-market offices and even pull out of US market advertising campaigns, leaving provinces and cities to go it alone. Good thing the CTC is social media savvy and keeps exploring in the digital world to get a bigger reach and audience with a bigger bang for the buck.
Accessibility is another aggravating factor. Flying to and within Canada is brutally expensive, as is the cost of other popular modes of transportation like trains or buses. Toronto Pearson international airport is famous for its prohibitive landing costs, with fees then passed on to customers by airlines. Just last week, Quebec City announced a major hike in its landing fee structure, which will make it even more expensive than Toronto! No wonder as many as 5 million Canadians, or 15% of its total population, now choose to drive across nearby borders in order to fly out of American airports!
TIME FOR A CHANGE
A year ago, Minister of State and Small Business, the Honorable Maxime Bernier, presented Canada's Federal Tourism Strategy. Many applauded the initiative, and I also believed it was a positive step toward change. A year later, however, nothing seems to have moved, or very little. How can the Canadian tourism industry make a change to improve things and reverse the tide? I would love to have your opinion on the matter.