Being born and raised in the province of Quebec, in Eastern Canada, I am biased when it comes to speaking of its natural beauty, the great food and ambiance of our festive, French-speaking culture.
As a travel marketing consultant however, I have rarely, if ever, mentioned examples of marketing and advertising done at the provincial level. Why? Simply said, the provincial marketing has traditionally been okay, even sub-par at times, with a few good campaigns in between.
But there was nothing stellar in my mind that stood out like best practices seen on the international stage. Until now.
A Destination Like You'll Never See It
In order to promote travel to its destination during the summertime in its most recent campaign, Tourisme Quebec had an unusual casting. Danny Kean was born blind, lives in Long Island, NY, and had never been to Quebec prior to this experience. This is what his trip was like:
Now, despite of its branding promise "Quebec Original", the concept itself was not original per se. You may recall South Africa also featured a blind traveler four years ago in its Meet South Africa campaign. In terms of storytelling, that was without a doubt an awesome video, with a poetic and emotional narration, backed with powerful soundtrack keeping the punch for the very end.
Where things get really interesting with this Blind Love campaign is by taking the idea to the next level, creating an interactive documentary allowing you and I to experience and live the same trip as Danny and his guide, Judith Baribeau.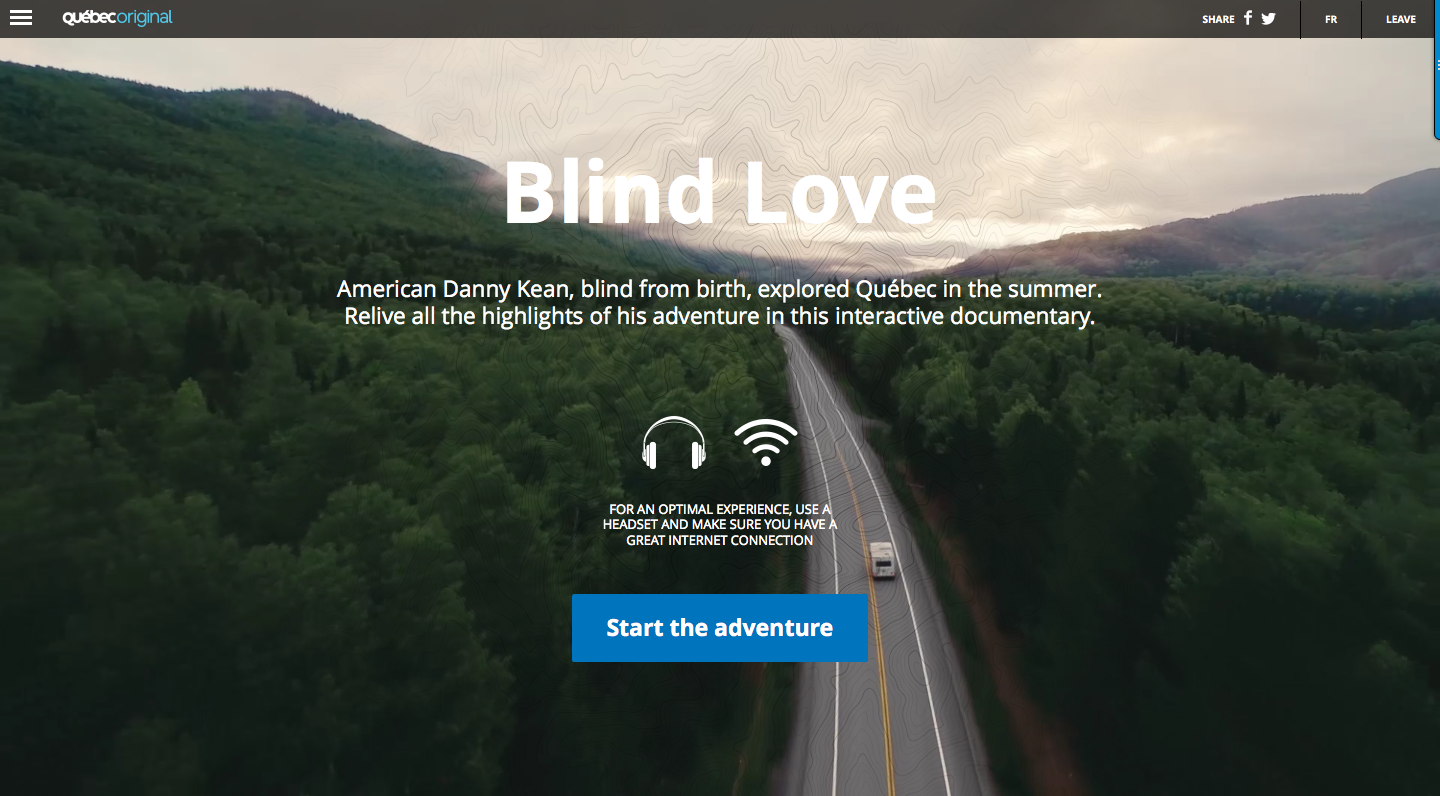 Read also: The Next Big Thing in Visual Storytelling? Destination Selfies
5 Reasons Why This Is Great Storytelling
I must admit I was a bit reluctant to see the video when I first heard of it last week. This video was becoming viral within my Facebook network like bush flames. Since I had been such a fan of the South Africa video, I was afraid this would be a copycat effort to promote a destination. I was wrong.
Here is why I believe this campaign nails all the required elements for effective storytelling.
1. Authentic characters
In the South African example mentioned earlier, we could see a couple discovering some of the iconic travel experiences, only to find in the end that the gentleman was actually blind. But we'll assume they were actors, since we don't know otherwise. With Blind Love, the stage is set from the beginning: we're following Danny Kean, blind since birth, on a unique experience in Quebec.
When we hear him speak and interact with Judith, his guide during this vacation, and other folks they meet along the way, we can relate. You can almost see yourself there too, no pun intended. And speaking of Judith Baribeau, she is just as much a part of this delightful story, specially when it hits her, halfway through their hot-air balloon extravaganza: she will have to be his eyes for the duration of the trip!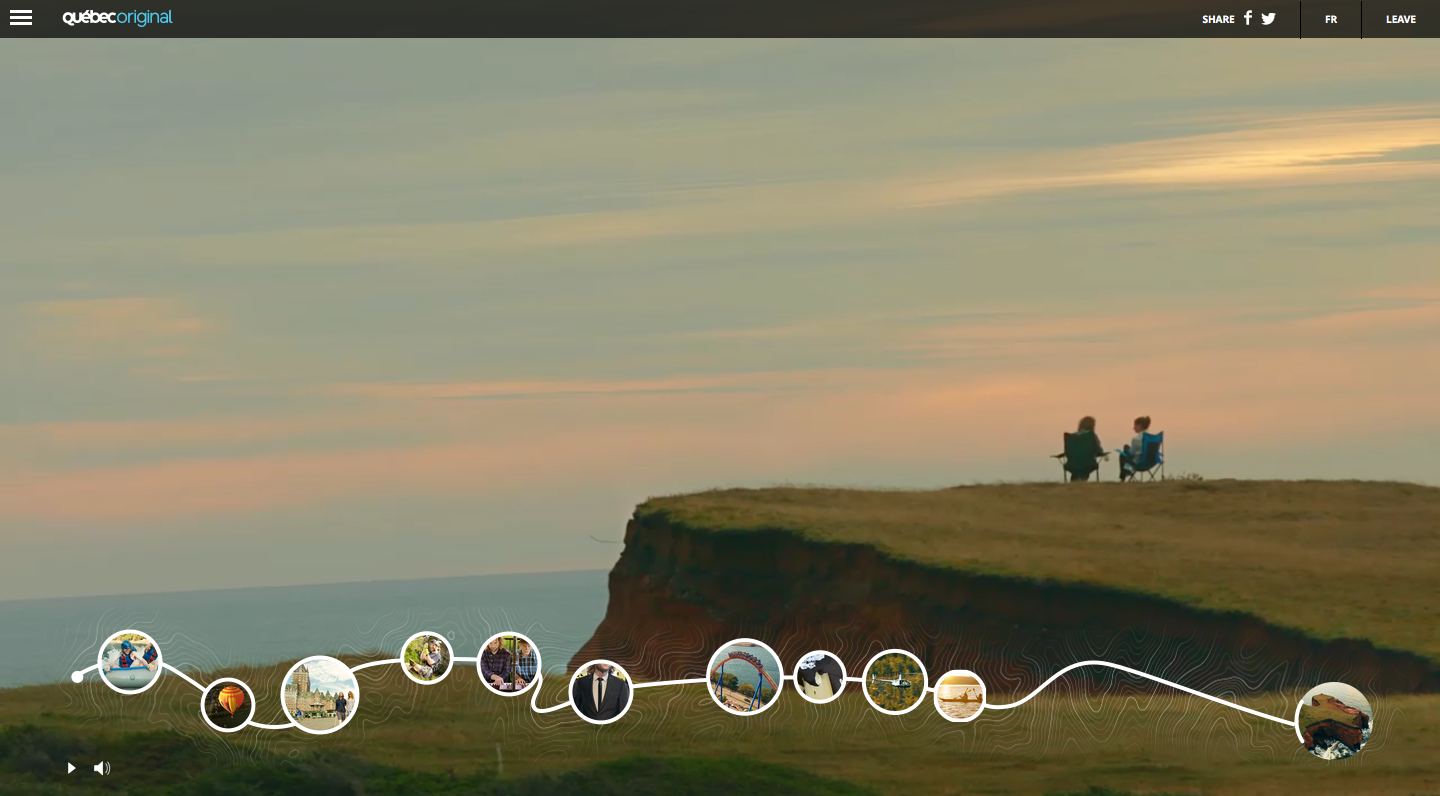 This story is just as much about the chemistry between these two as it is about the destination. Isn't that what travel is about after all, the joys of meeting new friends and the sadness of letting them go?
2. Highlighting the destination
As mentioned earlier, I am biased about my home province, specially since I have traveled it extensively through the years. I know it has spectacular views and travel icons, but there are a couple of glory shots in this video that are worth anyone's while.
The two most important cities get their moment, of course: Montreal and Quebec City. Yet, there is equal importance given to more regional areas without feeling the need to mention them explicitly by name during the video or documentary.
There are nevertheless hyperlinks and more information available if you want to discover Charlevoix, Laurentides, Gatineau, or Magdalen Islands for example, where some of the action was filmed.
More importantly, the cities and areas visited are there to serve the purpose, which is the travel experience.
3. Highlighting the experiences
Speaking of which, I love how the video and interactive documentary emphasize on the variety of things to see and do while in Quebec, without ever having to be "pushy" about a particular product or service in particular. Among some of the highlights:
Cultural and historial visit of Old-Québec
Shopping, fashion, family entertainment (La Ronde) and culture in Montreal
Soft adventures with rafting, zip-lines or sea kayak with whales
Cheese producers, wine makers and other variations around the food travel theme
Unreal views either from a helicopter, a hot-air balloon, by boat or by train!
Icons like the Percé Rock or Montmorency Falls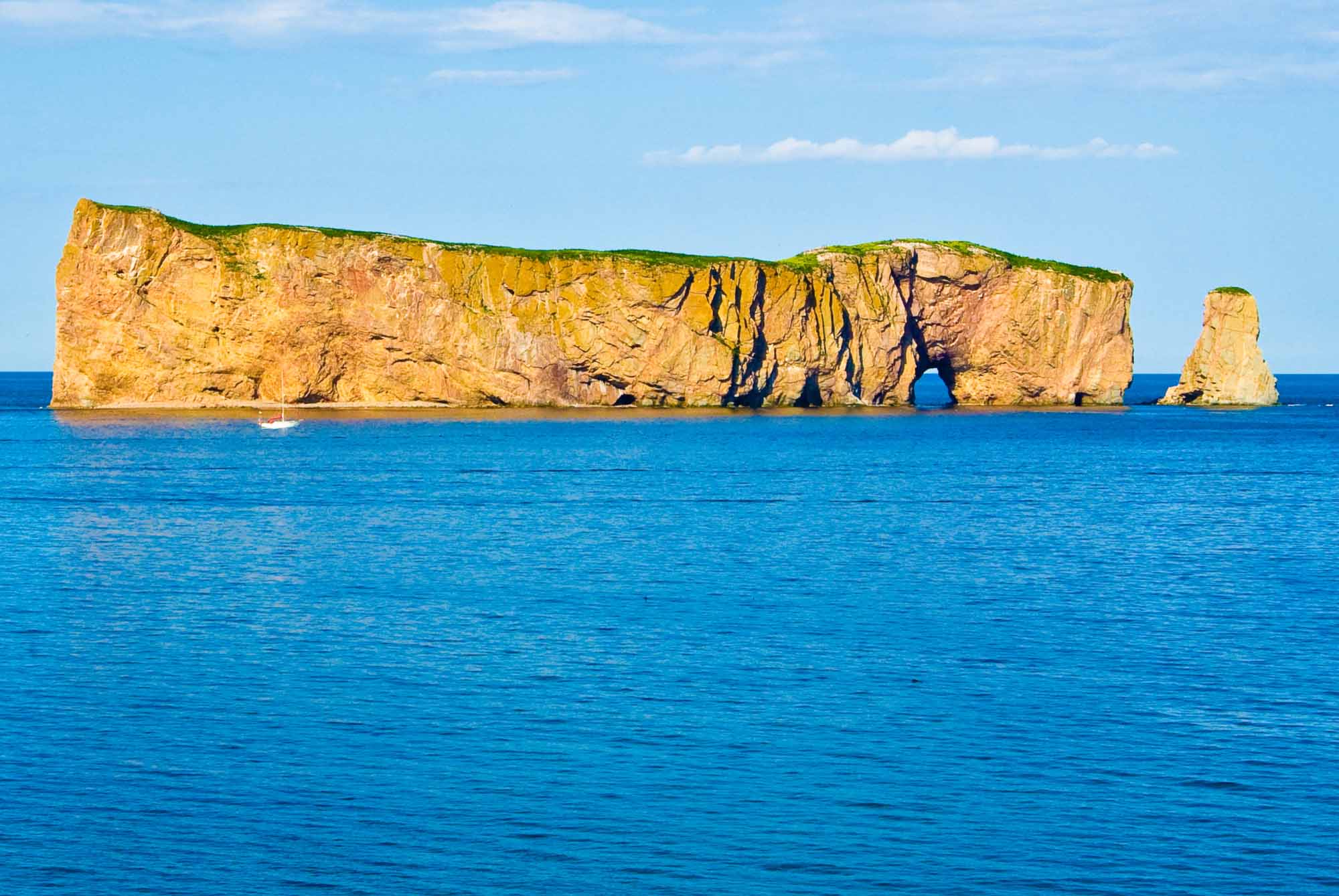 This is also a great difference between storytelling and promotional content. Here, the intent is to convince you, tell a story of all the cool stuff to do while in Quebec. There is no promotional package or call-to-action with this campaign.
Hopefully, you will go to your preferred tour operator, online travel agency or perhaps to bonjourquebec.com to plan your next visit. But this is besides the point of the storytelling itself.
4. Great stories
Did Danny and Judith really bump into this music player during their walk in Old Québec, or was it planned? Who knows, who cares, and it makes for a great anecdote, seeing Danny play some tunes on the street for an impromptu show.
If you watch and listen to the interactive documentary, it is also interesting to find out the different perspective from Judith and Danny for every experience they go through, with some honest comments as well. Kudos for having both of them do the narration in English and in French!
Great stories are the foundation to any memorable trip. Can you ever imagine yourself in a helicopter driven by a blind man, even if it's for a few seconds only? My personal favorite anecdote is when Danny get dressed up in designer clothing by Philippe Dubuc, a well-known French-Canadian designer. He doesn't seem too convinced by tight pants… and doesn't mind saying so, either.
5. Emotions
Ultimately though, great storytelling must spark emotions, from laughter to cries, surprise, fear or even frustration. Getting a reaction, making us think… in that sense, this campaign succeeds in making us pause for a moment and reflect. One thing is for sure, you can't watch this documentary – or even only the video – and not feel something.
"You know, there is a reason why people close their eyes when they kiss, when they cry, or when they pray. Because the most essential things in our lives must be felt with our hearts" – Danny Kean
This campaign is novel as it goes beyond a simple video, which could have been a hit by itself. By integrating hyperlinks for more details, social sharing buttons at every stage of the trip, and giving more depths through male vs female narration and blind vs guide perspective, it paints a more meaningful picture of the destination and a fabulous story called blind love.
I love it.