Text100 recently published a very interesting study, based on research conducted with 4,600 respondents across 13 countries: Australia, China, Denmark, France, Hong Kong, India, Malaysia, Singapore, South Korea, Spain, Sweden, UK and US.
One of the key findings in this study was that while social media is not an influential factor at the booking stage in the travel purchase decision funnel, it certainly plays a key role in the inspiration stage as well as during the travel experience itself.
PEOPLE FROM AROUND THE WORLD DON'T TRAVEL THE SAME WAY
Since the survey sampled different leisure travelers across the US, Europe (EMEA) and Asia Pacific (APAC), there were a bunch of other interesting findings that did not get as much coverage since the study was published. One general trend that was analyzed was the growth of staycations, or domestic vacations within the country.
This remains a strong trend in the US, where 88% of travelers stay within the country, compared to 73% in Europe or 74% in Asia. A bigger difference was actually found in how many respondents chose to travel outside of their country: only 23% of Americans said so, compared to 48% of Asians and 52% of Europeans.
Weekend breaks are a lot more popular in the US at 26%, which is higher than the global average of 15% of travel. In both Asia and Europe, more than a third of travelers preferred to take one week vacations. It's also a known factor that Americans take less vacations in general, or rather fail to take up all of their vacation time… (see the complete infographic here)
MAIN REASONS FOR CHOOSING LOCATIONS
Value for money is an international common thread for what most travelers are seeking when choosing their next destination. But once we start looking into what other reasons are important in the destination choice, we see clear distinctions according to the three geographic markets surveyed.
US travelers, for example, see relaxation as a more important choice (57%) than the other regions when choosing their destination vacation. Is it because we are so stressed out in North America?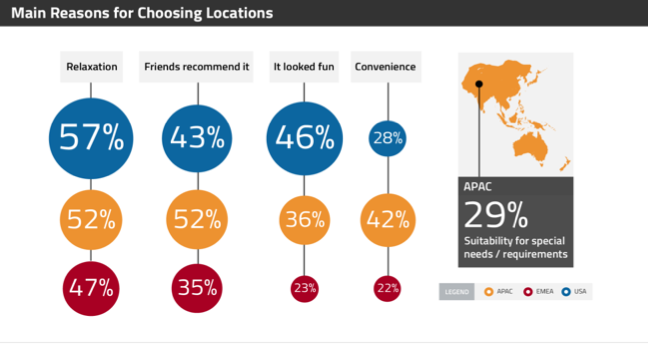 Travelers from the Asia Pacific area put greater weight on recommendations from friends and family, and put a bigger emphasis on the convenience factor. European travelers seem to focus more on knowledge enrichment and escapism, and overall seem less concerned with convenience than the other two regions.
POINTS OF INFLUENCE
Recommendations from family and friends remains the key influence across the globe on the choice of a vacation destination (63%), ahead of internet searches (55%), individual providers websites (49%), communications by airlines and hotels (48%) and online travel sites (46%).
When asked what source of information helped with the initial decision of vacations destinations, 44% of respondents went with internet reviews by travel bloggers, followed by online travel forums (37%), Facebook (27%), Youtube & Vimeo (24%) and Pinterest (22%).
Thus social media plays an important role at this stage, yet again it varies per continent. APAC travelers stand out in terms of their use of social media platforms to inform leisure travel decisions. In China, India and Malaysia, for example, internet and travel reviews have a greater impact on initial decision of vacation destination. See graphic below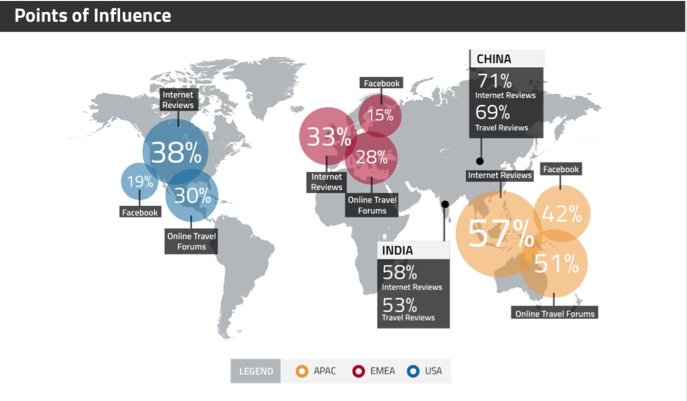 PURCHASING PREFERENCES
Another eye-opener from this study comes from the answers seeking to better understand purchasing preferences when booking online. Travelers in the Asia Pacific area were more likely to click on online links and ads to purchase accommodation or transportation tickets while European travelers registered under average on pretty much every platform: online travel websites, airlines websites or individual providers websites.
This held even more true when looking at purchases for attractions and activities, where APAC travelers are quite avid to transact via online travel websites while Europeans are at lot less likely do so.
In many ways, these findings echo those of a global survey conducted by Nielsen in August 2012, looking into online shopping behaviors around the world. As we can see, a big mistake marketers can do is to assume we all behave the same way online, no matter in which geographic market business is conducted.
HOW MOBILE IS USED DURING TRAVEL
The last findings I wish to highlight are those regarding how, or rather why, travelers use mobile while away on vacation. It should be said that 88% of respondents take a mobile device with them on vacation, confirming the ever-increasing importance for all travel marketing managers to take action and become mobile-friendly. But why? For the most part, to stay connected with friends, family and colleagues, which is particularly important for Asia Pacific travelers who also wish to do some work-related emails while on vacation.
Interestingly enough, people use their mobile devices more for social media, sharing pictures, videos or reviews rather than to stay abreast of world and local news. It tends to confirm our dependency to social networks and how we wish to maintain that level of connectedness, even while on vacation. No matter where we're from!