With Facebook reducing page posts' organic reach, forcing brand managers to spend more and more in order to maintain a dynamic community on the king of social media, there are many companies outright questioning their presence on Facebook moving forward.
In the travel vertical, I even hear some folks say they'd rather invest more time and money on a platform such as TripAdvisor, undoubtedly a key player in the travel decision-making process. It makes sense. Yet, once you take a closer look at how TripAdvisor has evolved in the past 18 months or so, you start realizing a lot of its growth and impact is actually due to… Facebook!
TWO DIVORCES, ONE WEDDING
If we go back in time just a little bit, it helps understanding the present situation with TripAdvisor. Founded back in 2000, it was purchased in 2004 by a holding group that later spun it off as a subsidiary of Expedia Inc.
TripAdvisor grew in time to become the leading authority in terms of travel-related content, comments and reviews. But at the end of 2011, Expedia decided to let go of its subsidiary, so TripAdvisor was back to being a free-agent, so to speak.
Just around the same time, however, Google also decided to let go of TripAdvisor as its source of content for reviews and comments related to travel suppliers (hotels, restaurants, attractions, etc.). Earlier on that year, Google had purchased Zagat, then Frommers, so it could now do with its own resources.
Early 2012, with ongoing critics about fake reviews and fraudulent comments across its site, things were not looking so good for TripAdvisor.
In the meantime though, TripAdvisor had already begun sharing content with Facebook, integrating its content through Facebook's Graph. To the point where today, TripAdvisor has been seeing the biggest growth of its history coming from the past 18 months.
One example? There were 100 millions reviews written on TripAdvisor between 2000 and 2012. In 2013 alone, another 50 million reviews were added! A 50% increase, in one year. The integration of TripAdvisor within Facebook's Graph also explains how TripAdvisor is now seeing 260 million unique visitors… per month!
YOUR FACEBOOK NETWORK'S INFLUENCE
Okay, so let's take a tangible example of how Facebook impacts results on TripAdvisor. Since I am headed to Toronto in a few days, I might want to see which hotels are ranked highest according to TripAdvisor before I make booking arrangements.
With my Facebook account active, TripAdvisor recognizes me (see screen shot below):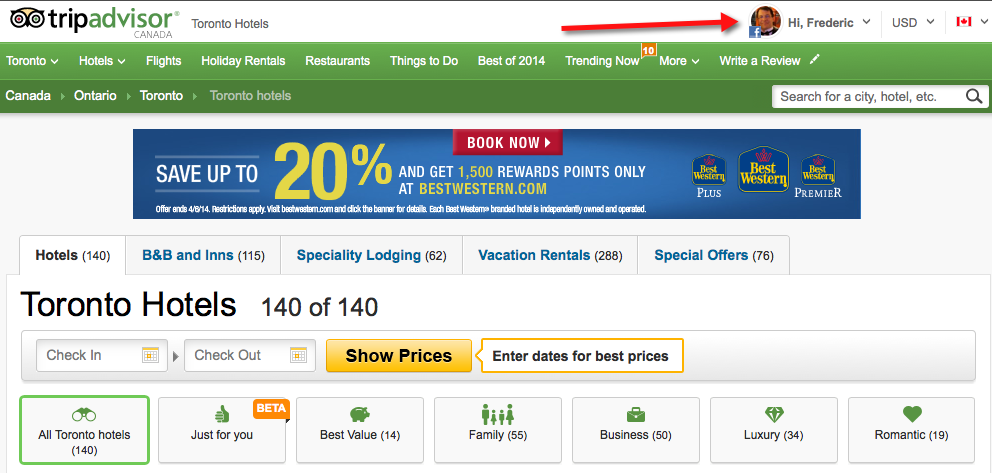 Right, so I know I have 140 hotels to choose from. The funny thing is what happens next… You may have never noticed it before – it's been around for a while – but there is button that can change how the selection will appear: by ranking, by price or by distance.
And more importantly: by friends! Now when I made my research online, I did not pay attention to this, and the button was set on "by friends" by default, so these are the results I got for Toronto: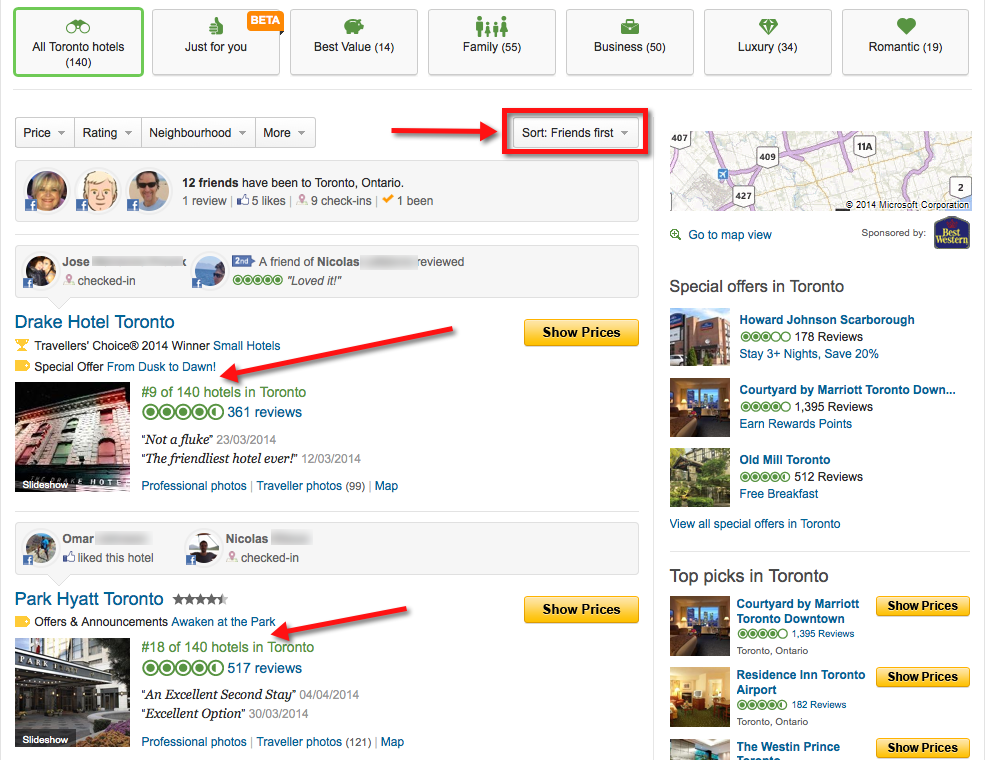 So rather than seeing the #1, #2, #3 and so-on ranked-hotels, I actually will see the hotels that best ranked among my friends' reviews. Thus, the first result is the Drake (#9 out of 170) followed by Park Hyatt (#18 out of 170).
Again, this makes sense: review sites have a lot of influence, so compound this factor with an extra layer of peer validation, or friends validation, and you have a powerful combination. But some purists may scream at this, in particular properties who have no presence whatsoever on Facebook.
And what if you strictly want to see the rankings as per TripAdvisor score, not withstanding friends influence? Here is what you get: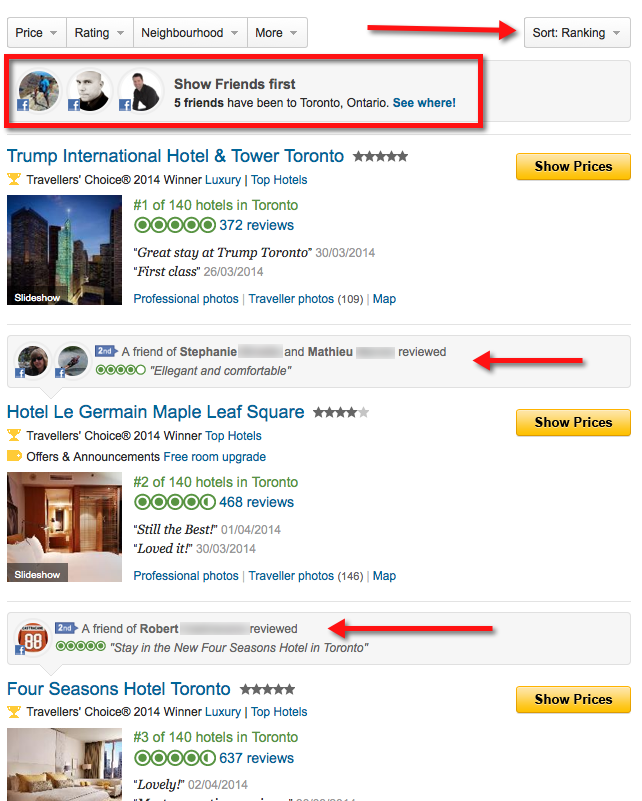 Notice how, at the top, there is still a message to invite you to go into "by friends" mode, telling me there are at least five of my direct Facebook friends who have been to the city and perhaps written a review.
Notice also that even though the results are from highest to lowest, starting at #1 this time, there is still some information linked to my Facebook network: friends of friends have reviewed the #2 and #3 properties, so I may want to check them out first.
SO WHAT?
Well that's the question, ain't it? If anything, the examples above demonstrate clearly how the social media landscape has evolved in the past two years, with a higher level of integration for travel marketing.
So having a strong, vibrant community on Facebook not only helps you foster great customer service or perhaps conduct some research and development, not to mention a few promotional initiatives, it also impacts how your hotel, restaurant or attraction will perform and get seen on TripAdvisor. Food for thought, as they say.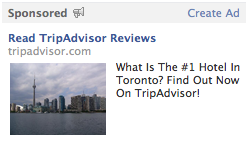 Final note: A few minutes after finishing up this post, I go to my Facebook account to check out recent messages.
And what ad do I see in the right-hand side-bar? Good-old retargeting, sure. But nevertheless yet another example of how social media platforms are working together, at least Facebook and TripAdvisor!