The province of Quebec is a particular travel spot in North America. The main language spoken here is French and there is a clear European heritage in its culture, gastronomy and overall joie de vivre. Yet, as a part of Canada, the lifestyle and customer behaviors here are truly North American.
Quebec's tourism landscape is split up into 22 regions, managed by Destination Management Organizations (DMO) that represent members from their local travel industry: accommodation, transportation, restaurants, events & attractions. Among the 22 associations each marketing their own destination, which ones are doing a better job at using social media to promote their destination online?
The findings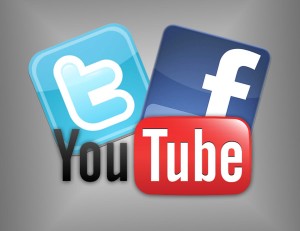 A study by Gonzo Marketing was conducted in April 2012, combining a qualitative survey conducted with each association's marketing officer along with a quantitative analysis of each association's online presence and on various social platforms. Here are some of the key findings:
Google PageRank
Every destination web site has a minimal score of 4. Among all the destination, five have a PageRank of 6: Gaspésie, Mauricie, Outaouais, Québec and Saguenay-Lac-St-Jean. Only one organization scores a PageRank of 7: Tourisme Montréal. (PageRank is useful to get an indication of how many incoming links go to a given website, quality of these links and traffic. Minimum is 0, maximum is 10)
Site Optimization
79% of destinations say they optimize their site for search engine. On the other hand, 75% of destinations are NOT transactional. Destinations tend to prioritize a role of promotion and information, content generation and awareness, leaving the transactional aspect to either the provincial umbrella of BonjourQuebec.com or either sending the business directly to its members (hoteliers, transportations, events, etc.).
Facebook
95% of local destinations have a Facebook page, with 3,374 fans on average (excluding data from Tourisme Montreal, an outlier that would distort the math) and average engagement rate of 6%, which is above the 2-3% average on Facebook pages. Montreal is the clear leader with its more than 68,000 fans, followed surprisingly by Gaspésie area and its more than 19,000 fans!
Twitter
89% of local destinations manage a Twitter handle, which demonstrate leadership in engaging on a social media where more and more travelers are active. After all, only 21% of the Canadian population is active on Twitter, yet this still represents more than 7 million active users! On average, each destination account had 1,134 followers for 788 followings. Top 3 most popular accounts? Montréal, Mauricie and Saguenay-Lac-St-Jean!

Google+
Only 37% of local destinations held a presence on Google+ at the time of the survey, while 47% mentioned they would look into it by year's end. However, a closer look at existing accounts show very little activity, with some showing their latest post dating back to February 2012! Time will tell how things unfold, but the platform seems to lack stickiness at this stage.
Blogs
Nine associations have their own blog, with four more set to join them by year's end, which represent a surprising 60% of all local destinations. Interestingly enough, when validating through tools like Alexa.com and Google PageRank for sites with a blog, results show favorable rankings, thus confirming the benefits in terms of referral traffic, content optimization and freshness, which all link to a dynamic blog and website. Tourism Montreal is the only one offering a blog in English, though. Click here to read on
Pinterest
Only two associations were active on the new social media darling at the time of the survey, but eight more were on the way, which would bring Quebec local destinations presence to nearly 50%. Seems like most tourism marketers understand the potential in both terms of powerful images and referral traffic by this social platform, mostly used by a favorable demographic in the travel decision-making: women!
Mobile
Knowing that 79% of Fortune 500 companies did NOT have a mobile site at the end of 2011, it's great to observe that seven local associations already have a mobile optimized site, with six more intending to complete one by year's end, which would represent 65% local destinations with a mobile site. Mobile applications, though, are a tougher sell: Two-thirds (66%) don't intend to develop one or don't consider it a priority.
Newsletters
The vast majority (89%) of local destinations use newsletters as a key communications tool with an average database between of 10,000-50,000 members. More than two-thirds send out regular monthly newsletters, or at least 10 times per year.
LinkedIn, Flickr, Youtube, Foursquare
Just like with Pinterest, local destinations understand the power of visuals, whether it's photos or videos. Thus, most have some kind of presence on Youtube and, to a lesser extent, on Flickr. The benefits are less clea for LinkedIn, where some are active to generate B2B sales leads, talk with influencers or help with the employer brand.
As for Foursquare, surprisingly, there is very little action on this front, with only one local destination actively managing a presence on this platform.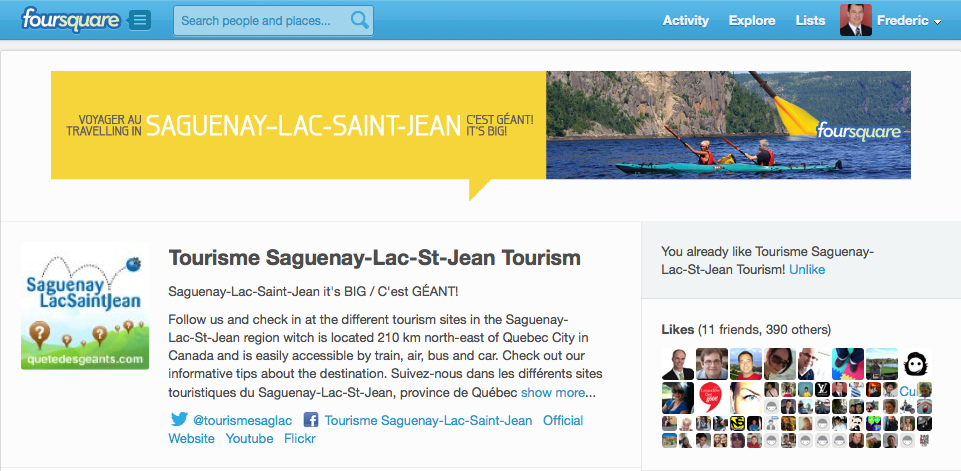 Conclusions
Discussions with marketing officers in local destinations, a qualitative survey and quantitative analysis all point to common threads, conclusions and challenges. Overall, the performance and existing presence by local destinations in Quebec is certainly on par or even above etourism standards, looking at online marketing campaigns, content management, social media, mobile platforms and so on in the travel industry.
The challenges lie ahead in harnessing these efforts within a company-wide approach of travel marketing, rather than addressing social media as a channel, or simple extension of the marketing mix. A lot of existing efforts are being made on a trial & error basis, rather than as part of a strategic plan. Thus, most marketers interviewed admit to lacking clear metrics to measure success, and identify the need to demonstrate ROI as a key challenge moving forward.
A dynamic social media strategy is a must and is acknowledged as such by most, if not all, in the Quebec tourism industry. It's now a matter of getting the proper resources in place, properly measuring against goals and objectives and getting a mobile strategy to complement it all. Fun times ahead!