I have written many times about the importance of online reputation management (ORM), most recently sharing how ORM is still a challenge for hoteliers in particular.
Nowadays, what people say and write about your business on social media, discussion groups, industry forums or review sites has much more impact and influence than what brands convey in their owned media and advertising efforts.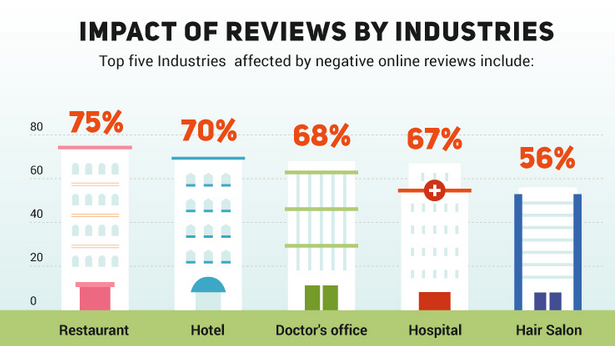 The folks at Websitebuilder recently came up with a brilliant infographic that does a stellar job at summarizing some of the key elements and stats regarding how these reviews can make or break some businesses.
Reviews impact differently in the travel business
We all know this in the travel and hospitality realm, with the likes of TripAdvisor, Google, Yelp and OTA sites such as Booking.com or Hotels.com, for example. But interestingly enough, and showing we are not alone in this mainstream phenomenon, you will see there are various other industries that must now deal with online reputation management.
It's quite an extensive infographic, so allow me to highlight some of the key stats that might ring a bell or two:
68% of Millenials trust online reviews, as opposed to the 34% who trust television advertising
Read also: Why Millenials Matter
Consumer reviews are trusted nearly 12 times more than descriptions that come from manufacturers
Given equal pricing, guests are 3.9 times more likely to choose hotels with higher ratings
22% of consumers will not buy after reading just one negative review. After reading three negative reviews, this number jumps to 59%
59% of consumers say that review sites have the most influence on their travel booking decisions
61% of consumers have read online reviews about restaurants. This is more than any of the other business!
Facebook users report that reviews are more reliable than posts or comments and 71% of them trust these reviews
Some interesting data in there, as mentioned. Check out the complete infographic below:

Save