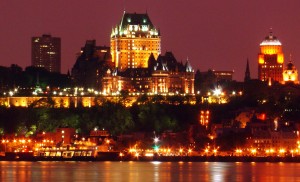 The folks from the Quebec City Tourism Bureau (OTQ, in French, or Office du Tourisme de Quebec), together with their ad agency Cossette, recently unveiled its most recent campaign in order to generate some buzz about the destination.
On a new microsite, locals (and anyone who's been to Quebec City, really) are invited to share their secrets, hidden gems or favorite spot, activity or restaurant in the city. It's an innovative way to embrace collaborative platforms, simple and user-friendly, which ought to ensure success as it's also time-bound: this campaign will run during six weeks, ending on June 17th, as peak-season is about to roll-in to town…
Check out the promotional video, below (in French):
TAPPING INTO WISDOM OF THE CROWD

Quebec City is a beautiful fortified city, combining its French heritage and culture with cobblestone streets, quaint boutiques and fabulous dining options. It is, however, a small city when compared with the average North-American metropolis or even with other big Canadian cities, including Toronto or nearby Montreal, which is only a 2 1/2 hours drive away.
So competing on advertising money alone is hardly an option. Tapping into locals wisdom and pride, however, should make for a compelling combination, as this campaign strives to demonstrate.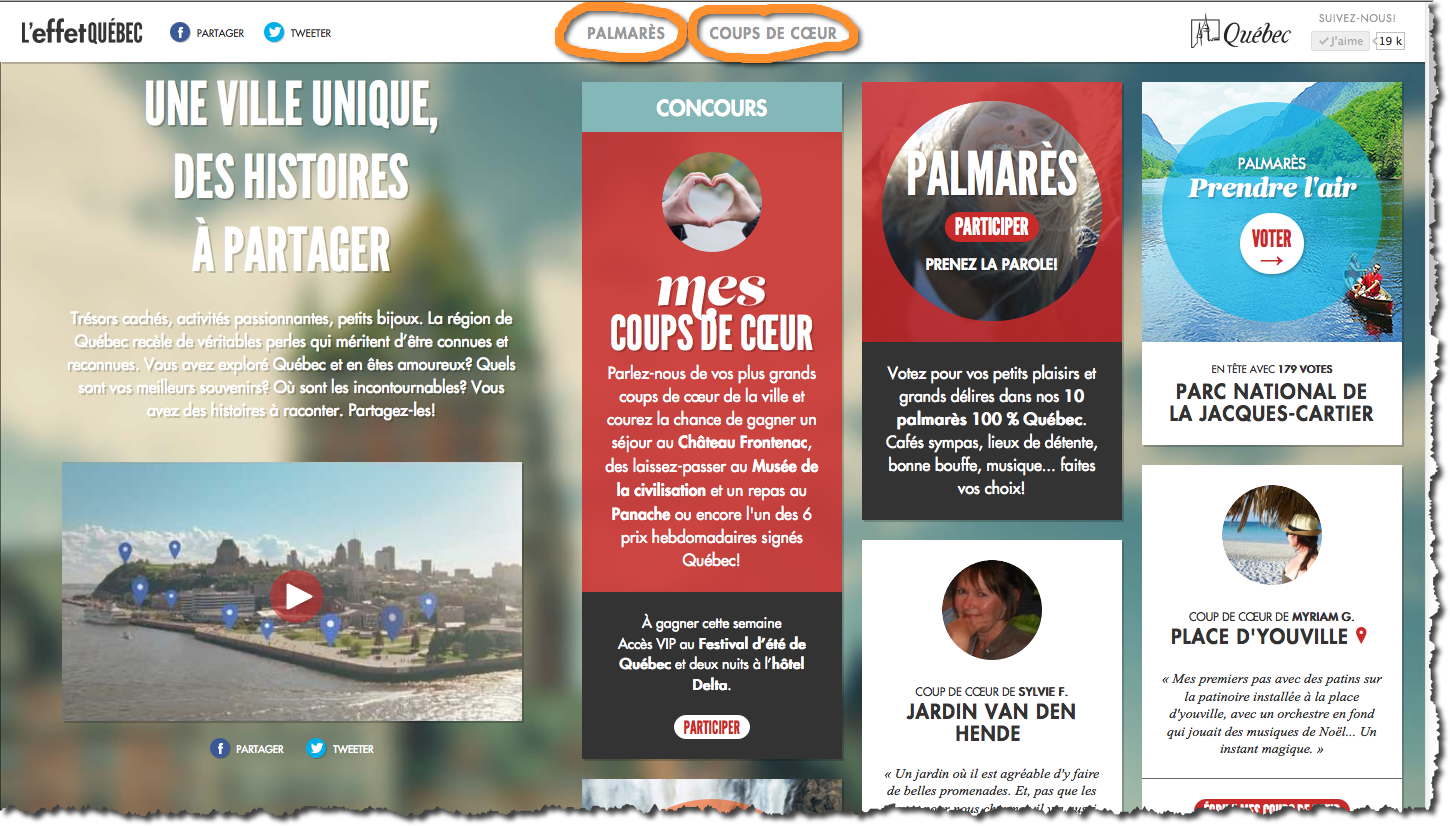 As can be seen in the screenshot above (Yup, there's some serious Pinterest influence here…), the microsite is rather simple. There are two options possible to participate in creating content:
Vote in one of the various charts offered: things to do, family fun, best restaurants, best shopping, etc.
Share a personal favorite spot or anecdote, what we call "coup de coeur" in French: a special place, a romantic spot, a cool or lesser-known bar, etc.
Crowdsourcing with social media
The interesting part is that participation is seamless and effortless, which makes it that much more likely that more and more folks will want to participate. Rewarding participation with appealing weekly prizes, including room nights at the Fairmont Le Chateau Frontenac and many other attractive gift certificates, should also contribute to the potential success of the campaign.
But without a doubt, its most powerful aspect lies in how it ties in with the two key social platforms identified to generate buzz with targeted audiences: Facebook and Twitter. In fact, in order to participate, you can use either social login, and sharing is encouraged throughout the process, thus influencing participants' networks to also take part in the contest and rankings, with the expected domino effect that Quebec City is hoping for. Thus, the Quebec effect.
A SECOND LIFE WITH SOCIAL PROOF
Another interesting aspect of this travel marketing campaign is how Quebec City intends to use the content created from this 6-weeks campaign, giving it a second life through traditional media. How? As this campaign is mostly targeted towards domestic markets in the province of Quebec, instead of taking the usual double-page spread to promote Quebec City in the summer time in Montreal newspapers, for example, the idea will be to showcase the recommended suggestions by Jean Tremblay or Linda Bouchard.
Not only a "local recommendation" carries more weight than a mere advertisement from the destination, but in this case it will be supported by public vote, i.e. Jean Tremblay's local insight is a great one, as can be seen by the 312 votes of fellow Quebecois who agreed with it.
In order to go beyond the John Smith or Jane Doe approach, Quebec City also recruited a few known characters, such as local singers (Karim Ouellet) or radio DJ (PY Lord). But perhaps the most famous one, at least in the province of Quebec, is the city's mayor, Regis Labeaume, who does a great job as an ambassador for the region, its people and its attractions.
Leading the way
Quebec City has never been a trailblazer and was rather late to jump onboard the social media bandwagon, but this campaign marks a good intention to embrace collaborative platforms, even though there is still "control" over the brand perception and communications.
I wonder who will be next to innovate, after Visit Philly's leap of faith on Instagram, or Visit Sweden's citizen approach on Twitter @sweden. What do you think? Have you heard of other novel approaches on social media to generate more buzz using locals? Please share your thoughts in the comment section below.