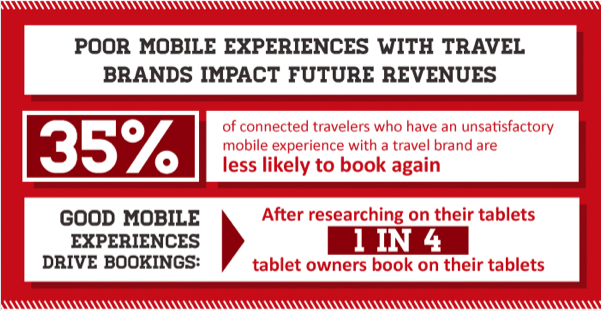 The folks at Mobiquity recently surveyed more than 1,000 people using their smartphones and tablets to plan and book their travel, resulting in an insightful report and infographic outlining key findings. As a travel marketing expert, evaluating travelers' experiences with 19 of the top travel brands provided me interesting feedback such as:
THE GOOD NEWS
After researching travel on tablets, 54% of tablet owners return to the Web to book, but 26% go on to use tablet sites to make bookings.
In 2013, connected travelers have money to spend:
39% of tablet owners and 33% of smartphone owners plan to spend more than $500 on travel bookings via mobile sites.
36% of tablet owners and 40% of smartphone owners plan to spend more than $500 on travel bookings via mobile apps.
76% of smartphone owners and 35% of tablet owners want to use their devices to book travel or hotel rooms when they are on the go and have an immediate need.
Tablet is the preferred device for future travel: 25% will use their tablet to plan and book travel within the next month.
THE BAD NEWS
52% of tablet owners and 60% of smartphone owners complained that mobile travel sites were slow to load.
51% of tablet owners said that search and selection options on travel apps were complicated, and 44% reported that sites were not optimized for a tablet.
20% of tablet owners were disappointed that apps were not integrated with their loyalty programs, which meant they couldn't access or redeem points/miles.
35% of connected travelers would be less likely to book again with a travel brand after a slow, confusing or non-optimized experience when researching or booking travel on a mobile device.
SOME HIGHLIGHTED TRAVEL BRANDS
Travelocity comes out as the clear winner out of the overall mobile satisfaction rankings, both for its mobile app and website, and it's interesting to see how much the OTAs are dominating this sphere, with Kayak, Expedia and Priceline also making the top 10. Airlines such as Delta, American and Southwest make the hit list, while Hilton, Marriott, Intercontinental and Starwood are the class leaders from the hotel industry.
Check out the full infographic below.


Courtesy of Mobiquityinc.com