While I had the pleasure of attending Expedia's annual gathering in Las Vegas last week – imagine 4,000 attendees at the same place, in this case the Bellagio – I did not get to extend my trip beyond the conference. But many folks I spoke to were extending their trip over the weekend for leisure purposes.
It seems bleisure trips are becoming more common than some might think: in fact, they now represent 43% of all business trips!
Read also: The Growing Trend of Bleisure Travel
When Business And Leisure Blur Into Bleisure
A recent study from Expedia Media Solution and Luth Research uncovers the booking habits for these so-called bleisure travelers. For one thing, we find out that despite mostly staying within the United States when traveling for business, American bleisure travelers add leisure to nearly half of their business trips!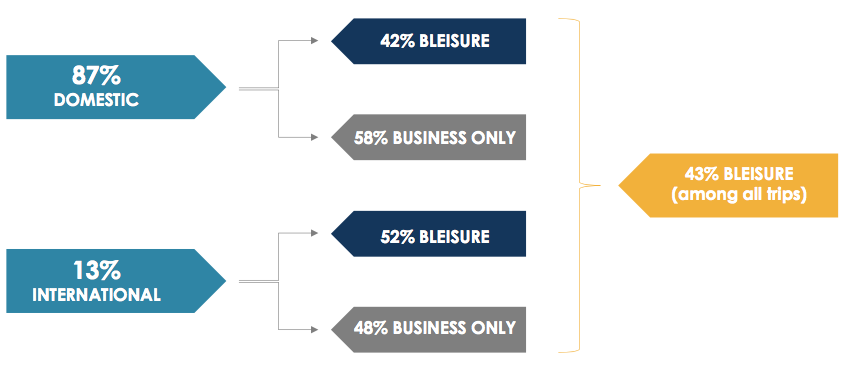 That's great news for destinations management organizations, specially at the international level, when bleisure makes even more sense considering the time and effort to get there.
This is particularly true for destinations that have a strong focus on meetings and conventions, which seem to draw the bulk of bleisure travelers.
More Leisure Than Business?
What's even more fascinating about some of the results of this study is to find out that most folks actually take more time for leisure than for the business component of their trip. In fact, 58% of bleisure travelers surveyed said they take as many, if not more, days for the leisure part of their trip!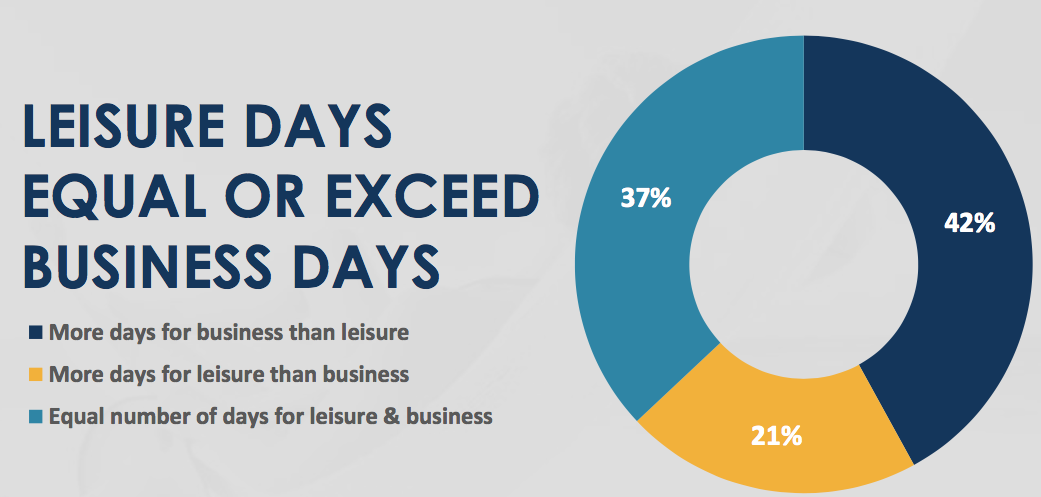 Other interesting findings from this study:
At 66%, destination is the leading factor in turning business travel into bleisure, followed by the additional costs required to extend the trip (59%) and how close the trip is to the weekend (51%).
The majority of bleisure trips are spent in the same city or area as the business trip (84%), but as the length of the business trip increases, so does the likelihood the traveler will visit multiple cities. Those who travel at least three days for business are more likely to visit three or more cities (20%).
Most bleisure travelers personally research or book elements for the leisure portion of their trip, including hotel (70 percent), airfare (52 percent) and restaurants (50 percent).
When conducting research for bleisure trips, hotel or accommodations are typically researched first (35 percent), followed by sightseeing locations (18 percent) and airfare or travel reservations (15 percent).
PCs tend to be the device of choice for bleisure research across travel site categories, but home rental sites like HomeAway (61 percent) and OTAs (42 percent) dominate mobile-only research.
Destinations matter
The appeal of a destination obviously plays a big role as well, but it's interesting to see what bleisure travelers prioritize when it comes to choosing their next bleisure experience.
Sightseeing is the biggest decision-making factor (85%), followed by beaches, the food scene and weather!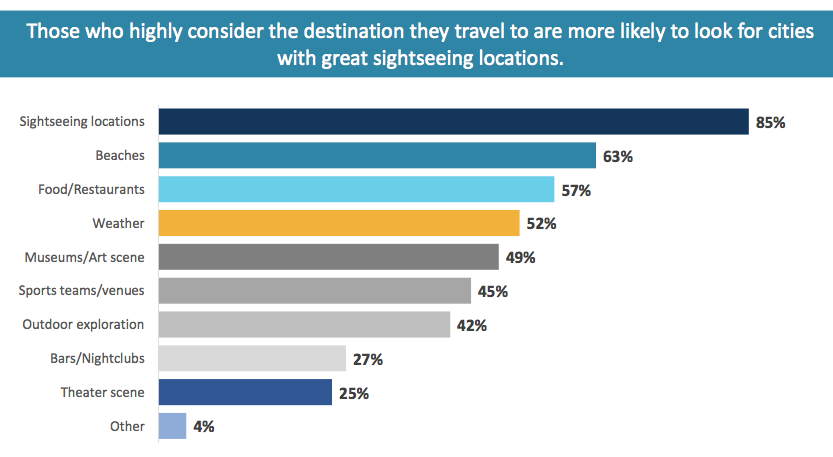 These findings should be a
travel marketing
eye-opener for many destinations, hotels, restaurants and other travel industry stakeholders who tend to look at business and leisure as two different entities, or silos. Obviously, there are more and more synergies to take advantage of, as this recent study shows.
Save