Last month I had the opportunity to speak for a second consecutive year at TBEX North America, or Travel Bloggers Exchange, which took place in Minneapolis this time around. This show brings together North American destinations with influential travel writers active on various social media: blogs, Instagram, YouTube, Snapchat, Periscope, etc.
The event was held at the Hotel Radisson Blu at Mall of America, which is a destination onto itself!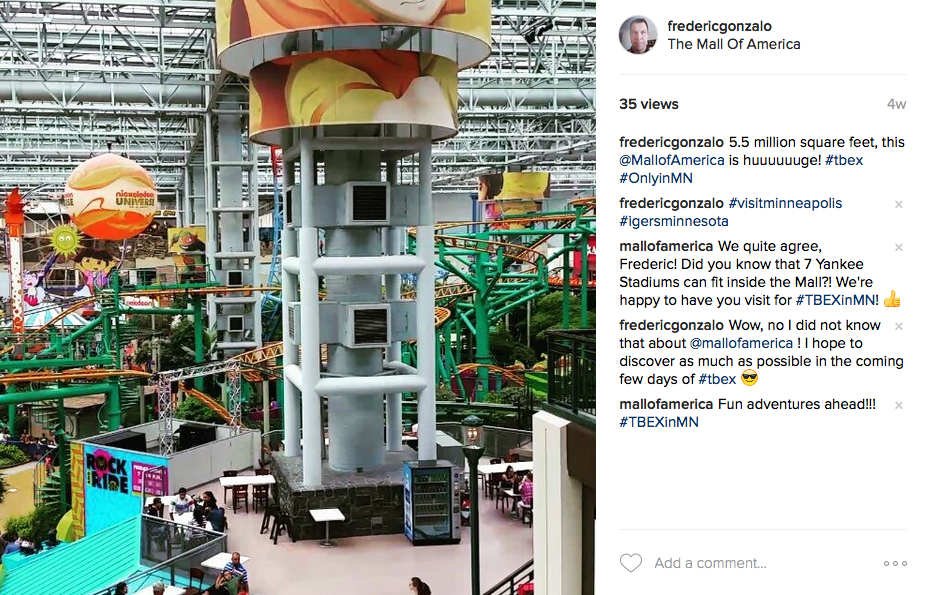 On the day of my arrival, when I posted the above video on my Instagram feed, I was pleasantly surprised to have Mall of America (MOA) respond and engage. I mean, I had heard this place was big and among one of the largest malls in the world. And I could see it by myself as I entered the main venue, with its Nickelodeon Universe attractions including roller coasters, Sealife Minnesota Aquarium, movies theatres and much more.
But it was nevertheless appreciated to have MOA share that extra tidbit of knowledge: "did you know we can fit 7 Yankee Stadiums into the Mall?"
It's not everyday that you see a Mall interacting with users. Later on that day, I found out that MOA actually has a Command Center for all digital communications. I knew this was a story too good not to share!
Visit of MOA Command Center
As with any good TBEX, there was a Social Media Lounge, but in this case it was even more closely monitored than ever with staff from Mall of America's Enhanced Service Portal (ESP) on hand.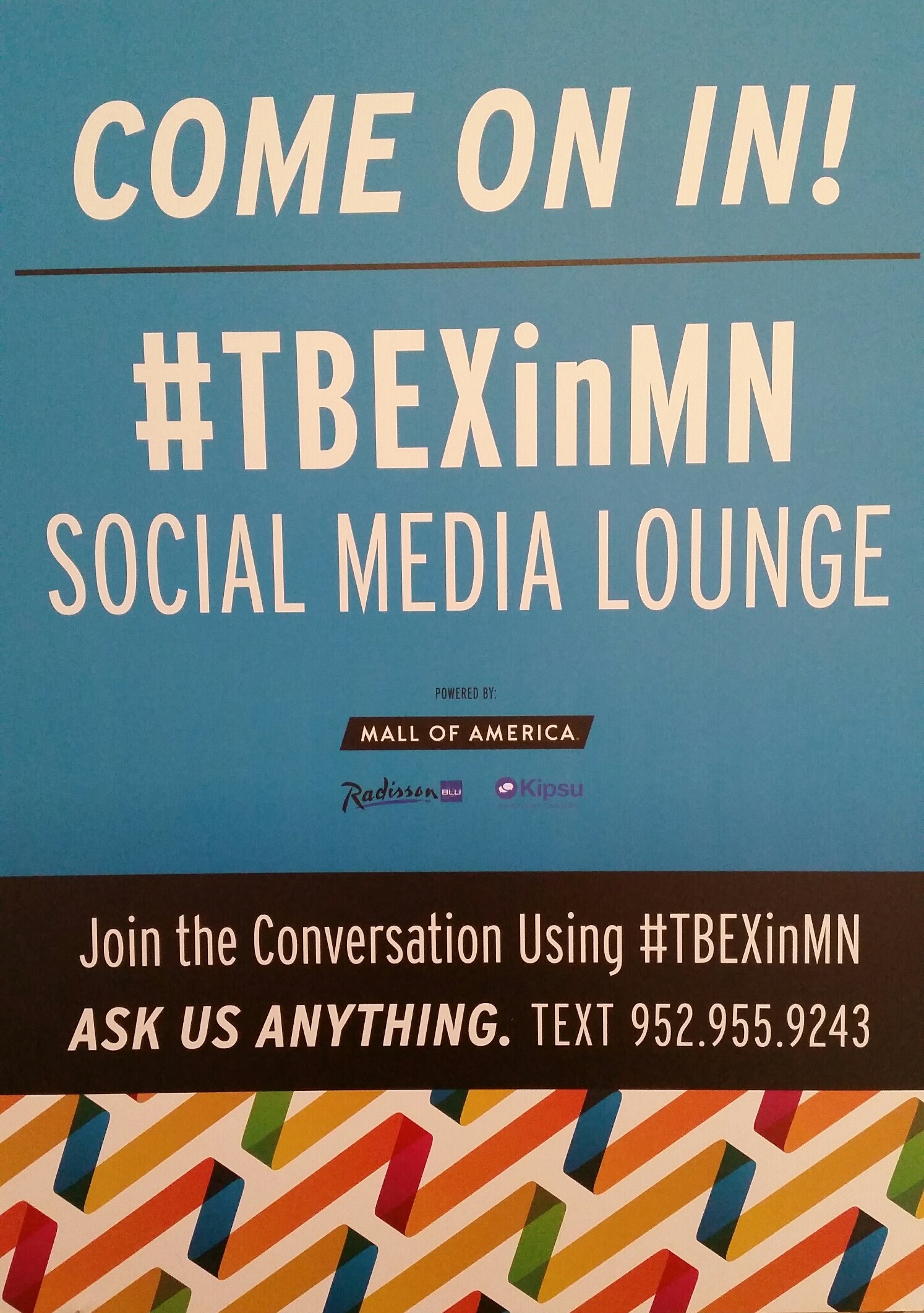 Notice how the hashtag for the event is prominently put forward, as well as a mobile text messaging number for those who prefer to opt for this way of communicating. In fact, this is their approach not only for TBEX but also for overall communications across the Mall, with signage in more than 80 strategic locations, inviting customers and passers-by to signal anything or ask questions through text messaging or your preferred social media.
In order to find out more, I met with Emily Shannon, Digital Director for Mall of America, and she was gracious enough to answer some of my questions and give me a private tour of their Command Center.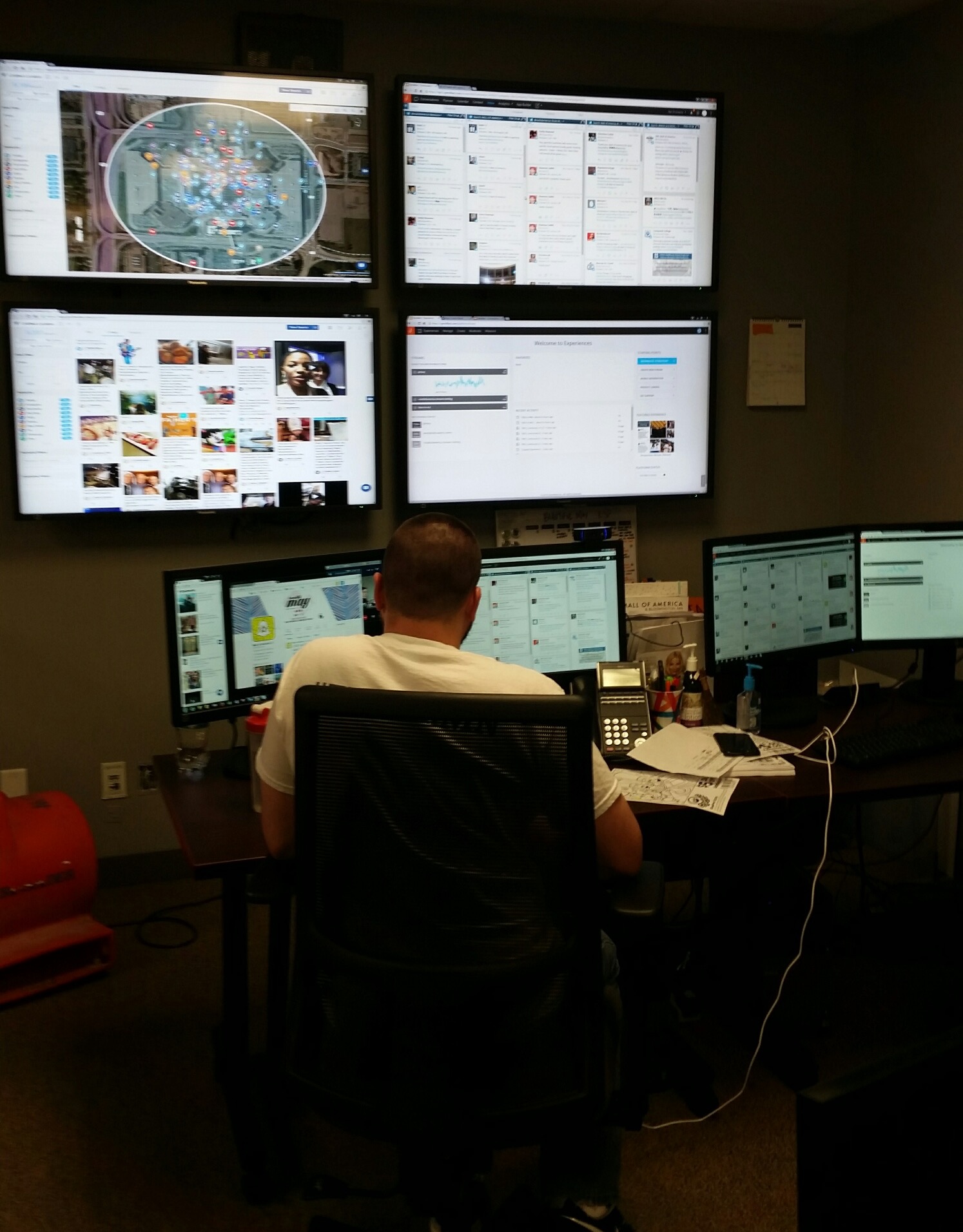 Emily, it's pretty impressive to see how many conversations you seem to be monitoring at the same time on the various screens here. What tools are you using?
"We use Spredfast to monitor and manage our social media conversations across platforms."
Any other tools you use to monitor activity, comments and interactions for Mall of America?
"Other tools we have found extremely valuable to our social media operations at Mall of America include Geofeedia for location-based social media monitoring, and Kipsu to power our digital concierge through text messaging and web chat.
We're constantly exploring additional services and technologies that could give us increased flexibility and greater abilities to connect with and serve our guests."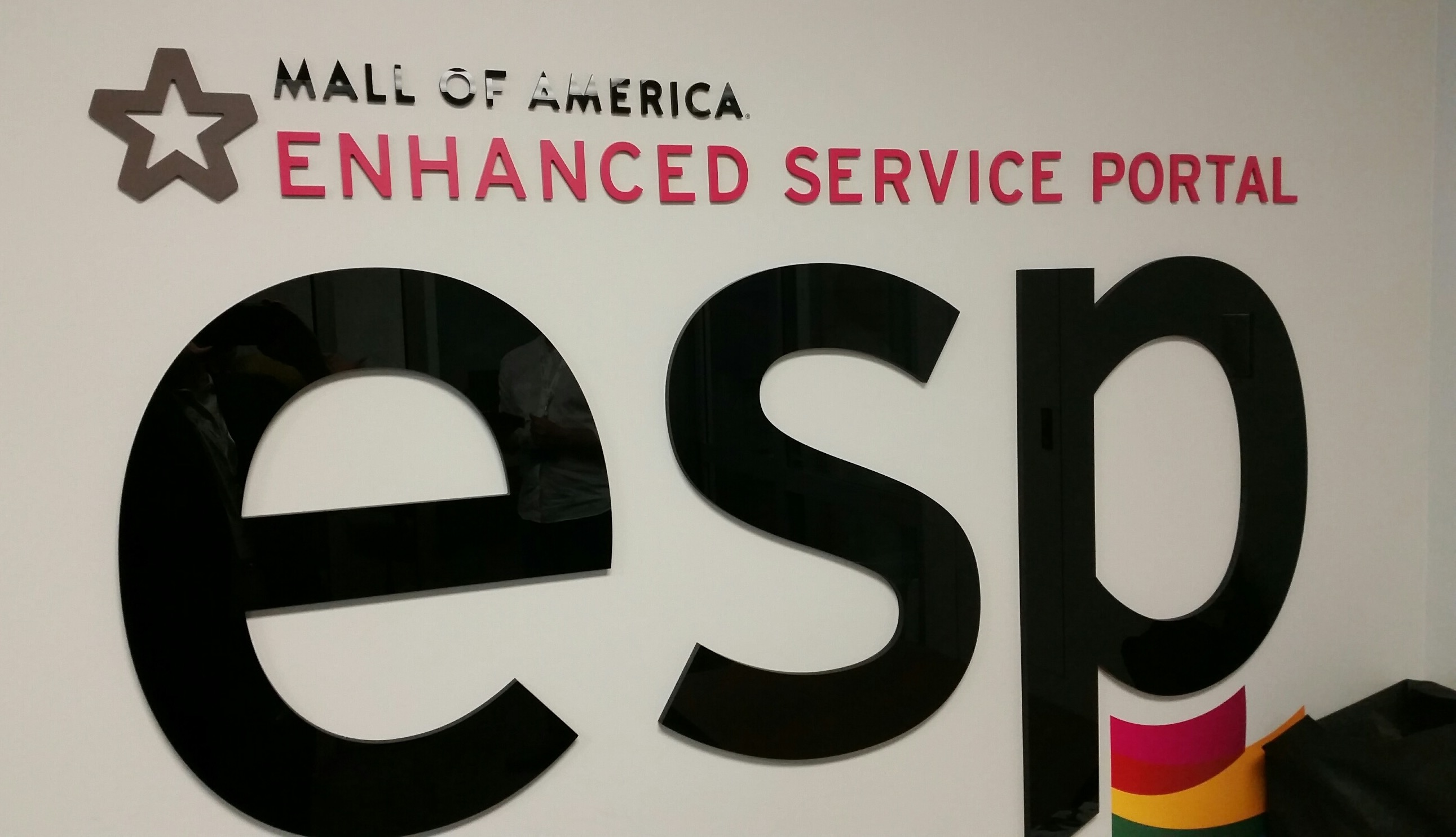 With over 40 million visitors annually, coming from around the world, there must be lots of questions, comments and interactions through your call centre and social media accounts. Do you monitor them all?
"At Mall of America, the number of social media interactions we receive each day varies depending on the season we're in and the events taking place at the Mall that particular day.
For example, a celebrity appearance or concert could drastically increase the number of interactions we have on a given day.
In 2015, we engaged with over 100,000 mentions of our brand on Twitter, we fielded over 16,000 one-to-one text message conversations and we interacted with a number of guests on various channels based on our publishing activity."
Are you able to track year-over-year progress so you can report these stats to higher management, stakeholders or any of the 520 stores that make part of MOA?
"The number of social conversations we have each year grows, especially as we add social platforms to our mix and increase publishing activity. One of the best examples of year-over-year growth is illustrated in our text messaging program.
In December 2014, when the program was in its infancy, we fielded 902 conversations in December alone. A year later, in December 2015, we engaged with 2,094 conversations that month.
Even in the last year, between 2015 and 2016, we saw tremendous growth in the popularity of this service. In March 2015, we fielded 560 text message conversations. This year, during the same time in March, we handled 1,973.
This type of growth means that our team is hyper-focused on our strategy moving forward. We never stop thinking about the future, and how we transform our digital and social team to meet growing guest needs."
These are impressive stats! You must have huge team in order to manage this quantity of interactions, right?
"Right now we have seven team members – a combination of roles in part-time and full time positions – supporting the work we do in our Enhanced Service Portal."
So how do you define success? What are the KPIs you prioritize and how do you report this to stakeholders?
"Thankfully, we have a leadership team that understands a strong approach to social communication is a vital component to ensuring our guests have a great experience at Mall of America – either before, during or after their visit.
That support is crucial for a program like ours to succeed. At the end of the day, all of our activities are focused on driving sales and traffic to our tenants.
We look at various factors to track the overall health of our digital and social programs. Our engagements, conversations and publishing activity are all metrics we regularly assess across social platforms to gain an understanding of how we're impacting the guest experience.
For example, through our digital concierge, we track whether we are able to successfully help a guest or not. We aim for successful interactions 100% of the time.
We report week-over-week health to our stakeholders in a dashboard we designed to highlight the key metrics for our business. We also regularly share conversations that embody the type of guest service we always aim to achieve.
Numbers are vital to assess the overall health of our program, but happy guests are truly the most important measure."
You can do it, too
It was interesting to hear, through off-the-record conversation, examples of interactions with guest. In one case, a gentleman was wondering if and how he should propose to the love-of-his-life. The social media conversation that ensued was tongue-in-cheek, with a final recommendation… to stop by one of the stores where he could buy a diamond ring 🙂
Bear in mind that there was no formal social media team in place less than three years ago, back in 2013 when the Enhanced Service Portal was put in place.
While such a structure may not be feasible for inn owners, small independent hotels, attractions or restaurants, this example demonstrates perfectly how having a clear social media focus, with metrics in place, can help enhance the customer experience… while driving business to stores and various stakeholders in the process.