Remember the days when one would simply waltz into a travel agency and pick up a couple of brochures, or perhaps spend some time in a bookstore, gazing at travel guides for some remote and exotic destination?
Today, 87% of all searches related to travel start online, according to a Google Ipsos MediaCT study published in 2013. Travel marketing has changed.
This can happen during a free moment at work over a desktop, on-the-go with a smartphone or wifi-enabled handheld device, or perhaps at home with a laptop or digital tablet. It is also a behavior across various traveler segments, from business to leisure and families.
In 2015, customers simply don't purchase travel like they used to. In fact, we just don't live in the same world, or rather we just don't live the same way. Democratized access to mobile, social media and new technologies have made us all more connected than ever.
Thus, in this always-on environment, the travel experience is changing and travel industry stakeholders need to adapt to this new reality.
How Travelers Decide Nowadays
In spite of this new reality, customer still go through the same stages when planning for their next getaway. The travel decision-making process usually boils down to these six steps:
Inspiration
Planning
Comparing
Transaction
Travel
Post-travel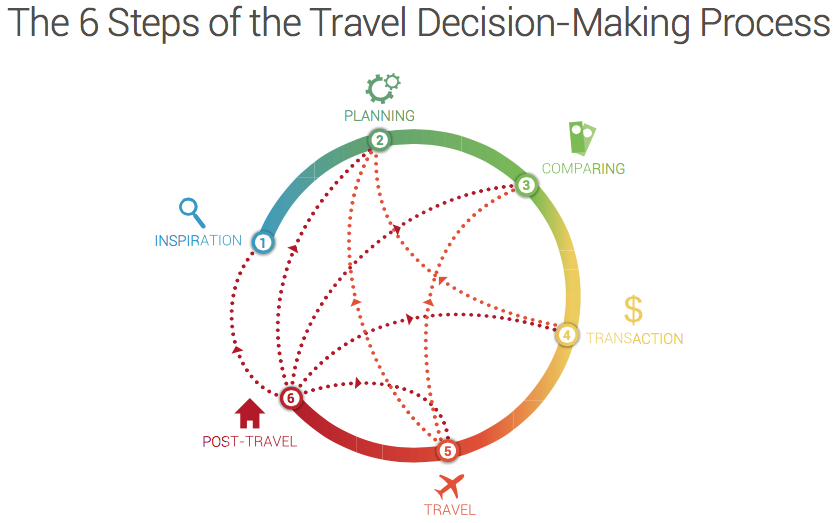 What has changed, is how we collect information and process data in our decision-making mechanisms in this digital age. Let's take a look at each stage to better understand.
1. Inspiration
Why do some folks consider a golf trip in Portugal while others dream of staying at Fogo Island's exclusive hotel? You may hear of a destination on a TV show, in the travel section of your local paper or checking out a video on YouTube.
But inspiration usually comes from discussions with parents, relatives, friends and/or colleagues at work or your local gym or association.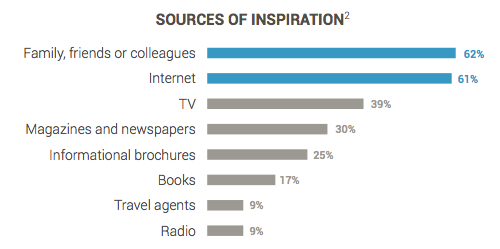 Nowadays, online resources play an increasingly important role in shaping our inspiration for future destinations and things to see and do.
2. Planning
Once the type of jaunt or time of year is settled, enter the planning phase. From this moment on, word of mouth pretty much happens all online. According to a 2013 study conducted by StrategyOne, online review sites are now the most influential resource to shape traveler opinions about a destination, hotel, restaurant or attraction.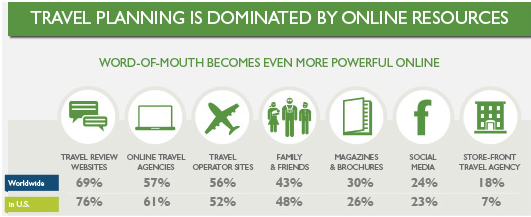 So while review sites like TripAdvisor and Yelp have most influence, hoteliers and operators must also pay attention to how they are showcased on popular online travel agencies (OTAs) such as Expedia, Booking.com or Travelocity, where travelers flock for planning purposes.
3. Comparing
At the comparing stage, meta-search engines have come into play, making it easier than ever to search for best fares across travel operator sites, but also across online travel agencies. Sites such as Kayak, Trivago, HipMunk or TrustYou all provide over-arching views of hotel rooms, car rentals and airfares, along with reviews that shape consumer opinions.
Even Google is playing into this sphere with its Flight Search and Hotel Finder features, allowing travelers to sort out the best time of day or week to save on flights and rooms.
Thus comparing for best deals has become child play for customers… and often a nightmare for hoteliers and airlines, having to put sophisticated yield management practices in place.
4. Transaction
This is often an under-estimated phase, in terms of influence for other travelers. Most travel brand sites ensure to have transactional capabilities, in a secure environment, and competitive rates.
Yet, booking a hotel or airline seat is often synonym of confirming an upcoming trip, whether for business or leisure. This is one key stage when social media can impact the decision making process of earlier stages.
For example, when a friend posts on Facebook "Stoked! Just booked our 3-weeks in Italy for next July. Any recommendations for must-dos in Firenze and Roma?", not only does he seek feedback about the destination. He also influences his network about "Italy" as a destination for next summer, sparking interest at the inspiration level, which can trickle down to planning, comparing and eventually… purchasing airlines tickets among that person's network of friends and colleagues!
5. On-site experience

Once at your destination, this is where and when social media and mobile usage hit their peak. It is estimated that, on average, only one in fifteen travelers will swing by an official visitor bureau or information desk. So where do we get our information about what to see and do, and where to eat? Online!
It's no surprise to see 85% of international travelers use their mobile, in particular to use Google Maps and geo-localized applications such as Foursquare, while on the road.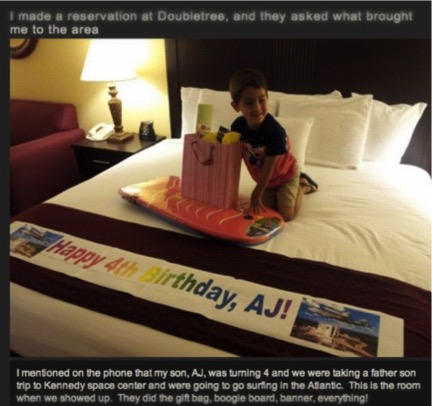 How can destinations, hotels, restaurants or attractions engage with travelers who are on their premises, or nearby? This is the challenge and opportunity stemming from popular social platforms such as Facebook and Instagram.
6. Post-Travel
After their experience, travelers can become brand ambassadors or detractors, depending on the overall satisfaction with your brand. Savvy marketers engage in email marketing shortly after a guest departure while others highlight recent rave reviews on Tripadvisor across other platforms, i.e. corporate website, Facebook Page, newsletter, etc.
😉 RT @sethmparker: Shout out to @HotelGermain for shipping my nephew's lost stuffed animal in the coolest way http://t.co/KqYvAscBGm

— Hôtels Le Germain (@HotelGermain) May 21, 2015
The important thing to bear in mind here is: how do you ensure satisfied travelers will share their positive experiences on various social media? The example above is a great one from a happy customer, sharing via YouTube & Twitter a great recent experience at Hotel Le Germain in Calgary.
Get my new handbook… today!
After almost a year working on this project, I am pleased to announce the publication of my first book, aptly titled Social Media Best Practices in Travel Marketing. For travel and hospitality brands, a strong digital approach is more than ever necessary, and this will evidently include a social presence and strategy.
In the six steps of the travel decision-making process explained above, social media play a key role at every stage, even though their influence may vary.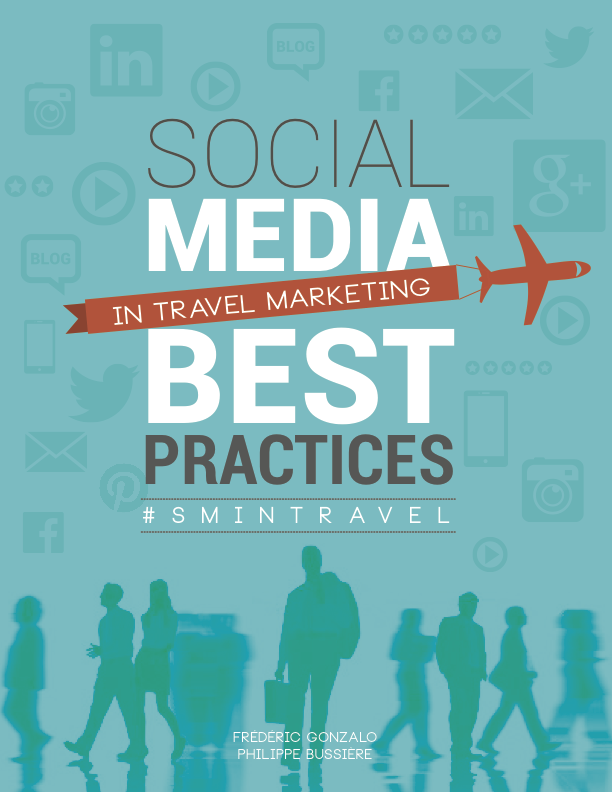 Self-published with the help of my co-author Philippe Bussière, this 120-page handbook is loaded with useful tips, infographics with do's and don'ts for each key social media relevant to the travel industry, along with tangible examples from destinations, hotels, restaurants and attractions.
The following social networks each get covered in their own chapter:
Facebook: Chapter 2
Instagram: Chapter 3
YouTube: Chapter 4
Twitter: Chapter 5
Pinterest: Chapter 6
Linkedin: Chapter 11
Google+: Chapter 12
There also dedicated chapters looking at online reputation management, email marketing, blogging, mobile, and social advertising.
To order a digital copy, simply follow this link for more details.
If you have any questions or comments, please let me know. Assuming I am crazy enough to work on a revised version for 2016 or later, I would love to have your anecdotes and examples, good or bad, to share in a future publication.