This is the first in a series of "Social Media Best Practices in Travel" posts to be published on this blog. Today, we focus on Pinterest!
For digital travel marketing, Pinterest is still considered one of the newcomers in the social media ecosystem, with less than four years under the belt. In 2014, it nevertheless continues to grow and show impressive stats that ought to catch any travel marketer's attention:
70 million users worldwide, with 30 billion pins across more than 750 million boards created so far;
The most popular category on Pinterest? Travel
80% of pins are actually… re-pins!
It matters where the original photo or video sits, as referral traffic is huge from Pinterest. How huge? More than Google+, Twitter and Linkedin… combined!
80% of Pinterest users are female
75% of daily traffic to Pinterest comes from mobile apps
5 EXAMPLES IN TRAVEL & HOSPITALITY
Collaborative boards
Setting up compelling and inspirational boards is the first and most important step in staking a winning presence on Pinterest. A great example comes from hospitality leader Four Seasons Hotels, which launched their Pin.Pack.Go initiative in 2013.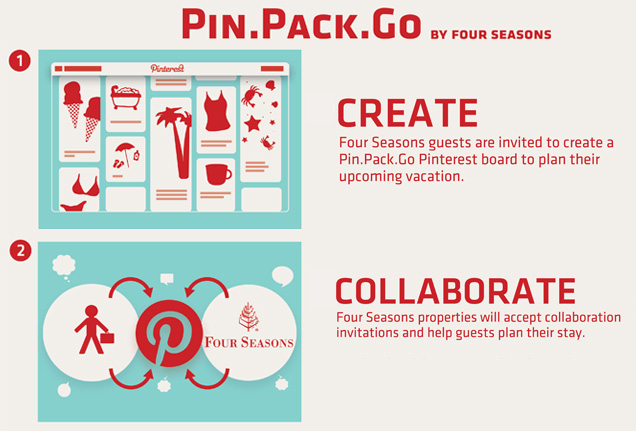 Whichever destination you choose, if there is a Four Seasons property in that area, it will help planning your stay with suggestions of things to see and do, places to eat, and even places to stay – because you may not stay at a Four Seasons for all of the stay, or any of it for that matter, but herein lies the true spirit of collaborative boards after all, right?
Place Pins
Since December 2013, Pinterest introduced the possibility to attach geo-localized information to a pin, thus building itineraries with rich pins called Place Pins.
This allows for any destination, from a city to a province, state, country or continent, to provide itineraries based on information from these pins, just like the folks at Time Out did for their "50 best bars in London" compilation. Check out the many Place boards from the top left menu on Pinterest for some inspiration!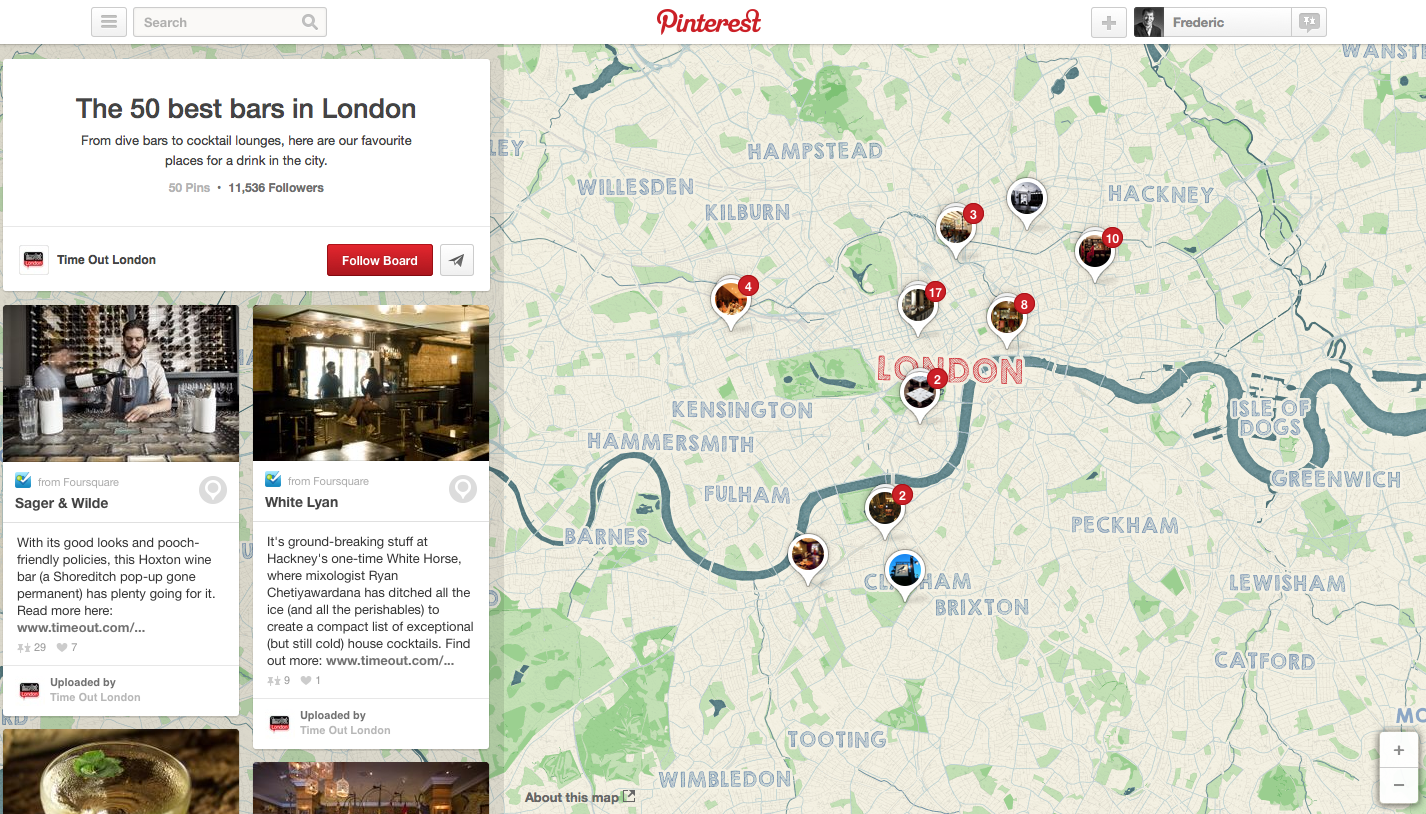 Festival & Events
Many festival and events have their own following, but few generate as much buzz as South by Southwest, better known as SXSW. Held every year in March in Austin, Texas, the city transforms into a happening for new technology, film & music aficionados.
SXSW is where Twitter broke into the limelight back a few years ago, and they were among the first ones to embrace Pinterest as a platform to showcase the different events taking place. A great way to showcase the various events, restaurants or activities taking place in and around the festival itself.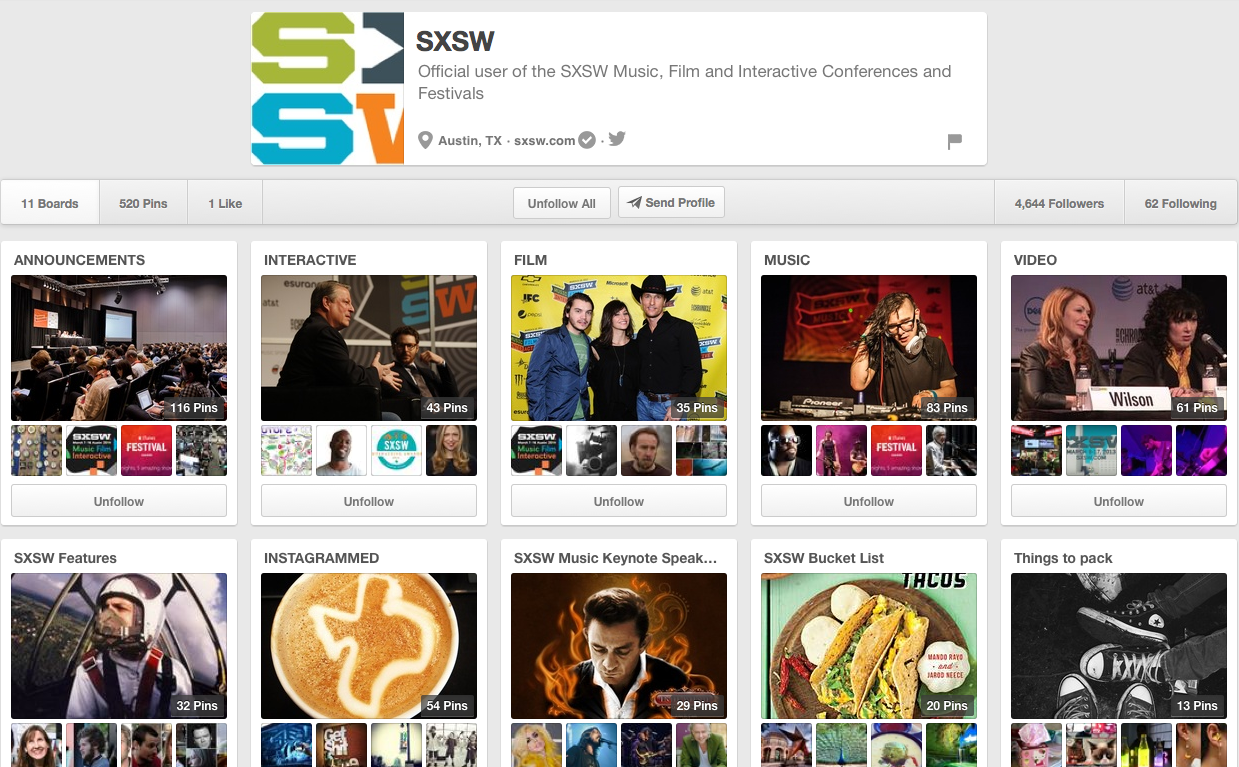 Distribution channel
For tour operators, online travel agencies and most industry players who sell travel, Pinterest can play an interesting role within a brand's online ecosystem.
Few have built as strong a presence as Jetsetter, which have close to 4.5M followers on Pinterest, in great part because they integrate it with other online tactics, such as newsletters, Facebook or their website. Many of their boards are collaborative too, seeking feedback and photos from like-minded individuals sharing a passion for a topic or destination.

Inspiration for destinations
Last but not least, there are many, many destinations that have embraced the potential for visual storytelling that comes from a dynamic presence on Pinterest. In fact, according the latest account from Anne Hornyak, there are at least 650!
Her board dedicated to Convention Visitors Bureau (CVB) and Destination Marketing Organizations (DMO) is a goldmine if you are seeking this kind of information, but you can always use the search box within Pinterest to find topics, destinations, hotels or attractions that suit your fancy!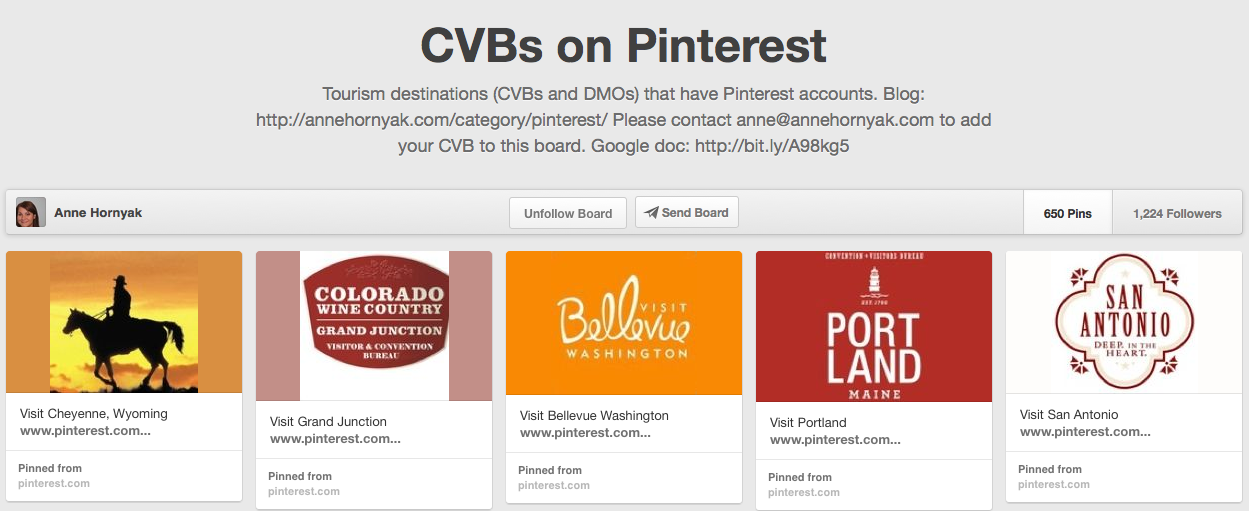 HOW TO POST ON PINTEREST
Below is a useful infographic giving you 10 tips for better posting on Pinterest. Created by the folks at Social Research Strategies, it's well done and gives you a no-nonsense approach to post more effectively and grow your following organically.
I would add one final element: consider Pinterest as part of your over-arching social media and online strategy, rather than a standalone initiative. Brands like Jetsetter got to millions of followers because they told their Facebook community to like their Pinterest boards, or created online contests driving traffic to their website from their newsletter, and so on.
Now go ahead, pin this infographic to your favorite board!