In today's world, social media and immediacy are kings, many professionals often forget about email. And yet, email is a very effective way to reach existing and potential customers.
Think about it: what is the first thing you do when you get up in the morning? You check your emails! 61% of people look at their emails even before having breakfast. Oftentimes, they check their emails while still in bed!
With email campaigns, you can "talk" to consumers in their private space — their inboxes. However, it is important to create a newsletter that will capture (and keep) readers' attention.
Before you even start creating content for your newsletter, you must first carry out the following steps. The better prepared you are, the more likely you will be successful.
Choose the right newsletter platform
Start by selecting the email marketing platform with the features and options you need most. Naturally, you will also want to choose one that fits your budget. There are many different email marketing platforms on the market today. So, which one should you choose?
To help you in your research, here is a list of some of the most popular ones:
For this article, we will use MailChimp's interface, which is the email marketing tool we currently use. Note that most solutions have similar interfaces; you should be able to easily figure them out.
Identify your newsletter objective and KPIs
What is the objective of your campaign?
Do you want to:
Increase your brand's visibility?
Maintain or build customer loyalty?
Generate conversions or sales?
Boost subscriptions or other types of pre-sales initiatives?
Increase website traffic?
A newsletter is a great way to build a list of clients and establish contact with them. By identifying a clear goal, you'll be able to choose the type and contents of the newsletter you should send out.
Once you have decided upon your email campaign's main objective, think of the metrics you will want to monitor to determine whether or not it is successful.
Choose the type of newsletter and create engaging content
Next, you will have to bring together all the information you need to create a newsletter, including:
The name of your email campaign
The sender's name
The sender's email address
The subject line
The preheader
Your company's logo and images to include in your newsletter
The texts, which will be reworked when you start to build your email
What you want recipients to do—aka your email's call to action (CTA)
Your brand's colours and fonts
All URLs that should be displayed for the readers
The targeted subscriber list
The test emails you will want to send the newsletter to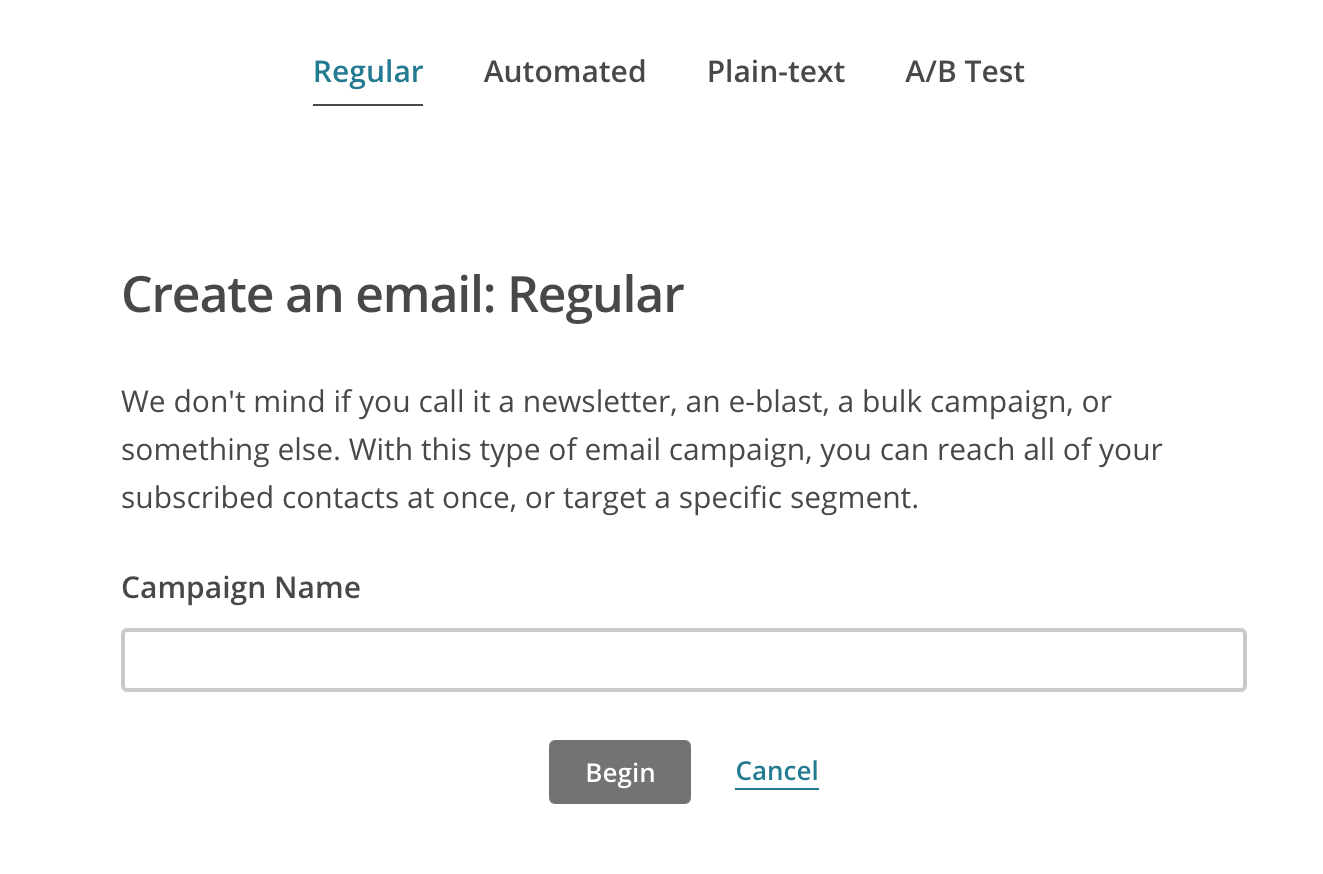 Name your email campaign and start by building a basic newsletter. With more experience and subscribers, you will be able to create automated emails based on how subscribers react to your emails or personal information (ex.: birthdays, anniversaries, etc.).
Create or choose a subscriber list
Before getting into the nuts and bolts of your email campaign, you should first create a subscriber list or choose an existing list. These lists can normally be segmented or separated by group.
Start by creating a main list. Then, you will be able to segment it based on your subscribers' behaviours or their needs.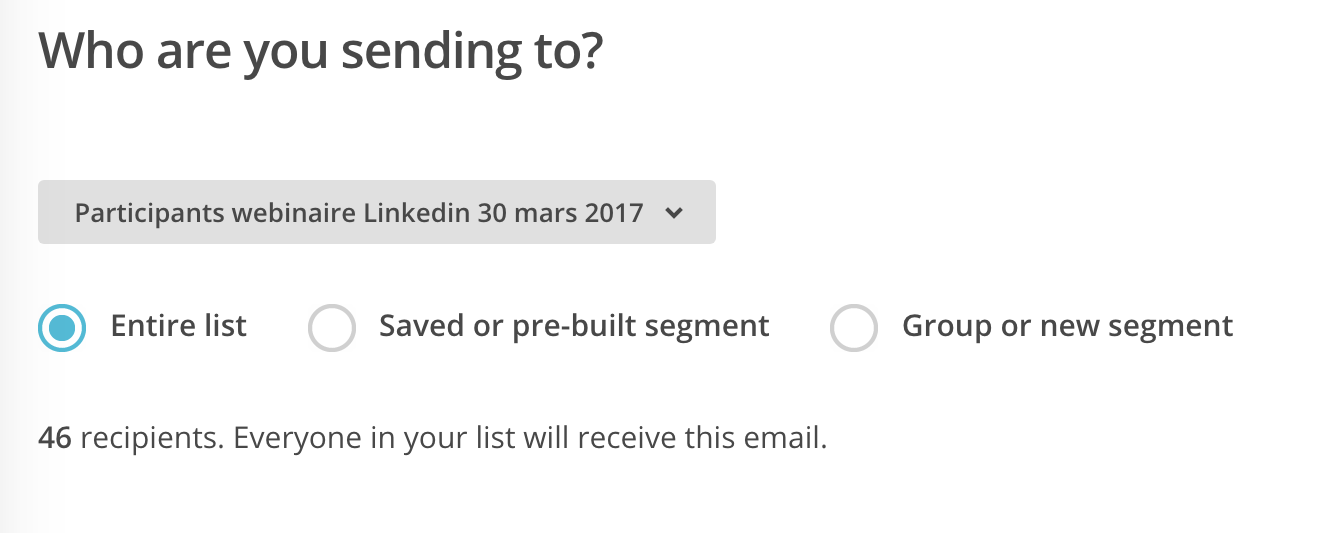 You can import your contacts into your list. One caveat: it's always better to use newsletter subscription forms to ensure that subscribers have full consented to receiving your emails. In addition, you may have syncing issues if ever the list is deemed inappropriate by MailChimp, for example.
Create a great landing page for your newsletter subscriptions
We recommend creating a landing page that is dedicated to your newsletter. If not, at least make sure that the subscription form is personalized. Don't be afraid of personalizing this form in order to give readers as much information as possible and incite them to sign up to receive your emails.
Describe the content you will share in just a few words and give people an incentive to sign up for your newsletter. Why should readers subscribe to your newsletter? What makes your newsletter so enticingly different?
Ideally, add a link to your most recent newsletter. If possible, explain the frequency of your newsletters so that readers have a good idea of what they should expect.
This information will allow readers to have all the information they need to decide if they want to sign up. This approach also goes a long way to reducing your unsubscribe rates.

Insert links to subscribe to your newsletter at the bottom of each blog post, such as HubSpot does, and on your website's home page, like Kate Spade. (see above)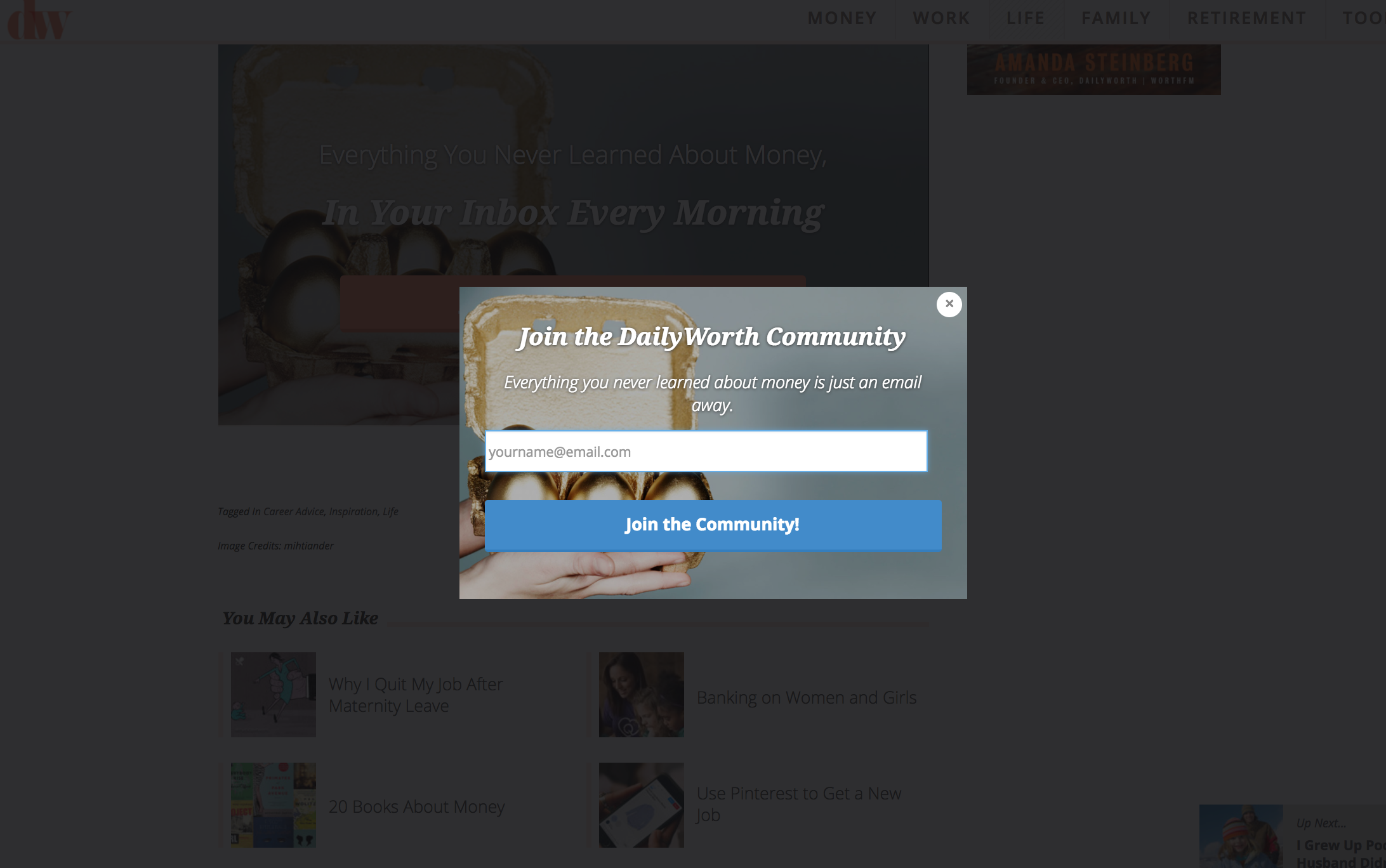 You can even add a pop-up that will be displayed on the screen to incite readers to sign up for your newsletter.
NOTE: Be careful with Pop-ups, and make sure they can easily be removed, specially on mobile devices, since Google will now penalize sites that abuse using this method.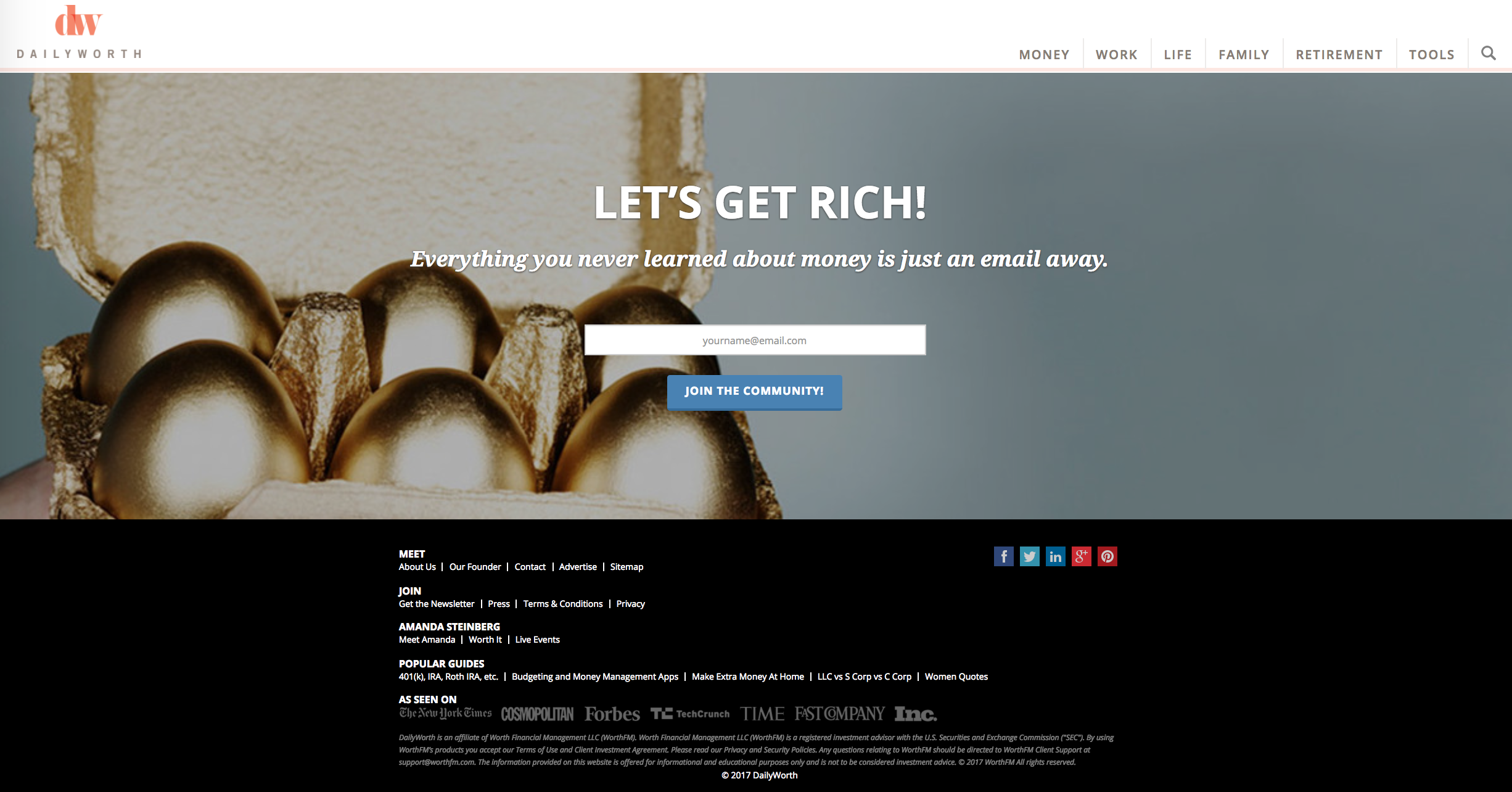 Finally, you can create a page dedicated to newsletter subscriptions—much like what DailyWorth has created.
Develop an engaging subject, preheader and sender's name for your email
You can now add the main information for your campaign.
Your email subject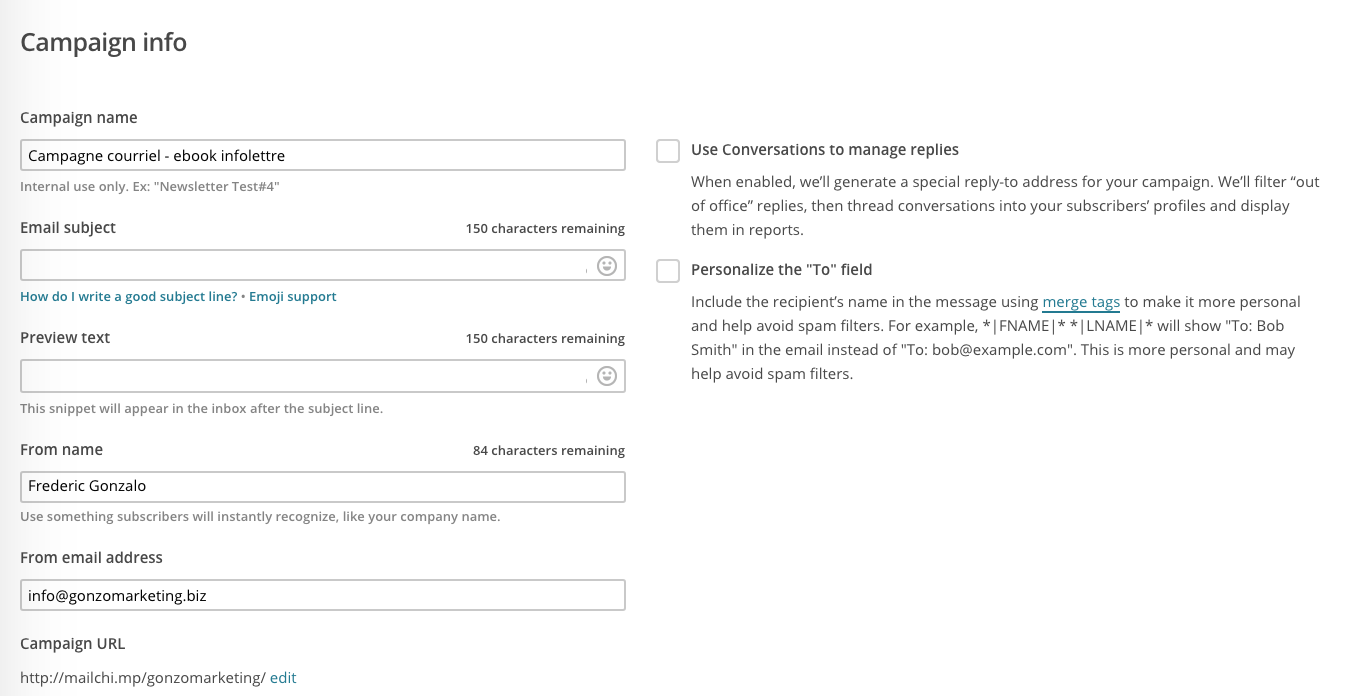 The subject of your email is the first thing readers will look at to determine if your newsletter is click-worthy or not. Did you know that 47% of recipients open an email based on its subject? This is the most important part of your email campaign.
The subject of your newsletter must include between 6 and 10 words—and less than 50 characters. Oftentimes, you have a maximum of 150 available characters.
Think multi-devices
And remember: not all screens and email programs have the same display sizes. In other words, you really don't want your email's subject line to be truncated at the wrong spot.
When you create your email's subject line, keep your target clientele in mind. Imagine you are the friend of your client. Without getting too personal, try using a more friendly, authentic or funny tone.
Add references to music, movies or even news to attract readers' attention! Oh…and numbers! Many use numbers in their subject lines to stand out from the email crowd.
Personalize
If you can personalize the "To" field, do it! Email open rates can increase by 20% if the email's subject line is personalized for the recipient. That is why it is so important to collect more than just your clients' email address. Get the first names and last names of all your subscribers.
Finally, remember that a subject line is a great opportunity to lure audiences into reading more about your business. Don't hesitate to convey a sense of urgency, such a deadline or a limited-time offer.
Above all, don't use the words "newsletter" or other terms that are associated with sales pitches. You do not want your newsletter to be considered as spam!
Email preheader
An email preheader, sometimes called "preview text" consists of the first line of your newsletter. These few words appear just after your email's subject line in a recipient's inbox. The preheader gives readers a quick overview of the email's contents.
Most email inboxes on mobile devices display between 75 and 100 characters. Be sure to focus on the first 5 to 8 words of your newsletter's preheader—and take advantage of them to attract readers' attention!
Sender's name
The sender's name is the third factor readers take into consideration when opening (or not!) an email. You have a maximum of 84 characters for the sender's name; however, you must still consider that not all email programs are alike and many of your subscribers will look at your newsletter on their mobile devices.
You can use the name of your company. Nevertheless, full names often work best as they create a sense of proximity with your subscribers.

The main reasons why people will open your newsletter include the sender's name, email subject and preheader. Continuously optimize them to boost your open rates. After all, an email newsletter must be opened before it can be read!
In the next article of this series, we will get into the nitty gritty of your newsletter's contents and important design considerations.