Ever since Snapchat launched the Stories format back in 2016, ephemeral content using photos, videos, gifs and a variety of functionalities such as surveys, questions, countdowns and so much more have been creeping up our social media feeds. Travel brands across the globe were quick to embrace this format, as a key storytelling component based heavily on user-generated content.
Consider these statistics, for starters:
● The originator of the Stories format, Snapchat, has over 200 million daily active users.
● There are an estimated 500 million daily active users that consume or create Stories on each of these platforms: Facebook, Messenger, Instagram, and WhatsApp – with more users trying out the feature every day.
● Nearly 1.7 billion accounts use the Stories format daily.
● 1 in 4 Millennials and Gen Z-ers look for Stories of the products and services they want to buy.
● 15%–25% of people swipe up on a link in branded Stories.
● One-third of the most-viewed Instagram Stories are from businesses.
● 36% of businesses use Instagram Stories for product promotion.
● 59% of brands link Instagram Stories to a shoppable page.
● Ad spend on Instagram Stories alone has doubled in the past year.

Did you know even Google recently joined this party, releasing its own stories offering via Google AMP? AMP ensures a longer lifespan for content and ensures stories content is included in Google search results – which is obviously important knowing how much travel brands currently invest in searchability, whether through organic or paid efforts.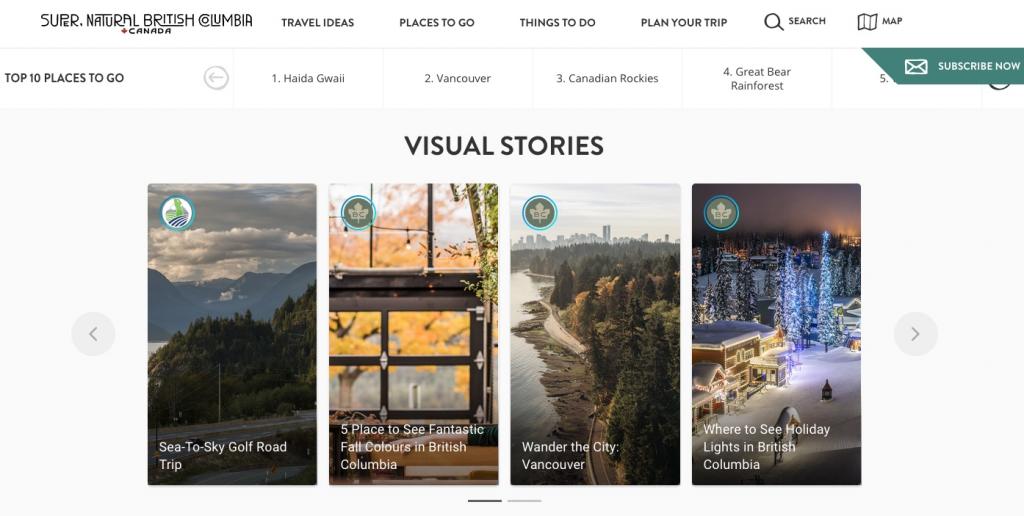 As shown above, the folks at Destination BC – the provincial DMO for British Columbia, in Canada – recently unfolded how they are weaving stories into their website in order to capture traveler interest, no matter where they may be in the decision-making funnel for an upcoming trip.
Introducing Travel Stories
During their inaugural SEE2019 conference held last week in Toronto, CrowdRiff unveiled Travel Stories – the world's first connected story experience for travelers – in partnership with Destination BC. Travel Stories enables them to share content published by its tourism industry partners through its all-new BC Story Network in powerful ways not previously imagined. Travel Stories (and the BC Story Network) is the first of its kind, and offers a mobile-first, visually immersive experience for travelers to plan their trips to BC.
"The BC Story Network is the first of its kind in Canada, and a great example of how strong partnerships are driving innovation in BC's tourism industry," said Marsha Walden, CEO of Destination BC. "Consumer behaviour is shifting rapidly, and this innovative partnership with CrowdRiff has given Destination BC and our partners across the province the ability to inspire potential visitors through a format that's seeing exponential growth, globally."
Why Travel Stories Matter
While there are many marketers out there still pondering if travel brands should invest time and efforts in producing stories – content that will vanish after 24 hours – there are many reasons why travel brands should, specially now that they can be grouped into Travel Stories:
Travel Stories are contextual and offer more data to provide travelers with the depth of information needed in researching a destination;
With an omni-channel approach, the same Travel Stories can be created once and shared everywhere, from a destination's website to Google Search, Facebook, and Instagram to exponentially increase the reach of the rich content being shared;
Travel Stories are connected across the travel ecosystem, eliminating the need for destinations to manually connect with travel partners to source local stories. This networked experience enables a traveler interested in visiting BC, for example, to view stories from different partners – and easily connect with them if so desired – without having to actively seek out each one individually.
Content shared through Travel Stories is evergreen, going beyond the 24-hour limitation typical of traditional Stories platforms.
Destinations can now gain insights into the impact and effectiveness of Travel Stories across different platforms, enabling them to continuously tweak and evolve their storytelling to ensure the greatest results are achieved.
A challenge many destinations face is sourcing relevant content from partners for sharing within and across their various channels. For example, when a provincial tourism board wants to highlight a particular experience in one of the cities within the province, they generally have to reach out to the city tourism board and ask them to provide content and images, which takes time to receive and must be manually uploaded to the tourism board's own website or social channels.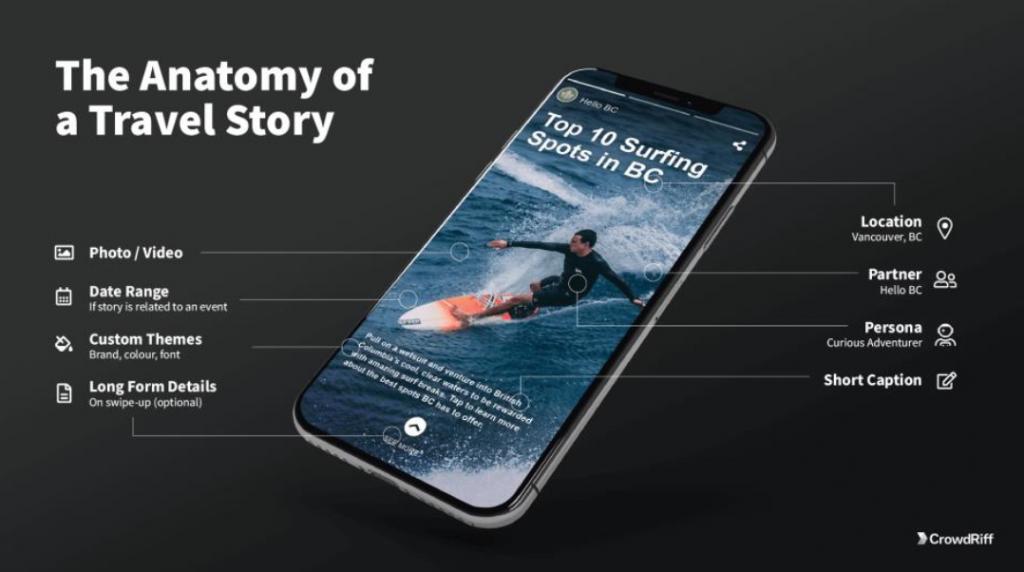 CrowdRiff Travel Stories eliminates this back and forth and allows for partners within a network (e.g., the BC Story Network) to automatically integrate stories created by travel partners into their own platforms. This maximizes the exposure of Travel Stories across a combined audience of regions, domestic marketing organizations, sectors, and businesses.
"Consumer behaviour is shifting rapidly, and this innovative partnership has given Destination BC and its partners across the province the ability to inspire potential visitors through a format that's seeing exponential growth, globally"
Since the Travel Stories pilot launched this summer, participants in the BC Story Network across the province have created over 800 stories, resulting in over 1.4 million impressions and 145,000 story views.
"Our research has shown that over half of mobile site visitors click away if a page takes longer than three seconds to load," said Jon Bromstein, Head of Industry, Government & Tourism at Google Canada. "By leveraging AMP for travel stories, Destination BC is able to immediately capture the imagination of travellers and build instantaneous connections, leveraging a lightning-fast user experience."
It will be interesting to see now which other destinations will follow through with this innovation, and if and when other functionalities such as ecommerce – or book your trip – might be integrated further down the road.