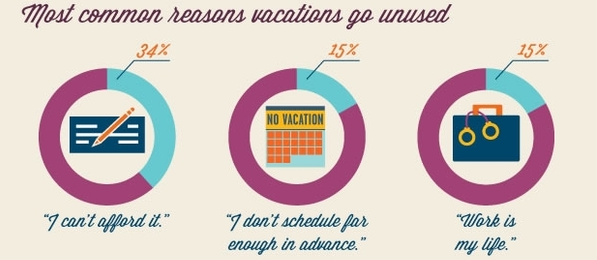 Americans shape a great nation for many reasons: economic strength and resilience, military dominance, political and cultural influence around the world, among other things.
Likewise, in the tourism & hospitality industry, how much and how long Americans vacation for has a deep impact not only within the United States borders but also in many countries, including its immediate neighbors like Mexico and Canada, as my fellow Canadian tourism industry counterparts can attest.
HOW WE WISH AMERICANS TOOK MORE VACATIONS…
According to this recent infographic, courtesy of complianceandsafety and created by Column Five for Rasmussen College, Americans simply do not take all the vacation time they ought to, in particular when comparing with other similar Western countries. A few key stats from this infographic:
Of the Americans who were given 14 days of vacation time in 2011, 57% had unused time left by end of the year;
Most of these folks left on average more than 2 days on the table, which is 14.3% of their allotted vacation time;
Sadly, of the most common reasons people give for not taking their vacation time, 15% say it's because they didn't plan for it properly, and 15% simply prefer to work, work, work!
Check out the complete infographic below.

BUSINESS AND LEISURE TRAVELERS DIFFERENCES
As travel marketing experts, it's pretty interesting to see some of the differences between leisure and business travelers, as shown in the bottom part of the infographic. Yet, knowing more and more business trips morph into leisure holidays, either out of necessity or opportunity, hospitality players need to realize how much high-speed internet (and free wifi access, its obvious corollary) has become a major factor in the decision-making process and travelers' expectations.
Hotel fitness centers have fallen out of fashion while internet access is important for both types of travelers. With 63% of business travelers bringing on a member of the family and turning the trip into a vacation opportunity, there is tremendous potential to not only tap into unused vacation time but also work with meetings and conventions planners to work on both pre- and post-trip opportunities.
What do you think of leaving vacation time on the table? Do you take all your vacation time, or do you also blend it with business trips?