It's that time of the year when both the USA and Canada put on their biggest trade shows to attract and convince international tour operators to feature more of their destination in their brochures and packages. In turn, these will be distributed to travel agents and the general public in countries such as France, Japan, UK, Germany, Italy, Mexico, Brazil, China and so on.
Americans' annual trade show, International Pow Wow, was held in Los Angeles two weeks ago, while the Canadian travel industry suppliers and attractions will be hosting the world at its annual Rendez-Vous Canada, in Edmonton this May 13-16.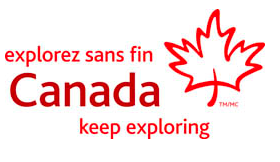 Competition has always been disproportionate between the two countries – rule of thumb is that the US population is roughly 10 times that of Canada's, and marketing budgets are generally 6-10 times those of the Canadian tourism industry.
Yet throughout the years, Canada has managed to maintain a coherent and competitive image as a destination, namely through the concerted efforts of the Canadian Tourism Commission and its unified approach for travel marketing. In fact, Canada ranked No. 1 country brand in the world in 2010 and 2011, according to Future Brand, a leading international brand and design consultancy.
The challenge of remaining top-of-mind
So if Canada is highly recognized as a country brand, does it translate into travel intentions and its tourism performance? Aye, there's the rub, as Shakespeare would say: it does not!
While Canada was once part of the Top 10 countries in the world a decade ago, reaching its best-ever ranking of 7th most-visited country in 2002, it's been on a downhill path ever since, slipping to 15th place in 2010, despite of the worldwide visibility stemming from the Winter Olympics held in Vancouver. In other words, as our country was gaining positive reviews and awareness on the international scene, our tourism performance was moving into the other direction.
With the Federal Tourism Strategy presented in November 2011, there was reason enough to hope the tourism industry would be recognized as the important economic driver that it is, generating 594,500 direct jobs across every province and territories in 2010, raking $73.4 billion in revenues and representing 2% of Canada's Gross Domestic Product – more than agriculture, forestry and fishery sectors… combined!
Yet, the most recent federal budget presented in March 2012 held a sour surprise: a 20% budget cut in the Canadian Tourism Commission's operating budget.
In 2010, tourism generated 594,500 direct jobs in Canada across every province and territories, bringing $73.4 billion in revenues which represented 2% of Canada's GDP – more than agriculture, forestry and fishery sectors… combined!
Now, if the situation worldwide was at a stand-still and competitive destinations were experiencing similar decreased funding, we could find solace in common misery. Alas, that's where the plot thickens…
Brand USA leads the way
For the first time in its 236 years of existence, the United States of America have emerged with a unified approach to sell its destination to international travelers: Brand USA. This public-private entity unites government funding, industry players and private partners, with an estimated $1 billion budget earmarked to position the destination over the course of the next few years, in different phases and according to prioritized markets.
The first wave of advertising launched in-market May 1st in the United Kingdom, Japan and Canada, with a budget of $12.3 million for the first three months. A second wave will follow in Brazil and South Korea, with several other markets to follow.
Considering our neighbors to the South never had to indulge in this kind of promotion to achieve what were already excellent results in the tourism sphere in the past, this new reality will bring forth extra pressure on distribution channels and industry partners to choose hotels, destinations and packages in the USA rather than other destinations, namely Canada.
We must also consider the fact that there are more and more destinations emerging on the international scene, bringing exotism and novelty into the equation, two factors Canada can hardly compete with, as hard as it may try.
What can the Canadian tourism industry do about it?
So what can be done about this alarming situation? The first and most important thing is to realize that marketing budgets will always be finite, and that they are not a means to an end. If international travelers are not choosing Canada as their next destination, it's not merely a matter of awareness or brand sentiment. More often than not, it boils down to pricing and competitiveness. I believe there are two key weaknesses plaguing our industry:
Accessibility
Getting to Canada is very expensive due to limited air access and only one international airline providing an extensive network, which is Air Canada. Our airports are among the most expensive in the world – it costs more for a regular airline to land and take off at Toronto's Pearson airport than at Paris Charles-de-Gaulle! Those costs get trickled down to the end-consumer, which adds up to a more expensive package, eroding the destination's attractiveness.
In the meantime, bureaucracy and politics have made it even more difficult to strive in this complex industry. Imposing visas to Mexicans was an ill-advised decisions back in 2008, deleting over a decade's worth of efforts in that market.
Then there are security issues, in particular at the US-Canada borders that have become a lot stricter after the tragic events of 2001. The requirement for a passport doesn't help either, knowing less than 40% of US citizens own one. Canada is no longer a "given" as it was in the past, a last-minute decision one might contemplate.
Economy
At the end of the 1990s, when the Canadian dollar was worth US$0.63, a getaway at Fairmont hotels such as the Banff Springs, Jasper Park Lodge or any big city hotel was a steal for American travelers. Those days are long gone. Not only is the Canadian dollar almost at par with its US counterpart, not to mention its raising value against the Euro and most international currencies, but the world economy remains fragile while the Canadian economy is holding its own. This accelerates the commercial deficit, whereby less international travelers opt for Canada and more Canadians opt for out-of-country getaways. A lose-lose scenario for our industry.
The Canadian tourism industry can boast world-class products, hotels, transportation, attractions and events from coast to coast. Our destination has breadth and depth like few others, in particular in emerging markets.
As for the two above challenges, there is not much we can do about the world's economy, but our industry could and should certainly voice more intently its concern regarding the accessibility to and within the destination. Advocacy by groups such as Travel Industry Association of Canada (TIAC) and the Canadian Tourism Commission (CTC) is only the beginning, as more industry partners ought to voice their concern with their local MP.
Any other suggestions?