A Destination Marketing Organization (DMO), also known as Convention & Visitors Bureau (CVB), looks after the promotion of a territory and its key constituents: accommodations, restaurants, attractions, events, transportation, guided tours and any other retailers catering to travelers in some shape or form.
Less than a year ago, Troy Thompson wrote a must-read piece on his blog, titled 3 reasons why the DMO will not survive. It certainly struck a nerve among travel marketing industry peers, in great part because it highlighted a reality among DMOs which is that many are not adapting to the fast-evolving environment in which we now live.
While I don't believe DMOs will die anytime soon, at least not a majority of them, I do however strongly believe there is a serious need to rethink their business model and role within the travel ecosystem at this point in time and moving forward. Here a five important reasons why I feel their model is broken.
4 KEY DISRUPTORS
Today, destinations are facing a much different reality with traveler behaviors and decision-making processes shifting like never before. This is due in great part to four important disruptors shaking the foundations of the industry.
1. The collaborative economy
Also known as the peer-to-peer (P2P) movement, we are know seeing individuals taking steps to creating their own travel ecosystem. Many have heard of AirBnB, HoweAway, Wimdu or Couchsurfing, yet there are countless sites now enabling people to rent out a room, a sofa or the whole apartment or house, either through home-swapping schemes or via transactional sites.
Vacation rentals are one of the hottest segments in the travel sphere, with listings increasing both in the key markets as well as emerging economies, demonstrating its universal appeal. But while this opportunity (or threat, depending on your point of view) is often associated with accommodations, truth is it impacts every aspect of the travel experience once at the destination:
Transportation
Through sites like GetAround, Parkatmyhouse or Zimride, folks can share a ride, find a place to park or even rent out your own car to someone else you may need, i.e. RelayRides (see video below)
Restaurants
New platforms such as Cookening allow locals to host travelers to a home-cooked meal, thus bypassing the traditional restaurant scene, while tapping into the "do it like local" vibe that is a growing trend worlwide.
Then there are review sites such as Yelp, Chowhound, Foodspotting or Forkly that will also connect with user reviews about favorite spots to eat & drink.
Experiences
Are you familiar with the concept of "greeters" in a city? Born in New York City during the 1990s, we are now seeing more and more of these volunteers show you around the city, in particular in France and withing French-speaking Europe.
Then you have services such as Vayable, Uniiverse, or GetYourGuide that basically address the core of your trip, that is: the experience once at the destination. Would you prefer to hop on a classic 3-hour GrayLine Tour by bus, or spend a couple of hours with a local who will share his or her favorite spots?
Thus, the collaborative economy presents as much potential as it is a threat to the DMO model right now, since none of these new players will tend to become members and partake in marketing efforts for the destination. It is also hurting accommodations who do bother to follow regulations yet get bypassed by these new and aggressive competitors.
2. The rising importance of UGC and social platforms
Social media and the incredibly fast adoption rates of smartphones and tablets by today's travelers have made the information-seeking process much faster and complex.
Conversations about a future, ongoing or past trip are taking place simultaneously on numerous platform, for example when someone checks-in on Foursquare while connected on Twitter, or by taking an Instagram pic that's automatically shared via a person's Facebook's feed.
Leading DMO have embraced sophisticated tools to monitor the chatter, with an active presence on all key platforms: Pinterest, Instagram, Tumblr, Google+, Linkedin, Foursquare, Tripadvisor, Facebook, Twitter, not to mention various forums where a brand may be mentioned, i.e. WikiVoyage, Google Reviews, etc.
Travel inspiration and planning
But a majority of destinations are struggling with this challenge, where monitoring these conversations is a daunting task, let alone trying to chime in and engage with potential travelers or those at the destination having questions or complaints.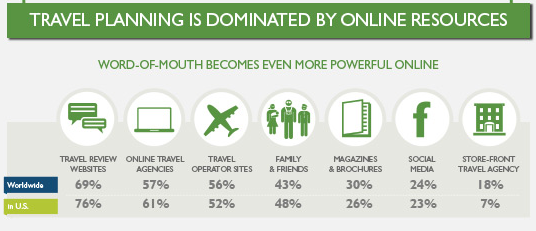 As for user-generated content (UGC) sites, their importance keeps growing, surpassing the age-old influencer that parents & friends were traditionally. Indeed, more and more studies and research tend to demonstrate that we trust peer reviews or reviews from strangers more than those from friends or colleagues. Yet, few destinations incorporate a tactical plan with Tripadvisor, for example, as part of their digital marketing strategy.
3. The dominance of OTAs in the distribution system
Here's a question for you: Should a DMO have a booking platform on its website? When was the last time you ever went to a destination's web site and booked your accommodation from there, perhaps along with your flights and some attractions or activities to complement it all? Never, that's right…
Okay, so maybe I'm exaggerating a bit here, but this example highlights another age-old question: what should the role of the DMO be in the distribution system right now? Big hotel chains, and independent hotels in particular, are struggling against the ever-growing dominance of online travel agencies (OTA), in particular Expedia and Booking.
But since many travelers start with a destination in mind before they shift over to the accommodation options, how could the DMO steer more bookings towards hotel members directly, rather than onto third parties?

The region of Eastern Townships, in the province of Quebec (Canada), recently inked a deal with Booking.com to become their de facto booking option on their destination site, figuring "if you can't beat them, might as well join them".
This won't help more small property owners getting transactional, but the gamble here is to bring in more marketing power and spotlight to the destination and beef up the transactions. Will it work? Too early to tell, but we'll be monitoring closely.
4. Mobile, mobile, mobile
The last major disruptor is the omnipresence of mobile, through smartphone or tablet devices. In June 2013, it was esteemed that more than 40% of all online research for travel came from a mobile device – up from 25% at the end of 2012! Y
et, the greatest challenge this brings to the DMO is in the real-time access, how we can engage with the traveler while at the destination. Of the six elements required to make it as a digital destination, one is often under-looked: the need to have a separate mobile site for travelers at your destination.
We tend to forget that our behavior at the destination is much different than while at home or the office, researching and planning the trip. So why should the site be the same?
A great example of a travel destination that went mobile is Singapore, with its Handy project. By providing smartphone for a small daily fee, the destination is giving value with what travelers seek out the most: wifi connectivity, unlimited local and international calls, and apps answering most sought-after queries, i.e maps, translation, currency, showtimes, transportation details, etc.
BONUS DISRUPTOR: Who's the client?
At the end of the day, all these new technologies have created an open forum where information becomes readily accessible, yet curating it all is the utmost challenge and opportunity for the DMO. But in order to properly answer this need, the DMO must first answer the most basic question: who's the client?
The traveler or the member, constituent or political representative? Because you see, this is where the biggest problem lies (at least in Canada). Most, if not all, DMOs get their funding in great part from government, and in variable proportions from a membership.
Hotels, for example, might pay in some instances an amount according to the number of rooms, which can mean substantial amounts on a yearly basis, in the tens of thousands of dollars. Just for their membership.
Other cities or regions will collect a tourism tax, but only with registered members of the Chamber of Commerce or Hotel Association for that area. This explains why, when the DMO seeks to build a marketing and communications plan, their ultimate client is not the traveler, but their member.
Sure, there are exceptions to this model, but it is a very common one across the country. So if you pick up a brochure once at a destination, will you see everything it has to offer? No, you'll see what all the members have to offer in that city. This was fine up until a few years ago, but with the above four mentioned disruptors, how long can this go on without creating dissatisfaction with travelers?
One thing is for sure: The DMO will need to adapt or die, and its business model will certainly need to be revisited to take into consideration the changing landscape of the industry.