Last November, Google reported that within a typical online travel purchase path, a user would:
Conduct 38 different web searches…
Watch 5 videos…
Visit 380 sites…
For a total of 419 digital moments…
Over a period of 60 days…
With 87% of this action happening on a mobile device!
Impressive, right? But if you think this was an isolated example, not representative of what's happening at a larger scale, think again.
Emarketer also shared a study last November, predicting that in 2016 we can expect more than three quarters of online search for travel, and more than 51% of revenues, to come from mobile devices! In other words, this is not a flavor-of-the-day trend or phenomenon: it's here to stay.

Read also: Why Mobile Changes Everything
So while we know mobile will play an increasingly important role in online travel distribution, there are many out there still wondering why they are not getting that many conversions from mobile.
Perhaps your brand is not getting its fair share of mobile revenues simply because of one of these four reasons…
1. Because You Ain't Got A Mobile Site

With the stats shared above, one would think most organizations within the travel & hospitality sphere would therefore be mobile-optimized by now, right? Well, the good news is that top travel brands get it, from destinations to hotels to attractions and transportation companies. Unfortunately, there are still quite a few laggards.
Last year I took a look at how mobile-friendly Canadian destinations were, and results were overall positive. One can only think things have improved since then, as more and more brands move towards responsive design websites and a mobile focus.
So the first question is therefore: do you have a mobile-optimized site? Is your website responsive and attractive for users reading it from a smartphone or a tablet? What was once a nice-to-have in 2011 or 2012 is now a must-have in 2016. Period.
2. Slow Loading Times
According to Radware and its "State of the Union: Mobile Performance of the Top Travel Sites" report published in December 2015, 76% of travel industry's top 100 sites were considered too slow to load, creating frustration and site abandonment.
Knowing how much effort is being put into SEO, Google AdWord campaigns and remarketing tactics, this is akin to putting the cart in front of the horse, rather than the other way around. In other words, you have a mobile site, but if it wasn't designed with mobile users in mind (which is the drawback from responsive web design), then speed becomes an issue.

According to the 2015 Jumio Mobile Consumer Insights Study, the number one reason for site abandonment is actually slow loading times. And when looking at abandonment rates per industry, Travel (38%) came in as third worst, right after Fashion (53%) and Food & Drinks (39%). So we've got some work to do!
3. Payment Process Is A Drag
Do you remember the first time you made a reservation online? Even today, payment processes can be cumbersome on many websites when accessing them from a desktop, with a mouse and keyboard. Imagine when doing so from a mobile device, using fingers to type in details on long-winded forms… Not surprisingly, payment process was mentioned as the second biggest irritant by UK consumers when it came to mobile conversions.
When it comes to mobile commerce, it is therefore a priority to make the payment process frictionless and as easy as possible. It will be interesting to see when Facebook rolls out its feature enabling fields to be prepopulated on a form, for example, making it quicker to move down the transactional path.
Another important element is to address security concerns, making sure consumers feel safe to do business with your brand online. What safeguards do you have in place to prevent fraud or hacking, and do you promote any warranty to ensure nothing goes wrong, and that consumers will be covered should anything go wrong? These elements come into play as well.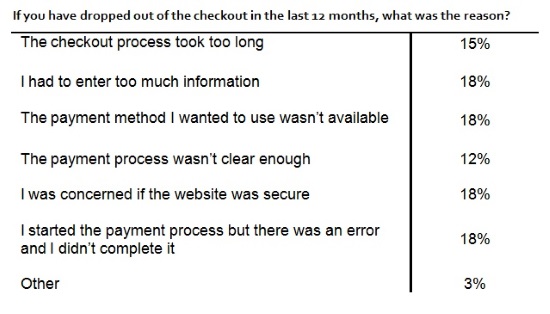 In fact, the above chart shows what some of the main reasons are for travelers to abandon a website before checkout, according to Worldpay.
4. Checkout Process Is A Drag
Once a consumer has completed the transaction or its main components at the very least, we sometimes fall into the conundrum of asking too many questions. While it is sometimes necessary to do so in order to comply with federal regulations or industry-specific standards, sometimes questions are being asked simply for marketing or research purposes.
While this may have been questionable back when it was done over the phone, at the ticket counter or even online via a desktop, this can be a make-or-break process when it comes to mobile commerce.
Mobile offers great possibilities, such as getting a boarding card via a QR code, or scanning a confirmation code. Why not make use of the technology and device, rather than adapt old ways to a new communication tool.
Read also: Why Brands Must Connect With Mobile Travelers
Do you have a mobile marketing strategy in place? What are your thoughts on some of the best practices to capture conversions on mobile versus other platforms? I would love to hear your thoughts in the comment section below.