So here we are, almost a month after #mobilegeddon when Google moved ahead with its new search algorithm meant to penalize websites not considered mobile-friendly. Was it the end of the world as we know it? Not really.
But it's nevertheless interesting to see how major brands, specially in the travel sphere, have embraced a mobile approach in the recent past. Why is this so important? Consider these recent findings:
60% of all online search now comes from mobile devices (Source: TNW)
Mobile traffic to websites is over 51% of total online traffic (Source: First Site Guide)
In 2015, mobile bookings will represent 8% of total travel revenues, and 25% of online travel revenues, in the US (Source: US Consumer Travel Report, 6th Edition)
It's no wonder that Google will not only reward websites built with a responsive design approach, but more importantly penalize those who are not yet optimized for this new reality.
Mobile friendliness matters
Do you know if your site is considered mobile-friendly? Simply take the mobile-friendly test here.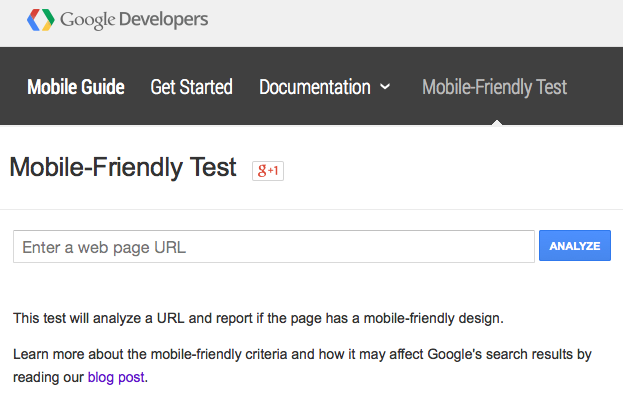 Note: If your site is NOT mobile-friendly, there is still hope.
First, Google will indicate what errors need to be fixed. Second, the result is per page, not the whole site – so you could have important parts of your website optimized, if required. Third, this applies only for mobile search, not desktop, nor tablet. Still, if this is the case, you should seriously consider responsive site or, better yet, a mobile-first approach for your next website.
Read also: Brands Must Connect With Mobile Travelers
How are things in Canadian travel?
In the travel marketing world, we like to think of ourselves as early adopters when it comes to new technologies, social media and the digital revolution. And rightly so, I might add: tourism has been among the leaders in terms of e-commerce and continues to tread new territories with RFID and wearable technologies, for example.
So how are we doing in terms of mobile-friendliness?
Well, to get a feel for how the travel industry is performing, I decided to conduct a non-scientific analysis looking at the following components:
Top 50 hotels in Montreal according to TripAdvisor
Top 50 hotels in Quebec City according to TripAdvisor
Analysis of 21 regional destinations organizations in the province of Quebec
Analysis of 19 industry associations in the province of Quebec (ski, spas, festivals, etc.)
By now, you will understand that my analysis was mostly focused in the province of Quebec, so I decided to expand and look at 65 destination organizations listed publicly on TIAC's website (Travel Industry Association of Canada) in order to get a better perspective on our performance from coast to coast to coast. Here are some of the key findings.
Hotels get it
Based on the sample analyzed, looking at 50 hotels best-ranked in Quebec City and 50 hotels best-ranked in Montreal on TripAdvisor, as of April 30, 2015, it was found that:
69% of hotels have a mobile-friendly site
72% of hotels in Quebec City have a mobile-friendly site
66% of hotels in Montreal have a mobile-friendly site
At first glance, this appears like obvious good news and echoes the concern hoteliers have had in past years with competing on the same level field as online travel agencies, which are much savvier when it comes to mobile applications and cross-device innovations to better reach travelers on-the-go.
I did not have the time to push this exercise further, yet it would have been interesting to see how lower-ranked accommodations performed with the same mobile-friendly test. In a recent analysis (available here, in French) I took a look at top 100 companies established in the province of Quebec. And here's what I found:
51% of top 100 companies in Quebec have a mobile-friendly website
8 of the top 10 companies are mobile-friendly. The other two companies were actually not consumer-facing, but rather headquarters or B2B-type.
52% of top 75 companies are mobile-friendly
72% of bottom 25 companies are NOT mobile-friendly.
In other words, the more you go down the list of companies, the less they tend to be mobile-friendly (or have a savvy online marketing approach, for that matter). In my humble opinion, I believe we would see a similar pattern if we were to push the analysis further with more hotels and accommodations.
Destinations in Quebec, not so mobile-friendly
While hotels seem to get it, things aren't so clear when we looked at destinations and industry associations. Based on the 40 websites analyzed, as of April 30, 2015:
39% of destinations and industry associations are mobile-friendly
43% of destinations are mobile-friendly
37% of industry associations are mobile-friendly
A word of caution, of course: because we are dealing with small samples, these numbers can change quickly if 1-2 sites are improved or relaunched shortly.
Also, there are many industry associations who are not customer facing, and represent their members for lobbying purposes or marketing with governments. Thus, have a ultra-performing website is not a priority.
Nevertheless, it is somewhat surprising to see the provincial site, bonjourquebec.com, as not mobile-friendly considering the tens of millions of dollars invested since its launch in the early 2000s.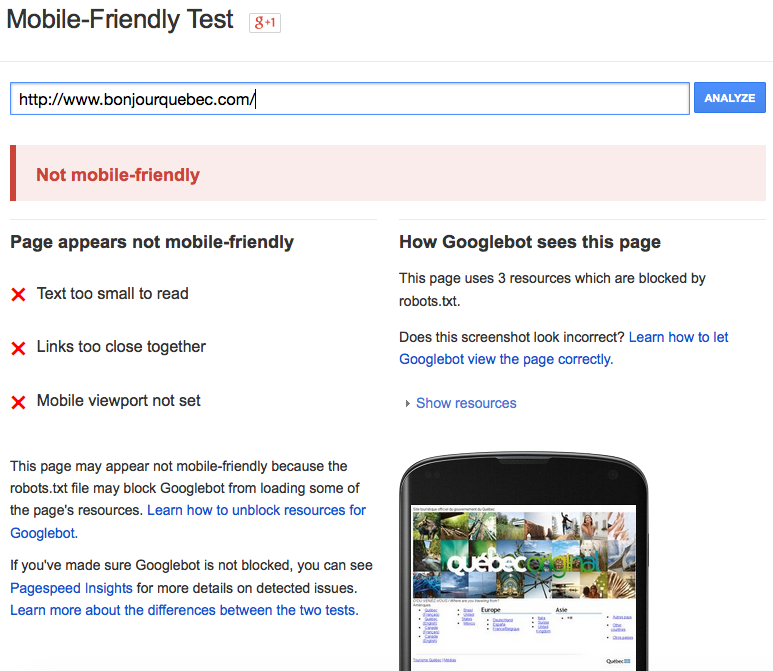 Canadian destinations, ahead of the game

So is that performance from Quebec hoteliers, destinations and industry associations an anomaly? Well, I decided to take a look at 65 destinations sites listed on TIAC's member list, as of May 4th, 2015. Here were the findings:
67% of Canadian destinations are mobile-friendly.
81% of Canadian destinations with a marketing budget over half-million dollars are mobile-friendly.
56% of Canadian destinations with a marketing budget of less than half-million dollars are mobile-friendly.
Based on this limited sample, we're seeing a much better performance from Canadian DMOs compared to counterparts in Quebec. Having said that, there is one constant element across the country it seems: provinces are slow at becoming mobile-friendly.
That's right, Quebec is not alone: British Columbia, Alberta, Newfoundland, Prince Edward Island and Yukon… are NOT mobile-friendly either.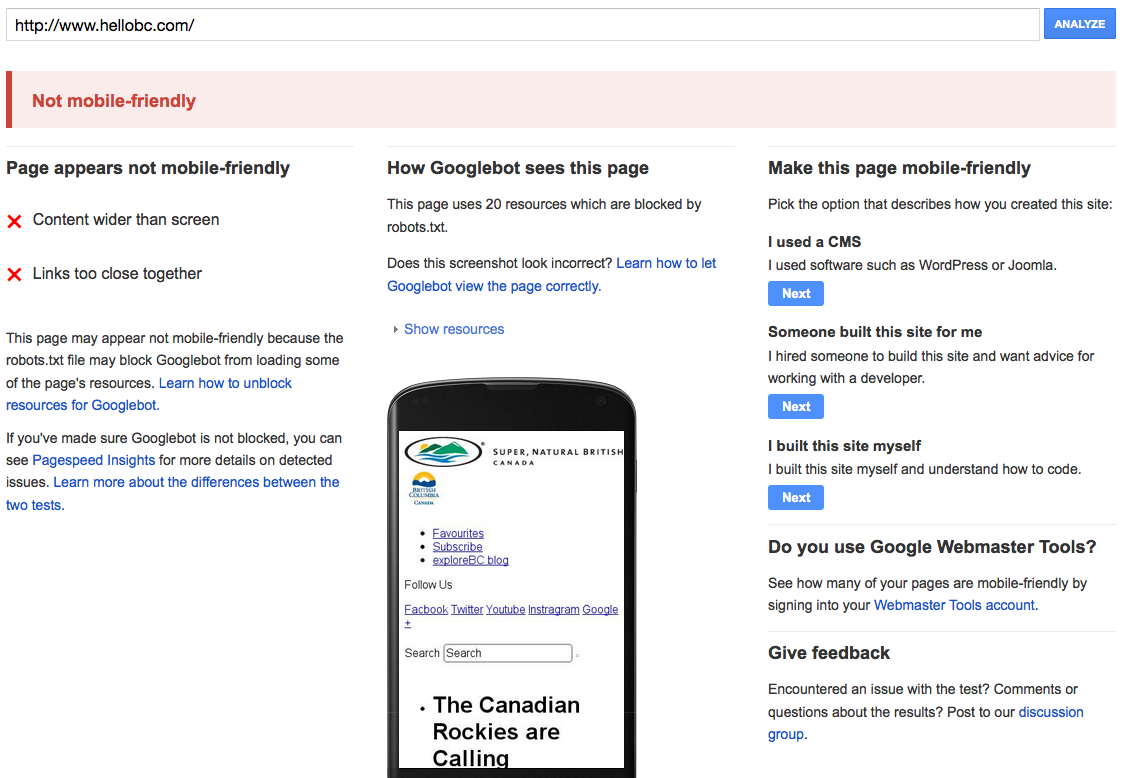 UPDATE: Further proof the the Google Mobile-friendly test is not perfect… HelloBC site has been fully responsive for more than two years. Yet, Google indicates it is not mobile-friendly when I search it from my smartphone, or when using the online test. Still trying to understand why this is the case…
Kudos to Manitoba, Ontario, New Brunswick, Nova Scotia, Manitoba and Saskatchewan, though, who have mobile-friendly websites. Another special mention for the Canadian Tourism Commission, promoting the country destination on the international level with a mobile-friendly site.
So now what?
As mentioned earlier, it's not the end of the world if a site is not mobile-friendly but a travel brand is doing everything else correctly. Meaning, having a content-rich approach across its websites and social media outposts, pushing quality newsletters or blog articles, mixing innovative offline tactics with online conversations.
Nevertheless, in this day and age when travelers are searching and planning their upcoming travels based on what they find on their smartphone, having a mobile-friendly site has become de rigueur. With summer 2015 upon us, it's time to get cracking, folks!