2017 is almost behind us and it's already time to think of the upcoming year and what lies ahead. I just came back from the annual Expedia Partner Conference in Las Vegas and it was great to hear some of the keynotes, with refreshing perspectives on challenges we all share in the travel industry.
Discussing with peers and different folks from the industry, I gathered here some of the top digital marketing trends that I think will stand out in the coming year.
1. More Paid Facebook, Less Organic Facebook
Facebook now has more than 2 billion active users worldwide, of which about 1.3 million are active on a daily basis! As we all know, Facebook uses a sophisticated algorithm to filter what users see or don't see in their newsfeed, and it's now estimated that we only see about 300-300 posts on any given day, out of a possible 2,000+.
In other words, it's getting crowded in that newsfeed. Thus, organic reach is plummeting.
Beyond the Facebook newsfeed (both mobile and desktop) and right column, it's no wonder Facebook has introduced various ways to advertise on Instagram newsfeed and Instagram Stories, but also now in Messenger conversations too. In 2018, you can expect more development on that front, and more possibilities with Whatsapp as well.
In 2017, 97% of Facebook revenue came from advertising and 88% of that revenue came from mobile ads!
While Facebook Ads can be expected to introduce new objectives and creative formats to get travel marketers to spend more to reach potential travelers, you can also expect organic posts to have even less reach than ever.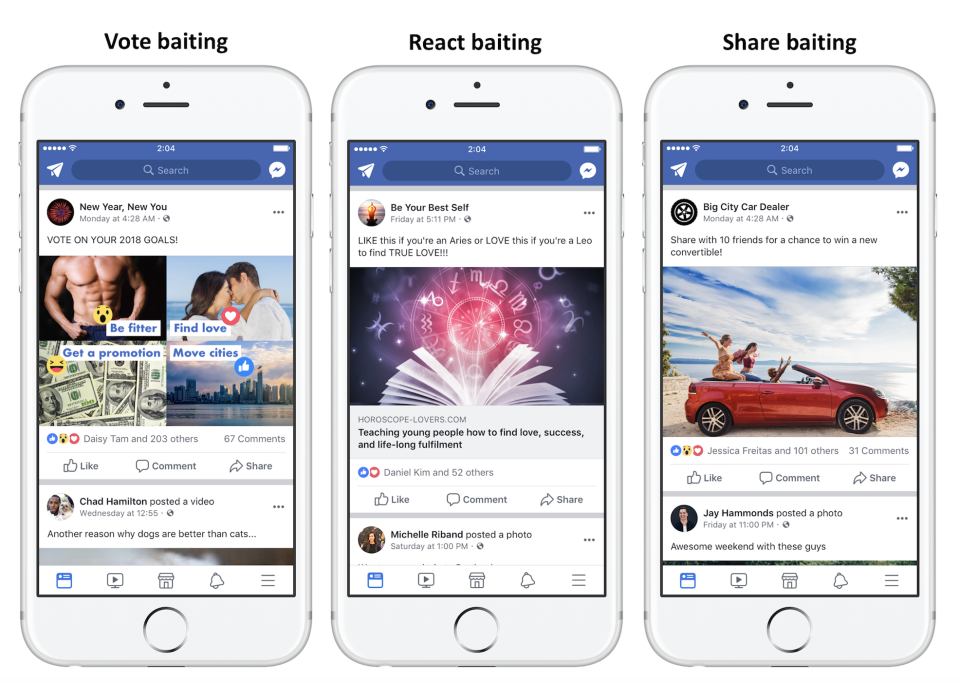 Facebook announced this week that it will start fighting brands who use baiting techniques to get more engagement, such as:
Vote baiting
React baiting
Share baiting
Tag baiting
Comment baiting
More importantly, Facebook announced at the end of 2016 that it had overstated reach by as much as 20% in its data measurement and reporting. It is said that Pages should see the effect of this decrease early 2018, so don't be surprised if your organic reach suddenly becomes even lower than it already was…
2. Voice Assistance
Between Black Friday and now the Holidays and soon Boxing Day, have you noticed how much advertisement is being made for Google Home, Amazon Alexa, Apple HomePod and other similar devices that promise to better your everyday life? Voice assistance is the next revolution in digital marketing, and we all need to pay attention.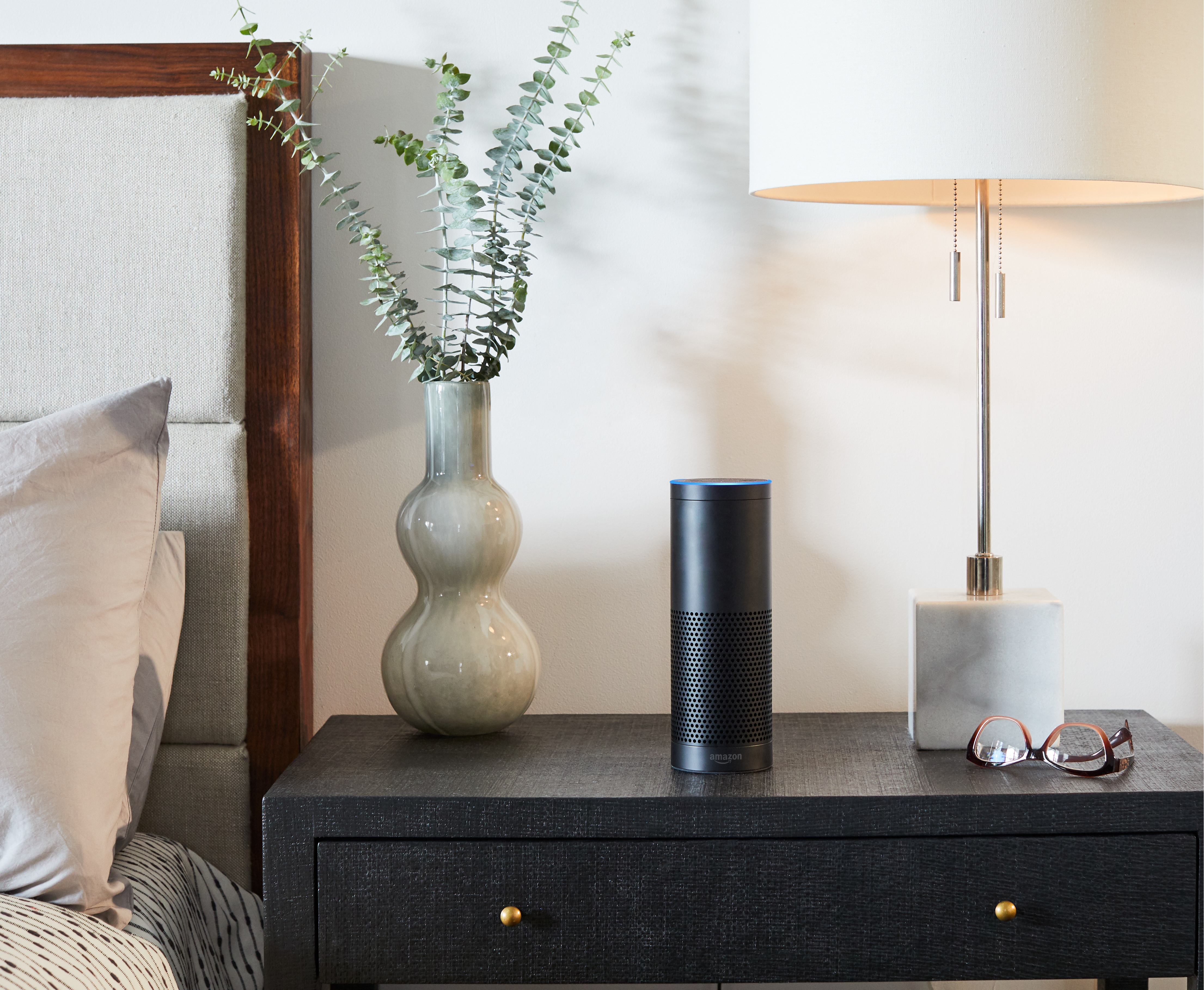 Air Canada recently became the first Canadian airline to develop a skill for Alexa, allowing customers to obtain useful travel information from their devices with Alexa.
The skill developed by Air Canada will initially enable Alexa to tell customers the status of their flight, provide fare quotes, and which baggage carousel to go to pick up baggage after a flight, with further topics to be added in the future. Additionally, Alexa will provide general answers about Air Canada's mobile app, required travel documents, TSA precheck availability and certain ticket policies.
Many hotels are now installing such devices in their rooms, as travelers are becoming more and more accustomed to using them. Expedia was an early adopter of voice assistance, creating a skill for Alexa over a year ago, as can be seen in the demonstration video below.
3. Voice Search
This trend is somewhat related with the previous one but has different implications and user cases. Did you know that in 2017, 20% of all mobile search came from vocal queries? This figure is expected to reach 50% by 2020, which is only two years away!
50% of all mobile search will be made through vocal queries by 2020
If you think about it, we don't search the same way when typing on a computer or smartphone as we do when voicing our request to Siri or Google Assistant. I recently asked Siri about a place to stay in New York City, and this was the result: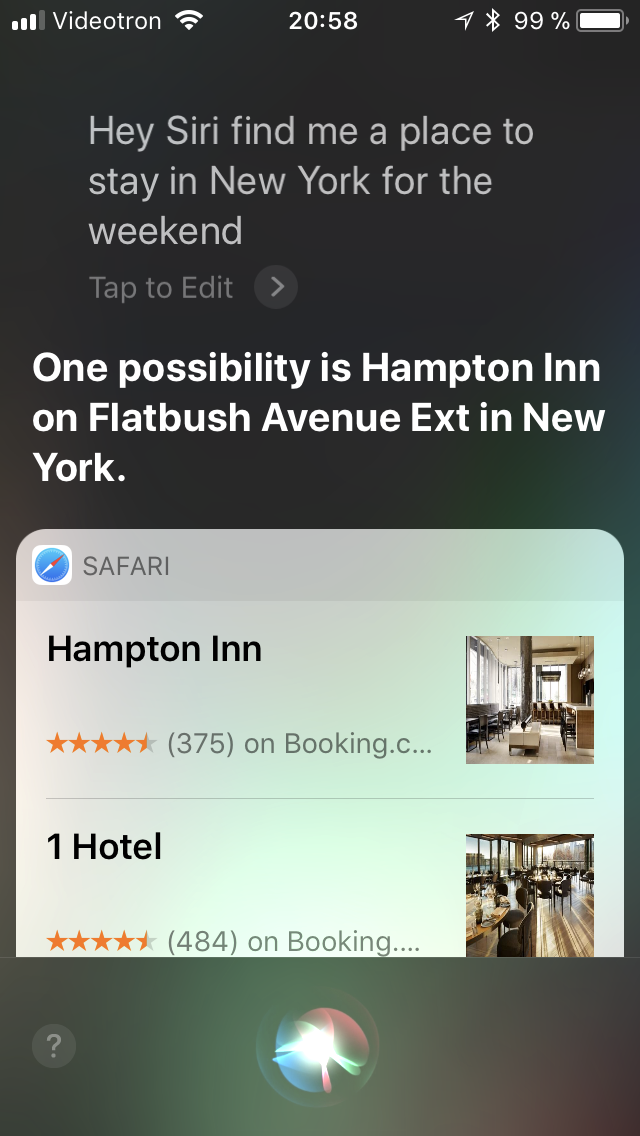 When I did the same query minutes later on my laptop, this is what Google gave me (below the four paid advertisement that obviously still play a role):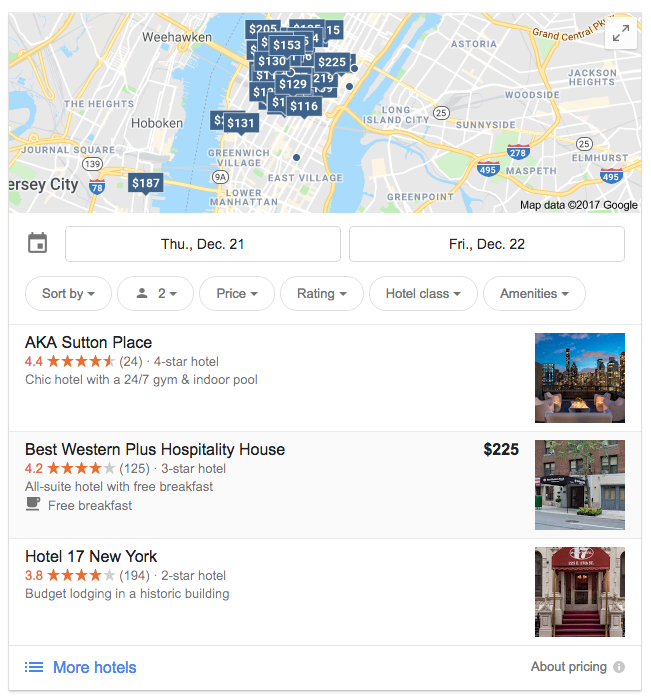 As you will notice, there was nothing similar between the two search results. NOTHING.
So the question for hotel marketers, airlines and other hospitality practitioners will be: how does this new reality shift your priorities when it comes to SEO and getting your brand up there in vocal search results? It's time to go looking for answers and get cracking…
4. Influencer Marketing
This has certainly become a hot topic, and there is no signs of slowing down for Influencer Marketing in the upcoming year. Why? With easy access to an Instagram account, or YouTube or Facebook… it has become easier than ever for just about anyone to become a celebrity – or at least an influencer within a niche or speciality.
Thus we are seeing more and more vloggers, Instagramers and YouTubers carving their own niche with tens or hundreds of thousand followers, some with very dynamic and engaged communities.
Destinations organizations are now collaborating with influencers to gain that more authentic voice to resonate with target audiences they would otherwise reach with less credible paid advertisement or native content, when their own content has a hard time cutting through the noise.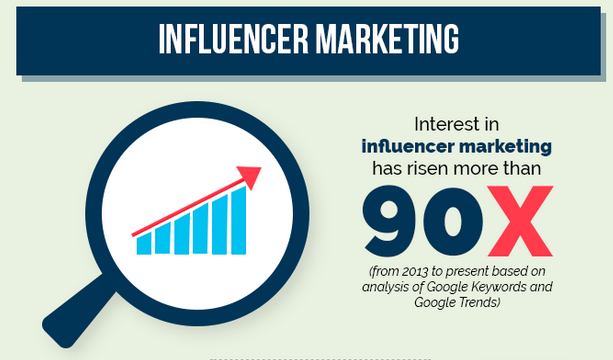 In fact, I wrote this article earlier this year and it was among the top 3 most read of 2017, which says something about the popularity of the topic: The 4 Golden Rule of Influencer Marketing
5. Video Content
Last but not least, video will remain king in 2018. Now this is not new per se, and video has been hot for a while now but with 80% of the worldwide web bandwidth expected to come from video content by 2020, video content will expand and take various shapes or forms.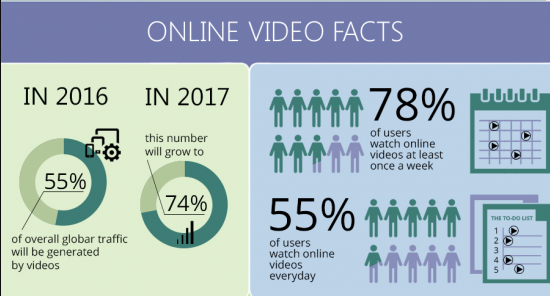 We can expect more long-form content and exclusive web series, like Marriott's Two Bellmen or Tourisme Montreal's Montreal Boy.
Facebook recently announced it will introduce ads prior to video-viewing, just like we are used to see on YouTube, and we can expect opportunities for branded video content placement within the exclusive YouTube Red, Facebook Watch, Amazon, Netflix and other Apple TV channels that are spawning and growing like crazy.
While the "live streaming" craze seems to have quiet down somewhat – blame it perhaps on the downfall of Blab, Meerkat and Periscope, not to mention Vine – there are still great opportunities here for travel brands. In particular with Facebook Live which remains one of the best, if not under-used, ways to reach out to Page followers and reactivate engagement. YouTube Live or Twitter Live streaming are also great tools to play with that can help a brand reach wider audiences with little cost involved.
It will be interesting to see which one of these trends will have the most impact in the coming year. Fun times ahead, that's for sure!