Influencer marketing is the new Shangri-La for marketers looking to promote products and services without using traditional channels or paid advertising—all of which are based in the good ol' means of interrupting consumers.
Wikipedia defines Influencer Marketing as follows:
"Influencer marketing (also influence marketing) is a form of marketing in which focus is placed on specific key individuals (or types of individual) rather than the target market as a whole. It identifies the individuals that have influence over potential buyers, and orients marketing activities around these influencers."
Influencer marketing gets its roots from online communities and forums in which the most active users influenced other members. Nowadays, influencer marketing resides around reaching out to high-profile bloggers who specialize in a topic, social media users with massive followers on Facebook, Instagram or Twitter, or well-established YouTube stars.
In other words, influencer marketing is a reinvented form of PR adapted to social media and other uber-popular new platforms.
Why is influencer marketing the new Gold Rush? Because brands have a hard time reaching their target audiences with their organic content, particularly on social media. What's more, traditional advertising no longer works, due to channels becoming increasingly fragmented and consumers' attention spans plummeting to all-time lows.
Different Types of Influencers
Marketers are turning to celebrities and influencers specialized in specific topics to get their messages across.
In this example, we're pretty sure that Coca Cola must have spent a lot of money to get this sponsored post on Selena Gomez' Instagram, which has over 100 million followers!
The impact and visibility of this post, which targets young people as they are the vast majority of Selena's fans, is likely to be higher than a traditional TV ad or online banner.
NOTE: In this example, the influencer is a celebrity. However, influencers don't have to be celebrities. There are actually three types of influencers:
Celebrities:
A classic approach that consists of using a popular spokesperson to promote a brand. Think of L'Oreal inking a deal with fashion-blogger turned model Kristina Bazan, Coca Cola with Selena Gomez (see above) or Kendall Jenner rumored to have been paid $250K to promote the failed #fyrefestival in the Bahamas!
Specialists:
One of the most effective types of influencer marketing is leveraging the credibility of specialists in a niche topic or market, such as bloggers or Instagramers that specialize in fashion, fitness, or travel. Take a look at the table below that highlights the average number of Instagram followers of influencers per industry.
Die-hard fans:
There is another type of influencer that you practically don't have to even convince to become an ambassador for your brand: your ultra-loyal fans. These brand advocates spread the word about your products and services within their networks; they are not necessarily celebrities or specialists in your industry.
However, you must maintain and build relationships with these fans as they promote your brand in a way that traditional marketing tactics could never achieve.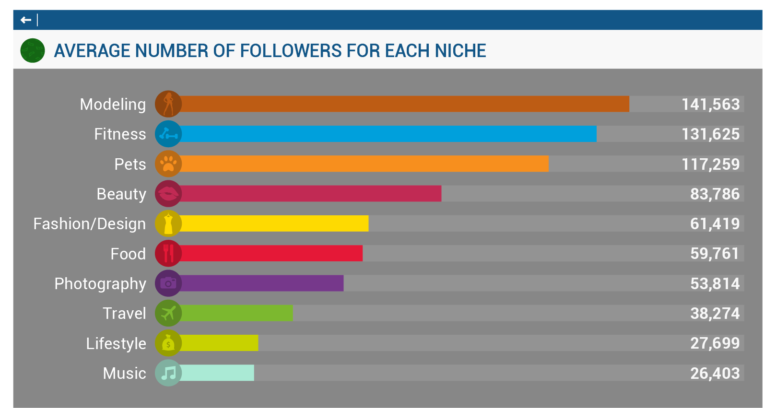 Here are four tips you should consider before creating a marketing campaign based on influencer marketing.
Respect the rules of engagement
Did you notice that the hashtag #ad appeared under the image in the Selena Gomez post? This means that Cocoa Cola paid for the ad or post to be displayed on the influencer's account.
Unfortunately, many celebrity photos are taken with a product—without anyone really knowing if it's a product placement or a real favourite product of the celebrity in question.
Since 2016, Canada's Ads Standards explicitly indicate that any person who is paid to promote a product or service must disclose any "material connection" (payment) with a brand or company.
This same type of standard applies in the United Sates with the Federal Trade Commission, which regulates ads and posts on various platforms, including YouTube, Instagram, blogs and websites
Dedicate a budget (no, it's not free)
Although some brands are ready to pay over $100 000 for Kim Kardashian-West to simply tweet something about a brand on her Twitter account, don't think that's the norm.
According to a recent study by Influence.co, the average cost is more around the neighborhood of $300 per Instagram post. This amount varies per industry and the influencer you are looking to work with.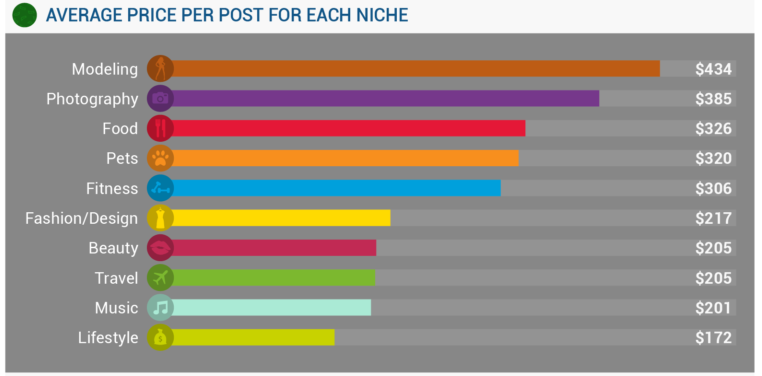 Fashion photographers and influencers are the most well-paid. Influencers having over 100 000 followers can make, on average, $800 a sponsored post. You'll be lucky if you can get $100 if you have less than 1000 followers.
Regardless of your approach, make sure you set aside enough budget to reach your campaign's goals.
More followers does not mean better results
That being said, less followers do not automatically mean lackluster results. And targeting accounts with over 100 000 followers does not guarantee better results either!
As we can see in the table below, there is a dramatic decrease in the level of interaction when the number of account followers grows. This is not surprising to anyone who has monitored the evolution of social media over the past few years, particularly with respect to the algorithm that filters posts on Instagram (and Facebook).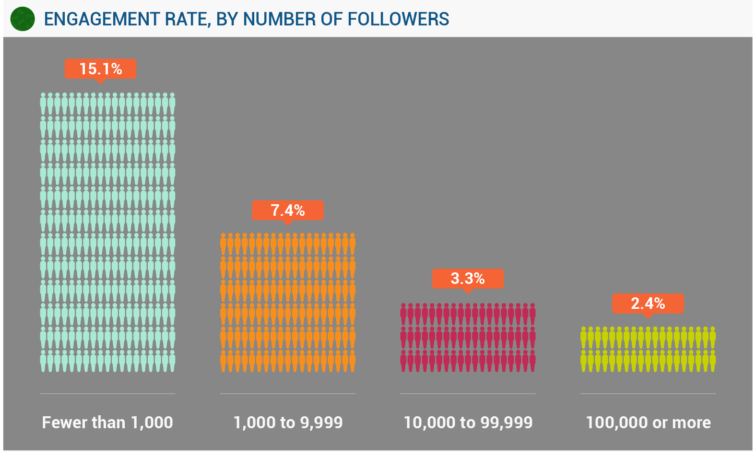 In other words, there is an internal debate between quantity vs quality: should you target emerging influencers, niche influencers or really popular public figures? It's important to choose the right type of influencer who can credibly convey your messaging to your target audiences. If not, you're just shooting in the dark.
Another compelling anecdote: last year, a major Canadian tourist destination invited influencers from France for a visit. The Instagramers with a smaller following obtained better engagement rates with their posts as opposed to the influencers with a higher number of followers.
Naturally, visibility was higher with the major Instagramers; however, the interactions and shares were few and far between.
Set realistic KPIs
As always, KPIs are the name of the game when it comes to marketing. Set realistic goals regarding your influencer marketing campaign and determine how you will measure its success. The first step is to clarify your needs and objectives:
Increase awareness with as many people as possible
Increase awareness with a highly targeted clientele
Generate clicks on a specific message, with a clear and measurable call to action
Incite people to visit your website, call your contact center or download a brochure
All of these goals are excellent—but not necessarily compatible. Choose only one and you'll know from the get-go what type of campaign you'll want to create and what platform you should use (YouTube? Instagram? Blogs?).
Once you have clearly defined your objective, you could, for example, compare the cost per click (CPC) of your influencer marketing initiative versus a similar campaign with Google AdWords or Facebook Ads.
Important: agencies that work in influencer marketing have the tendency, and with reason, to use a multiplication factor for a post made by an influencer versus a traditional ad.
This means that if 1000 people saw the post of Influencer X, it is potentially more valuable (by a factor of 1.5 or 2.5, for example) than had you paid to reach 1000 people via Facebook or Google AdWords.
Why? It's all about credibility. Consumers are increasingly skeptical regarding a standard post from a brand. On the other hand, they react favorably to posts that come from a fashion, fitness or travel expert.
Must-read: Your 10-Step Roadmap for Influencer Marketing (Infographic)