While there is still quite a bit to worry about regarding this ongoing pandemic, we know that sooner or later things will get better. With mass vaccination underway in many countries, consumers are increasingly looking to get away. At first, it may be just like last year on a domestic level, with staycations and road trips leading the way. But we are also seeing interest for cruises, group tours and buoyant activity in 2022 and beyond. How should marketers get ready for what many are coining as revenge travel, when consumers want to make up for lost time and spend away on bucket list destinations and experiences?
5 Tips For Hotel Marketing
The folks at Expedia Group Media Solutions summarize pretty well what lodging providers should do in coming weeks and months in this infographic (see below). Mind you, these tips apply as well to all travel marketers, including restaurant owners, destinations, transportation companies, attractions and whatnot.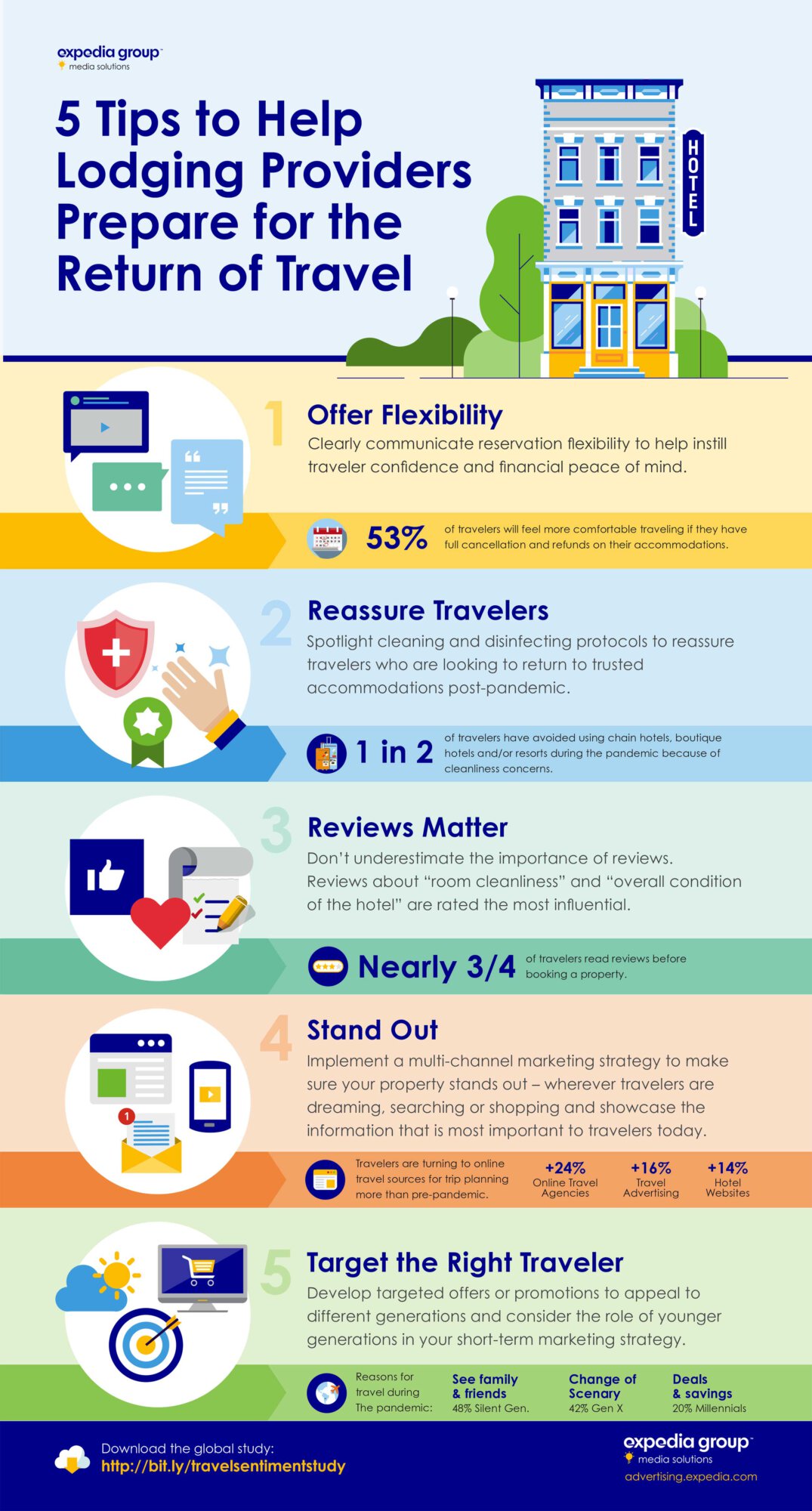 Offer Flexibility
Many travelers got burnt last year, losing money on non-refundable airline tickets, hotel reservations or group deposits. Thus, we can't be surprised to find that travelers now seek, more than ever, booking flexibility when it comes to future travel plans. This came out loud and clear in a recent study I covered here on this blog in What Travelers Are Now Seeking.
In fact:
Custom research from Expedia Group Media Solutions found that 53% of travelers will feel more comfortable traveling if they have full cancellation and refunds on their accommodations – especially Gen Z and millennial travelers.
Expedia.com's lodging data shows that travelers booked refundable rates 10% more often in 2020 than the year before.
Nearly 70% of lodging rate plans on Expedia Group sites are now refundable.
Reassure Travelers
Lodging providers ought to spotlight cleaning and disinfecting protocols to reassure travelers who are looking to return to trusted accommodations post-pandemic. Does your website have a Covid-19 tab with up-to-date, relevant details of what your organization is doing to ensure sanitary measures? Highlighting information on sanitizing and disinfecting measures throughout the property and in-room can help reassure travelers who are considering a trip soon or post-pandemic, as hygiene concerns are likely to have a long-term impact.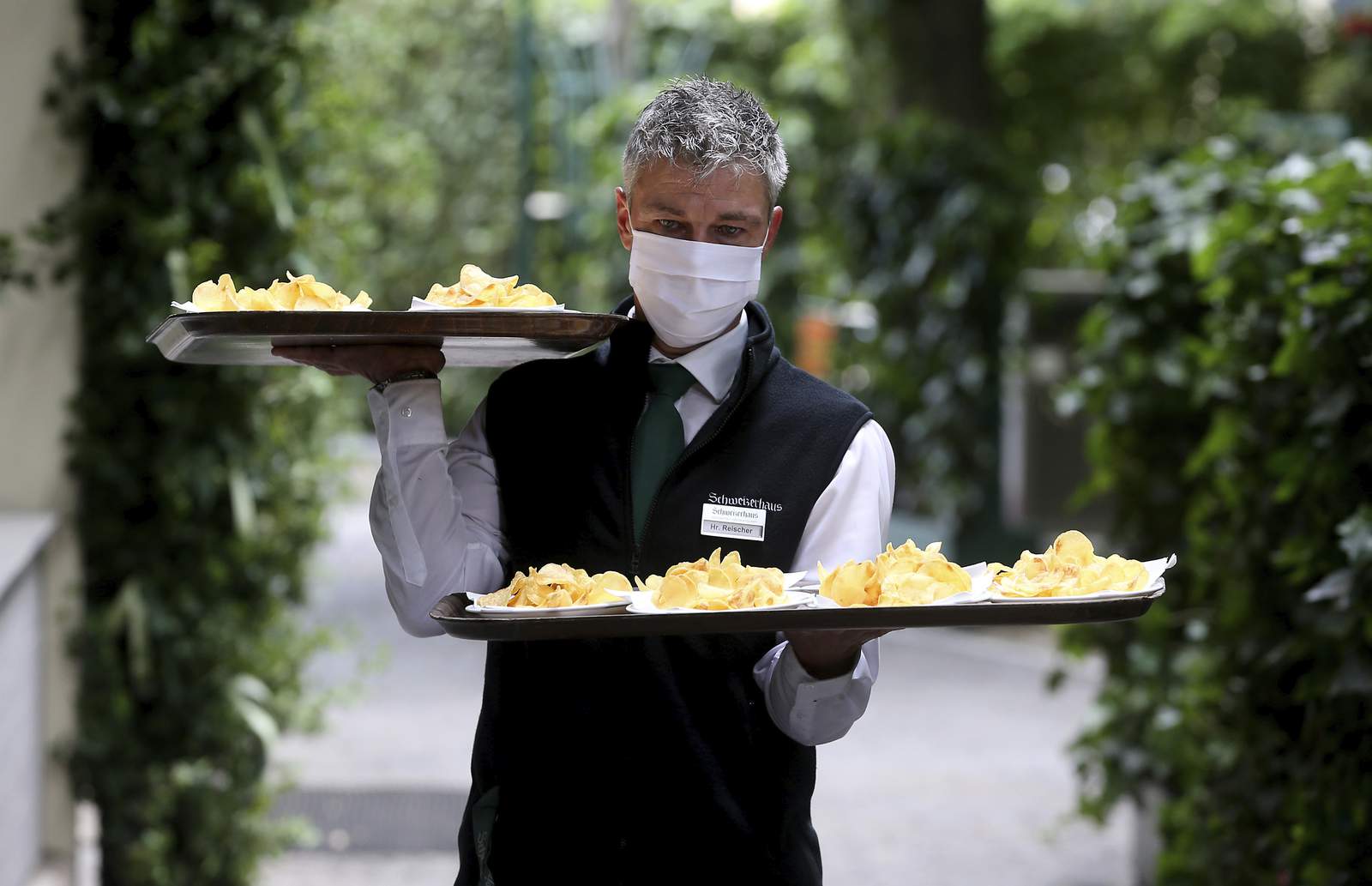 In fact:
In 2020, 1 in 2 travelers avoided using chain hotels, boutique hotels and resorts because of cleanliness concerns.
Pandemic measures will play a role in future accommodation decisions for nearly 8 in 10 travelers – regardless of age.
83% of all travelers and 90% of the silent generation – people over 70 year-old – said it is important for accommodations to provide regular deep-cleaning and disinfecting, and 76% of all travelers would like to see a checklist outlining what has been disinfected!
Reviews Matter
According to a different study that came out in 2020, nearly three-quarters of travelers read reviews before booking a property and consider reviews about "room cleanliness" and "overall condition of the hotel" as the most influential. So while we have known for a while that reviews matter, this dimension has grown in importance within the context of this ongoing pandemic.
Interested in this topic? Make sure to watch my webinar Best Practices To Manage Your Online Reputation
In fact:
80% of travelers believe if hotels do not respond to negative property reviews, then the review must be truthful.
Looking ahead, travelers will turn to recent online reviews 41% more than pre-pandemic, while online reviews from any time will see a 15% lift.
Stand Out
Now is not the time to stay silent and wait for better days to come. On the contrary, travel brands that remain top of mind during this crisis will reap the rewards of being top-of-mind when travelers enter their dreaming and booking phases of the travel-making decision process.
I have written previously about the importance of omnichannel marketing and focusing on security as the new marketing. Thus, travel marketers need to ramp up their digital efforts and ensure they have the proper tools in place to reach and interact with their target audience. This includes a mobile-friendly, transactional website, but also a savvy newsletter strategy, social media presence and identifying other digital outposts that matter to your audience.
Target The Right Traveler
Travel motivations and preferences vary by age, and even geography. So travel marketers should develop targeted offers or promotions that appeal to different generations. Younger generations, for example, are expected to be at the forefront of driving accommodation demand back to pre-pandemic levels, so lodging providers could consider their role in short-term marketing strategies and look at targeting other generations with longer-lead messaging or offers.
In fact:
20% of millennials who traveled during the pandemic did so to take advantage of deals and savings.
15% of Gen Z traveled during the pandemic to work or study from a new location.
So special deals or discounts, or promotions tied to remote work/study programs may work with younger travelers. However family-friendly packages may be more appropriate to the silent generation. Gen X and Boomers may be more inspired by scenic accommodations, so visually stunning landscapes or outdoor environments should be front and center in campaigns targeting these travelers.
In other words, there is no "one size fits all" when it comes to how we can better prepare for travel marketing moving forward. That was true before too, mind you. It's just that the competition is going to be fierce as travelers return. Might as well get ready now!