I recently shared with you what I expected as five key social media marketing trends to look out for in 2014. Since I have been working in the travel marketing vertical for the past 20 years, I figure it would be equally interesting to try to figure out what we ought to look out for in 2014 from that industry perspective. So here it goes!
1. The Automated Passenger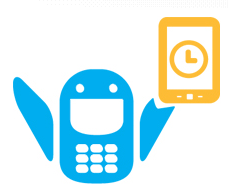 On a recent trip departing out of Montreal-Trudeau International airport, I realized how travel processes automation holds tremendous potential to make passengers' lives so much easier. 24 hours prior to departure, I had received the automated email from Air Canada allowing me to register for pre-boarding, ensuring proper seating and avoiding getting bumped due to over-booking, had I arrived with last-minute folks.
On the way to the airport, running late and stuck in traffic, I used the new "SecurExpress" system whereby you can now reserve your time slot for going through a security checkpoint. Again, a fabulous way to not only gain peace of mind, but also to skip the line-ups of folks who, in some cases, may miss their flight because of sheer volume during rush hours. Lastly, I presented my mobile phone throughout the process, since I had opted for paperless with the QR code option.
Arriving from an international flight recently, I was also able to skip the traditional queue at customs and go through an automated checkpoint rather than dealing with a custom agent. Not to mention programs such as Canpass Air or NEXUS that allow frictionless passage at most US-Canada customs, based on prior pre-approval and payment of an annual fee.
We're seeing similar frictionless, automated processes taking place in larger hotel chains, rail companies (mostly in Europe and Japan), car rentals and many attractions and events, in particular with RFID technology taking hold with some of the big festivals, i.e. Coachella, Osheaga, etc. From email, to SMS and e-passport, it will be interesting to see how fast travel companies embrace this sea of change for an enhanced traveler experience.
2. Mobile Bookings
At the end of 2012, Google Travel estimated that 25% of all travel-related searches online came from a mobile device, whether it was a smartphone, tablet or wifi-enabled device. While they estimated this figure would reach 40% by end of 2013, it seems we were all under-estimating mobile adoption on a global scale since we reached that point… back in May!
We will end most likely the year 2013 at 50%, which means 1 out of every 2 online travel search now comes from a mobile device! And we can only expect this trend to get stronger in 2014. But are people simply looking, or are they booking as well?
Mobile has been increasing year over year not just in terms of page views and visits, but also in terms of room nights generated and, most importantly, in revenue. This is specially true with tablets, seeing triple digit growth comparing Q1 2013 with Q1 2012. Desktop is getting less traffic overall, but the decrease is not as substantial in terms of room nights and revenue. Yet. So expect mobile to definitely grow strong…
3. TripAdvisor rises to the top
Many experts and industry specialists have been wondering if and when Google can become a travel industry powerhouse, menacing the distribution landscape as it stands. Earlier this year, I even wrote How Google Plans To Dominate The Travel Sphere! But perhaps we're not looking in the right direction…
Ever since TripAdvisor was spun off from Expedia back in December 2011, the ever-popular review site has been gaining steam at a steady pace. With its integration within the Facebook graph, traffic has been growing and the site now boasts 260 million unique visitors per month!
Among some of the novelties that make it a contender to consider in any travel marketing strategy in 2014:
TripConnect
This new advertising platform is the most recent announcement but potentially the biggest blow to Google, since smaller inns, B&B and independent hotels may very likely shift their online budgets towards this platform, rather than spending on Google AdWords. Why? Competing against Booking.com or Expedia is pointless on AdWords campaigns, and internet users are perhaps not as qualified when searching on classic search engines such as Google, Bing or Yahoo.
But if a potential traveler is searching on TripAdvisor, odds are much higher that he or she is perhaps further down the decision-making funnel, where ads could therefore have higher conversion rates.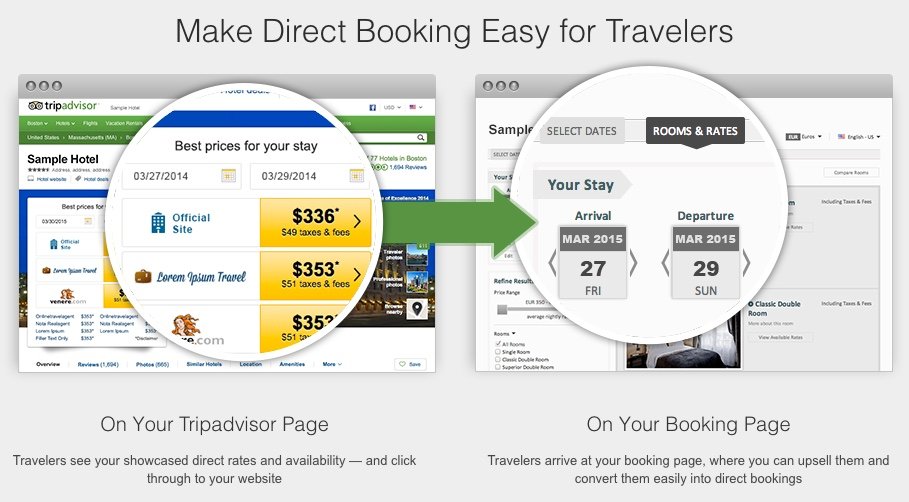 Metasearch
Just like sites such as Kayak, Hipmunk or Trivago, TripAdvisor is now playing into the hotel metasearch field, a very lucrative one it seems – well, one would think so, if Priceline paid $1.8 billion US to acquire Kayak a year ago!
The point here is to keep the customer in a single place, where all the information can be found, rather than searching multiple online travel agency sites. This also potentially means higher conversion rates, which is good for hoteliers, restaurants and other attractions listed on TripAdvisor.
Restaurants
Speaking of restaurants… TripAdvisor has traditionally been strong with hotels and destinations, while other sites such as Yelp (or even Urbanspoon, Zagat, Chowhound or OpenTable) have been more dominant with restaurants in terms of user reviews.
This could change as TripAdvisor puts in efforts with this segment, as well as with attractions & spas, which are important factors in the travel experience.
Other acquisitions
We tend to forget that TripAdvisor is active in the vacation rentals industry, offering listings from FlipKey and Holiday Lettings, with a growing base and online booking capabilities. Can it compete with AirBnB, VRBO, HomeAway and other such sites on their turf?
Maybe not, but it should continue to seize interesting markets shares from this rapidly-growing segment of the sharing economy.
4. DMO vs collaborative economy
Segueing from the last point, the sharing economy, also known as peer-to-peer (P2P) or collaborative economy, should hit mainstream in 2014, meaning big travel brands will move into the equation. Avis recently bought the car sharing service ZipCar, and we can expect some more movement by other known big brands.
For Destination Marketing Organizations (DMO) though, this new reality poses mostly a threat to their existing model. To understand why, read on Collaborative Economy in Travel: The Big Disruptor.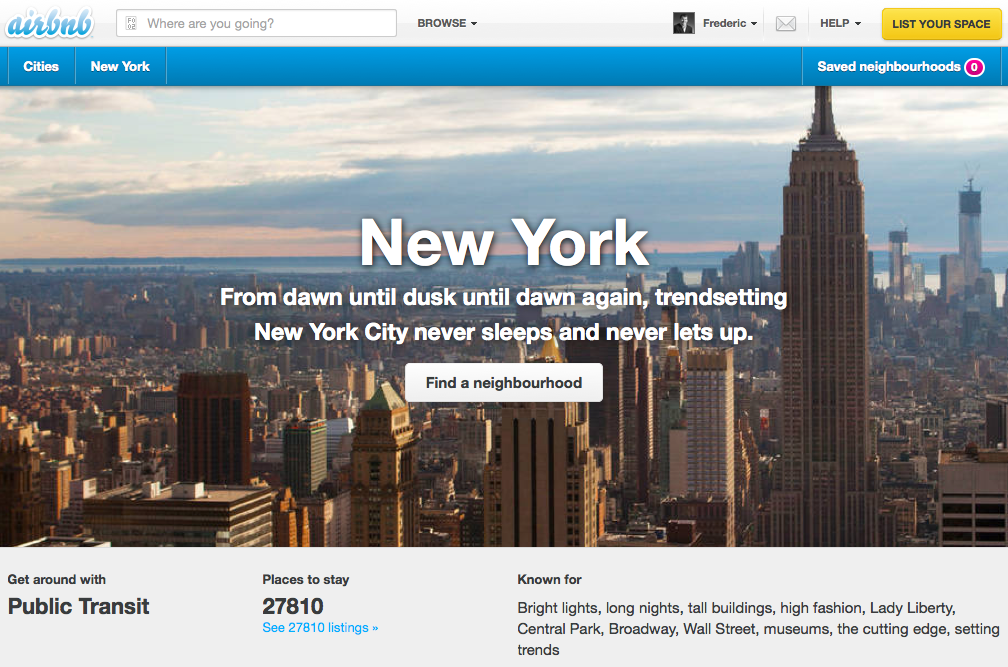 With more and more people turning to these platforms for information and transactions, what role will destinations take? In the State of New York, confrontation seems to be the path taken right now with AirBnB, while other destinations are turning a blind eye to the phenomenon, perhaps thinking (and hoping) it will go away. Wishful thinking.
I expect we'll be seeing some discussion, negotiation and perhaps some strategic alliances between DMO and some of these platforms. Can it be through some kind of label, or seal of approval by the destination, giving added credibility to a given partner? Time will tell, but expect some action on this front.
5. Niches are where it's at!
This trend has been surfacing for years now, but we should expect it grow even more in 2014: working with niches. Instead of mass publications and mass campaigns trying to appeal to mass public, travel marketers had better understand the various niches, tribes and communities of interest to whom different messages will echo differently. For examples:
Mommy bloggers
Increasingly popular and influential, both at home and with wider audiences than ever online, mommy bloggers are at the core of family travel decision-making. They are social media savvy, in particular with Pinterest, but they are also pressed for time. How can travel marketers save them time and add value along the process?
Millenials & Generation C
Young adults, aged 18-30, are hitting the workplace with different expectations than older generations Y, X and boomers. For one thing, being always connected is a must, so hotels providing free wifi will score higher than those who charge, or perhaps bank on free breakfast instead.
This generation also tends to be more vocal and share their travel experience on social media and user-review sites.
Multi-generational travel
It's not uncommon now to see grandparents traveling with toddlers, and sometimes three to four generations blending in on a trip together, forming a different kind of group travel, where needs and wants aren't the same as a classic group of 20 strangers traveling by bus, for example.
Gay & Lesbian
Gay-friendly establishments, festivals and attractions have been around for over a decade now, yet it remains a very profitable niche, whether it's in the cruise industry or any other components of the travel sphere.
Curious to see how the Winter Olympic Games in Sotchi will play out, considering the controversial laws in Russia and rumors of stunts from various lobbies and advocacy groups…
Foodies
With all the cooking shows, recipes books and star chefs popping up like never before on television, there is certainly a renaissance for gourmet experiences. Just look at the impact for destinations after Anthony Bourdain visits with his hugely popular television show, it's quite impressive!
Culture buffs
Music festivals, unique art exhibits, distinctive architecture, museum cards across a city… these are just examples of types of traveling we're seeing and where some lesser-known destinations can attract travelers without any typical iconic structure, but a big enough draw through a strong event of cultural beam.
Rail fans
Touring trains are also coming back, it seems. Perhaps it's nostalgia for a mode of transportation from an era when time went by so slowly… or just a way to take it easy and rediscover panoramic areas often inaccessible by any other road. Either way, there are vast communities of rail fans around the world making this an interesting niche, no doubt!
Are you seeing other trends in travel that you think should have been mentioned here? I would love to hear your thoughts on this, so please share in the section below.