I started this blog over five years ago, and when I recently came across this Worldwide Country Tourism Slogan map, it reminded me of one of the first articles ever published here on this site back in June 2011: Finding the right tagline for a travel destination.
Oddly enough, as many things change and evolve in the travel marketing sphere, I find that not much has changed in the past five years when it comes to being original in finding the right, or most pertinent slogan for a travel destination.
Just take a look at the map below to see by yourself how undifferentiated some countries are from a marketing positioning standpoint!
Click here to see the map in its large format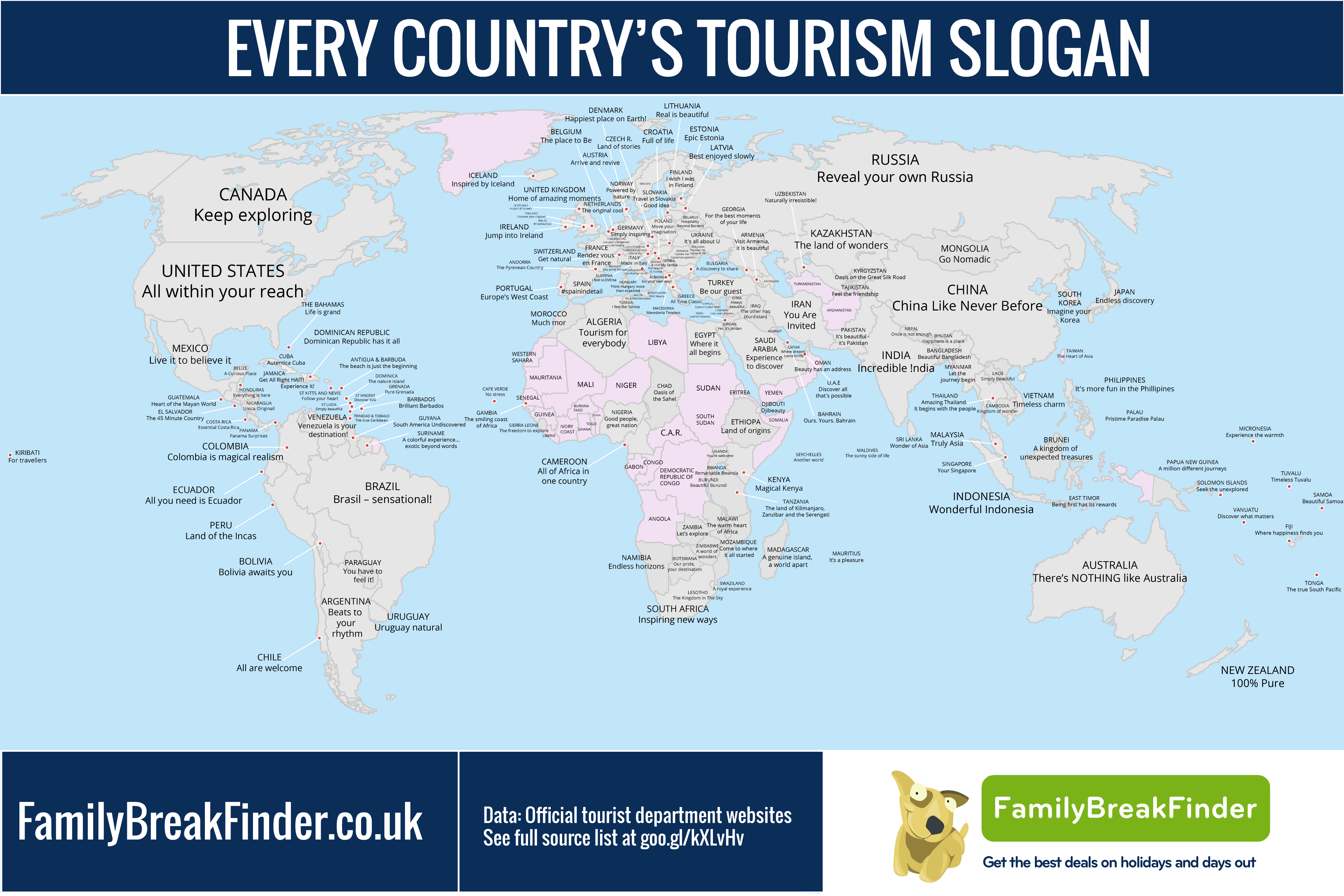 So much for originality
Here's a quick test: try to guess which destination has the following slogan…
Tourism for everybody
Let's explore
All are welcome
You have to feel it
Good people, great nation
So… any guess? Here are the correct answers
Algeria
Zambia
Chile
Paraguay
Nigeria
You will notice how some words come back again and again: experience, explore, beauty, etc. So it's obviously not easy to find the right, or most adequate tagline that will set your destination apart. Of course, not every destination can have a remarkable "I Love NY" or "Virginia is for Lovers" slogan that lives on, but allow me to share my personal favorites in this lot:
Mozambique
"Come to where it all started". If first traces of humanity are said to be found in Africa, I am guessing this is place to visit to get a better understanding of who we are, and this slogan catches my attention.
U.A.E.
"Discover all that's possible". While this slogan is generic, I love the second degree that works so well for this destination (United Arab Emirates) where we know that everything indeed IS possible here!
Latvia
"Best enjoyed slowly". I don't know if this is true or not, but talk about a clear promise that stands out from everything else out there. In this crazy world where everything goes so fast, maybe I need a little Latvia in my next trip?
New Zealand
"100% Pure". There's been many things said about New Zealand and its marketing efforts, from Lord of The Rings movie franchise to its breathtaking scenery. But this 100% pure promise seems so well aligned with the experience one can expect, nothing artificial, lots of adrenaline. Love it.
El Salvador
"The 45 minute country". I am not sure what to make of this slogan… but it got me curious, to say the least! What, does it take 45 minutes to drive through it? I gather it's small and beautiful, but I will want more than 45 minutes to enjoy it, right? The slogan piques my curiosity, which is what it should do!
So which slogan is your favorite? Let me know in the comment section below 🙂
Save
Save