According to research company Gartner, as much as 15% of online reviews will be fake by 2014. Just this past summer, it was found that 8% of Facebook accounts are considered fraudulent ones, which represents a fair chunk knowing there are now over 1 billion active users on its platform!
And if you think things are any better on Twitter, take a look at the Status People application that unmasks how many of your followers are either fake or inactive.

According to this tool, which has its obvious limitations, many celebrities and politicians seem to have large quantities of followers, but many are either fake or inactive, sometimes in a disproportionate fashion. For more on this, read the Forbes article
THE GROWING INFLUENCE OF ONLINE REVIEWS

In the tourism & hospitality world, bogus comments and fake claims have been plaguing online review sites like TripAdvisor or Yelp ever since their inception and remain to this day the biggest issue brands (and customers) have with these sites.
Gartner published a report this past July called The Consequences of Fake Fans, "Likes' and Reviews on Social Network which found many marketers engaging in both positive and negative review schemes using either cash, promotions or coupons as incentives to write a review. But it's just not marketers involved: last week, a hotel general manager in the UK was caught telling his employees to write positive comments on TripAdvisor! (Complete story, here)
So why would a brand bother with fake reviews to begin with? Mostly because review sites now play an enormous role in the travel decision making process. According to Google's august 2012 survey The Traveler's Road to Decision, reading reviews from other travelers is the 4th most popular travel planning activity, for both leisure and business travelers.
Growing influence
Knowing TripAdvisor has over 60 million unique visitors per month, and over 75 million reviews, it thus becomes a key driver in both traffic and opinion-making towards travel brands. In fact, according to Forrester survey commissioned by TripAdvisor in 2011, 81% of travelers find user reviews important when determining which hotel to stay at during their trip.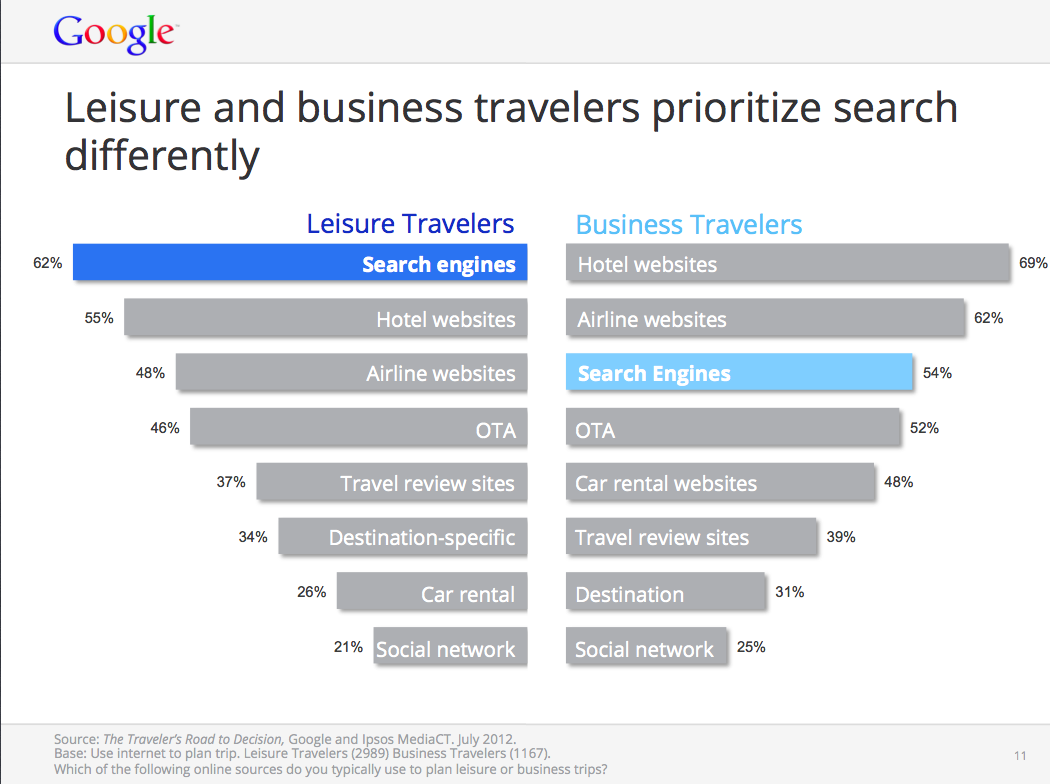 Yet, TripAdvisor doesn't hold the monopoly of travel reviews. Looking at the chart above, the top online sources used for planning leisure or business trips also hold some review component. Google has its own user-generated review content, while most online travel agencies (OTA), i.e. Expedia, Bookings, Priceline, Travelocity, etc. also have their own user-reviews.
Thus, reviews play an increasingly important role in the travel and hospitality world, but also in most industries where we seek recommendations from friends, colleagues or industry experts prior to a given transaction.
MANAGING REVIEWS TO PROTECT YOUR BRAND'S REPUTATION
In light of these recent findings, companies need to take action in order to protect their brand's online reputation. Facebook, for one, has already started cleaning up on its fraudulent accounts and alleged counterfeit "likes". But one should not expect this kind of clean-up with travel-related review sites anytime soon, so travel brands must take things into their own hands.
Truth be told, managing reviews is just an extension of the many activities a brand should engage in to properly manage its online presence. These activities include:
Engaging on a consistent basis on your social media profiles
Having a content-rich, transactional web site.
A corporate blog
Managing PR & Media communications, offline and online
Monitoring forums, communities, industry blogs and chatrooms
Monitoring and responding to review sites
Responding to comments left in any of the above platforms, demonstrating genuine customer focus
Managing your brand presence
While some of these activities seem pretty obvious, did you know only close to 30% of travel brands actively manage their presence on TripAdvisor? In other words, close to 70% of hotels, restaurants, transportation companies or attractions don't bother answering comments, suggestions or complaints made on what is without a doubt a key decision-making site in the travel decision process.
Surprised? While it is somewhat shocking, other studies also show that brands don't necessarily perform better with social media where one would think there is a better dynamic. According to this LiveOps infographic:
60% of companies don't respond to customers via social channels.
70% of all complaints made by customers on social media go unanswered.
If these stats aren't scary enough, I don't know what is.
TAKE-AWAY
Brands need to realize that managing their online presence goes beyond merely having a really nice web site, perhaps publishing regular posts on their Facebook account and tweeting auto-promotional information about their destination or resort. Customers expect a dynamic and engaged presence, on social media and review sites, which will demonstrate both care and empathy from the travel brand. It will also go a long away in countering fake reviews, if and when they do occur.
Read also: Should You Trust Online Reviews?