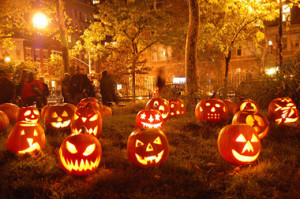 It's that time of the year when kids will soon dress up to walk around, collecting a year's worth of candies and useless junk that make dentists cringe around the world.
Before we celebrate the Dead during the month of November, Halloween is a festive time that also serves as a reminder that monsters, ghouls and other freaky creatures don't only exist in our imagination, books or movies. There are real-life examples of situations gone awry, in particular in the travel industry.
And I am not even referring to standard procedures at borders, or airport safety measures, which would deserve their own dedicated "horror" post. Instead, I thought I would share some light-hearted fail stories from our beloved travel industry in the past year.
UNITED AIRLINES FORGETS A 10-YEAR OLD GIRL IN CHICAGO
Phoebe Klebahn, 10 years old, was flying alone from San Francisco to Traverse City, Michigan last June on her way to a summer camp. The flight was making a connection in Chicago where she was supposed to be met with a United escort staff. Unfortunately, the staff never showed up so Phoebe missed her connecting flight and thus did not make it on that day to camp. You can imagine how freaked out the parents were to receive a call, not from United, but rather from the camp administration to advise that their daughter had not arrived.
It gets worse. According to claims made by the parents and reported in the Huffington Post, Phoebe had asked flight attendants if they could help but she was told to wait. She also asked three times if she could make a phone call to her parents, to no avail. United Breaks Guitars, anyone?
The situation was finally resolved when the girl was located and four hours later placed on a flight to Traverse City. The final straw: her luggage was lost and only made it to her summer camp three days later. Guess which airline that family will NOT be flying with in the future?
SOUTHWEST AIRLINES FACEBOOK PROMO GOES WRONG
Southwest airlines is usually featured in posts about how airlines ought to conduct themselves, with operational efficiency and stellar customer service. Yet, things went terribly wrong when the airline wanted to celebrate reaching the 3 million fans milestone on their Facebook page in August. During one day only, fans could book a return trip by applying a 50% promo code.
The limited-time offer, which expired on that same day at midnight, was as instant, popular hit. Problems, however, started when credit cards were being charged numerous times, even if only one transaction had taken place. Some folks got charged 9, 25 or 36 times for a single transaction… for which no confirmation had yet been sent!
As such crisis tend to happen, the event took place over the weekend, which meant less support from call centers and web site, which was down during long periods of time due to overwhelming traffic. The online transactional glitch was eventually addressed, but not without a flurry of social media comments, mainstream media backlash, and many loyal customers burnt along the way.
RYANAIR DISSES A SOCIAL MEDIA STORM

Low-cost airline Ryanair is known for its legendary customer service, or lack thereof. People travel with this airline for one reason: cheap airfares across Europe. Rates are rock-bottom, but then everything extra has a cost. This is the airline, after all, that once seriously considered charging for use of washrooms during flights. One customer discovered this extreme thinking when she was charged 300 euros (or roughly $450)… just to print four boarding passes!!

What ensued looks like a classic case of social media crisis. More than half million people "liked" the above post, the whole thing went mainstream through TV and newspaper coverage and so on. So how did Ryanair react? Its CEO, the ever-subtle Micheal O'Leary, lashed at the single mother calling her "an idiot who deserved to pay for her stupidity". Well then, that's that, I guess, eh?
RESTAURANT MUST CHANGE ITS NAME!
A Japanese restaurant owner in Montreal was surprised to receive a notification from the city, summoning him to change the restaurant's name. It seemed to be bothering near-by shops and boutique tenants as well as offending many walkers-by. The name of the restaurant? Fukyu. That's right, like in… well, you get it.
Named after a type of kata practised in Japanese martial arts, "Fukyu" was a hit only with diners. Same with many who took obvious pleasure in taking pictures of the signage outside of the restaurant, giggling away as one would expect. The judge from the Quebec Superior Court, however, did not think it as funny, ordering the restaurant to change its name.
It is now called "Kabuki Bar à Sushi" inspired from the Japanese traditional drama plays. "It's a very fitting name", said the owner in an interview, "because this story was quite a drama". Like, no kidding!
HOTELS WITH DRUGS, PROSTITUTES & BED BUGS
Last but not least, a hotel story. With elections around the corner, some may recall the Democratic National Convention that took place early in September in the quaint city of Charlotte, North Carolina. With a small town greeting such a big event, not all hotels were at the expected level by some of the attendees. Over nine hotels suggested to delegates reported bedbug incidents.
And if that wasn't enough, there were reports of "groups of women" who weren't staying at the properties, but were there to do what was thought to be "unofficial business"! Not to mention the joyful presence of pimps, drugs and whatever comes with this environment.
Nobody died in the above stories, if it wasn't of laughter. Do you have a travel-related fail story to share? Perhaps a seedy hotel you stayed in? Or a horrific train or bus ride? Let us know in the comment section below.