With the advent of social media and mobile comes the contraction of the three traditional phases of travel marketing into a single one: real-time! The lines between before, during and after are blurring and hospitality stakeholders are adapting to this new reality, some better than others.
One destination that understands this need to provide connected solutions to connected travelers is one of Southeast Asia's gems, Singapore.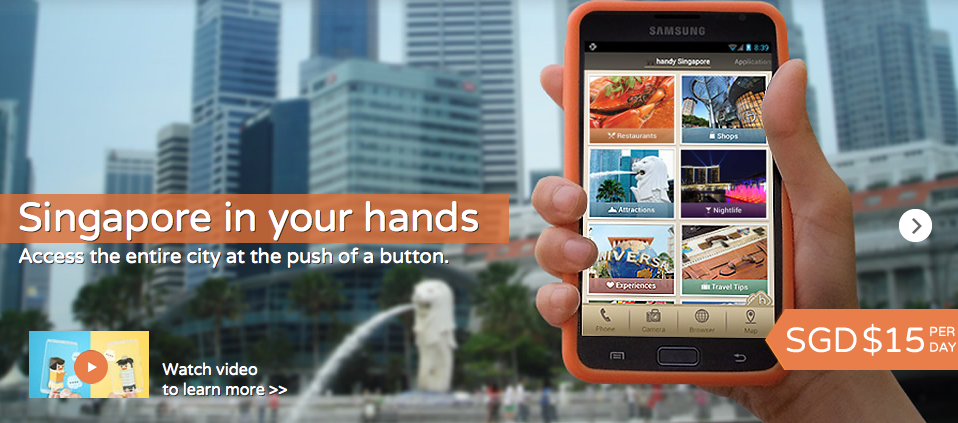 VERY HANDY, INDEED!
Singapore is already a destination where wifi is virtually accessible everywhere, helping it achieve What is Takes to Become a Digital Destination. Yet, even though many people remain connected while traveling abroad, there are folks who don't own smartphones or tablets and those who choose not to bring their mobile devices with them simply to avoid skyrocketing roaming fees while away in foreign countries.
With this in mind, Singapore travel officials came up with a great idea: it is now possible to rent a handy when staying in Singapore, for the very reasonable cost of SGD$15 per day (roughly US$12).
The description on their dedicated site says it all: "More than a mere mobile travel guide, each handy device comes with a built-in city guide, with categories covering restaurants, shops, experiences, bars, and attractions. With just a few clicks, users can pinpoint their exact location on a map, reserve a table at a waterfront restaurant, or navigate their way to the nearest attraction."
LOCAL AND INTERNATIONAL CALLS
The most surprising feature of these handy phones is the fact that you get unlimited local AND international calls included in the daily rental price, which means there are no reasons not to stay in touch with loved ones, no matter where they live.
You also get 3G internet access which means you can use this device as personal or business hotspot should you have to work or connect with the office while on your trip. There are also a variety of apps to enhance the traveler's experience while at the destination, including maps, digital publications, translation services along with games and entertainment options.
The reservation process is pretty straightforward. Fill up the online form, press submit and then receive an email confirmation before making it to the destination. Once arrived, you just need to pick up your handy at the Singapore Visitors Centre.
Too good to be true? Sometimes, it's the simple ideas that are the most efficient… and impactful! It will be interesting to see the uptake of this initiative, and the metrics in place to evaluate the success with local hospitality players. When shall we a similar initiative in North America?