When it comes to hotel marketing, there is never a dull moment, in particular when it relates to online distribution. For the past decade, it's been an ongoing tug-of-war between hoteliers and online travel agencies, better known as OTAs, such as Expedia, Booking, Orbitz or Travelocity, not to mention Google, TripAdvisor or even Amazon (for a brief moment, in 2015).
And I won't even mention that whole other debate about the sharing space, with HomeAway, Airbnb, OneFineStay and all the action happening on that front, along with mergers and acquisitions between large hotel chains. As I was saying, never a dull moment!
Why Book Direct?
Yet, while this action is a reality travel industry pundits are familiar with, the same cannot be said for the general public. Ask 10 people what is the best way to get a good vacation deal, and you will get 10 different answers. Not everybody has the same definition for a "deal", to begin with. And not everyone seeks a travel experience based on price alone.
Nevertheless, there is a majority of people out there that believe they will get a better deal when making a reservation through Expedia or Booking.com, rather than by dealing directly with hoteliers.
Why this misconception? Well, for one thing, it hasn't always been a misconception. Better fares could be found on OTA sites, and even today this can happen, even though it's far from being the norm.
OTA have been left alone…
Truth is, for more than a decade, OTA were left almost alone in aggressively marketing through various online channels, developing savvy pay-per-click campaigns, remarketing tactics, social media and various iterations for their mobile applications.
In fact, Expedia and Priceline together are estimated to represent 5% of global revenues for Google, with a combined spend of more than 8 billion dollars in 2015!
Not to mention the recent resurgence of loyalty programs, where customers get rewarded for making more and more bookings on Hotels.com or Expedia, for example.
But that was then, and this is now…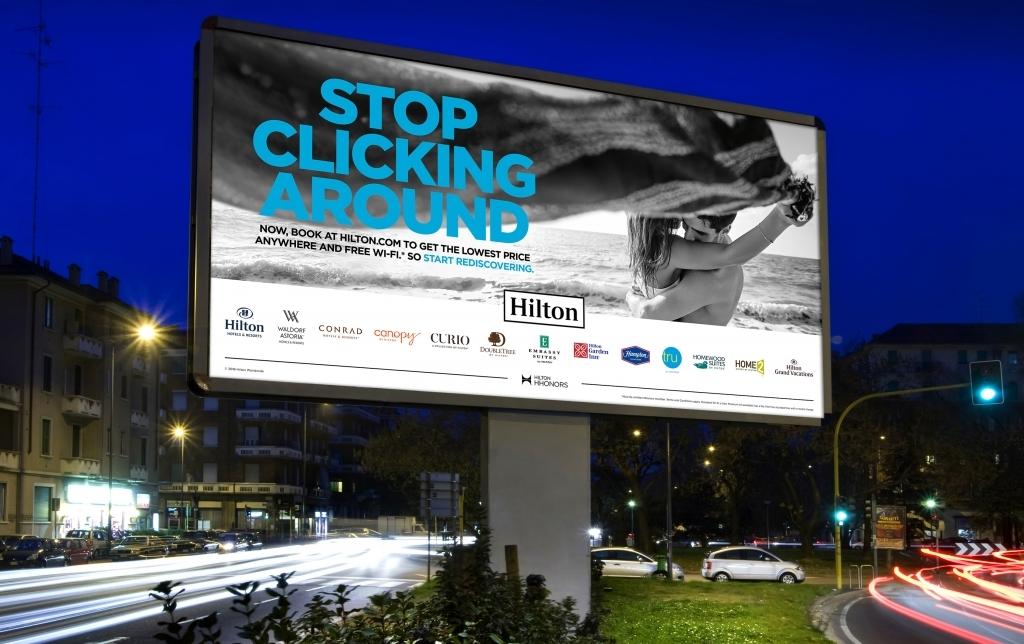 Nowadays, hoteliers are not shying away from messages that clearly tell users that lowest prices are to be found on their website, rather than anywhere else, i.e. OTA sites. Hilton Hotels has been the most vocal in the past couple of months, with public campaigns on television, out-of-home advertising and online tactics hitting on the same message, as can be seen above.

Other chains such as InterContinental Hotels have traditionally opted for a softer approach, with a "best rate" guarantee mentionned at the bottom of their corporate website.
For Starwood Hotels and its Starwood Preferred Guest (SPG) loyalty program, there is a subtle "Why Book Here" button in the reservation menu which, once clicked, leads to the benefits of direct reservations with the brand, as explained below.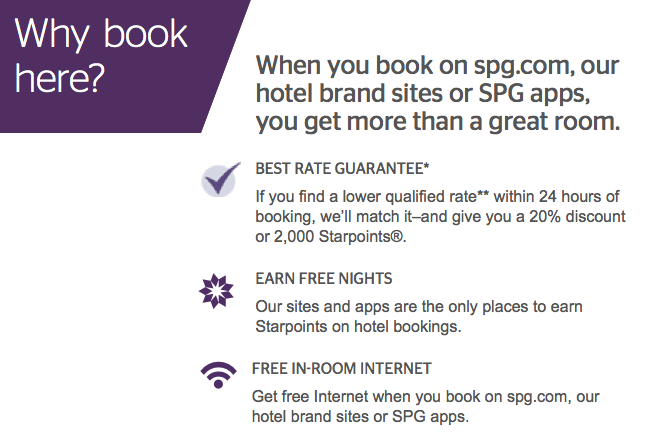 Accor Hotels has also been active in this field, developing their own transactional site, opening up inventory and sales to non-Accor properties in order to get an interesting critical mass of rooms.
A similar initiative to RoomKey, or more recently Fairbooking in France and the UK, gathering chains and independent hotels together to target direct reservations. So will these, and many other initiatives, work?
It's The Marketing, Stupid!
As we have seen with RoomKey and other like-minded platforms, the success is highly dependent of a key factor: marketing dollars. If nobody is aware that best deals can be found by booking direct, or through a rewards program, then how can we expect customers to flock to our websites?
Speaking of websites… too often, hoteliers handle marketing as an after-thought, pouring investments on infrastructure improvement or human resources training while neglecting to respond to online reviews or having a mobile-optimized website that answers 80% of most commonly asked questions less than a click away from the home page.
In the past 4-5 years, most major hotel chains and a majority of independent banners have caught up and embraced the online potential from mobile, social media and transactional sites. At the same time, there have been growing concerns about the omnipresence of OTA in the distribution landscape, with various ruling (in Europe, mostly) countering the rate parity clauses that were one of the root causes for the latent dissatisfaction.
Read also: Online Travel Agencies: Friends or Foes?
Hotels counter attack
This is why we are now seeing campaigns such as Hilton's "Stop Clicking Around" mentioned above, as well as Marriott's #itpaystobookdirect initiative, once again linked with a loyalty program, in this case Marriott Rewards.
At the end of the day, that is what it will all boil down to, and that is: whomever spends the most, at least the most strategically and with the most pertinent message, will get the lion's share of online sales.
Consumers have choice, perhaps more than ever, but they are not necessarily experts when it comes to travel, even though there are countless apps out there and social noise that help or hinder the decision-making process.
How Will OTA React?
So if hotels start hammering away the message that people should book direct, where will this leave OTA sites? Expedia CEO, Dara Khosrowshahi, has clearly stated this move could hurt these hotels brands on the Expedia marketplace, a similar take shared by Priceline's ousted-CEO, Darren Houston. Could this the beginning of new battleground?
The Australians have a great sense of humor, and this following TV show perhaps summarized this whole debate the best by making a more than 2,000 year-old analogy… Enjoy!

Read also: Priceline, Expedia and the Future of OTA