If you ever attend a party with hoteliers, or if you know someone working in the hotel marketing sphere, one sure way to spark a heated conversation is to ask what they think about online travel agencies, better known as OTA. You know, Expedia, Booking.com, Hotels.com, Orbitz, Travelocity… oh, and you might as well include meta-search engines such as Trivago, Kayak, Hipmunk and even TripAdvisor into the equation.
And if you want to conversation to go sour, perhaps you'll speak about Airbnb, HomeAway and other players from the sharing economy. A cocktail weenie with that?
What's the issue?
For the general public, it can be hard to understand the nuances of the situation when in fact it's rather simple. Every time a traveler books a room directly via a hotelier's website, there is no commission to pay, save the credit card fees. So on a 100$ transaction, for example, the hotelier gets 98$ in revenue.
But when that reservation comes through Expedia, or any of its subsidiaries, i.e. Hotels.com, Hotwire, Venere, Travelocity, Orbitz, Trivago, etc. the hotelier will pay out a commission on average of 25%, sometimes more if and when a promotion or preferred positioning is chosen. So on that 100$ transaction, the hotelier now only gets 75$ in revenue.
Do the math: for hotels and properties selling tens or hundreds of room every day, the commission levels can skyrocket to insane amounts on a monthly and yearly basis if the OTA take a larger share of online sales. And this is what's presently happening!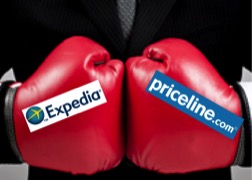 The duopoly factor
This situation is not exclusive to hoteliers. While presenting last week to the Quebec Camping Association, campground owners asked my opinion about OTA, since many owners are being approached by Booking.com to sign partnerships and sell their available inventory.
Next week I will speak on this very topic at Hosteling International's North American Managers Meeting (NAMM2015). Just like the OTA duopoly between Expedia and Priceline, we're seeing a consolidation in this realm with Hostelworld vs. HIhostels.
Okay, but what's the issue, then? Isn't normal for middle players to make a commission when delivering clients to your property? That business model has been in place forever, much before the internet existed, through affiliate marketing, or giving a finder's fee for a new client.
Herein lies the real problem: if the OTA sends a new client, that a hotelier would not have gotten in the first place, everybody wins. But if the client used to book directly a given hotel in the past, and now deals through Expedia or Booking, for the hotelier this now becomes a problem…
Grievances about OTA
In fact, here are the four common complaints from hoteliers when it comes to online travel agencies:
Commission levels
Whenever you make a reservation on Booking.com, the hotel pays out a commission of 15-18%, sometimes more. With Expedia, as explained above, it's even higher, at 25% or more.
These commission levels are undergoing changes and negotiations as we speak, due to industry pressure from leading hotel chains, but it remains nevertheless the number one issue.
Restrictive conditions
Hotels, inns, hostels… everybody who signs with OTA are required to sign complex and details contracts that demand rate parity, rate integrity, and room availability, among key conditions.
In other words, a hotel can't show a lower rate on his own website, nor can he make rooms available on a site while unavailable on another.
Online reputation
If a traveler writes a comment, positive or negative, on TripAdvisor or Yelp, hoteliers can respond publicly. It gives context to the situation. But if you have a bad experience and write up a comment on Expedia? Hoteliers can respond to you privately, but it won't show on the site.
So users only see traveler reviews, and not the hotel response. Not good for hotels, nor for site users who don't get the complete picture.
Loss of direct relationship with clients
OTA have developed such brand equity and user loyalty that many tend to book over and over with them. Hotels.com has been promoting its "book 10 rooms, get the 11th free" program for a while.
And earlier in 2015, Expedia launched its reward program, Expedia+ with no blackout dates.

And the benefits?
Yet there are certainly areas of opportunities for those who choose to work with OTA. Here are three key benefits:
The "billboard effect"
According to a Cornell University study, hotels listed on Expedia will benefit from reservations directly to their site, simply as a consequence of being seen on Expedia. Incremental reservations will vary from 8% to 26%, depending on the type of hotel – independent hotels are the ones who seem to benefit most!
Bearing in mind the substantial amounts of money OTAs are spending online, this reason alone should be enough to consider playing along. But this begs the question: if a potential traveler comes to your website from Expedia or Booking, will she find everything and be able to book within a few clicks?
Multiscreen capabilities
Most OTA sites and mobile applications are on their 4th or 5th generation, have great UX and showcase seamlessly what travelers want to see without having to click too many times. Expedia, for example, developed its Scratchpad enabling customers to start a session on a tablet, continue on their mobile and perhaps close the deal on a desktop.
Hotel sites should watch, learn and replicate what seems to work, rather than ignore the evolution in customer needs and wants online.
Direct relationship
While the booking may have come from a third-party, some hotels embrace this as an opportunity to retain the customer by asking their email upon checking-in, either to become part of the hotel loyalty program, or either to take advantage of a promotion.
After I had booked a Montreal hotel through Hotwire, the staff at the reception gave me a 25$ coupon for my next reservation, which had to be made online, on their site, or through their call centre.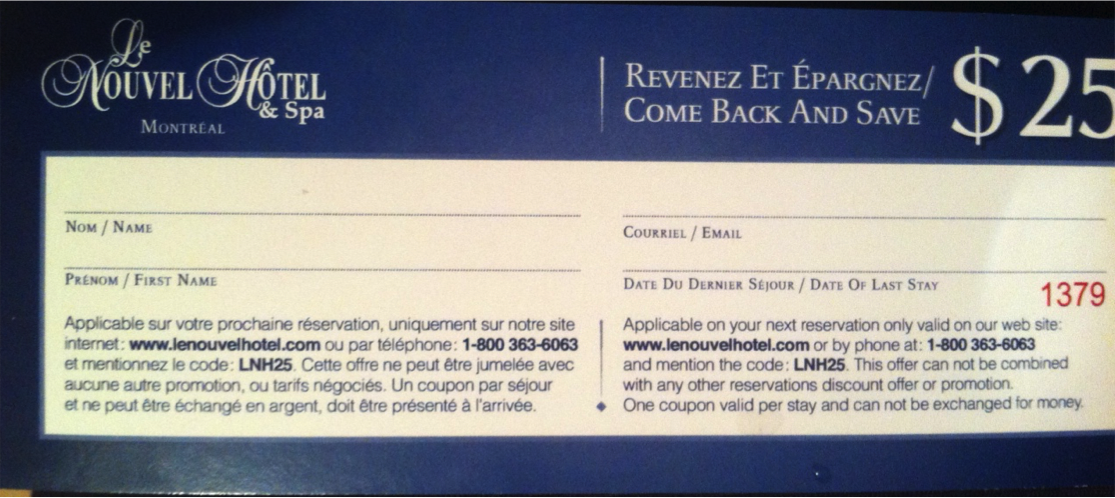 So, friends or foes?
At the end of the day, online travel agencies are neither friends, nor foes. A necessary evil, perhaps? They play a key role in promoting travel, from accommodations to transportation, including things to see and do once at a given destination, i.e. restaurants, tours and activities, attractions, etc.
For a campground owner, a hostelier or hotel managers, the question is more about how you can drive more business directly to your website rather than why is some of that business going through OTA.
It's an uneven battle if you only look at buying Google AdWords, but savvy remarketing campaigns and, more importantly, a strategic approach to content marketing can help if you properly identify how and when to invest on your owned media, versus paid & shared media.
Nobody ever said hospitality marketing was easy, specially in this fragmented space that is now seeing the rise of the sharing economy. This party is far from over, and hoteliers must keep their focus on a quality experience while maintaining their leadership in the online world. OTA are part of the equation, so what do you say: friends or foes?