It's a fresh new year, a time to reflect on where to put efforts and how to maximize efforts for travel and hospitality marketers. This is particularly true for online marketing, where things move fast and what worked yesterday many not work today, nor even be around tomorrow!
Read also: The Challenges of Travel Marketing in the Digital Era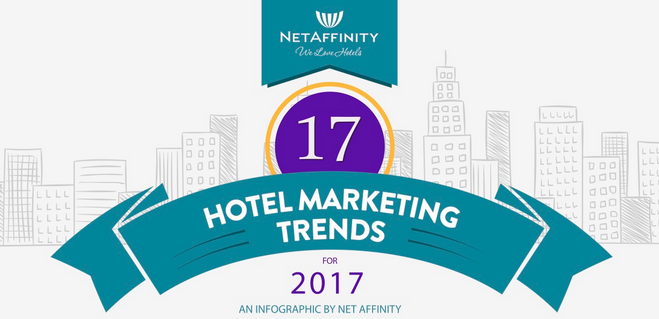 The folks at NetAffinity came up with yet another very insightful infographic summarizing what I agree to be some of the key challenges when it comes to hotel marketing in 2017.
Here are some of my favorites and why:
Mobile leading everything
No wonder this kicks off the infographic, as mobile has become ubiquitous. In fact, for Millenials in particular, recent stats show that up to 82% of them search via mobile device, with 49% of them buying the travel component online!
Major shifts in paid search space
This is another big one. Google's next extended text ads become the norm as of January 31, and mobile-specific initiatives should also be announced shortly. We also don't just search with Google, but through social media or even third-party sites like Airbnb, OTA and meta-search sites.
Travel bots are on trend
I mentioned this one among 8 tech trends travel marketers need to embrace, and it shows up here as well, so it's no coincidence. Online travel agencies (OTA), airlines and now hotels are testing this technology to enhance customer experience, gain insights and reallocate resources towards tasks that add value.
Snapchat ads soaring
Not sure ads will soar on Snapchat, even though various sources predict this phenomenon for 2017, but Snapchat will surely gain even more momentum with hoteliers seeking to engage with younger audiences, in particular folks under 35, active on this popular mobile app.
Mobile revolutionising Facebook advertisement
It is said that 82% of all Facebook users access the popular social media via a mobile device, but what's even more startling is that close to 58% access it ONLY from a mobile device.
Thus, organic posts, subtitled videos and paid tactics must take this into consideration for better performances.
Increased importance of video
Video is perhaps the most powerful type of media to convey inspiration when it comes to travel, and various brands have embraced it for a more dynamic storytelling approach.
Videos are omnipresent on Facebook, not to mention Instagram, Snapchat and classi platforms such as YouTube and Vimeo, to name only the key players.
Read also: Video Best Practices in Travel Marketing
Take a look at the infographic below and let me know which of these 17 trends you think will be the most significant one during the upcoming year!

Save
Save
Save
Save
Save