Do you ever get that feeling that things in the digital world are moving just a wee bit too fast?
Facebook literally changes stuff and adds new features on a daily basis. Read: 10 Recent Changes Impacting Facebook Advertisers
Twitter has come up with a few tricks up its sleeves recently, adding multimedia sharing, its new Moments feature and changing the restrictions surrounding its 140 character limit
Snapchat became Snap Inc. while launching new Spectacles (think Google-Glass-lite, with cooler look and lower price point)
All of this… during the last couple of weeks alone!! And I am not even covering all of the business-related news and features with ads on these social or mobile platforms.
For marketers in general, it ain't easy to stay abreast of all the possibilities and understand how customer behaviors are changing with these features popping up across channels and devices.
In the travel industry, we face an even greater challenge as there are various micro moments when we ought to connect with potential travelers, folks on the move or when travelers want to share their experience post-travel. So what gives?
Where Travel Marketers Are Focusing Now
For the past decade or so, travel marketing has shifted its efforts to better understand and use online tools in order to reach customers more and more connected, with the rising tide of mobile adoption playing a key role in the past five years in particular.
Nevertheless, one could still pretty much summarize marketing efforts into what I like to call the Holy Trinity of Digital Travel Marketing: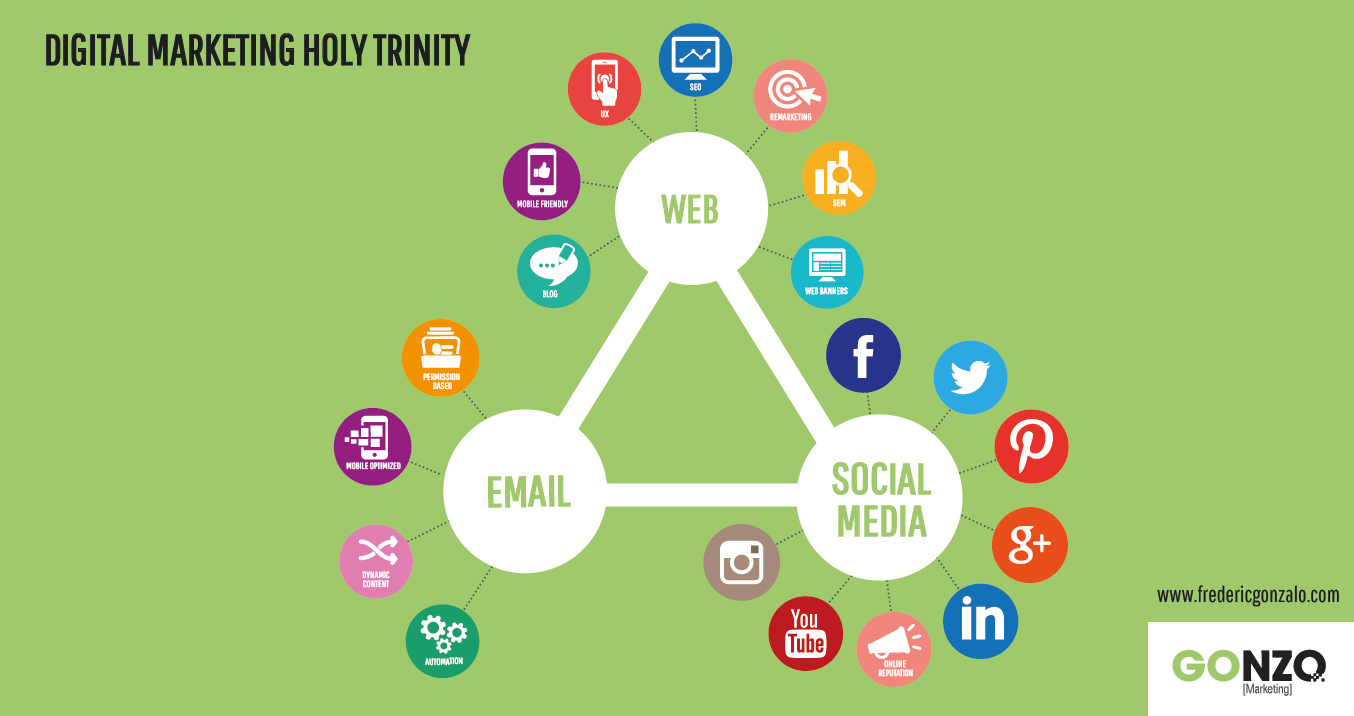 Having a rocking website, with responsive design, and optimized for search engines (SEO, SEM, remarketing, etc.);
Having a relationship marketing approach, including email, SMS and newsletters sent regularly to past and present customers;
Using key social media to reach target audiences and engage with relevant communities.
While this holy trinity remains valid today, few travel brands manage all three pillars on the same level of efficiency. This could also be said about many other industries, but we just simply seem to focus more on acquisition than retention (loyalty), even though it has many times been proven more effective to work with ongoing customers and increase share-of-wallet rather than spend to acquire a new, more volatile client base.
Organic Search Still King
Knowing this, it's no surprise to find that travel marketers now put most of their efforts (78%) on organic search, followed by email marketing (71%), paid search (69%) and social media (65%) tactics, according to a recent study conducted by Performance Horizon and WBR Digital.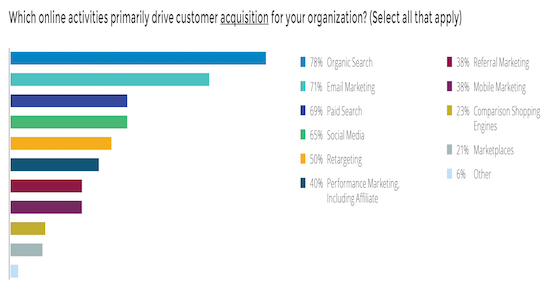 The problem we are facing, though, is that as a majority of travel industry players understand this new reality, and as more and more users go online for their next getaway search process, we are seeing an increasingly competitive environment where it's becoming more difficult than ever to stand out. And to do so is getting ever more costly.
Read also: Will there be "content shock" in travel?
Cost per click rising
In fact, according to a recent study by SimilarWeb, looking at online searches conducted in May and June 2016 across the globe, the most expensive search terms was "restaurants near me" at as cost-per-click of $3.78, followed by "cheap hotels" at $3.75.
Hoteliers in big urban cities are accustomed to pay upwards of $3-$8 per clicks on some campaigns, with costs-per-acquisition (CPA) that can vary between $40-$200, leading many to question whether AdWords campaigns are still relevant or worth their investment.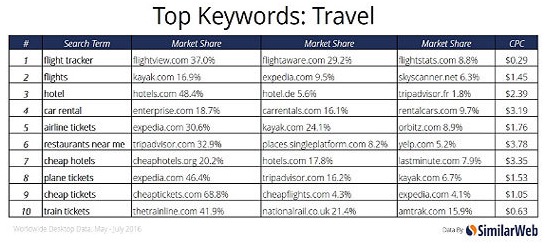 Truth of the matter is, travel brands must remain active on Google since this is where most of the action is taking place when it comes to search and booking, according to another recent study, this one by digital marketing agency Wolfgang Digital.
Back in May and June of 2016, they analyzed 87 million website sessions on travel and retail websites, leading to $258 million in online revenue. Hotels and attractions made up the majority of travel brands in this study.

The most startling piece of information from the above chart, I believe, is to see how little – in fact, it seems to be non-existant – traffic and revenue generated from Facebook, whether through organic tactics or paid ads.
Surprising, considering how travel brands are embracing the potential of Facebook as traffic generator and conversion tool in some specific campaigns, promotions offers or storytelling initiatives with videos and/or photos seeking to generate buzz and awareness. Food for thought, to say the least.
Think Omni-Channel
But perhaps the most difficult aspect to understand and embrace as marketers is in how we reach users across multiple devices, spread across a longer period of time when it comes to their decision-making.
Google has very aptly coined the term "micro-moments" to define how we now consume content online, and how we may or may not make last-minute decisions when it comes to a future getaway.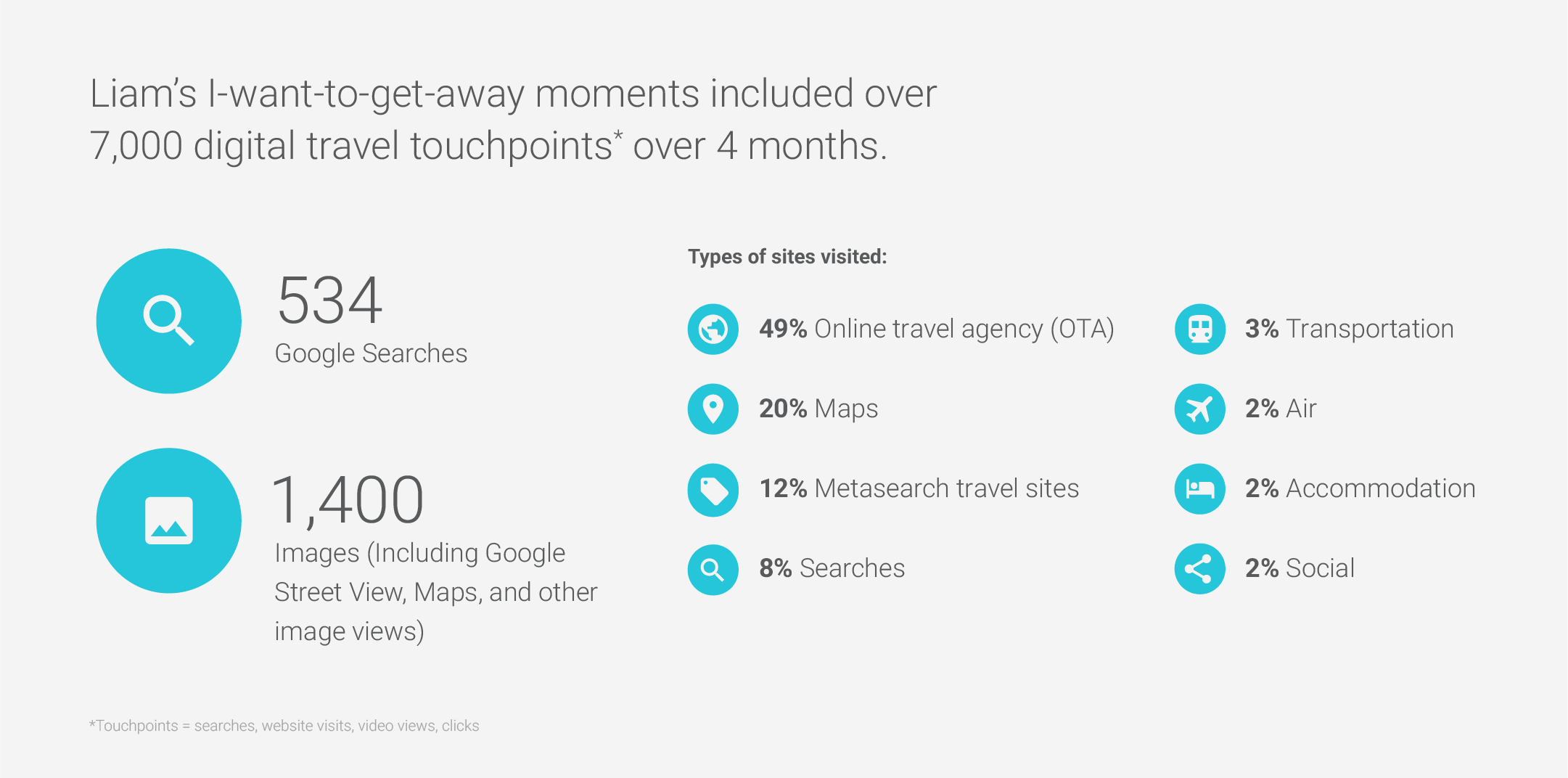 As we can see above, the search process is rarely, if ever, linear and takes place over a long period of time. In this example, Liam did 534 Google searches, which lead to visits on OTA sites (Expedia, Booking, Travelocity, etc.), travel brand sites, metasearch sites (Kayak, Trivago, Hipmunk, etc.).
The crazy thing here is: notice how many images came into the equation – 1,400 – and more importantly, look at how many digital travel touchpoints it added up to: 7,000. Seems like a bit much? Not really, when you break it down into a more granular example:
Micro Moments
What is also important to note here is that these searches and digital touchpoints vary in time, and across various types of devices, which brings in the importance of thinking in terms of omni-channel in travel marketing.
Reaching and marketing users across different devices has become so huge that Google just announced the possibility for cross-device retargeting by enabling remarketing for signed-in users.
Indeed, we do live our lives in micro moments, as Google likes to call them. It just seems to make our marketing efforts that much more complicated in reaching qualified users, at the right time, at the right place, with the right offer… Or perhaps this isn't what this paradigm should be about anymore.
Maybe we need to think as travel marketing at a crossroad, between relevant content marketing (pull) on various digital outposts – blog, social media, photos and videos – and pertinent offers (push) communicated at the right moment in the decision-making process.
One thing is for sure: travel marketing requires focus, and it requires a solid strategy along with a plan. Too often, I see destinations, hotels or restaurants talking tactics, when there is no underlying strategy, or one with no metrics involved.
With so many possibilities out there, it becomes near impossible to prioritize between the right digital outposts if there isn't a clear strategy to begin with. What do you think?
Save