The term "Omni-Channel" has become a marketing buzzword lately, but its concept should be a priority for your travel marketing. In essence, it's about providing a seamless experience, regardless of channel or device, at each step of the travel cycle from search to comparing, booking and then experiencing the product or service.
If you think Omni-channel is just a different, more modern way of addressing multi-channel marketing, here's an interesting definition that helps explaining the difference:
"Multi-channel is an operational view – how you allow the customer to complete transactions in each channel. Omni-channel, however, is viewing the experience through the eyes of your customer, orchestrating the customer experience across all channels so that it is seamless, integrated, and consistent. Omni-channel anticipates that customers may start in one channel and move to another as they progress to a resolution. Making these complex 'hand-offs' between channels must be fluid for the customer. Simply put, omni-channel is multi-channel done right!" – John Bowden, Senior VP of Customer Care at Time Warner Cable
The implications in travel
We know US travelers visit an average of 38 travel sites over a 5-week period before purchasing a package online. In the UK, this figure is pegged at 35 travel sites, which is to say in both cases: we spend a lot of time searching and validating before booking a trip! But do we research all of these sites from the same devices?
In the latest travel advisory report from Webtrends, we find out consumers actually research travel from an average of 6.5 devices and websites! And according to this other study by Expedia Media Solutions, published in 2013, we see research for travel is increasing across all devices, with an obvious spike on tablets and smartphones in particular.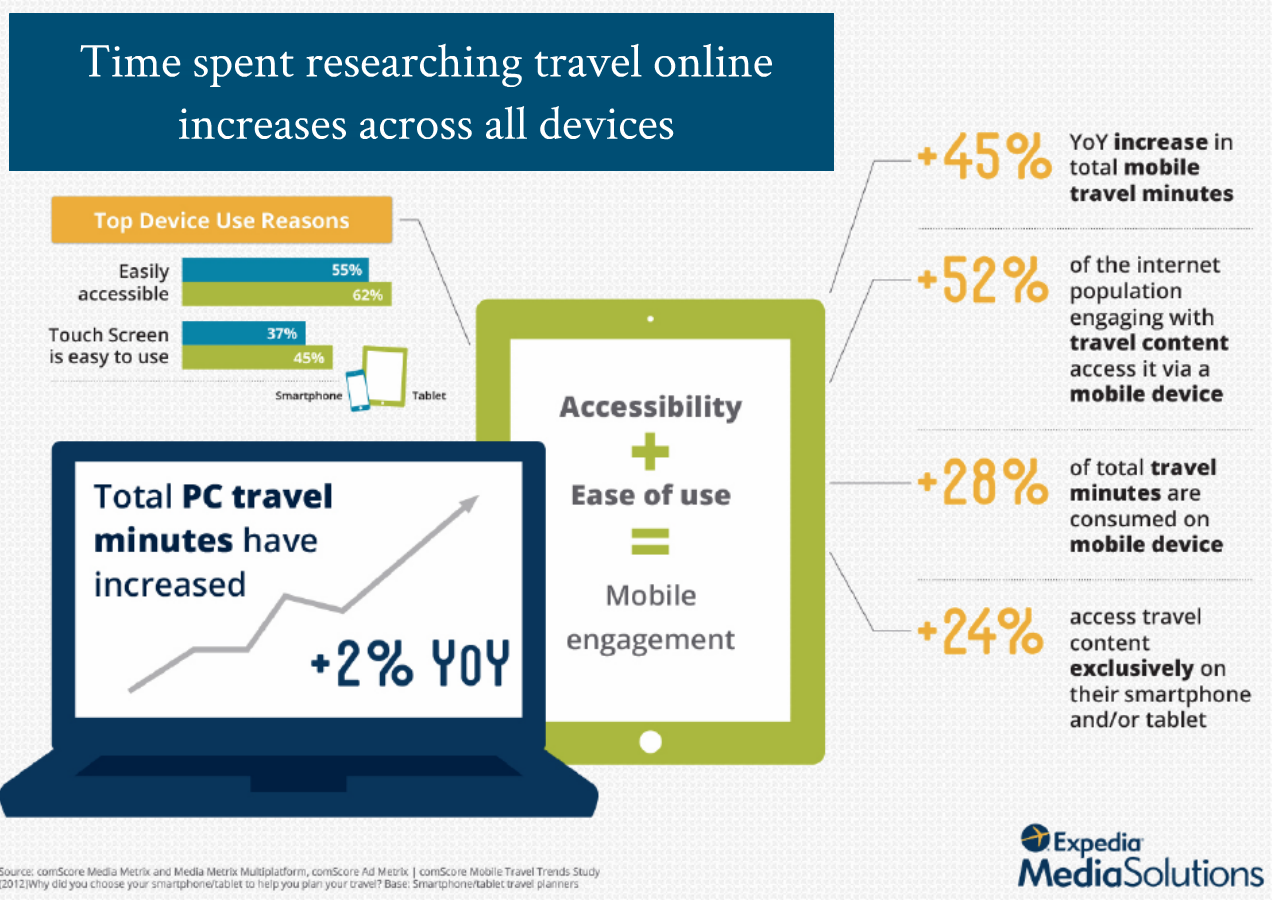 1. Think web, mobile & tablet… as three distinct destinations
Many travel brand websites have gone down the responsive design route in recent years, which is about time. Having a site that is adapted to various devices, from desktop to tablet to smartphone is the bare minimum in this day and age when close to 50% of worldwide online travel search comes from mobile devices, with 25% of online travel revenues expected by 2015 in the US.
Yet, we don't use these devices in the same way: desktops are usually associated with work, smartphones on the move and tablets at home or with a leisurely component.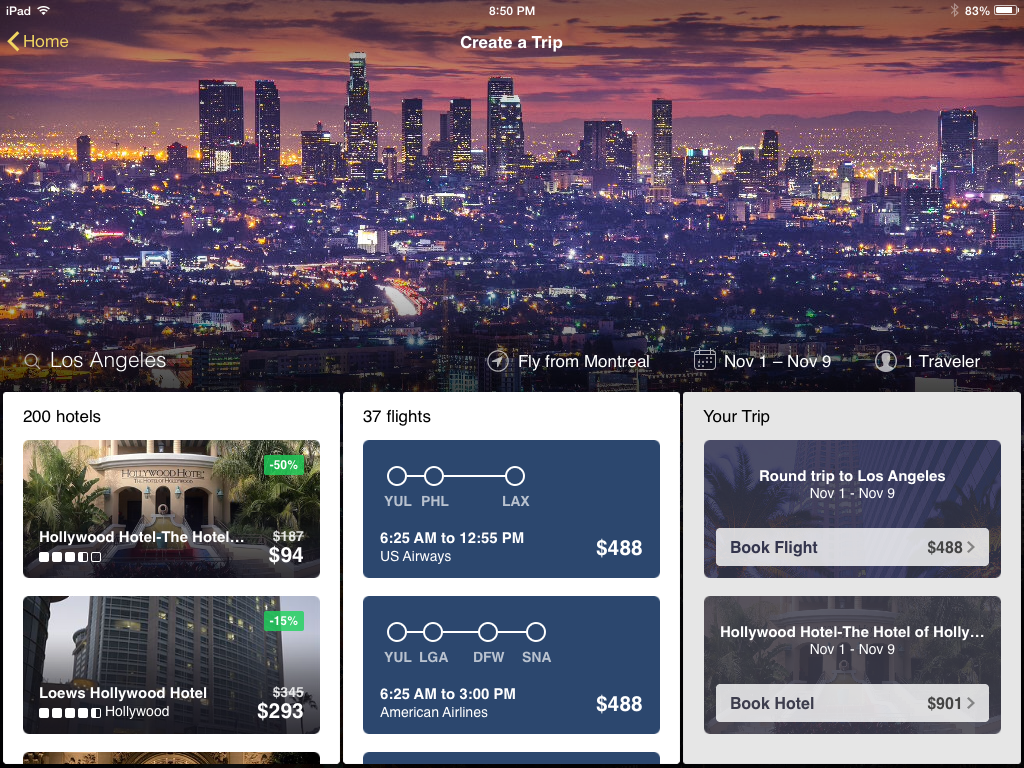 According to a recent study by PhoCusWright, 40% of consumers use tablets for browsing travel and hospitality destinations. Brands such as Expedia have rolled out dedicated tablet applications, focusing on new search tools, a richer, more visual experience combining hotel and flight search on one screen, for example.
2. Think web, mobile & tablet… as part of a unique process
By the same token, one of the greatest challenge of omni-channel marketing lies in keeping track of customer's needs and wants across the various devices through the decision-making process. If I start my search on my iPad during the evening at home with my spouse, then want to book my trip the follow day while on break at the office, why should I have start all over again?
Here again, Expedia has come up with nifty solution with its Scratchpad feature, where you can continue on desktop or mobile, assuming you had signed in the tablet app when you did your original search.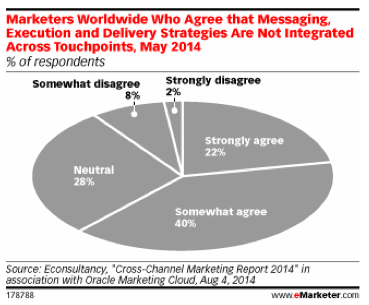 Destinations face a similar scenario, where potential travelers may research events, restaurants or attractions on the website of a given city prior to their trip. Then, once at the destination, if the traveler turns up at any information center or visitors bureau managed by the local tourism authority, there is no continuity in the process.
Few DMOs, if any, have systems in place to identify the traveler per previous online behavior, in order to then customize the attention and services provided. This aligns with challenges identified by marketers worldwide, surveyed by Econsultancy last summer, showing that 62% of them thought they had not integrated messaging, execution and delivery strategies across their organization's various touchpoints.
3. Big Data as true differentiator
In this quickly evolving context, where will travel brands be spending their marketing dollars? Social Media? Mobile Advertising? Google AdWords? YouTube Ads? Banners? Online vs. Offline? There are no right or wrong answers here, as this will depend on your brand, your niche and where you have the best potential to reach and engage with your targeted audiences. But all of this boils down to what you can measure, if you measure at all. According to a VisualIQ Study, 85% of CMO are doing no measurement at all for their cross-channel efforts!
Thus, Big Data will become more than just a buzzword and will underlie decision-making processes in identifying where marketing dollars ought to be spent, according to where travelers are spending most time online, or when and where is the most appropriate time to reach them, i.e. planning, comparing or buying stage of the travel cycle.
Read: Big Data in Tourism & Hospitality: 4 Key Components
4. 360 Marketing is now a must
Finally, we should be seeing more and more true 360-degree marketing initiatives, in order to properly address the omni-marketing plan required by an omni-channel approach. This means being able to identify the right communication channels online, on mobile and on tablets, combining traditional methods with digital tactics, social media advertising and savvy remarketing campaigns.
Are travel brands equipped to handle this new hybrid approach? Are agencies? The danger here will be to have many decision-makers "say" they understand what's at stakes, but won't "do" what is required, reverting to more familiar tactics, i.e. TV, radio, print, billboards and traditional web banners…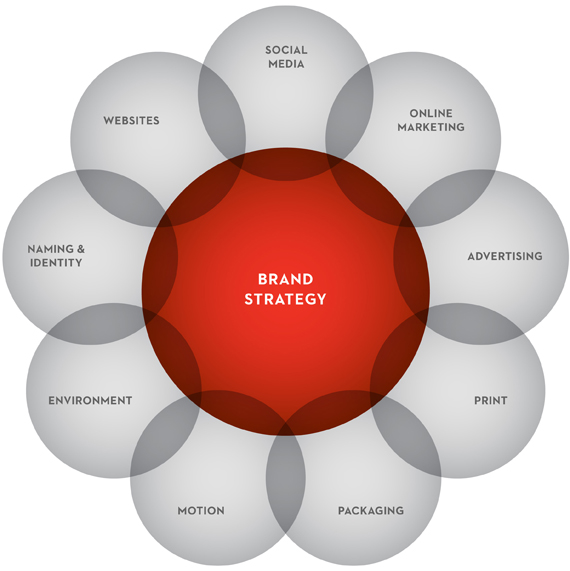 Omni-channel marketing is here to stay, as we learn to deal with various devices and various sites within the traveler online search & booking journey. Do you know of travel brands that excel at omni-channel marketing or have examples to share? Please comment in the section below.