Online Travel Agencies, better known as OTA, have been around for almost 20 years, so we really shouldn't treat them as a novelty by now. Expedia was launched back in 1996 while Priceline was founded in 1997. In the earlier days, OTA were seen as a convenient distribution channel where hotels and airlines could sell extra inventory.
This was particularly true after the events surrounding 9-11. The industry was focusing on security issues and improving the customer experience across the board, investing in new properties with five to ten-year programs meant to upgrade facilities. Online distribution was not really a priority, then.
Fast forward to early 2015, and the relationship between hotels and OTA has gone somewhat sour. Why is that? In a competitive hospitality landscape, hoteliers must fight on a variety of levels, from customer experience where free wifi, hearty breakfast and quality room amenities are expected, to convenient location and, of course, best possible rates.
In a context where RevPAR (revenue per available room) is a mantra indicator that requires constant optimization, hoteliers turn to reducing costs to increase their profitability. And that's just the thing: commission levels paid out to OTA are high, between 15-30%, and their share of online sales is increasing year over year!
Read also: Hotels and OTA: from confrontation to collaboration
The illusion of choice
Anyone not familiar with the online travel landscape may be under the impression there are tens, if not hundreds of websites to choose from to book a flight, hotel or restaurant, right? Wrong. By the end of 2014, it was already clear we were basically in a duopoly position, where two groups are battling it out for dominance in this realm: Expedia vs Priceline.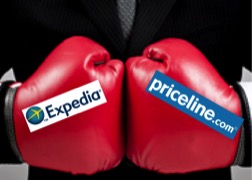 Dominant in Europe and Asia, Priceline is the OTA that holds the biggest market capitalization, at 64 billion dollars. Besides its well-known Priceline brand, and its equally famous tagline "Name Your Own Price", it also owns Booking.com, Agoda, Kayak and OpenTable among others.
Like a classic OTA, it offers booking possibilities for everything from hotels to flights, cars, cruises and vacation packages, for individuals and groups alike.
At the other end of the ring is Expedia. Once the leader of the online distribution field, Expedia has seen its position erode in the past few years, but its financials remain strong. With its recent acquisition of competitors Travelocity (280 million dollars) and Orbitz (1.6 billion dollars), Expedia is now back on top, at least in terms of worldwide revenues, with almost 2 billion dollars in 2014.
It is also estimated to now hold 75% market share among US online travel agencies, according to PhoCusWright!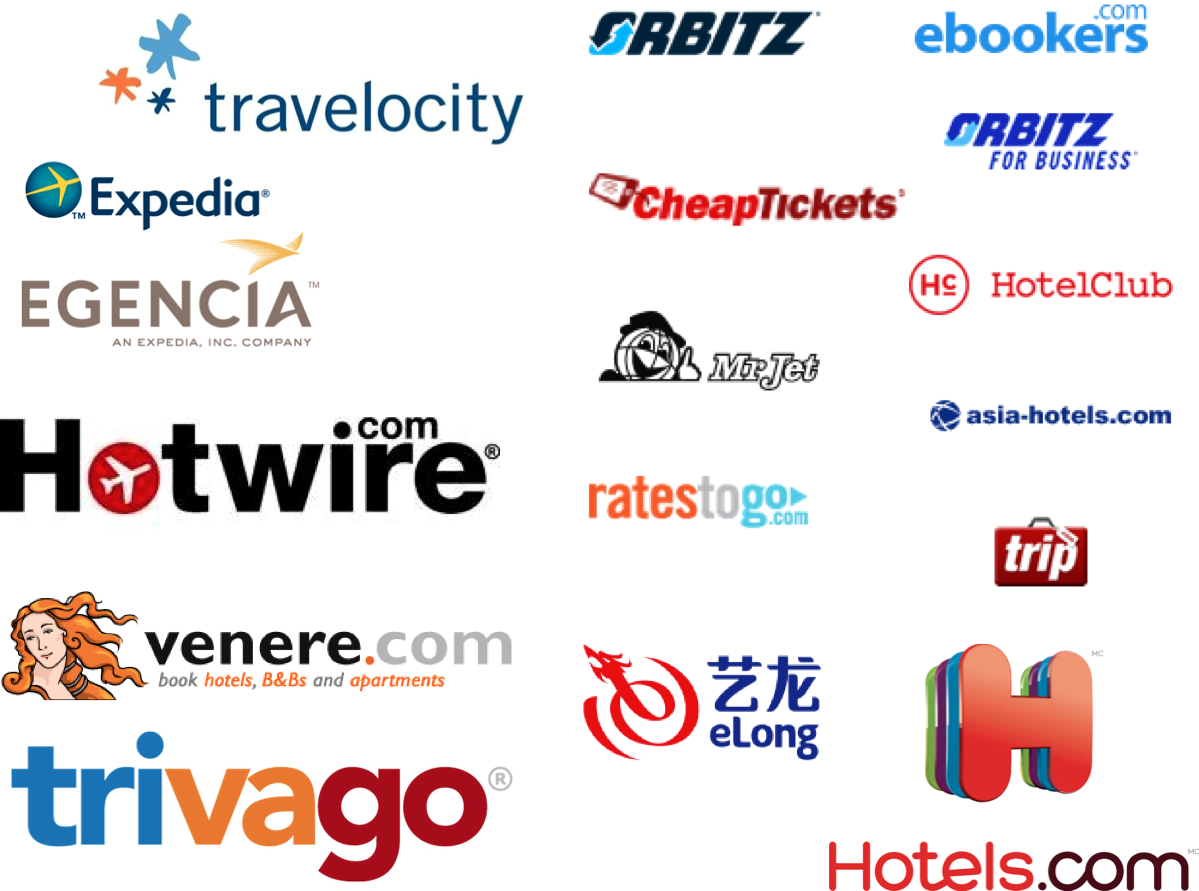 For big hotel brands and major airlines, negotiating with these two majors is happening on a near-equal playing field. But for independent hotels, it's a whole different story. Expedia and Priceline invest massive amounts of dollars in marketing campaigns, both offline with mainstream media (TV, billboards) and online through savvy remarketing and AdWords, dwarfing efforts made by mom and pop inns and lodging.
Less choice, higher commissions?
Okay, so there is an illusion of choice for consumers – they get to choose from so many different websites… with inventory controlled in all likeliness by one of the two big OTA – and not much space to choose from for hoteliers, in particular the smaller players. So what's the problem?
One of the biggest threats is certainly the dependence from hoteliers with OTA, as their share of the online distribution channel grows continuously. OTAs invest massively on buying keywords to get travelers to shop on their websites, but also showcasing leading-edge user experience, from smartphone to tablet to desktop.
Expedia's My Scratchpad feature encompasses this newer trend where online travelers move from one device to another throughout their purchase funnel, making it easy to remember which hotel, airline or attraction to consider. In the meantime, many hoteliers are still struggling to get their websites right, let alone transactional or mobile optimized…
In other words, for independent hoteliers, it's becoming increasingly difficult NOT to be integrated in OTA, if you want to compete on the same level, specially in urban cities. And once you get into this game, it gets even more difficult to get out, with increasing shares of revenues from this distribution channel. Thus the need for savvy yield management across channels.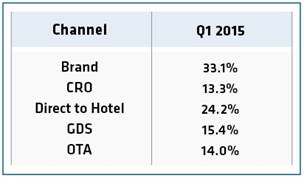 In a recent report by TravelClick, looking at Q4 results in 2014 for North American hotels, the agency noted that the OTA channel had the strongest growth year-over-year (compared to Q4 2013), with 12.7% jump in bookings.
So if OTA are taking a bigger piece of the online pie, and there is less competition with a de facto duopoly, will it eventually mean higher commissions for hoteliers, airlines and other industry players who rely on this distribution channel and have little negotiation power?
TripAdvisor, Google and others…
Not so fast. There are many other players in the online distribution landscape, including TripAdvisor which is becoming less of a review site, and more an integrated booking solution for everything related to the travel experience: hotels, restaurants, vacation rentals, attractions, etc. Hence, its new "Plan.
Compare. Book" advertising campaign, meant to get consumers to not only check out TripAdvisor for its comparing features, but also to book directly on its platform.
And then there is Google. Will it ever launch a direct-to-consumer travel solution, as many industry experts have been predicting ever since it bought the ITA software, back in 2010? Flight Search and Hotel Finder are both available but haven't gained the kind of traction that would worry the OTA at this stage.
Yet. But we are seeing clear signs leading to think there may be more at play, in particular with mobile search and bookings growing so fast.
So while the OTA scene has become a mere duopoly, it doesn't necessarily mean there is less choice for airlines and hotels. It does mean, however, that travel brands must realign their online strategies and tactics to make sure they make the most of their owned media before relying too much on external sources such as online travel agencies, TripAdvisor or Google, among others.