The folks at Development Counsellors International (DCI) recently came up with the second edition of their report titled Capturing the Canadian Consumer – Insights into the Path to Purchase for Canadian Travellers Post-Covid-19.
The first edition of this report was issued in 2017, so it's a whole different world now, with data collected in August 2020 for this report. More than 1,500 Canadians responded to a 30-question survey, yielding fascinating insights on the path to purchase for Canadian travellers.
Read also: How The Travel Path To Purchase Varies in Canada, US & UK
How Canadians Will Travel Post-Covid-19
Last year, according to the Conference Board of Canada, Canadians took 33 million outbound overnight trips and the market was on track to exceed this number in 2020. Canadians spend on average 3,918$ per international trip, and even more so for folks with a household income over 200k – they tend to spend 4,911$ per international trip!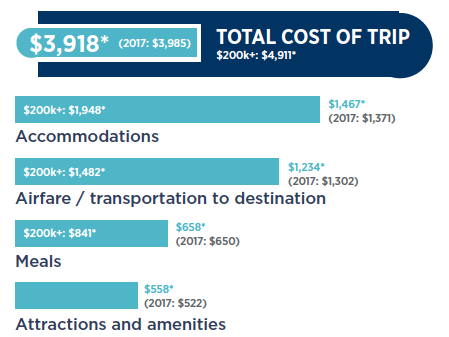 But with the ongoing pandemic showing no sign of letting down, how are Canadian travellers shifting their behaviors and expectations regarding their next destination or travel plans?
I alluded to this in a previous article here, saying that security is the new marketing when it comes to travel. The data from DCI demonstrates this quite eloquently.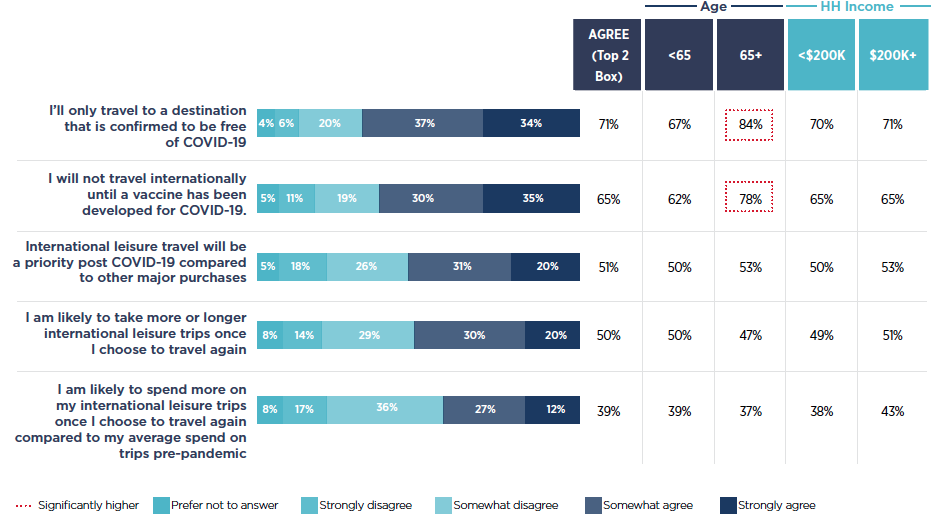 Some of the findings in this chart worth highlighting:
71% of Canadians will only travel to a destination confirmed as Covid-19-free – not surpringly, this number shoots up to 84% for folks aged 65+
However 51% of respondents say international leisure travel will be a priority post Covid-19 compared to other major purchases
Surprisingly, only 39% of respondents agree with the statement "I am likely to spend more on my international leisure trips" compared to pre-pandemic trips
While there are many ways to interpret this data, this certainly points towards another year (2021) poised for lots of domestic travel within Canada and across provinces, with the exception of bubbles such as Atlantic provinces.
How Decision-Making Takes Place
The report then goes on taking a closer look at types of accommodations travellers seek, as well as preferred transportation, time of year for travel and types of vacations. (HINT: Beaches, Historical sites and Outdoor recreation are the most sought-after activities on future vacations)
When it comes to choosing their next destination, Canadians travellers now have a real concern with safety and sanitary precautions, factors that were not top-of-mind back in 2017 when the first report came out. In fact, here are the top 5 most-important factors in destination selection:
Safe / Secure destination
Quality accommodations
Beautiful natural environments
Friendly and hospitable local population
Strict adherence to sanitation / health standards
You will notice the two factors in bold did not even register among important factors back in 2017 and are clear concerns resulting from this Covid-19 pandemic.
Sources of information
Interestingly enough, it doesn't seem like sources of information have changed all that much in the past three years. Half of international vacationers look to family and friends as well as the internet for inspiration.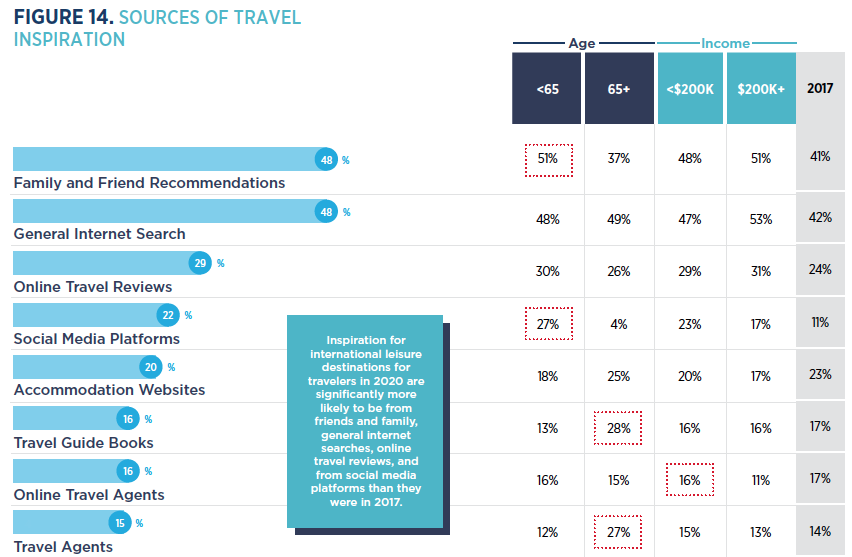 The top five sources of inspiration when considering international leisure destinations to visit continue to be:
Family and friend recommendations (48%)
General online search (48%)
Online travel reviews (29%)
Social media platforms (22%)
Accommodation websites (20%)
Recommendations from family and friends and general internet searches are the top sources of inspiration, regardless of province. But I found it interesting that my home province Quebec is the one exception, where travellers are more likely to rely on general internet searches over recommendations from family and friends.
Booking Methods
Finally, I thought there were some eye-opening stats in this chart showing booking methods that Canadian travellers consider for international vacations.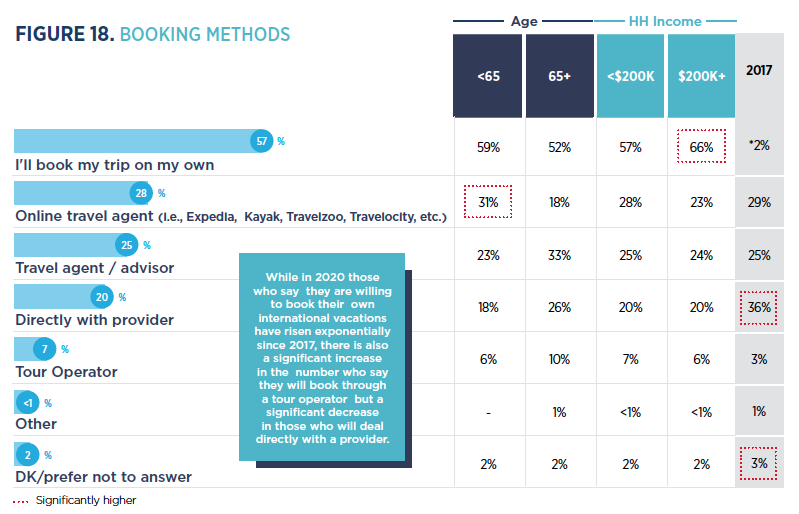 As you can see in the chart above, folks like to book trips on their own. Yet intent to book with a travel advisor or online travel agent has not changed much.
However, booking direct with the provider – hotel, car rental, cruise company – has lost much of its appeal, it seems. This figure dropped from 36% in 2017 to 20% in 2020. This is surprising, considering efforts and advertising in the recent past by many hotel chains and independent hotels to get direct bookings.
Tour Operators, in the meantime, seem more prominent, moving from 3% to 7% in the preferred booking methods by Canadian travellers.
Of course, there are lots more in this study which can be purchased directly on DCI website, here.