In the travel marketing vertical, destinations are usually amongst the leaders in terms of innovation and trying out new tactics. It boils down to the very core of their role: they represent various stakeholders, from hotels to restaurants, transportation, attractions, festival and events, even tour operators and travel agencies.
Often, smaller players don't have the necessary budgets – and fire power that goes with it – and know-how to actively engage in various media, including in the digital world. Thus, destination marketing organizations (DMO) fill in this crucial role and must show leadership while providing tangible results for their members. If you are wondering which destinations are performing best in the U.S., check out the Resonance Report: Top 50 US Destinations that came out in July 2014. (Hint: Los Angeles and New York City are top two on the list…)
The folks from Visit Philadelphia tend a pack a larger punch for the size of their city, coming in at #9 among the top 50 US destinations. I have written about them a few times in the past (Read: Visit Philly's leap of faith on Instagram) and I love how they seek to reinvent themselves yet again in 2014, betting on the intelligence of crowds rather than trying to do everything in-house.
Here are two ongoing campaigns that could inspire other destinations and brands outside of the travel sphere.
CREATE YOUR OWN PHILLYOSOPHY
Visit Philly has been running with an effective tagline "With Love, Philadelphia XOXO", capturing the essence of the city, its voice, passion and attitude. Since 2013, the destination has been putting more emphasis on how locals perceive their own town, for example with their Instagram initiative.
Now, they are putting their next out-of-home (OOH) campaign into the hands of locals and travelers alike by throwing a neat contest, based on how anyone would describe their view of Philadelphia, or Phillyosophy.
The "My Phillyosophy" campaign is already running with classic agency-designed taglines and photos. Effective, but not necessarily original. Now Visit Philly is asking its Facebook community – close to 400,000 fans – as well as anyone visiting its website to participate in a contest where winners get to see their photo as part of ads featured on highway billboards, in this case on I-95.
There are various prizes as well that complete the contest, making it that much more interesting for people to participate.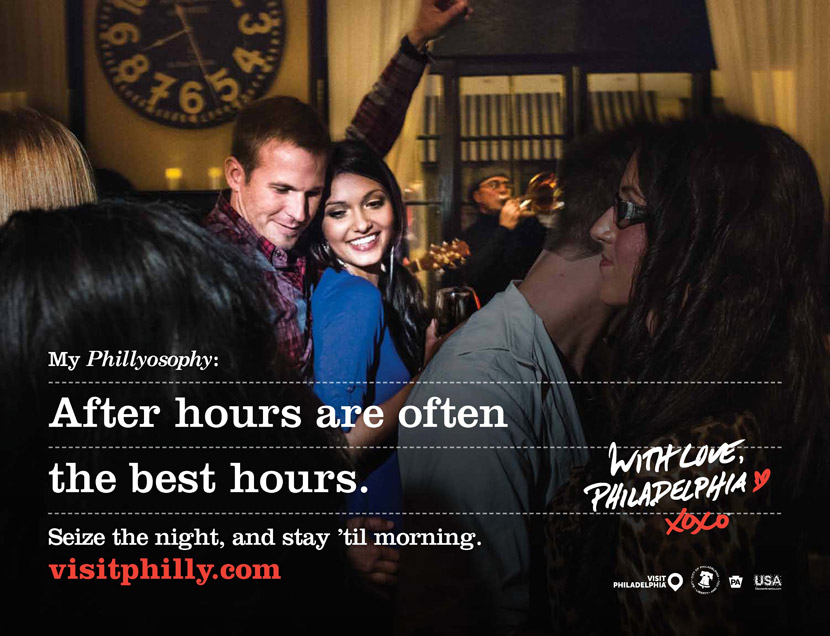 The contest was launched earlier this week, and after only 24 hours there were already 650 submissions – 204 from desktop and 446 from mobile! People can submit their images to go along one of the following six taglines for the contest:
Your nightlife is only as good as your brunch.
Actually, it is easy being green.
Run the steps like nobody's watching.
Philadelphia freedom is a state a mind. (*Note: This has been the most popular line, with a total of 234 submissions – and counting! – so far.)
After hours are often the best hours.
Believe our year is every year.
If you want to hear more about this contest, or even participate, check out Visit Philly's page on Facebook.
SUMMER WITH ART
Another initiative that I thought would be worthy of mention is one involving Visit Philly's members, in this case five Philadelphia museums. Each weekday between June 23 and September 19, one of the five partner institutions will share an object from its collection, cleverly tying in to the week's theme.
The social media series showcases the city's artistic and cultural treasures and encourage followers of all the groups to share their artful Philadelphia experiences all summer long.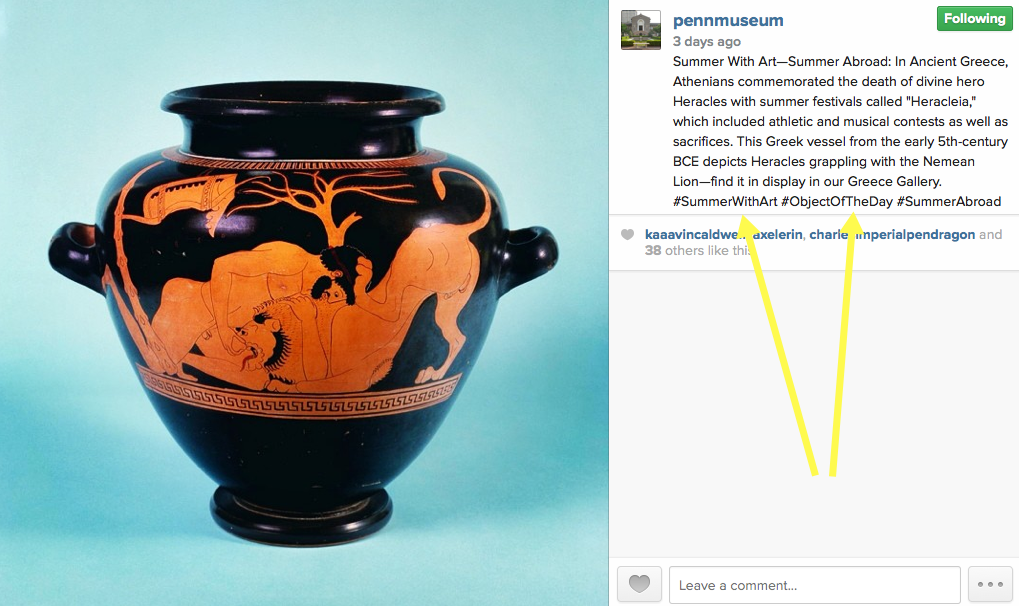 The Summer With Art partners are:
Philadelphia Museum of Art – @philamuseum (recently named to Mashable's list of the world's 14 best museum Instagram accounts)
The Barnes Foundation – @barnesfoundation
Penn Museum – @pennmuseum
Pennsylvania Academy of Fine Arts – @pafacademy
Pennsylvania Horticultural Society – @philaflowershow
Users can follow along, participate, comment and share on Instagram with the hashtags #SummerWithArt and #ObjectOfTheDay.
If you have heard of other destinations making creative use of social media in their digital and offline tactics, I would love to hear about it. Let me know in the comment section below. Thanks!
Read also: 4 Creative Uses of Instagram in Destination Marketing