In this day and age of social media, blogs, user reviews and forums, travelers seek authenticity when thinking about their next trip destination. In fact, according to TripAdvisor's annual TripBarometer study published in March 2013, 69% of travelers said review sites are the most influential in their booking decision process. And once we know where we want to go, who do we trust? Expert opinions in travel magazines, comments on Tripadvisor or recommendations from friends and family are all valid options.
But what about hearing it from the locals? That's essentially what the folks of Visit Sweden did with their @sweden twitter account, followed by a similar initiative by the U.S. state of Vermont and their @ThisIsVT twitter account. In both cases, the handle is managed regularly by a different citizen, detailing everyday life, as locals do. I wrote a post on this last year, called Power To The People: Letting Go Of Your Travel Brand!
VISIT PHILLY ON INSTAGRAM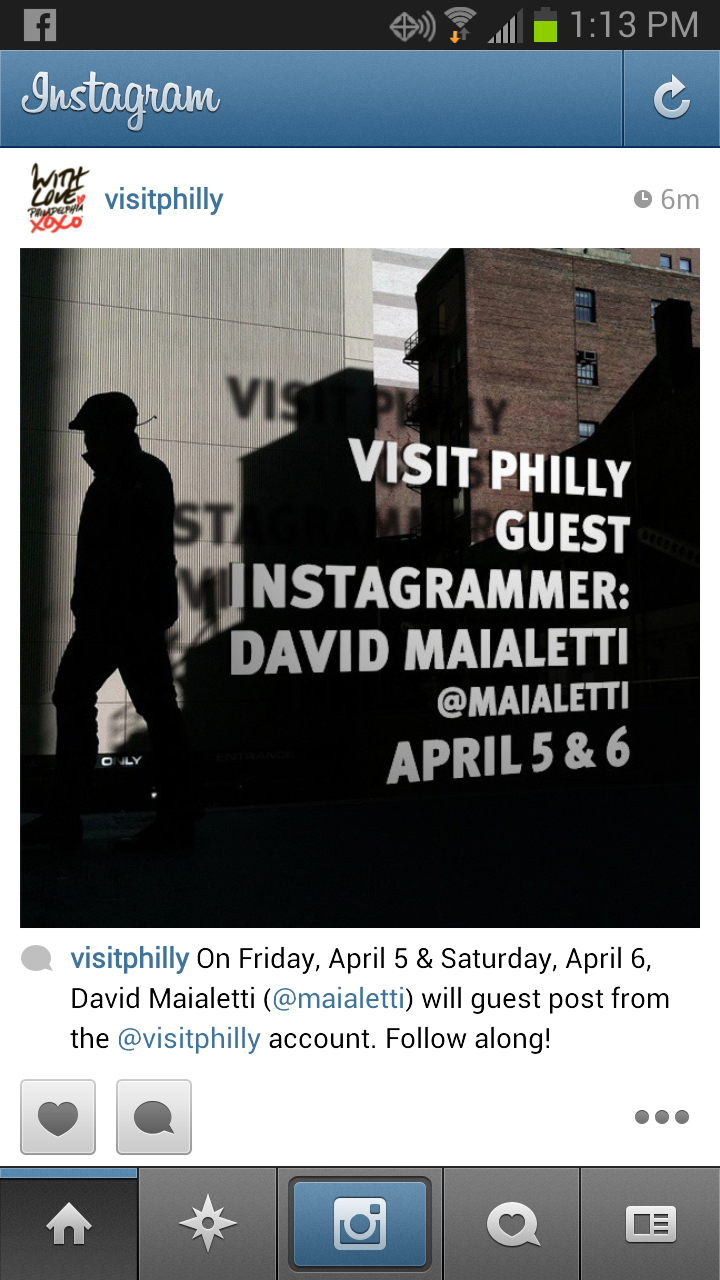 Letting go of your twitter account is one thing, but how about handing over your Instagram account to a local? Well, that's exactly what the folks at Greater Philadelphia Tourism Marketing Corp. (GPTMC), better known as Visit Philly, decided to do when launching their new Philadelphia neighborhoods campaign.
Starting April 5th and during two full days, the Instagram account was managed by professional photographer David Maialetti. During 48 hours, Visit Philly's followers thus experienced a new, different perspective of the city usually found on @maialetti, one of Philadelphia Weekly's "9 Philadelphians to Follow on Instagram."
Outsourcing content
The @visitphilly account is typically handled by a few people internally in the GPTMC social media team along with an on-staff photographer. But this is the first time the destination lets go of its account to hand it off to a local. And this is no one-shot deal: over the course of coming weeks and months, another 14 locals have been chosen to handle the account, yet not all are photographers. Some are designers, others have full-time office jobs but are perhaps avid instagramers in their free time.
While Maialetti had full liberty to aim and shoot at any area of Philadelphia, these 14 guest-instagramers will each focus on one of Philadelphia's 14 neighborhoods featured in this campaign. It will be interesting to follow this initiative as it unfolds throughout the year, until March 2014. Unless it gets extended indefinitely, of course…
A CALCULATED RISK
According to Caroline Bean, Director, Social Media at GPTMC, "We are taking a leap of faith, here. But David will be documenting any/all of Philadelphia during his stint. This is a strategy we are using, aligned with our new Philadelphia Neighborhoods campaign", she says.
By relying on seasoned instagramers, Visit Philly is also minimizing any potential risk that could arise with handing over their corporate account to complete strangers (or contentious citizens, as was the case in the earlier stages of the @sweden twitter account management).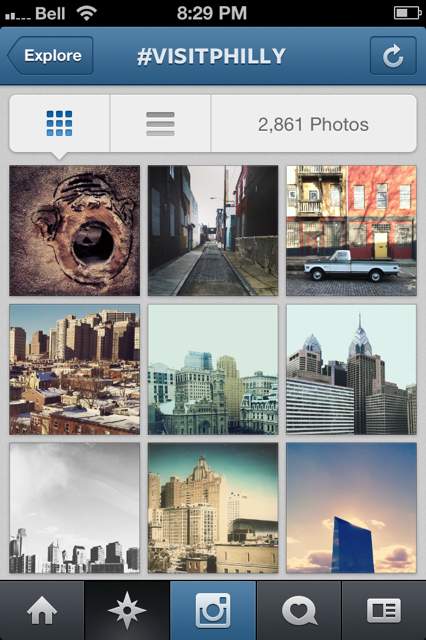 And how will success be measured? "That's a pretty good question", Caroline admits. "We look at this initiative as an image-building component for Philadelphia, so it's difficult to track precisely. That said, we'll be tracking number of followers, likes and comments made on Instagram and shared across other social platforms stemming from this campaign", she says.
"We expect to gather some anecdotal evidence as well, throughout the year. We presently have about 2,800 photos with tagged with #VisitPhilly, and we suspect this number will grow as part of this initiative".
WHERE DID THE INSPIRATION COME FROM?
I asked a final question to Caroline, wanting to know if they had drawn their inspiration from Visit Sweden's initiatives or perhaps other destinations who are on the leading edge of social media. "Of course, we monitor what others do and we're familiar with some of the initiatives out there. But our inspiration actually came from outside the travel marketing industry, with the example of how New Yorker magazine has been tapping into guest photographers with Instagram. I believe we are the first destination to try this, so we're excited about this campaign".
Will this trend catch on with other destinations? Do you prefer to view pics from real photographers, destination staff or from locals? Personally, as long as the pictures are real, taken in the spur of the moment, and are stunning, I could not care less who took it. You? One thing is for sure: these kind of initiatives are bound to multiply, with more and more power going to locals and travelers alike.
Let me know what you think in the comment section below.