In the travel and hospitality sphere, perhaps more than in any other vertical, Instagram plays a pivotal role as key social media. Destinations seek to lure potential travelers. Resorts share user generated content to highlight experiences. Restaurants post mouth-wathering images of dishes and popular cocktails. Hotels boast their best pool pics and in-room amenities, and so on.
Read also: The State of Facebook and Instagram Ads for Travel Marketers
One of the main benefits of an active presence on Instagram is getting an engaged community. In fact, for the longest time Instagram yielded some of the best engagement rates across all social networks. While this may still be the case for many brands active on this platform, these rates have seen substantial declines in the past year.
Engagement rates decline for all types of posts
In this interesting study recently conducted by the folks at TrustInsight*, we can see clearly how engagement rates have been going downhill throughout 2020 so far, for all types of media: carousel, photo, video, IGTV,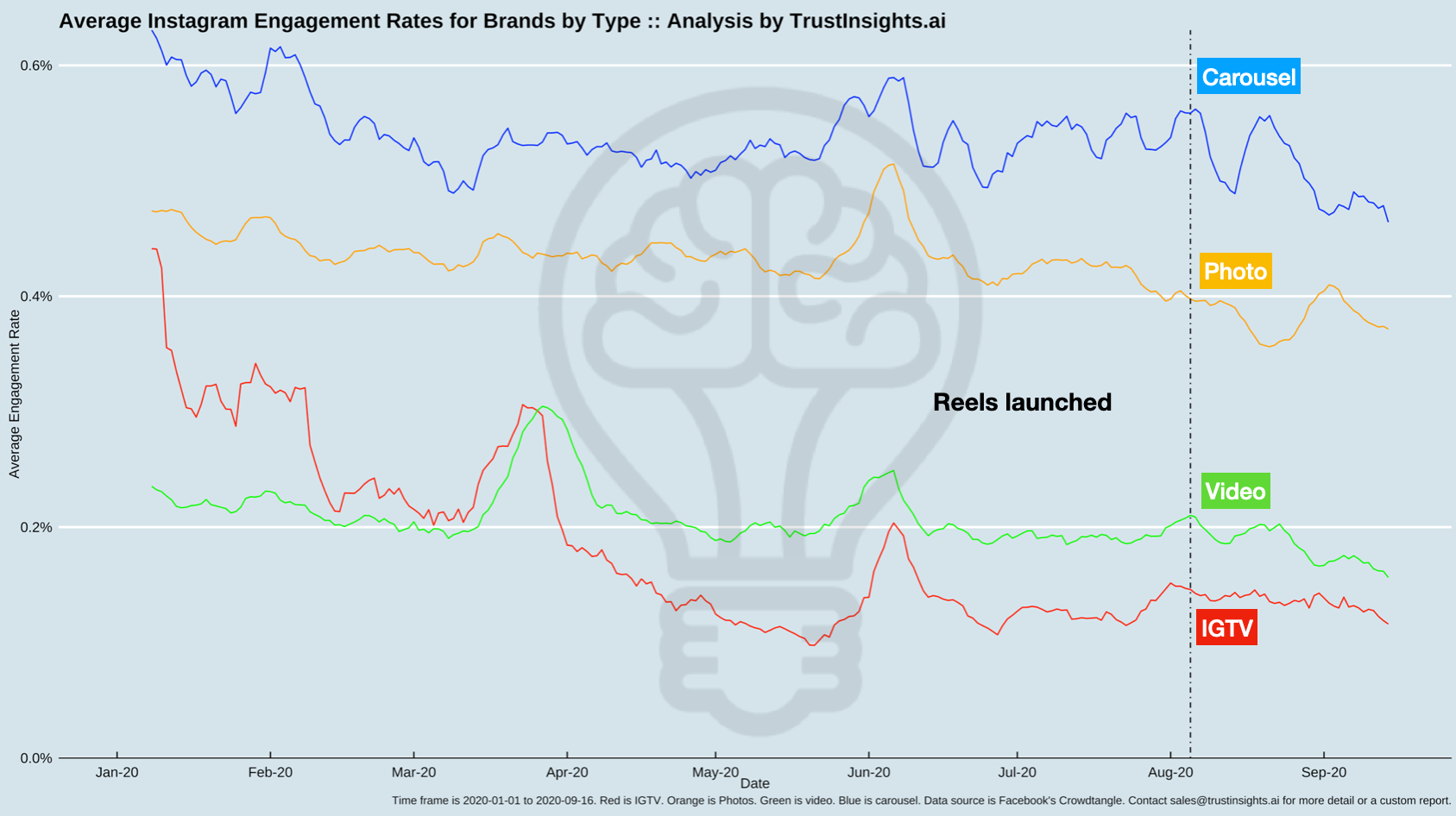 If you are posting carousel-type images, you should expect to see better than average results. At the other end of the spectrum, it appears IGTV video content is stuggling to get users clicking, liking or commenting. I don't know about you, but this is pretty much aligned with what I have been seeing with the various clients I work with.
Will Reels steal TikTok's thunder?
Unfortunately, we are unable to get results at this point in time about the effectiveness of Instagram's newest features: reels. As you may know, reels are being rolled out around the world as Instagram's response to TikTok, with music-based, ephemeral content meant to appeal to younger users.
Until such time as reels data are rolled into Instagram's analytics API, we can only dabble with the feature and see what sticks. So far, my impression is that TikTok still yields much better options and traction, and brands can simply post their TikTok content over to their Instagram stories, feed or Facebook page.
Are Engagement Rates Down on Instagram Only?
This is what many of us are probably wondering. A study by RivalIQ, published in June 2020, indicated this to be the case. It mentioned:
Engagement rates are the lowest they've been in 2020 on Instagram and Facebook, and nearly there on Twitter.
The trend downward has been slow and steady since the end of March on all three channels.
A recent discussion in a popular Facebook group for community managers I am part of addressed this aspect specifically. For a majority of brands, it appears that engagement rates on Facebook have declined in the past couple of weeks, specially since mid-summer.
A friend of mine working in the field offered this explanation:
There was a brief period of content engagement spike in April and May, but stats (reach, engagement) have since gone down drastically across all networks and all accounts managed;
Controversial events seem to also have negative impact on reach and engagement, i.e. Black Lives Matter, Presidential campaign, etc.
Evergreen content and popular articles that used to get lots of reach and engagement have reached a plateau – some are even seeing slight decreases.
What can brands do?
Given the current situation, there are options to get results on Instagram that will help your brand reach its objectives.
Focus on your core audience: This may sound simple, but it's easy to get swayed into trying to appeal to mass audiences… when you really should be focusing on niches or specific segments.
Consider ads: Managing campaigns through Facebook Ads Manager will allow you to target and create compelling content that can spark back interest from users towards your brand.
Work with influencers: Despite of the pandemic – or perhaps even more so than ever – influencers can help you reach different users and bring them to discover your Instagram content.
Vary your content: Even though carousel type posts perform better, maintaining a mix of content is always a good practice on social networks. Try IGTV content whenever you have videos to share, experiment with stories, give reels a try as well. See what sticks.
What other idea would you have to get better results on Instagram these days? Let us know in the comment section below.
*Methodology: Trust Insights used Facebook's Crowdtangle software to analyze 1,075,425 Instagram posts from 3,997 brands. Brands were curated by Facebook and augmented by Trust Insights. The dates of extraction are January 1, 2020 – September 21, 2020. The date of study is September 22, 2020