[heading style="subheader"]This is the fifth in a series of "Social Media Best Practices in Travel" posts to be published on this blog. Today, we focus on Google+ ![/heading]
Ever since Google introduced its "social network", Google+, back in June 2011, many keep seeing it as a tough nut to crack or perhaps don't know what to make of it. It's been compared to a ghost town and was recently rumored to be dying under upcoming internal changes at Google.
But as Mark Twain once famously said, rumors of its death are greatly exaggerated! Google+ is alive and well, and should be considered seriously within holistic social media strategies in the travel and hospitality sphere.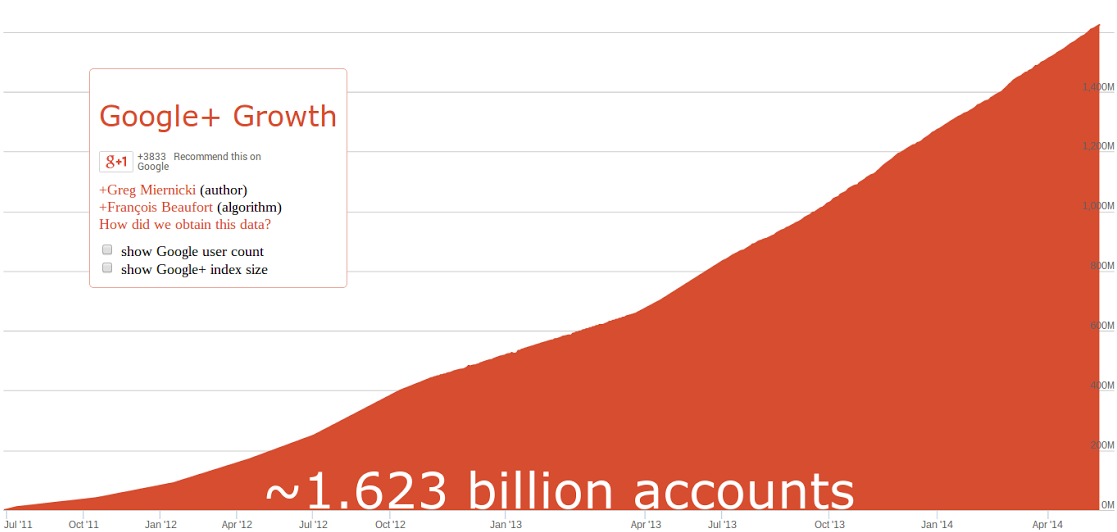 Consider these interesting stats:
There are now more than 1.6 billion Google+ accounts (May 2014)
There are over 560 million active users on Google+ (October 2013)
The average monthly time spent on Google+ increased 100% between 2012 and 2013. That is, it went from 3 minutes per month in December 2012, to 6 minutes per month in December 2013! As of March 2014, the average monthly time spent on G+ is now 7 minutes… nowhere near the stickiness levels of Facebook or mobile apps such as WhatsApp, for example.
A Social Network?
The biggest problem with Google+ is that it's being perceived and judged as a social network, when in reality it is not. Simply put, Google+ is Google. All referral traffic generated from this network, all social signals and content shared via this platform all contribute towards better search engine optimization (SEO) for your brand site and/or blog. So ask yourself these questions:
Do you invest in AdWords or search engine marketing tactics?
Is SEO an important component of your online strategy?
Do you have a blog in place to generate traffic and content for your online marketing?
Do social networks play a key role in your content marketing approach?
If you answered yes to one or more of the above questions, then Google+ can represent an amplifier and important contributor to the success of these tactics.
5 TIPS FOR TRAVEL BRANDS
1. Have a G+ Page and Promote it

Having a Google+ page for your brand is the very first step, ensuring quality content comes next. And, just as importantly, you need to promote it. That means making sure people can easily find your G+ page from your website, and having the ubiquitous "+1" button everywhere it should be: in your newsletters, on your site or when sharing photos on your blog, etc.

Notice for example how the UK-based online travel agency Travel Republic highlights its presence on Facebook, Twitter, Google+ and Pinterest on its homepage, as can be seen above. By the way, can you guess how many followers they have on each platform? A little over 500 followers on Pinterest, over 5,000 followers on Twitter and more than 101,000 fans on their Facebook page. What about Google+ ? More than 2 million followers!
2. Use Hangouts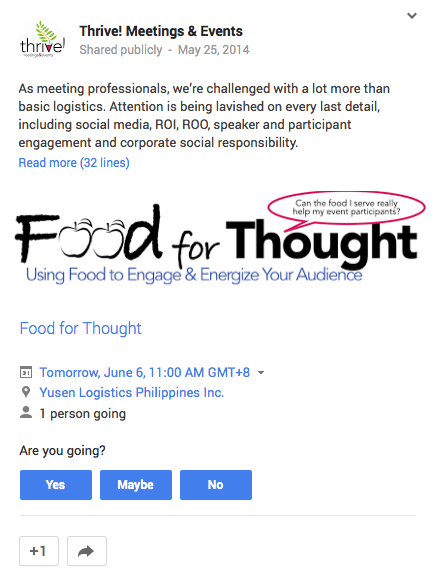 Visual storytelling is without a doubt the hottest trend right now in generating significant and shareable content, so photos and videos are required to get the conversation going and getting travelers to pay attention to your brand. Google Hangouts and Hangout-on-Air (HOA) are perhaps the network's best-kept secret, or at least under-utilized asset. It can be a two-way interview or a broadcast-type message, but either way a Hangout turns into a video you can share via your YouTube channel, or any of your online outposts. And just like many B2B companies will use webinars to reach out to potential customers and demonstrate thought-leadership with a given subject, hosting Google Hangouts can be a wise strategy to achieve such goals. Here is an example of Thrive! Meeting & Events company that hosted a Hangout, focusing on corporate social responsability, among other things.
3. Foster a Community
Just like Linkedin has its 2.1 million groups, Google+ offers "communities" where like-minded individuals can share stories, questions, posts or comments about a wide variety of topics. If you search for hotel, travel marketing, travel, travel blogging, adventure travel, and so on… there are different communities already in place, and they vary in quantity of subscribers and quality of discussions taking place, so shop around. And if you don't find the community you are looking for? Just launch a new one! (well, you will have to moderate it, too…)
Below is an example of the "Tourism News" community, which presently holds more than 10,000 active members. Or you may be familiar with Hyatt's initative on Twitter with a "career-focused" handle? They also have created a G+ community for people interested in discussing career opportunities within Hyatt worldwide.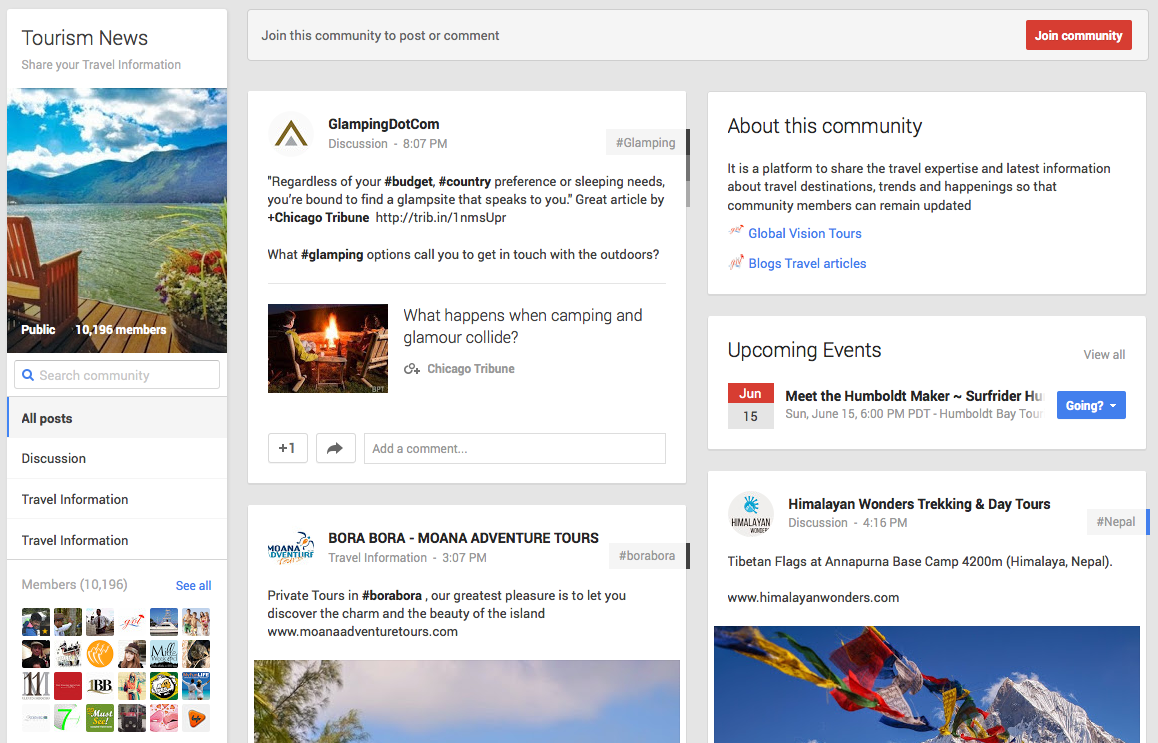 4. Share Rich-Media Content
High definition photos and videos, infographics, videographics, animated pictures (gifs)… these are a few examples of rich-media content that goes down particularly well on Google+. In the travel world, since we sell experiences and memories, there is no reason not to take advantage of a social platform such as Google+ to share this content.


5. Insert Hashtags

In a similar fashion as Twitter, Instagram or Pinterest, using hashtags when posting on Google+ ensures proper tracking and monitoring by brands but more importantly, it makes it easier for potential new followers to find your content. Just look in the screenshots above, and you will notice for example the hashtag #slovenia in the post by Booking.com or the hashtags #glamping, #nepal or #borabora in the Tourism News community environment.
BONUS TIP: Google+ Accounts to Follow
If you are not sure where to begin, you might want to follow some of the best performing travel brands on Google+, to see how and when they post, what seems to work, and then see where this network fits within your overall social strategy. Here are five excellent travel brands to follow on Google+:
TripAdvisor: More than 2.2M followers for the world-famous travel reviews site.
Travel Republic: Over 2M followers for this UK-based online travel agency. Click here to read the G+ Case Study explaining their success.
Orbitz: This american online travel agency recently reached 1M followers on G+
G Adventure: Adventure travel with a social conscience, the folks at Gap Adventure have a consistent brand here too. (650,000 followers)
Royal Caribbean International: With close to 400,000 followers, RCI is a leader among the cruising industry on G+.
Then there are a few experts you may want to follow, as they share their passion and knowledge for social media in general, with a particular focus on Google+. Here are my favorites:
Amanda Blain: (4.2M followers) Fellow Canadian, Amanda was an early adopter of G+, and one of its first highly vocal ambassadors.
Denis Labelle: (536k followers) If you want to know tips and tricks on Google+, he's the go-to resource, curating lots of quality articles and posts on the topic.
Martin Shervington: (446k followers) This guy is everywhere, talking G+ and spreading the gospel. Great resource and dynamic chap, too!
Peg Fitzpatrick: (304k followers) Peg is very passionate about social media in general, and she often shares really good insights about G+.
Ray Hiltz: (23k followers) I've connected with Ray a few times online and even through Hangout, but we have yet to meet IRL, even though we live in the same area! Another good chap to follow, with great knowledge of G+ platform.