I have written a few times about the unfortunate downfall of Canadian tourism in the past decade. Back in 2002, Canada was #7 on the list of most popular destinations for international travelers. It's been a continuous decline ever since and we can expect to be out of the top 20 for 2014.
This is happening at a moment when tourism is growing worldwide, as there were more than 1 billion international travelers in 2013, a figure expected to raise by 3% yearly and to reach 1.8 billion travelers by 2030!
Read: Canada Tourism: The Downward Spiral Continues
Tourism means business
The travel and tourism vertical is often taken lightly by our politicians, simply because people focus only on the public-facing side of the business. In other words, it all about vacations, good times and old-fashioned R&R, right? Sure, travel comprises transportation, accommodation, food and beverage, as well as recreation, entertainment and travel services.
But in Canada, travel and tourism represents an $81.7 billion industry, employing over 600,000 people in more than 157,000 businesses in every region of the country. In other words, tourism means business! Check out the following video, highlighting the best of the destination, but also some of its challenges.
So now what?
When I see a video like this, I can't help but thinking: so now what? Or in other words, what are we going to do about it? The fact of the matter is, we pretty much know what the problems are for tourism to thrive in this country.
According to HLT Advisory's Annual Report on Canadian Tourism, there are four key areas of focus to improve the situation:
Marketing – primarily in the U.S., which is Canada's largest international market.
Access – reducing aviation costs and visa requirements.
People – creating labour programs that reflect the needs of the industry.
Product – developing product that drives international visitation such as parks, festivals and attractions.
As per the Canada Tourism Index 2015, published last week by Vancouver-based agency Resonance, we tend to focus on marketing and access, but there is very little talk about product development. Indeed, the Canadian tourism experience has changed very little in the past 20-30 years, while many "newer" destinations have emerged, from Dubai to Turkey to most of Asia.
Lack of product development
In fact, take a look at the top 25 most recommended attractions & experiences in Canada, according to TripAdvisor. How many of them were developed in the past decade? (HINT: I counted two)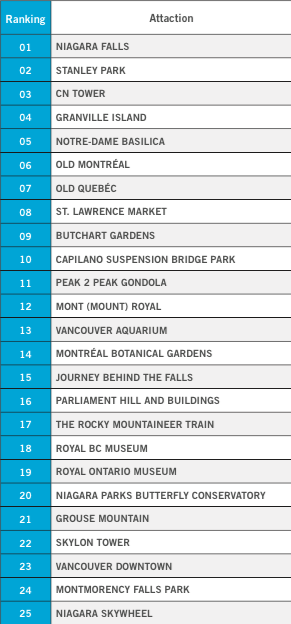 The real question is to know what is the vision for our industry. In the past year alone, I heard François Hollande and Barack Obama discuss the vision for their respective tourism industry, in France and the United States respectively. Both nations strive to reach 100 million visitors by 2020, and aggressive yet attainable goal knowing they each had 88 and 85 million respectively in 2013.
In France, tourism represents 7% of their Gross Domestic Product (GDP) while it only represents about 2.5% in Canada. When can we expect our Prime Minister Stephen Harper to openly address a compelling vision and targets for 2020 (or any at all, for that matter)? In any case, such engagement would require a big turn around in our national travel marketing culture.
In other words, we can toss and turn this topic all we want among us in the tourism industry, but as long as politicians and the general public are not made aware of the issues, I fear we won't make much progress on this. With national elections planned for Fall of 2015, perhaps now is as good a time as ever…